How I Used My Active Kids Voucher To Find Gymnastics for All
How I Used My Active Kids Voucher To Find Gymnastics for All
Kids
Teens
Family
All Ages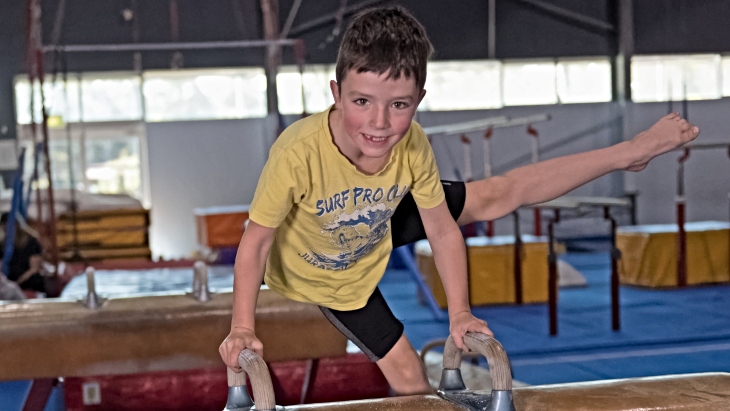 If you're anything like me, you've realised Term 4 is here and time is ticking to put your second Active Kids Voucher to use.
While scrolling through the options one night, I noticed the number of gymnastics classes popping up. Intrigued, I investigated further and discovered gymnastics was actually made up of seven different gymsports with multiple disciplines in each.
I Looked Up Gymnastics Classes and My Mind Was Blown
From FreeG to aerobics and tumbling to acrobatics, I could barely wrap my head around the various disciplines of gymnastics. So I turned to a friend who had been a gymnast for 20 years to get a better understanding of how it all works.
Here's what I learned:
Artistic Gymnastics
This is the gymsport most commonly seen at events like the Olympics and Commonwealth Games with big names like Simone Biles. Athletes in women's artistic perform routines on four apparatus – the balance beam, uneven bars, vault and floor. In men's artistic, gymnasts compete in six apparatus – rings, pommel horse, vault, parallel bars, floor and horizontal bar.
So far, I'm following. These gymsports are great for kids who want to develop stellar coordination, strength and agility.
Acrobatic Gymnastics
As the name suggests, these gymnasts perform like acrobats but instead of stepping out in a circus, they compete on the gym floor. Athletes work as a team, in groups of two or more, to showcase their best moves in balance routines, dynamic routines with flips and twists, and combination routines.
With the performances set to music, and a few dance moves thrown in, this would be a great sport for kids who love to amaze, work as a team and build strength, flexibility and power.
Aerobic Gymnastics
Now this gymsport was a complete surprise to me. But I quickly learned why aerobic gymnastics was gaining popularity. The sport involves high-intensity, fast-paced floor routines with a mixture of flips and strength-based moves along with dance elements, all performed to music. Kids can participate individually, in a pair, trio, or group – with boys and girls all encouraged to join in.
It's a great gymsport for kids to enjoy being creative while learning some dynamic, fast-paced routines. Often, it's the electric atmosphere at events, such as AeroSchools, which keeps gymnasts coming back for more.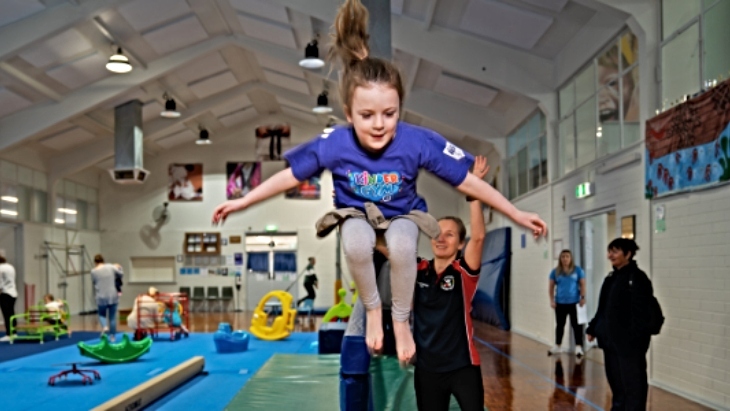 Gymnastics for All
This is where parkour comes in! Gymnastics for All is really like an umbrella term that sits above numerous disciplines, such as freestyle gymnastics (officially known as FreeG), KinderGym, TeamGym, GymAbility and more. There's something for everyone, with options for most ages and abilities, and those who prefer to do gymnastics just for fun or others who want to compete but without the intense training schedule of other gymsports.
With a huge love of obstacle courses and 'the floor is lava', I'm signing up my son for our local FreeG class. Now to look into KinderGym for my toddler…
Rhythmic Gymnastics
Another Olympic special, rhythmic gymnastics is a popular sport that is like a cross between gymnastic moves, ballet and ice skating. With tremendous grace, flexibility and strength, athletes perform routines with various objects (known as apparatus). They cleverly use a hoop, ball, clubs, ribbon and rope in routines performed to music.
If your child likes twirling ribbons, spinning with a hoop, and throwing things up in the air and catching them – this is the sport for them. They will develop incredible coordination, dexterity and agility.
Trampoline Gymnastics
Bring on the flips, tricks and bouncy fun! Yes, there's a sport that involves jumping on a trampoline, but the heights reached and manoeuvres made in the air are not for the faint-hearted. Trampoline gymnastics consists of four disciplines – individual trampoline, synchronised trampoline, double mini trampoline and tumbling. While the first two are Olympic sports (see [link] Aussies Dom Clarke and Jess Pickering most recently at the Olympics), the double mini trampoline and tumbling disciplines are lesser known, but definitely not less exciting.
This is a gymsport for the kids who love to bounce and tumble and have a good time. Trampolining develops confidence while challenging the mind and body.
Overall, I've honestly never come across a sport with such variety. I even learned there are gymnastics for older people (Fitter for Life) and adult gymnastics, which also fall under Gymnastics for All.
So, what started as a search for Active Kids Voucher options, turned into gymnastics lessons for all ages.
Mind. Blown.
Whatever class you choose, find quality programs with qualified coaches, at Gymnastics NSW.
More Cool Stuff For Kids
Go Karting in Sydney
Creative Kids Vouchers
Best Bank Accounts for Kids
Have you signed up for our newsletter? Join ellaslist to get the best family and kid-friendly events, venues, classes and things to do NEAR YOU!