The Best Bank Accounts for Kids 2023
The Best Bank Accounts for Kids 2023
Do you need to open a bank account for kids, but you're not sure where to start? We've got you sorted!
The Australian economy might be experiencing some of its darkest days, and it can be hard to know who to trust when it comes to our children's hard-earned pennies, but don't worry; we've scanned all the websites of the big banks and not-so-big banks to bring you what we believe to be the best bank accounts for kids in 2023.
Please note: This is factual information and is not intended as a recommendation or statement of opinion. Consider seeking financial advice based on your circumstances before making any financial decisions. Information is current at the time of publication: August 2022.
The Best Bank Accounts for Kids in 2023
1. Gateway Bank Dollaroo Kids Account
With a competitive interest rate of 1.50% p.a. plus no minimum balance, no account-keeping fees, no ATM withdrawal fees and unlimited branch deposits, the Gateway Bank Dollaroo Kids Account is one of the best bank accounts for kids and young savers under 16 years old.
Interest is paid half-yearly, allowing earnings to accumulate over time and helping teach little Dollaroos about the fundamentals of money, establishing good habits and long-term money goals. It's a wonderful opportunity to help get the savings bug into your kids with the piece of mind of having full parental control over the account until your child turns 16.
2. The Capricornian Youth Access Account
Another favourite for the best bank accounts for kids, the Capricornian Youth Access Account is lauded for its interest rate of 1.50% for balances up to $5,000 plus no monthly account-keeping fees and unlimited free transactions for easy accessibility. For balances over $5000, the rate is 1.00% p.a.; however, there is also a credit interest incentive. It's an excellent bank account for pint-sized savers under 16 years old to start their banking journey.
You can open a bank account for kids with as little as $1 and watch it grow with fee-free banking to help kids save faster. A parent or guardian may be authorised to operate the account for children under 12.

3. Australian Unity Kids Saver Account
The Australian Unity Kids Saver Account offers a highly-competitive interest rate of up to a whopping 3.50% p.a. on balances up to $20,000 with no minimum starting balance. There is a minimum monthly deposit of $5, and your savvy little saver would have to make no monthly withdrawals to get the maximum interest reward. However, if they do want to spend some of their precious cash, they will still earn a tidy 1.00% p.a.
Available to kids 14 years old and under, this bank account for kids is highly beneficial for establishing consistent savings habits and long-term goals to maximise high returns. There are unlimited free transactions and withdrawals, and interest is paid monthly, creating a visible ongoing incentive.
4. Great Southern Bank Youth eSaver
It's never too early to start saving! The Great Southern Bank Youth eSaver everyday online bank account for kids is designed for kids from newborn up to 17 years and provides a generous interest rate of 3.25% p.a. on balances up to $5,000, then at 1.00% p.a. on the balance.
This flexible bank account for kids has no ongoing account fees or banking free and unlimited free withdrawals. Plus, kids can access their savings without affecting their interest rates.
A parent or guardian will have to authorise the account opening and be listed as a signatory for children under 10, however, kids from 10 to 17 years old can apply independently as the main account holder - very grown up and an important milestone in their journey to financial autonomy.
How Your Child can Learn to Manage Their own Money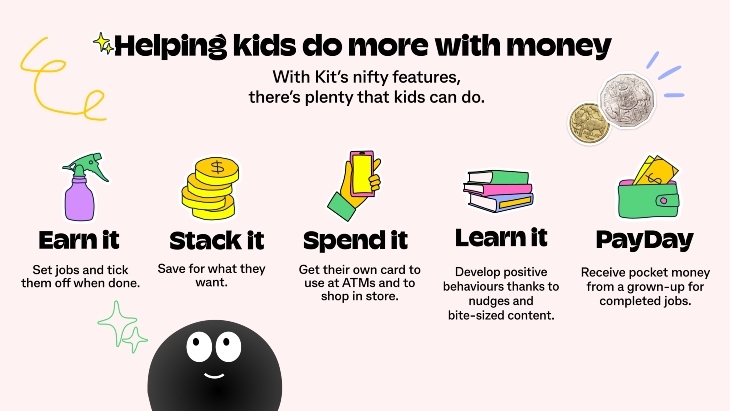 Kit is an innovative new app owned by CommBank, built especially for kids and designed to deliver the best money experience possible for young Australians.
Kit helps kids get hands-on financial education experience, promotes mindful spending and gives them autonomy and ownership of their money. The 'earning-and-learning' platform also imparts bit-sized (but effective!) lessons to help kids on their journey toward money-mastering, with features including savings stacks, PayDay and 'nudges' that encourage them to achieve their goals.
Kit has adopted a scientific approach to help little learners build financial independence and confidence. With their own fun, customisable Kit Account and a digital and physical prepaid card, savvy savers can easily manage their own earnings and spending, and watch their savings grow! Plus, there is a $0 account fee with Kit - and the jokes are priceless!
Piggy Banks for Kids and Other Important Things to Consider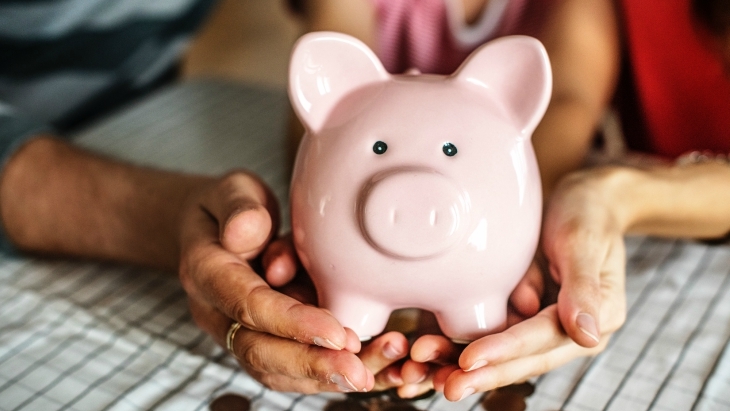 Recently we discovered (the hard way) that many of the Big Banks no longer have coin machines - incredibly disappointing! I have strong childhood memories of taking my piggy bank into the branch, and I loved seeing the numbers on my passbook grow! For me, this is a missed opportunity for kids. ANZ request that you count and bag the money yourself before coming to their branches. Some parents with older children may still find value in this exercise.
Did you know St George no longer has Happy Dragon Accounts - bye-bye friendly green dragon - and CBA has dropped the most famous of all kids' accounts – the Dollarmite? Plus, school banking programs are no longer supported in NSW public schools as of this year.
According to The Barefoot Investor, banks will automatically offer your child their first credit card at 17. This is not something I want for my kids personally, so you might want to watch out for that too!
Be mindful that many banks will require the parents/guardians to also hold an account with them first before allowing them to open a bank account for kids. Of course, adult accounts almost always attract fees and charges, so it's best to understand what that will cost you and what the restrictions (if any) will be.
And finally, remember, it's okay to change as many times as you like. Gone are the days of personal relationships with your local bank manager. Banks constantly change their rates, so don't be frightened to follow the best rates and change accounts/banks as you see fit. At the end of the day, it's about creating the best wealth for your children.
Taxation of Interest Earned on Bank Accounts for Kids
Please note that special rules are in place for the taxation of interest earned on bank accounts for kids, so please refer to the Australian Taxation Office for details.
More Money Matters
We Review Spriggy, the Pocket Money App
How to Save Money at the Movies
Have you signed up for our newsletter? Join ellaslist to get the best family and kid-friendly events, venues, classes and things to do NEAR YOU!
Reviews
This information is so useful, thank you! Opening the kids bank accounts has been on the to-do list for so long and am excited to now make it happen.
I found this site really informative, easy to understand and straight forward. I am looking into the best places to bank with when it comes to a long term savings account for my 4yo. t was oblivious to how manipulative and ingenious some banks can be when it comes to trusting our children and savings. As well as what it means for us parents in regard to the ATO. So thank you opening my eyes as I'll definitely be doing a lot more research into savings, banks and taxes for both my child and myself.
hi, this information was helpful and backed up other sources I've been reading, so thank you. i think the person in the ads was Julie Anthony though.