A Weekend Road Trip To Historic Scone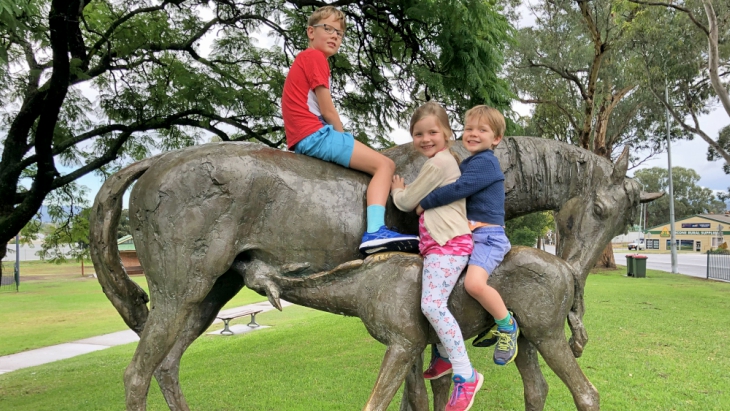 Scone is a small town in the NSW Upper Hunter Valley, just over 3 hours from Sydney. It is equal parts a relaxing and quiet escape, a bustling regional centre with lots of activities, and a haven for nature lovers.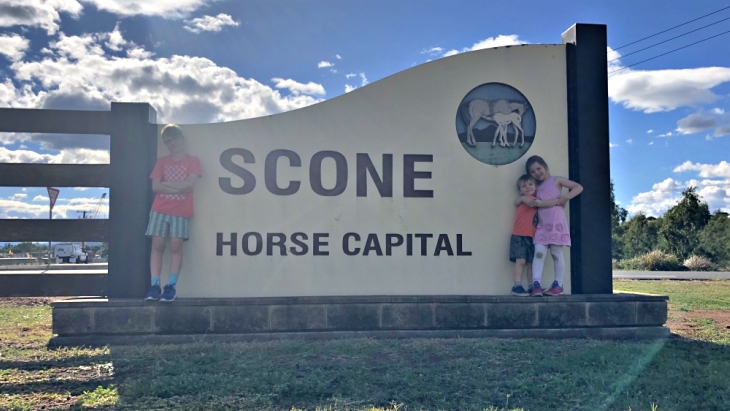 The drive from Sydney skirts along the edge of the Hunter wine region and into some of the premier horse grazing land in Australia. Scone is a thriving town of 4000 people with lots of things to see and do.
Where To Stay In Scone
Scone has accommodation to suit every family. There are plenty of B&Bs in town, a few hotels and motels as well as caravan parks with camping and cabins, both in town and in the surrounding areas. For a country town there is a good selection of cafes along the main street (we can highly recommend the baked goods at "The Thoroughbred") as well as the usual pub meals and a few nicer restaurants. There is both a Coles and Woolworths in town.
Its well worth a wander down the wide main street. My city kids really enjoyed browsing the saddlery and came away with a desire for cowboy boots and saddles. The other must visit is The Hunter Wholefoods – a modern shop selling bulk waste-free pantry staples. There is a small selection of delicious chocolates, nuts and dried fruit as well. What made it really special was the people. The staff allowed the children behind the counter to weigh and scan their own selections, definitely that relaxed country vibe shining through.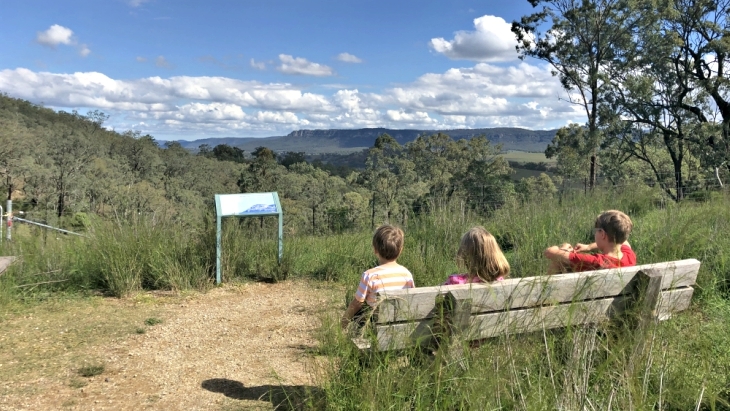 Country Life In The Air
Scone is at its heart a small country town – the locals are kind and friendly and the air is clean and fresh. The local area offers lots to explore - a 20-minute drive north and a 3.5km return hike through beautiful bushland took us to the top of Burning Mountain. This is an underground coal seam that ignited over 1000 years ago and is still burning. The fire moves south at around 1m per year and if you are lucky, you can see smoke on the top of the mountain. The walk is quite steep but managed by an active 4-year-old with some snacks thrown in as bribery – the views around the district as you climb are sensational.
We visited Scone during May and the weather was perfect - cool crisp nights, bright sunny days and a little much needed rain. The drive out to nearby Gundy offers stunning vistas of beautiful rolling hills and a highly recommended pub lunch. If you are a horse lover it is possible to book a stud tour and actually get in and look behind the scenes at some of these beautiful properties.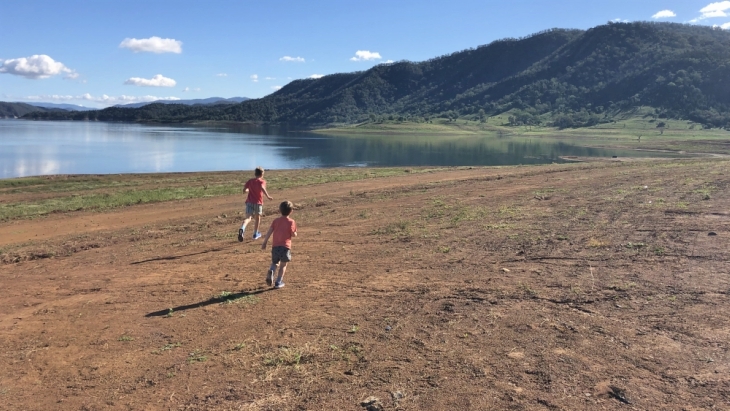 Lake Glenbawyn is just 20 minutes from town. You can visit for the day for a small fee or stop in for under an hour for free. While the Lake itself if far from full it offered a chance for the kids to run free along the banks, dig in the mud, climb trees, and visit the corner store and playground. There is also the possibility to have a BBQ or picnic, water ski, fish and camp.
Scone Horse Festival
We were lucky enough to time our visit for the annual Scone Horse Festival. If you can do it, it is truly worth visiting when Scone is hosting an event (every year in May), there are regular polo meets, rugby games, rodeos, and other equine events at the brand-new White Park Arena.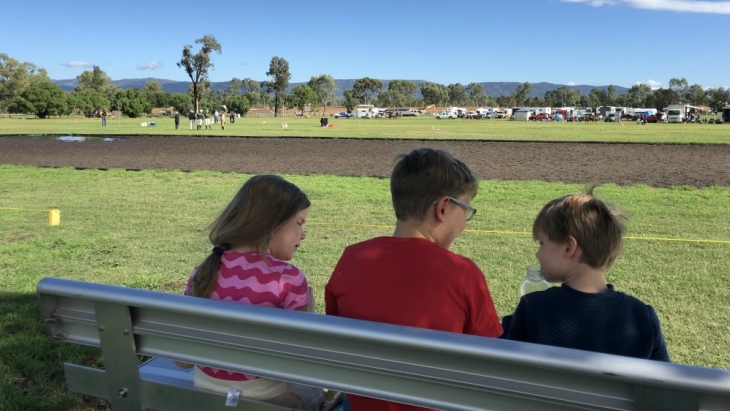 The Annual Scone Horse Festival runs for 10 days at the beginning of May and features a huge array for horse relate events, just perfect for excited city kids. Unfortunately, the rain cancelled the polo and vaulting (gymnastic performed on horseback) but we were able to catch lots of other action. We all loved the NSW Farrier and blacksmith titles, watching steel bars be transformed into customised horse shoes. And the history behind the very skilled art of tent pegging (based on years past when riders would thunder into enemy camps and pull out the tent pegs of the enemy's tents -trapping sleeping soldiers) was fascinating.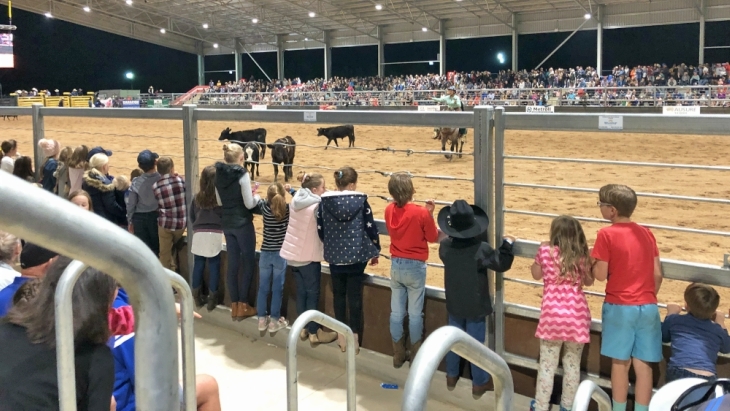 The Wild Rodeo
The Scone Charity Rodeo was a huge highlight. Held at White Park Arena, it had something for everyone. It was a very family-oriented event with local kids and visitors sharing their excitement and getting up close to the action. There was a small carnival and lots of food as well as the ability to bring snacks and drinks from home. There were lots of different events presented- traditional bull and bronc riding, barrel racing, steer roping and wrestling and more. The action was explosive and moved quickly offering constant entertainment. Country hospitality shone through again when locals seated near us offered up explanations on each event and helped us enjoy the experience more.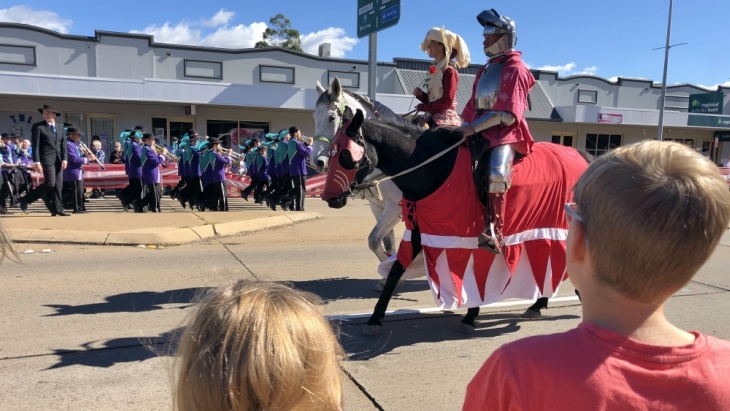 The Equestrian fun continued the following day with a parade down the main street full of local businesses, schools and community groups all displaying their best work on the theme "Legends, Myths and Fantasy". This was followed by an excellent fete at the Scone Grammar School. There were rides, the opportunity to pat a unicorn, market stalls, music and an excellent selection of food at really affordable prices.
Scone really in a quintessential country town with lots to offer visitors. We loved our mix of adventures in nature, equine sports and quiet relaxing on our weekend escape and would recommend Scone to other families wanting to escape the bustle of Sydney for the weekend.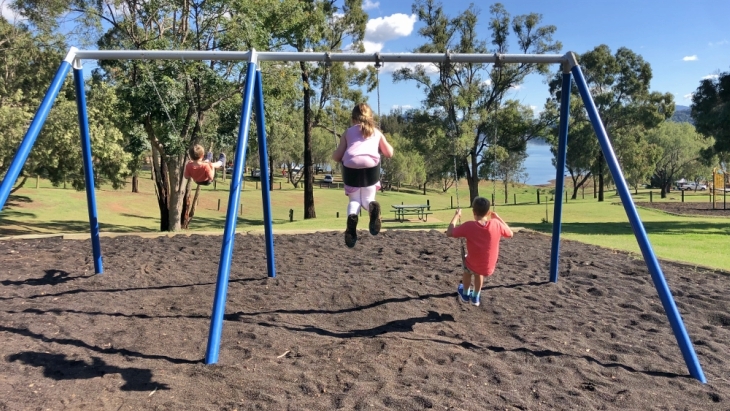 Traveller Tips
The highway currently runs through the middle of town but a bypass is in the process of being built, which will greatly improve the ambience of the main street.
Like many country towns, shops and kitchens aren't open as late as city dwellers might be used to, especially important to note if you are driving up on a Friday night and need to plan a meal stop.
The annual horse festival will be held again in May 2020, find out more details here.
More Weekend Escapes Here
Visit The Kangaroo Valley
Visit The Upper Blue Mountains
Visit Glenworth Valley
Have you signed up to our newsletter? Join ellaslist to get the best family and kid-friendly events, venues, classes and things to do NEAR YOU!