12 of the Best Things to do in Kangaroo Valley
12 of the Best Things to do in Kangaroo Valley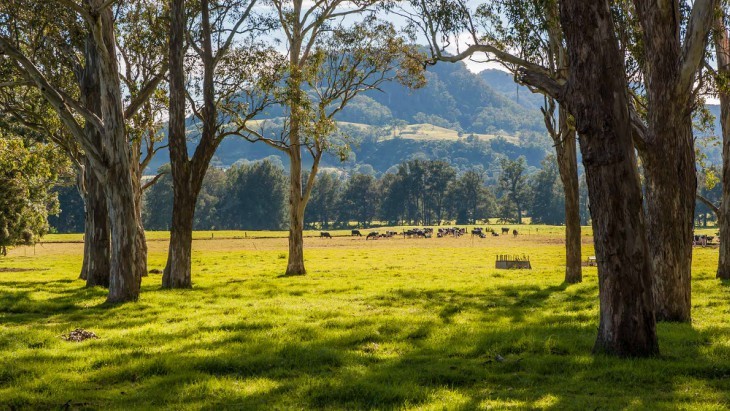 Looking for a quick escape just two hours from Sydney? We've got two words for you: Kangaroo Valley.
Nestled between the Southern Highlands and the South Coast, Kangaroo Valley is a hidden gem that offers an abundance of natural beauty, outdoor activities, and charming experiences galore. Whether you're a nature enthusiast, adventure seeker, or simply looking for a tranquil escape, this slice of regional NSW has something for everyone. So load up the car, hit the road trip playlist, and get ready for an adventure with 12 of the best things to do in Kangaroo Valley.
Where is Kangaroo Valley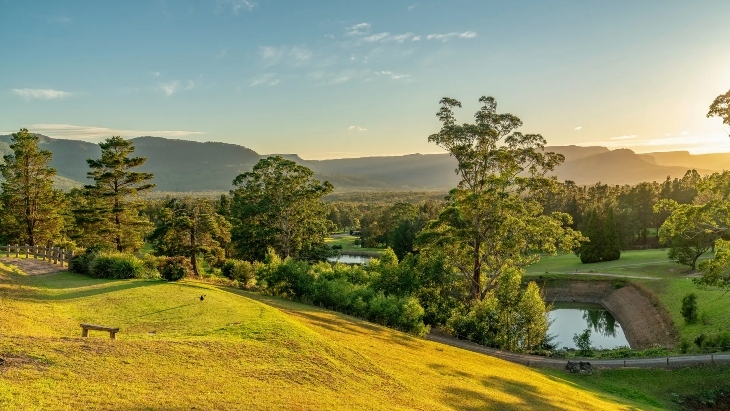 Kangaroo Valley is a gem of the Southern Highlands NSW that you and the family should not miss. The small town in regional NSW is just two hours away from Sydney and was settled all the way back in 1817!
The picturesque Kangaroo River meanders through the Valley's bountiful rainforests and countryside.
With awe-inspiring views at just about every turn, a trip to Kangaroo Valley is the perfect road trip destination for screen-free time with the family, the opportunity to connect with nature, or have a good old-fashioned country experience!
12 of the Best Things to do in Kangaroo Valley
1. Hop on a Canoe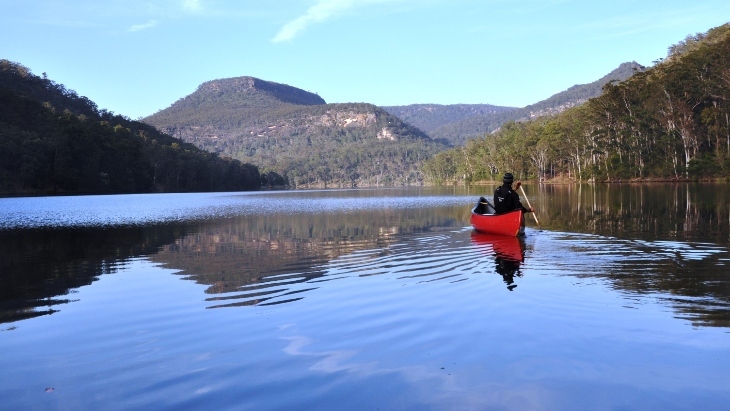 One of the best things to do in Kangaroo Valley for first-time visitors, you can take a canoe tour on an easy five-kilometre paddle down stream of the river and witness the amazing wildlife against a peaceful valley view backdrop. Watch out for kangaroos, wallabies, harmless water dragons, wombats, abundant bird life, and if luck is on your side, you may even spot a platypus.
Kangaroo Valley Safaris run canoe and kayak tours of the abundant waterways and are worth booking with the family. Every child needs to be in a canoe with an adult but there are also three-person canoes to choose from. They help you launch and then come and collect you at the other end and drive you back to your start point - easy!
Location: 2031 Moss Vale Road
2. Delve Into History at Pioneer Village Museum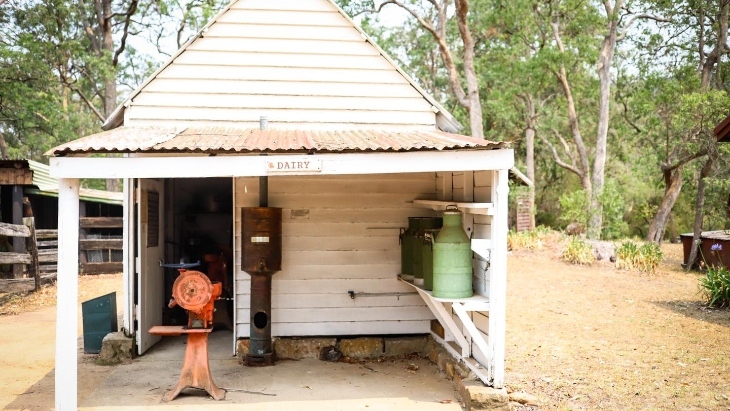 One for the kids - enjoy a trip back in time at the Pioneer Village Museum's eight hectare openair museum grounds that include colonial buildings and natural bushland.
A leisurely walk through the grounds will take you through a discovery of a dairy, forge, timber cutters hut, bush school, settler's cottage, the Archie Chittick Memorial Hall and war remembrance room. The kids will especially enjoy crossing the 72-metre swing bridge that leads to two marked bushwalks on the property's natural reserve.
Location: 2029 Moss Vale Road
3. Explore the Famous Fitzroy Falls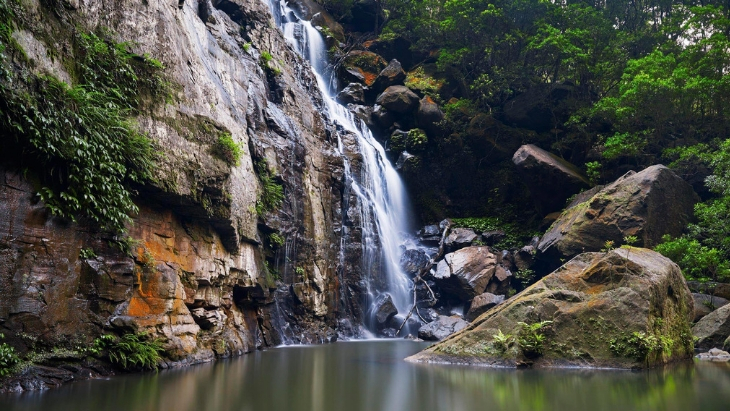 One of the best things to do in Kangaroo Valley, the mesmerizing Fitzroy Falls are only 16 mins north of town and offers several easy walks that lead up to the spectacular 81-metre tall waterfall that plunges into the lush eucalyptus forests. The sheer beauty and power of nature on display here are awe-inspiring.
Location: Nowra Road, Morton National Park
4. Stop off at Kangaroo Valley Farmers' Market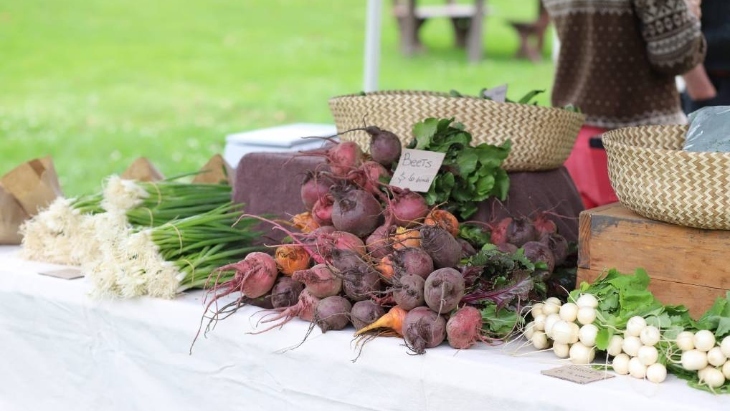 Taste the best that the Kangaroo Valley, the Shoalhaven and the Southern Highlands agriculture scene has to offer!
Sample your way through the best local meats, fruit, vegetable, herbs, eggs, jams, preserves, cakes, pastries, olive oils and local honeys, as some live local music gets you in the spirit.
The Kangaroo Valley Farmers' Market is on the second Sunday of every month from 9 am to 1 pm. For a more eclectic mix of stalls, head to the Kangarooo Valley Markets on the fourth Saturday of every month - there's something for everyone!
Location: 165 Moss Vale Road
5. Visit the Historic Hampden Bridge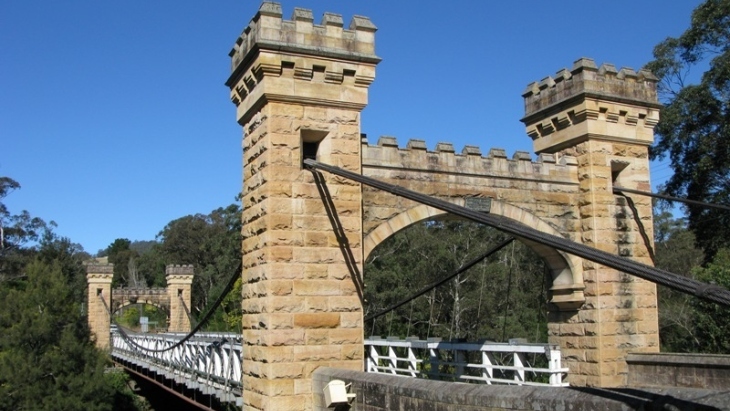 A list of things to do in Kangaroo Valley just isn't complete without adding this little gem! Step back in time with a visit to the historic Hampden Bridge. Built in the 19th century, it's one of the few surviving examples of a wooden suspension bridge in Australia.
Not matter how many times we visit Hampden Brisge, the Victorian-era style bridge somehow looks right at home in rural Kangaroo Valley! If you go on a Kangaroo Valley kayaking or canoeing adventure, you'll pass right under the Hampden Bridge as you float down the Kangaroo River, past breathtaking scenery and plenty of native wildlife.
Location: Moss Vale Road
6. Soak up the Views at Manning's Lookout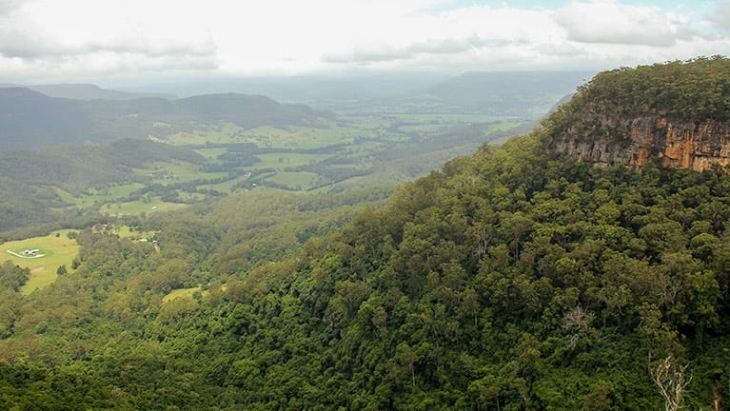 An easy bush walk that kids can manage too, Manning's Lookout offers absolutely breathtaking views over Kangaroo Valley.
You'll past forest, woodlands and light scrub, and your senses will be treated to the aromas of peppermint trees, gums and banksias. You'll see the Kangaroo River, and dairy farms off in the distance - heaven!
Location: Mannings Lookout Road, Morton National Park
7. Go Shopping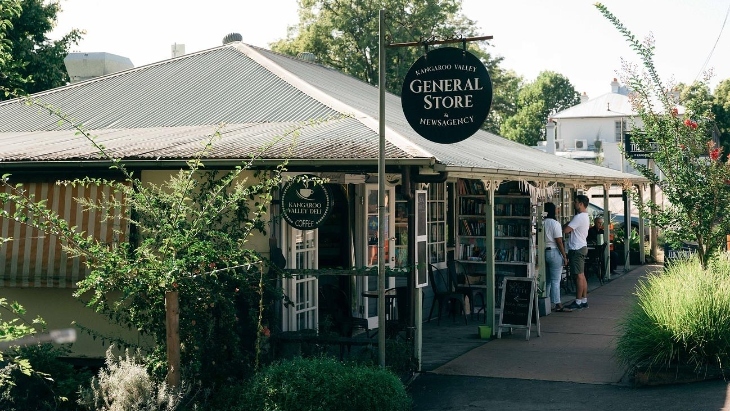 A walk past the beautiful Heritage-listed buildings in the Kangaroo Valley Village alone is a welcome sight for the concrete jungle city folk. Shopping in Kangaroo Valley is like stepping back in time to a colonial-style village where you almost expect a horse-and-cart to come trotting by!
The kids will be over the moon when you take them to the woodcraft store to check out all the amazing wooden toys and the fudge and ice-creamery shop for treats!
8. Ride a Horse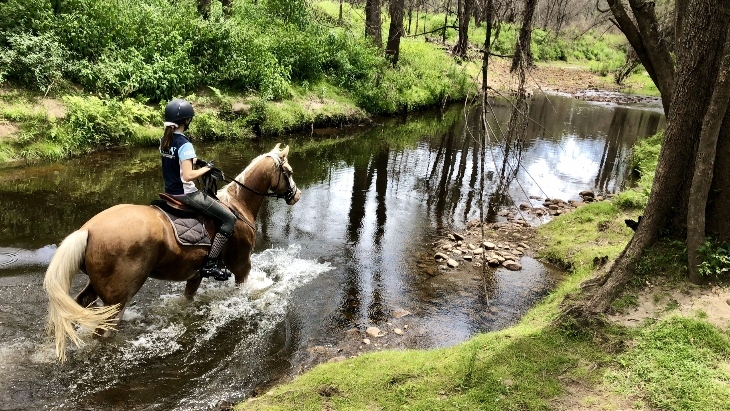 One of the best things to do in Kangaroo Valley for adventurous families, take a family trail ride through pristine Valley bush. You'll pass through rainforest, open green spaces and the outskirts of the Morton National Park. Trust us, these are some of the best horse riding trails in regional NSW!
There are a number of business that run horse riding sessions around the valley, including Kangaroo Valley Horses, and Kangaroo Valley Horse Riding.
9. Satisfy Your Sweet (or Savoury!) Tooth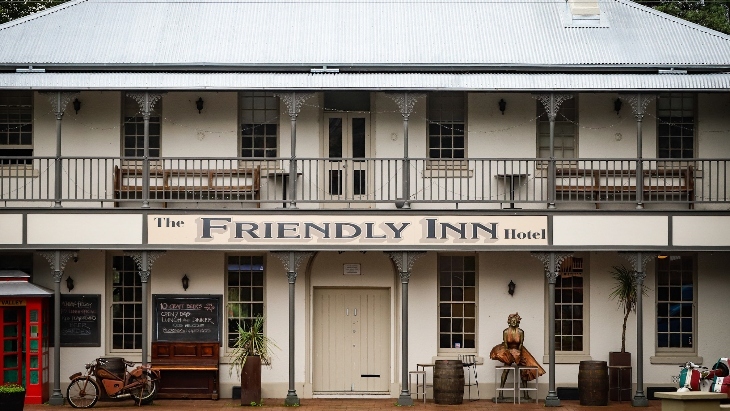 If you're starting to feel a bit peckish, there are plenty of bustling eateries in town to satisfy your sweet or savoury tooth.
For something savoury, the Kangaroo Valley Bakehouse make some of the best meat pies around. Or for something a bit more substantial, head on over to the Friendly Inn Hotel for a good old country pub feed. And don't forget to finish off with something sweet from the famous Sweet As lolly shop that has been selling sugar highs for over 20 years!
10. Soak up Some Culture
Did you know that Kangaroo Valley is one of the premier destinations in regional NSW for artists? We're not just talking about painters and sculptures - Kangaroo Valley hosts loads of up-and-coming, artists, musicians, and writers at their bi-annual Arts in the Valley Festival.
Run twice a year, Arts in the Valley showcases emerging artists across festivals, exhibitions, and live events that are a treasure trove of talent if you're lucky enough to be visiting when they're on! Make sure you check the calendar of upcoming events before visiting.
11. Go on a Historic Walk Through Town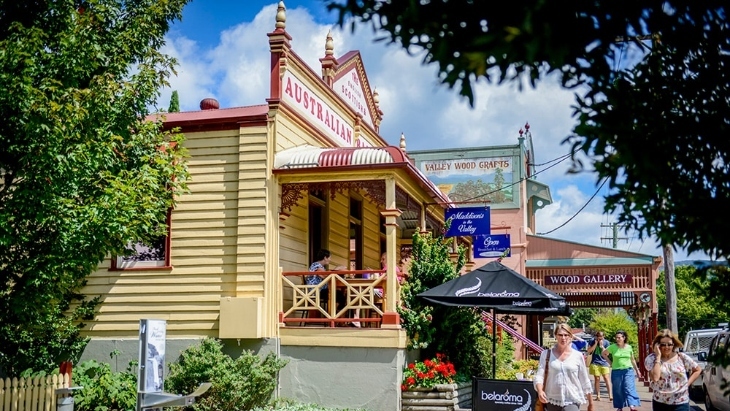 If you're keen on catching all the best things to do in Kangaroo Valley but would rather someone else do the planning and talking, book a Village Historic Walk stat.
The Village Historic Walk puts you up close to all the essential heritage-listed buildings, cultural and geological sites and scenic vistas that Kangaroo Valley is famous for and leaves all the planning to someone else!
12. Stay the Night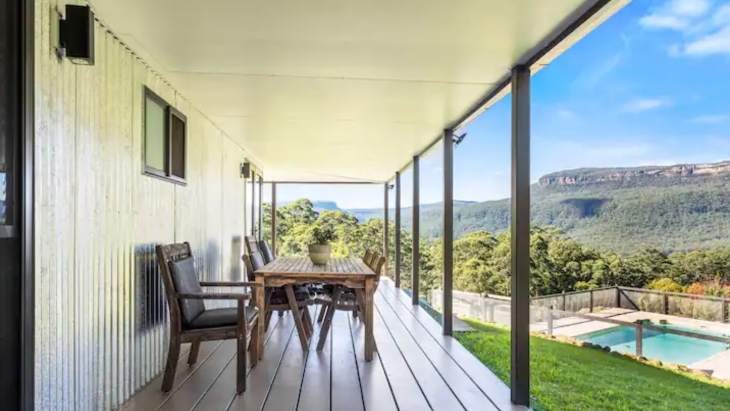 If you're planning on making Kangaroo Valley a weekender, our favourite place to stay is Cedars Cottages.
The Cedars is the largest private wildlife sanctuary in the Kangaroo Valley. The farm is spread over 1,100 acres breeding horses and cattle and is home to a multitude of wildlife including the Echidna and the Platypus. Other wildlife you can spy are wallabies, wombats, goats, deer and of course kangaroos.
Other popular accommodations around town include Saddle Ridge, Big Bell Farm, Cloudview Farmstay, and Wildes Boutique Hotel.
More Adventures in NSW
The Best Things to do on the Central Coast
Visiting Port Stephens: 10 Must Dos
20 of the Best Things to do in Port Macquarie

Have you signed up to our newsletter? Join ellaslist to get the best family and kid-friendly events, venues, classes and things to do NEAR YOU!