8 Great Things to do this Australia Day Long Weekend in Sydney
By Hayley Dean, ellaslist
It's the Australia Day long weekend! Here are some free family events that you might want to attend:
Hot-air balloon display - Parramatta
When: 6:00am – 9:00am
Where: Pitt & Macquarie Streets, Parramatta
Parramatta will be host to Sydney's biggest hot air balloon display early on Australia Day morning. There will also be tasty treats / breakfast and lots of family entertainment.
Fancy a ride in a hot air balloon on Australia Day morning? Registrations for the tethered hot air balloon will open from 9am, Friday 5 January 2018. You can also enter to win one of 2 double passes - entries close 6pm Thursday 19 January.
Please note: Hot air balloons may be cancelled in the event of high winds or inclement weather.
Further info here
Wugulora Morning Ceremony - Barangaroo
When: 7:45am – 8:30am
Where: Walumil Lawns, Barangaroo Reserve
Begin your Australia Day by taking part in a smoking ceremony.
Smoking ceremonies are an ancient custom among Aboriginal Australians in which native plants are burnt to produce smoke to ward off bad spirits, acknowledge ancestors and pay respect to the land and sea of country. The smoke is believed to have healing and cleansing properties. During the Wugulora Morning Ceremony, the national anthem will be sung in English and also in the Aboriginal language Dharawal, before the Aboriginal and Australian flags are raised on the Sydney Harbour Bridge to mark the start of Australia Day.
Further info here
Yabun Festival – Camperdown
When: 10:00am – 4:00pm
Where: Victoria Park, Camperdown
Established in 2001, Yabun (meaning 'music to a beat' in Gadigal language), features traditional dance performances, children's craft workshops, live music and a bustling marketplace featuring a variety of food and merchandise. Yabun Festival welcomes everyone to join in the largest one day gathering celebrating Aboriginal and Torres Strait Islander cultures.
Further info here.
Ferrython – Sydney Harbour
When: 10:45am – 11:30am
Where: Sydney Harbour
What's a Ferrython, you ask? It's a ferry race starting from Circular Quay, heading out to Shark Island before the ferries turn around and head back to the Sydney Harbour Bridge for the final leg of the race. Pack a picnic and gather on the foreshore to barrack for your favourite ferry!
Further info here.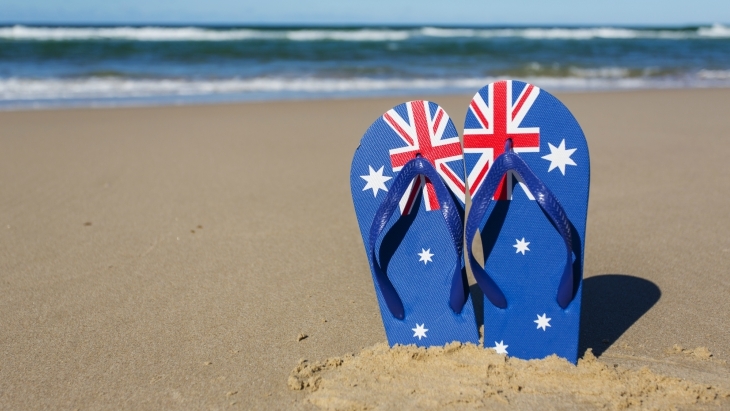 Activities on Sydney Harbour
Salute to Australia / Tug & Yacht Ballet / Red Berets, Qantas and Hornets / Tall Ships Race.
When: 11:30am – 2:00pm
Where: Sydney Harbour
A 21-gun military salute involving the Australian Army, Royal Australian Navy and Royal Australian Air Force provides the ceremonial highpoint of the Sydney Harbour program and is now a much-loved Australia Day tradition.
Tug and Yacht Ballet is choreographed to classical music. Yachts, ferries, jet skis and tugboats will manoeuvre in unison in an amazing show of maritime grace and movement.
Look to the clouds to see three Hornet F18s and a Qantas A380 fly over the Harbour Bridge at 1.15pm-1.30pm, culminating in a Red Berets' parachute display by the Australian Army over Farm Cove.
Watch the Tall Ships Race. Which Tall Ship will take the 2018 Tall Ships Trophy?
Further info:
Salute to Australia here
Tug & Yacht Ballet here
In the Sky here
Tall Ships race here
The Wiggles Australia Day Concerts – Darling Harbour
When: Morning show – 11:00am – 12:00pm (gates open 9:00am)
Afternoon show – 2:30pm – 3:30pm (gates open 1:00pm)
Where: Tumbalong Park, Darling Harbour
The Wiggles will be performing their greatest hits during their FREE morning and afternoon shows on Australia Day. Please note that these shows are ticketed. Ticket information will be announced in January 2018.
Further info here
Four Thousand Fish – Barangaroo (part of Sydney Festival 2018)
When: 4:00pm – 9:00pm
Where: The Cutaway, Barangaroo Reserve
"In 1790, British colonists hauled four thousand fish in one day, disrupting the delicate ecosystem the Aboriginal fisherwomen of Warrane (Sydney Harbour) had preserved for millennia and undermining their ability to provide food for their communities. As part of Sydney Festival 2018, this Australia Day you are invited to recreate "four thousand fish" using frozen water from Nawi Cove. At sunset, nestled in an artist's interpretation of a traditional nawi (bark canoe), the ice sculptures will be returned to the water".
Further info here.
Australia Day Fireworks / Live at the Quay! – Circular Quay
Important: There are no fireworks at Darling Harbour on Australia Day in 2018. The fireworks have moved to Circular Quay.
When: 6:30pm – 9:00pm
Where: Circular Quay (note: there will be no fireworks on the Sydney Harbour Bridge or outside of Circular Quay, so you really do need to be located in Circular Quay to see this event).
The middle of Circular Quay will play host to boat and ferry parades, dance and song performers (including a special performance by an Aussie music legend), a jet-ski show and fireworks displays - the perfect way to end your Australia Day!
Further info here.