6 Reasons To Love The Melbourne Zoo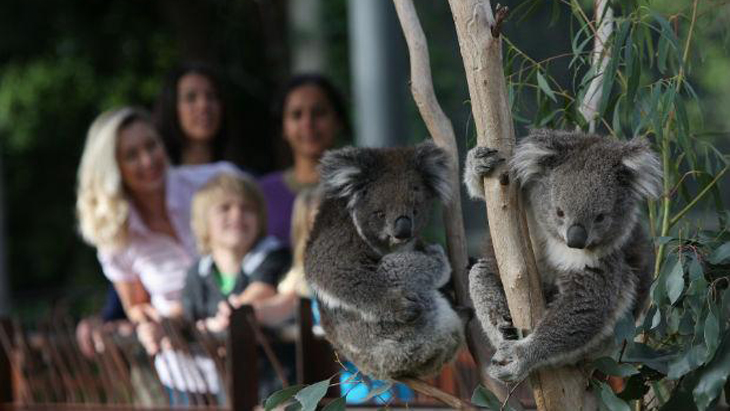 By: Claire Halliday, ellaslist
It's one of those places you can go back to year after year – you'll see different animals, reacquaint yourself with some familiar ones, and can even let the kids run loose in the central playground and park area while you're having a lunch break (whether or not you give in to their please for an ice-cream – well, that's up to you!)
With so any things to see at the zoo, it's hard to know which direction to head first. Orangutans, lions, gorillas, birds – and so many different kinds of climbing, dangling, cheeky monkeys.
To help you out, we've picked 6 of the best things to see at the Melbourne Zoo with kids.
More information: visit the website
Lemur Island

If you haven't been to Melbourne Zoo for a while, you might not have discovered this interactive exhibit. What's it like to be a lemur? Imagine yourself in the forests of Madagascar, for starters…
The multi-million dollar design of this space allows people and lemurs to get up close and personal. Entry is through the rainforest tunnel that leads you up into the boardwalk area.
It's an experience the kids won't forget in a hurry.
What You Need To Know
Lemur Island is open every day, from 9.30am-4.30pm.
Entry is included in your admission.
The Butterfly House

No matter how old your children are, this exhibit usually keeps them coming back again and again.
At first glance, the world of Australia's tropical and subtropical butterflies seems pretty sweet. The glasshouse is heated to a steady 28 degrees, the vegetation is lush – and the butterflies!
Beautiful!. If you're scared of insects, you may find the flitting of these colourful winged creatures a little unsettling up close. Stay calm.
The Butterfly House is as educational as it is entertaining and if you encourage your children to take the time to really look at what's going on around them, they'll learn a lot about how this delicate natural beauty lives. Make sure you've got easy access to a camera – if you're lucky, one of the butterflies might choose to make a temporary stop on your own children to help you capture a fun family memory.
What You Need To Know
The Butterfly House is open every day, from 9am-4.30pm.
Entry is included in your admission.
Growing Wild

This is aimed squarely at the young ones and offers a fun, interactive exploration into the wonderful world of nature.
Close-up looks at animals, as well as sculptures, tunnels and sounds, encourage kids to climb, play, imagine and learn.
The three general habitats are all represented – ground, trees and water – and kids are left with a different perspective on what life would be like for their furry, feathered and scaly friends.
What You Need To Know
Growing Wild is open every day from 9am-5pm.
Entry is free with your admission.
Suitable for children aged 3-8.
Trail of the Elephants

It's easy to understand why so many children love the elephant exhibit. After all, those creatures are so big and your children are so small. It's a reminder of just how vast your child's world, and everything in it, really is – and that must feel amazing.
The setting here has the feel of an Asian village – the ideal home for these Asian elephants.
For older kids, the exhibit opens up the possibility to talk about conservation issues around the world and how poaching and loss of habitat of these majestic beasts has impacted on their populations and daily safety as a species.
What You Need To Know
Open every day from 9am-5pm.
Free with your zoo admission.
FREE guided tours are also available from the zoo's volunteer guides.
Wild Sea

In Victoria, our coastline is a wonderful place that is home to many incredible creatures. This exhibit looks at life under the sea, with Little Penguins, seals, pelicans and a variety of interesting marine creatures to look at. Watching the Australian Fur Seals dart through the water is something your kids will love and in the penguins' tidal pool, with water jets that mimic the ocean's changing currents, the expanse of underwater windows gives your little ones a chance to see them gliding through the water in sleek style.
What You Need To Know
Open every day from 9am-5pm.
Free with your zoo admission.
FREE guided tours are also available from the zoo's volunteer guides.
Keeper Kids Playspace

A budding very or zoo-keeper in your family?
This space is ideal for young kids and is all about encouraging role-play and imagination, to let your little animal-lover wonder what life as a zoo keeper or vet might really be like.
In the new works area, your little ones can try their hands at zoo design – including carpentry and plumbing and everything required to transport and house animals safely.
Dress-ups and props help the problem-solving feel real, with plush toys, binoculars, stethoscopes and more on-hand to help your kid pretend themselves into the idea of being a zoo veterinarian, a zoo horticulturalist or a researcher.
X-rays of animals to examine on a light-box and real plants to help pot add to the fun.
What You Need To Know
Open every day from 9am-4pm.
Entry is free with your admission.
Australian Bush
Ah, kolas…They look so cuddly and cute!
In this exhibit, you can enjoy a close-up view of one of Australia's most beloved native wonders, as they snooze and slowly munch on gum leaves. Teaching your children about this amazing animal, with its very specific diet and sleeping habits, is easy when you can see them right before your eyes, and don't forget to point out the gorgeous flowering plants that are such an important part of this Australian Bush zone.
And when you walk through the open bushland space, you'll see kangaroos, wallabies and emus as they move around. The sleepy wombats are probably best seen through the windows that look into their underground burrow – a fantastic way to peep into the life of this fascinating, stocky little creature.
What You Need To Know
Open every day from 9am-4.30pm.
Entry is free with your admission.