5 FREE Bondi Gems – A Local Mum's Guide
Mums & Bubs
Toddlers
Preschoolers
Kids
Teens
Family
All Ages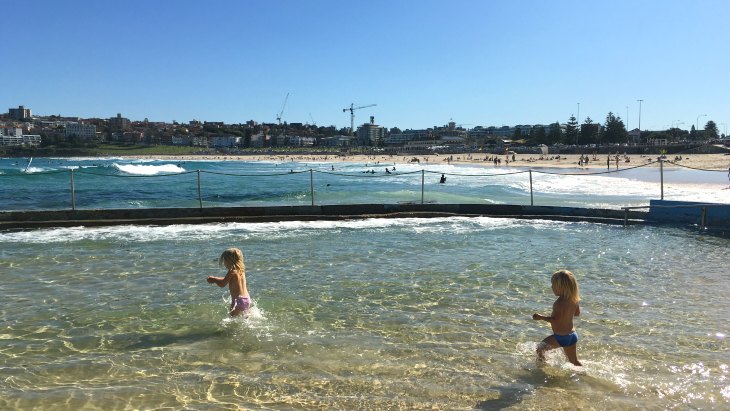 By Johanna Lindholm, ellaslist
Many people see Bondi as just a busy and pricey tourist spot. While it is true that Bondi is visited by millions of people each year, to me, this is one thing I like so much about this place. Bondi is always buzzing with life from people around the world. It's a welcoming place, and if you know where to look, it has lots of FREE activities for families. As a family, you can easily dedicate your entire weekend to the "Bondi Bubble".

Bondi is the place where hundreds of Nippers meet on Sunday mornings to learn about the water. Where stall holders set up camp each week in preparation for the weekend market. It's where families can enjoy a movie under the stars or come together to sing Christmas carols by the Sea.

It is in Bondi that 80,000 adults and kids cross the finish line each year in Australia's most popular running race, raising money to brighten the lives of sick and injured children. Bondi is where the sky turns into an open-air canvas of colourful kites in September and its coastline into a spectacular outdoor gallery of sculptures in October. And if you visit in July, you will experience a magical winterland where families can ice-skate.

Lots of fun to discover in this paradise! Here are my Top 5 Free Things To Do: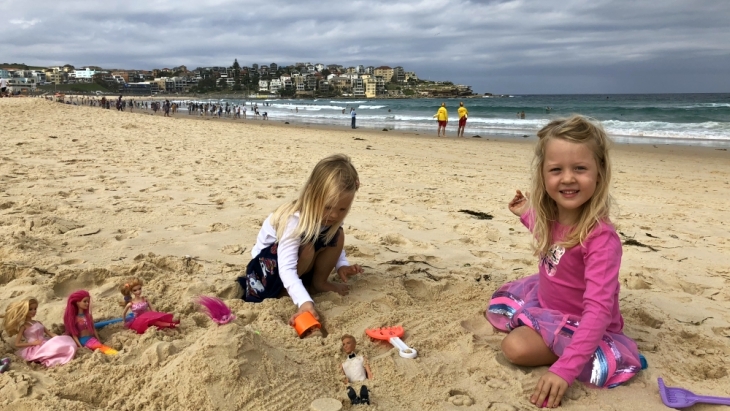 1. Play In The Sand & Water
Being a beach lover, my absolute favourite thing in Bondi is to visit the beach. Kids of all ages can enjoy the 1km stretch of golden sand and blue water. Smaller kids will love splashing in the pool and smaller waves at the north end of the beach. We have spent years there and girls are now braving the bigger waves. Trying to figure out how to stay on top of the surfboard. So are their parents…

Even during the colder months of the year, the beach is a haven for kids. Building sand castles, making sand angels and jumping down from the ramps, braving to go a bit higher each time. I'm amazed no legs have been broken yet.

Bondi is home to many dolphin pods. We had a cute one swim right up to us. Quite entertaining as the tourists thought it was a shark… Bondi is also home to the first Surf Life Saving Club in the world and in Bondi, brave volunteers and lifeguards (Yes, they are just as handsome in real life!) rescue about 30 people from the rips every day. Please, make sure you swim between the flags!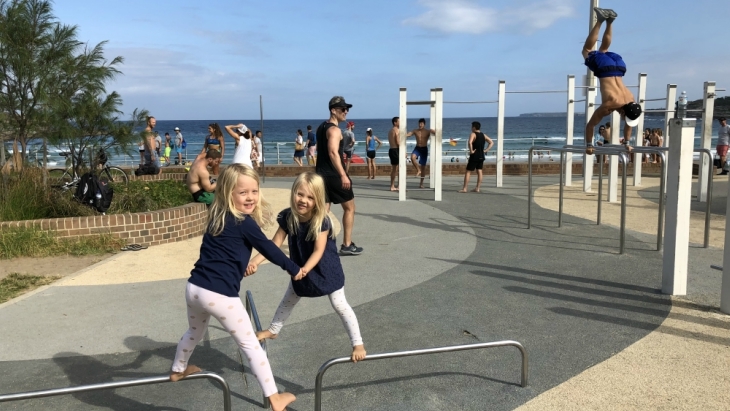 2. Try Your Strength & Balance At The Gym
The Bondi Park Outdoor Gym is not just a spot for beautiful bodies. It is a mecca for kids! Who knew a couple of metal poles and planks could be so much fun. It is a great spot for you to work up a sweat while the kids play around on the equipment. The gym is located at the north end of the beach and I bet it has the best view of all the gyms in the world.

Weekdays are usually less busy, and you don't need to worry about the kids occupying the big boys' bars. But if you visit on the weekends you can witness the most impressive acrobatic tricks and demonstrations of physical and mental strength. A great way to make your kids interested in physical activity and teach them that Practice Makes…Better.

This gym is a major inspiration, and where some of my new year resolutions have been founded; like the Human Flag and Back Flip to name a few. After two kids and no muscles those did not go according to plan, not even close! This year, my 5-year-old and I are attempting the handstand. I bet she'll beat me to it!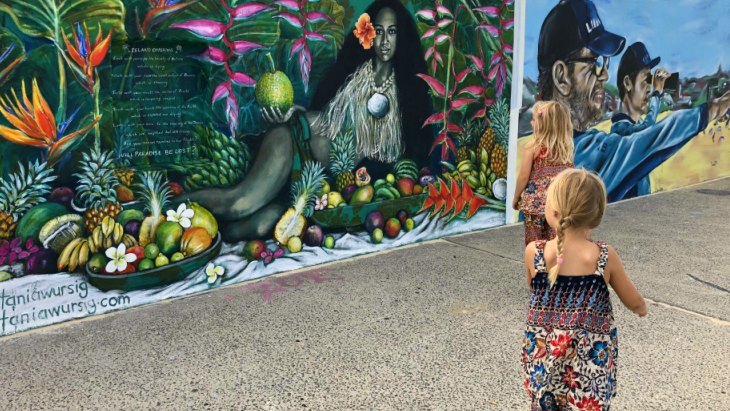 3. Explore The Bondi Sea Wall
Another Bondi highlight is to visit the Bondi Graffiti Wall along the beach promenade. A colourful mural of street art made by local artists – and some visiting ones, too. Each art piece is unique and tells a story.

There are only two permanent paintings on the wall: a memorial to a local girl Chloe Byron, who was killed in the Bali bombings, and an ANZAC commemorative mural. The rest of the panels are dynamic. Every six months, artists can apply to leave a temporary mark on the most prominent graffiti canvasses in the world.

We have spent hours walking up and down this masterpiece, with the girls spotting Disney characters, patting (and kissing) cute animals, and imitating all kinds of poses painted on the wall. Ask your kids what they think the paintings mean, who drew them and why? It will put a smile on your face!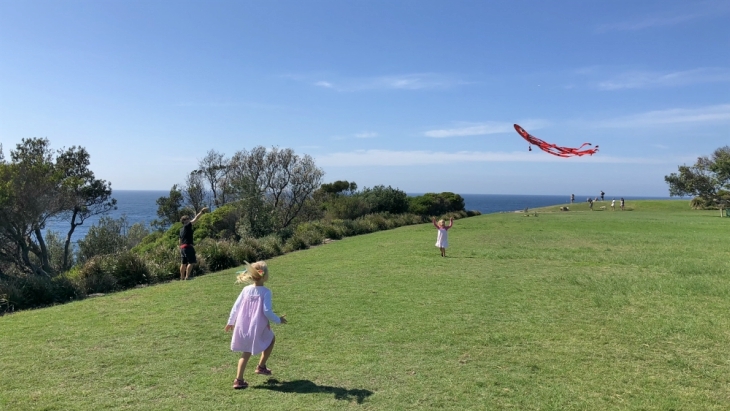 4. Enjoy The Grassy Knolls
Bondi is surrounded by large open grass areas for kids to run around and play on. Year round, locals flock to the "grassy knoll", a little grass hill at the northern end of the beach, for picnics, barbecues or to just to chill out in the afternoon sun.

Up on the hill of south Bondi, you'll find Marks Park with the most beautiful view over Bondi and the open sea. A large flat grass area for kids (and parents) to practise hand stands, blow bubbles, fly a kite, or play sports. Our family games get quite intense as both girls have inherited their parents competitive streak.

The grass area down by the beach has recently received a face-lift with new huts. Plenty of grass to enjoy, stunning views, fun trees to climb nearby, BBQ facilities, and a fully fenced and gated playground. Who can ask for a better outdoor kid's party venue?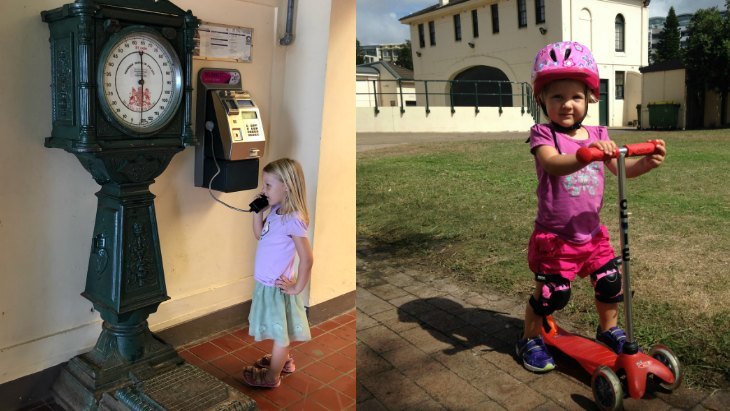 5. Discover Pavilion's Secrets
The Bondi Pavilion is an Arts and Cultural centre. It houses a theatre, a gallery, shops, a restaurant, and change rooms. It is also a BIG adventure for young kids and a perfect place to knock off an hour or two on a rainy day.

Why not try the old, very squeaky, wiggly scale? My girls are entertained for minutes, to the appreciation of other visitors. Running up and down the stairs is also heaps of fun and can knock off 30 minutes in best cases. Or why not make a call to grandma or Cinderella from the old pay phone? Santa is popular too...You'll also find one of the best coffees in Bondi here. My girls can also vouch for Sejuiced's yummy babycinos.

Another great pavillion café faces the courtyard. No cars to worry about, large grass area for kids, and an old amphitheatre. Great place for kids to learn to scooter or ride a bike on windy days or when the beach promenade is too busy. Best of all, you can drink your coffee in peace (and warm) while the kids play. Heavenly!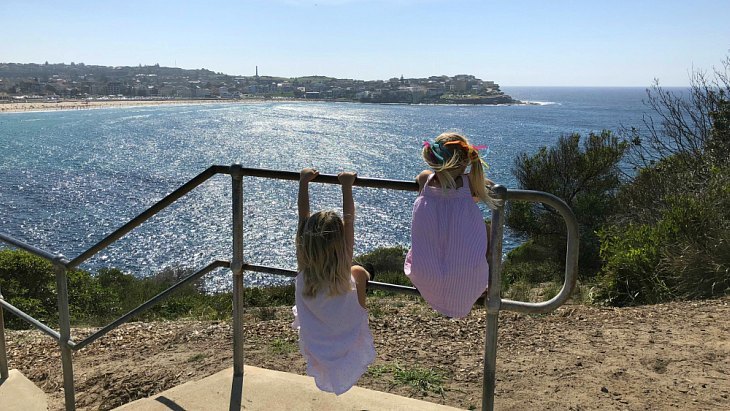 To discover more family inspiration, events and news click here.