Bondi Beach Playground (gated)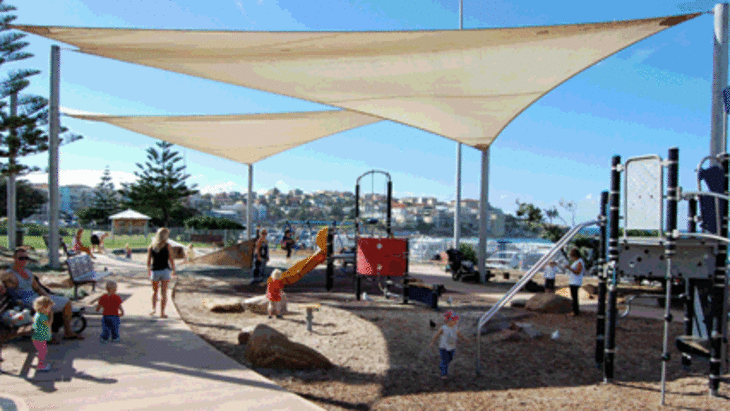 Who can resist a visit to ever buzzy Bondi? this fab medium sized playground  is great for 0-4's with a killer view of the beach.
This really popular fenced & gated playground in the centre of Bondi Beach has a good standard range of equipment. 2 x baby bucket swings and 2 x normal swings and a rope hammock swing. It has 2 climbing rigs, one for older children and a smaller climbing rig with a curved baby slide under a large shade canopy in the middle. The attached small 'shop' counter is very popular with toddlers. There's a large clean shaded sandpit area with a sunken wooden boat to climb, a seesaw and some stepping posts. Ground is rubber, sand and woodchip with a concrete path round the edge that is good for scooters and ride-ons.
Toilets located at the pavilion nearby, along with a couple of cafes for coffee, fresh juice and snacks. There's a couple of gas BBQ's just outside the perimeter fence too. Paid parking is available along the beachfront but it's pricey, it's worthwhile obtaining the Waverley council beach permit if you live in the Waverley area. This playground can get busy, and 4pm weekdays always see the arrival of older schoolkids. Come early in the week. On Saturday and Sunday mornings, it's really quiet and the dads are out in force.
Team a visit here with one of the many activities at Bondi Pavilion or a day on Bondi Beach.