Submerge yourself in Sydney's newest hands-on family Sharks exhibition
Submerge yourself in Sydney❜s newest hands-on family Sharks exhibition
Thu Oct 06 - Sat Dec 31 2022
All Ages
From: $17.50
Visit the Australian Museum's fierce new exhibition, Sharks!
This spectacular exhibition will show you everything there is to know about sharks, with interactive displays, touchable specimens and exciting real objects.
Kids and adults alike will marvel at meeting a sea of sharks including the long-extinct Helicoprion and the infamous Great White. You'll come face-to-face with an 8m-long Whale Shark, and even be able to view the world from a Hammerhead's perspective.
What to Expect
Life-size shark models ranging from 50cm Epaulette Shark to the 8m Whale Shark.
Augmented reality interactives where you can play with a Whale Shark or explore the contents of a shark's stomach.
Real, touchable shark specimens from the Australian Museum collection.
Plenty of jaw-some stuff for kids and families!
Interactive experiences
The best way to learn about sharks is by dipping your toe into the water!
See with 360-degree Hammerhead vision: Having eyes at each end of the 'hammer' means they have 360° vision – they can see above and below them.
Enter a virtual oceanarium: Dive into the diverse world of sharks in this digital, underwater experience.
What's inside a Tiger Shark's stomach? Lift the lid to find out. They do get very hungry...
What sort of shark are you? Take our shark personality test to find out what kind of shark you would be.
Adapt to survive: Use the touch screen to make the necessary evolutionary adaptations to survive in four different environments.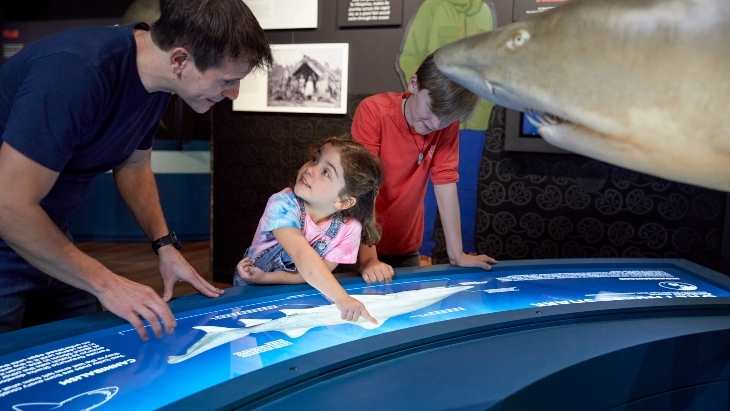 First Nations and Pasifika cultural representation
With cultural connections reaching back countless generations, visitors will discover how First Nations' and Pasifika Peoples' knowledge of sharks can help us protect them.
There are over 400 species of shark in the world, and about half of them occur in the waters around Australia, more than anywhere else. So we are uniquely placed to study sharks and better understanding their importance.
What you'll see
Cultural objects that teach us about the historical connections between people and sharks including weapons, armour, tools, ceremonial costume, drums and carvings.
Newly acquired surfboards from Hawaii, made in the enduring style of Hawaiian Ancestors.
An interactive seasonal calendar linking the plants and animals around you to what the sharks are doing in the water.
For more information and to book, please visit Australian Museum.
Where: Level 2, Australian Museum, 1 William St, Sydney
When: Sharks is a permanent education space
Cost: From $17.50
Tell them ellaslist sent you!