Say Hi to PHIVE
Wed Mar 29 - Wed May 31 2023
All Ages
$0.00
PHIVE is a new community, cultural, and civic hub situated in the heart of Parramatta's CBD. It is a place where people can come to learn, be inspired, explore something new, connect with the community, and find local services.
The building is designed by the award-winning French architect Manuelle Gautrand, in partnership with Australian architecture firms Lacoste + Stevenson and DesignInc. It is a smart building with sustainability credentials, making it net-zero carbon from day one.
PHIVE is located at 5 Parramatta Square, which is a part of the vibrant Parramatta Square precinct that includes cafes, restaurants, shopping, and public art.
The building consists of six levels, and it offers various services, including a brand new City of Parramatta Library, flexible spaces available for hire by businesses and the community, an exciting program of events and exhibitions, community hub and creative spaces, City of Parramatta customer contact center and visitor services, and the new City of Parramatta Council Chambers.
The building also has a café that is soon to be open, providing dine-in, grab-and-go, and click-and-collect options.
PHIVE seamlessly connects with the original heritage-listed Parramatta Town Hall, bringing together the area's rich history and state-of-the-art facilities of a world-class community hub. PHIVE is designed with sustainability, accessibility, and inclusiveness at its core, and it offers a space for everyone, from day to night.
Register to join a free tour of PHIVE.
Library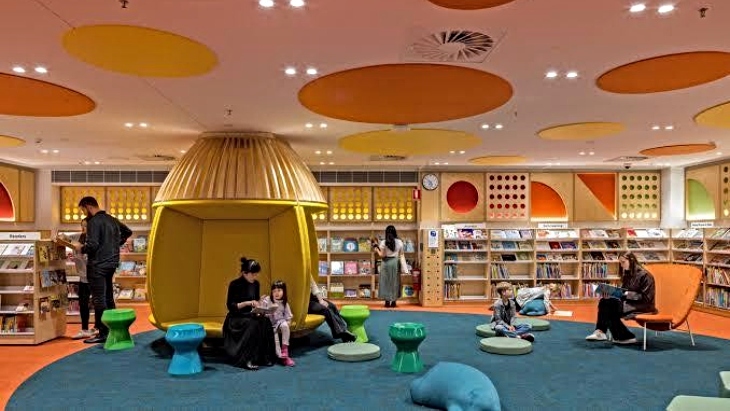 Library for families
Level one includes a dedicated children's space, with a large kids book collection.
Borrow books for reading at home, or take the kids along to the regular Story Time program for 0-5 year-olds.
Modern parenting facilities can be found next to the children's library.
Storytime
Held during the school term Storytime is held on level 1 in the children's area. Each session commences at 10:30am and runs for 30 minutes.
Tuesday - Toddler Time (18 month - 3 years)
Wednesday - Bibs and Books (0-2 years)
Friday - Preschool Storytime (3 years - 5 years)
Enjoy our events
Throughout the year, the Library hosts an exciting program of events where you can learn a new hobby or skill, or meet new friends.
Author talks
STEM and coding classes
Digital literacy classes
Book clubs
English conversation classes
Creative writing workshops
Leisure groups.
Library opening times
The library is open the following extended hours:
Monday to Thursday: 9am – 8pm
Friday to Sunday: 9am – 5pm
Closed Public Holidays
For more information on the Library see PHIVE Library.
Event Spaces at PHIVE
PHIVE offers a variety of inspiring venue spaces for hire, catering to different needs and interests. The fully-equipped studios are available for recording podcasts, while creative maker spaces are perfect for artists and designers. If you need a place to host a meeting or presentation, there are light-filled meeting rooms available, and if you want to host a class or workshop, there are tranquil active wellness spaces that can accommodate your needs.
These spaces are designed to inspire creativity and innovation, and they are fully equipped with the latest technology to ensure that your event or project is a success. All spaces are beautifully appointed and customisable with the latest AV and video conferencing equipment. A further range of technology is available to hire, and a full-time tech officer is available to ensure everything runs smoothly.
Whether you are a business looking for a space to host a conference or a community group looking for a place to hold a workshop, PHIVE has a range of spaces to suit your needs.
For more information on the Event Spaces at PHIVE see City of Parramatta Venue Spaces.
Tell them ellaslist sent to you!