Sanitarium Weet-Bix Kids Tryathlon Sydney 2018
Sanitarium Weet-Bix Kids Tryathlon Sydney 2018
Sun Feb 04 2018
Kids
Teens
Family
From: $60.95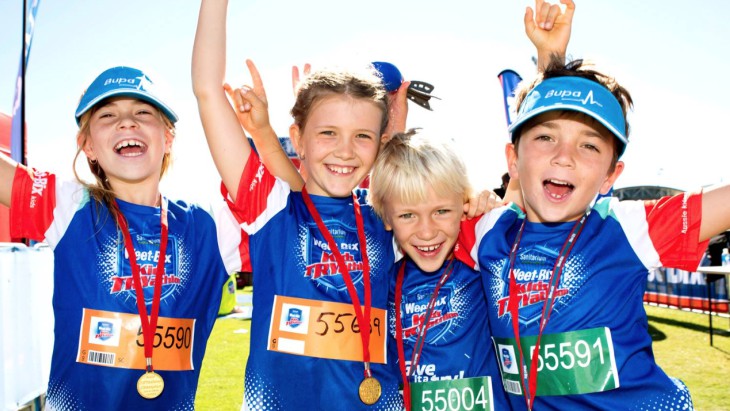 Cheer on your kids as they swim, ride and run their way to a healthy start to 2018 in the Sanitarium Weet-Bix Kids Tryathlon this February.
A safe environment where kids can focus on enjoying time with friends on the course or in activities around the TRYathlon Village. Every child, no matter their ability, is considered a champion and encouraged by Weet-Bix Kids TRYathlon Ambassadors. A medallion is awarded for completion.
Steve 'Commando' Willis and World Champion surfer Stephanie Gilmore will be in Sydney to cheer our TRYathletes across the line.
There's lots of other activties in the TRYathlon Village.
Weetbix Soccer: Put those Soccer skills to the test and see if you can bend it like Tim Cahill and score a goal!
Weet-Bix Hit-A-6 Cricket: See if you can Hit-a-6 with Weet-Bix! You never know who may be at the other end to catch it.
There are Trek bikes, Razor scooters, Funky Trunks/Funkita Prize Packs and Asics Prize Packs up for grabs too! Participants must be registered by Sunday, 28 January 2018 to be eligible to win on-the-day prizes.
Sydney Olympic Park will play host to thousands of TRYathletes within the iconic Aquatic Centre and Cathy Freeman Park. TRYathletes will swim in the same pool as Australian Olympians and cycle and run throughout the famous precinct with lots of vantage points for spectators. Make sure you don't miss out!
Where: Sydney Olympic Park
When: Sunday 4 February 2018; 1st race starts at 8.30am (age requirement: 7-15yrs)
Cost: Individual: $65.95; Family 3+: $60.95
For more information, visit the website.
Tell them ellaslist sent you!