SAND SONG at Barangaroo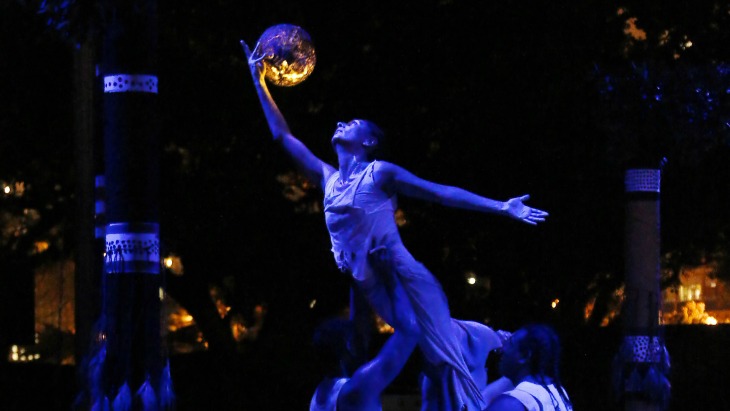 Performance and workshop for Sydney kids and families at Barangaroo these October school holidays!
Families will love SAND SONG, an uplifting contemporary Aboriginal dance and theatre performance and workshop at Barangaroo during the October school holidays.
SAND SONG will illuminate the Cutaway at Barangaroo Reserve across six days. A unique and inspiring Aboriginal culture experience for children aged 5-12 and their parents or carers, SAND SONG tells the story of 'Cheeky Brolga stealing Emu's egg', which is the Gammilleroi Dreaming story of the 'First Sun' – the first time the sun's light shone on Australia. The story also represents the dawn of understanding, growing up and gaining wisdom.
During a 30-minute hands-on workshop, children meet the performers, learn the Emu dance and 'paint up' their dream on a glass 'dream holder' that becomes part of the SAND SONG set. Children will get to keep their dream holder after the show. The workshop is followed by a mesmerising and humorous 40-55 minute performance exploring the power of light, dreams and fire and featuring a fusion of contemporary and traditional music, with live singing, didgeridoo and clap sticks. Created by visual artists Walbira Murray and director Elena Vereker, and produced by Insite Arts.
Where: The Cutaway, Barangaroo Reserve, 1 Merriman St, Barangaroo
When: Tuesday, 3 October to Sunday, 8 October 2017
Cost: $20 + booking fee per person, $64 per family of 4
For more information, visit the website.
Tell them ellaslist sent you!