Let the 2020 Deliveroo Foodie Gamez Begin!
Mon Jul 27 - Sun Aug 09 2020
Preschoolers
Kids
Teens
Family
$0.00
Since we can't get to the 2020 Olympics, Aussies are invited to challenge their household to food-focused shenanigans thanks to Deliveroo.
The competition kicks off conveniently during the week that the Olympics were due to take place. Competitors need only flick to the @DeliverooAU Instagram page and watch the Foodie Gamez highlights to play. There's even a special discounted bundle from Zeus Street Greek to accompany gameplay.
The interactive tournament includes three rounds: 'On-the-Way,' 'Mealtime,' and 'Closing Ceremony.' Each round contains 5-6 challenges, which has its own reward or forfeit, with the overall winner taking home the coveted 2020 Foodie Gamez limited-edition gold medal.
The games have been custom-designed to have the delicious Greek food at their centre, and balance a great mix of creativity, competitiveness and goofiness. From the Doorbell Sprint, to Pitta Fencing and Karate Chip Chop, the games test balance, athleticism, wit and love of food. They are as equally hilarious to watch as they are to play!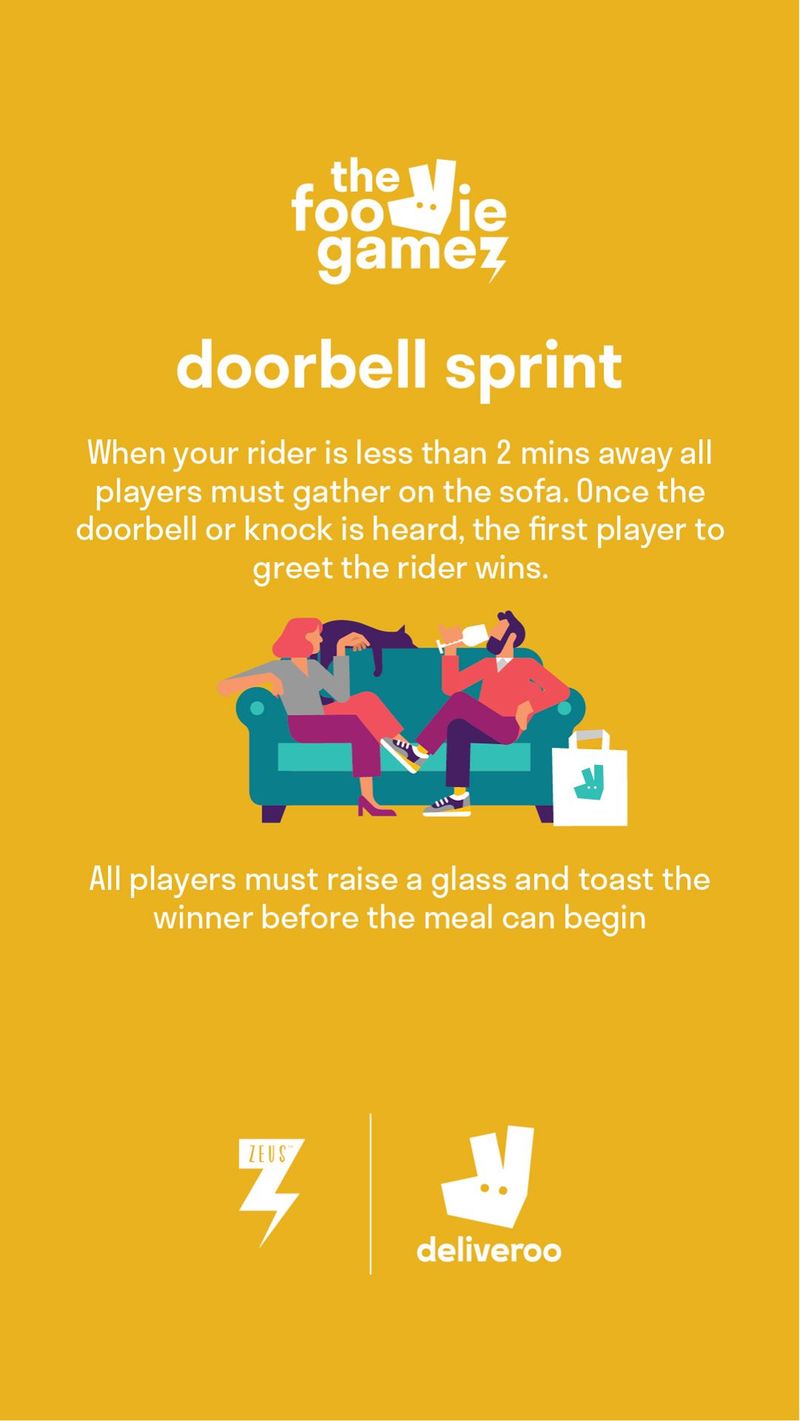 Gen Gregson said: "Like many Australians, we've worked our way through every board game in the house during the last few months. The competitive rivalry that Ryan and I have has reached new levels but The Foodie Gamez is such a fun way to enjoy spending time together and a Deliveroo at home together."

Ryan Gregson said: "We both spend a lot of time training and that means we're pretty busy. We've always found ordering through Deliveroo a nice way to treat ourselves. I never thought ordering Zeus Street Greek could be turned into a challenge like this but we've had a great time playing the games and as you can see my wife was too good for me."
Joe Satari from Deliveroo said: "At Deliveroo we're all about the love of food, so when we heard sporting events were continuing to be cancelled through winter, combining delicious Greek Food with some competition was a no-brainer. We had a lot of fun figuring out how Tennis, Basketball and Diving look with food, and we can't wait to see Australians participating this week".
Zeus Street Greek said: "We Greeks have been playing sports for over 3,500 years, and we're not going to stop now! Taking the fun and games inside, and combining them with delicious food means we all stay home, well-fed and entertained".
(Deliveroo is not a sponsor of the Olympic Games, any Olympic Committees, teams or athletes.)

When: From Monday, 27th July to Sunday, 8th August
See the website for more details.
Tell them ellaslist sent you!