Creative Maker Inclusive Holiday Camps
Tue Oct 01 - Fri Oct 11 2019
Preschoolers
Kids
From: $240.00
Do you love to see the magic of creativity in your child? Are you looking for inclusive social experiences that are nurturing and fun?
These new and exciting Creative Maker camps by Wonderchums spark curiosity and wonder in all kinds of kids!
The Wonderchums teachers LOVE making things, and they share this passion with their kid collaborators, helping them to design and create awesome things they are proud to show you at the end of the 2 days! The camp is suitable for all kids age 4 - 8 years.
The much-loved Wonderchums characters (one who is 6-foot tall!) come along to camp to help the kids learn about important social and creative skills through a mix of theatre play, games, music and making, sprinkled with a good dose of free outdoor play in the beautiful surrounds at Zetland.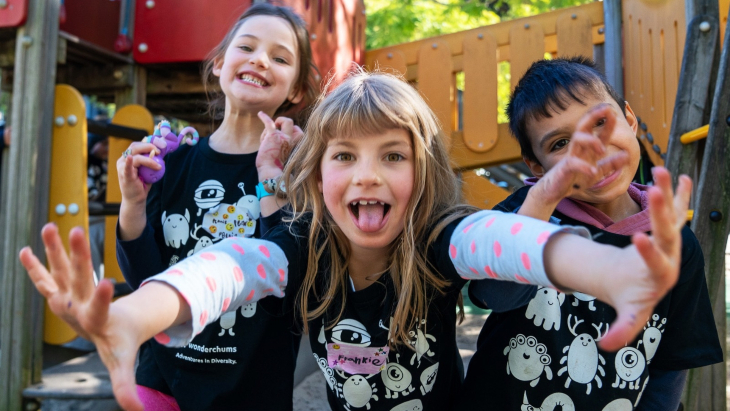 This is for your child if:
They are naturally curious, love to make things, or enjoy working with others to discover new ideas.
They like music, games, outdoor and indoor play, and are happy to try new games with all different kinds of kids.
You are looking for holiday care that is fun, creative and opens your child up to new ways of thinking and new friendships.
You want to expand your child's life experiences, so that they are rich with experiential learning.
You are looking for innovative ways to supplement conventional learning in the school holidays.
"If kids are collaborating on something creative, they get really excited! And when Remy came home yesterday he was SO excited. I could tell he'd had a good day from the moment he walked in the door. He came in singing the Wonderchums song. He said 'I've got this song! I've got this Tshirt!' He just loved it!"
- Ashlie, mum of Remy, 4

"It's really well organised. It's run by really creative people who know what they are doing. It's brilliantly focused. The kids are so engaged. You walk in and you can just see it, and the work they have done here today is fantastic. Like, actually it's really beautiful."
- Nicholas, dad of Frankie, 7
Where: Tote Building, 100 Joynton Avenue, Zetland NSW 2017

When: Four camps across 1 - 11 October 2019, 9.00am - 3.30pm
Drop off from 8.30am, pick up by 4pm
Extended daycare is available from 8am to 5pm at no additional cost - please specify in your booking.

Cost: $240 for the 2 day workshop. Special offer! Get a 50% discount using the code BESTFRIENDS. ALSO, if you use your creative kids voucher (using the the code CREATIVEKIDS) you can receive a further $100 off!
For more information, visit their website.
Tell them ellaslist sent you!