Chinese New Year Celebrations in Sydney for 2018
Fri Feb 16 - Sun Mar 04 2018
Family
$0.00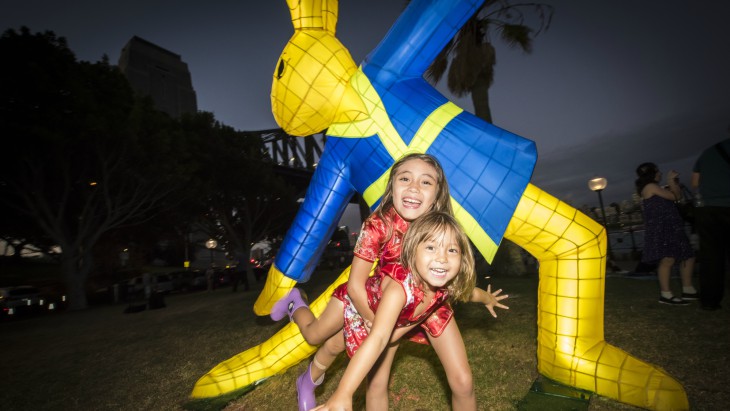 The Sydney Chinese New Year Festival returns for 17 jam-packed days this summer.
Celebrating its 22nd birthday and the Year of the Dog in 2018, this year's festival is expected to be the biggest yet with more than 80 traditional and contemporary events across the City and its villages. With a vibrant and joyful celebration of Chinese, Korean, Japanese, Thai and Indonesian culture, you can curate your own authentic Sydney Chinese New Year Festival experience from Friday 16 February to Sunday 4 March 2018.
Check out some of the program highlights below.
Lunar Lanterns: Fri 16 – Sun 25 February. Circular Quay, Sydney Opera House to The Rocks.
Spectacular contemporary lanterns ranging in sizes up to 13 metres high will create the ultimate zodiac animal lantern experience at Circular Quay, from the Sydney Opera House to the Overseas Passenger Terminal. The exhibition features new work by some of Australia's most exciting contemporary Asian Australian artists. For the Year of the Dog, there will be dog lanterns lighting up at both the Sydney Opera House and Dixon Street, Chinatown.
Frameshift presented by Art & About Sydney: Fri 16, Sat 17 and Sun 18 February; 8.30-9.15pm. Customs House Forecourt, 31 Alfred St, Circular Quay
An aerial theatre show that combines vertical performance, contemporary theatre and b-boy dancing. A co-production between Australian physical theatre company Stalker Theatre, Korean vertical performance group Creative Dandi, and Seoul b-boy group Drifterzcrew.
Chinatown Celebrations: Fri 16 February – Sun 4 March.
Chinatown is the historical home and the cultural heart of the Sydney Chinese New Year Festival. Chinatown will come alive with the sights and sounds of Lion Dance performances and traditional New Year firecrackers to drive away evil every Friday, Saturday & Sunday at 6pm and 6.30pm. Another highlight will be the AYAM™ Zodiac Roulette to discover your destiny dish and a personalised horoscope prediction for 2018, matched to your Western and Chinese horoscopes.
Community Performance Program: 16-18 & 23-25 February; 5pm followed by the Lunar Spectacular Show, 7-8pm. First Fleet Park, The Rocks
Performers from a wide range of community groups will take to the outdoor stage in The Rocks with traditional and contemporary performances. From 5pm, see community groups specialising in choir performances, opera, classical music, fashion shows, tai chi and kung fu. Commencing at 7pm, the Lunar Spectacular Show is a one-hour curated program that showcases local community groups performing traditional Chinese, Korean, Japanese, Thai and Indonesian dancing; Korean drumming; Japanese hip hop; and stilt walking.
Chinatown Dog Lanterns: Fri 16 February - Sun 4 March. Cnr Dixon & Little Hay Streets, Chinatown.
For this Year of the Dog, Chinatown will be watched by two guardian dogs towering 3.8m above the street. Designed by Fan Dongwang, the large, friendly, fiberglass lanterns combine traditional Chinese three-dimensional carving techniques with Western pop art colour palettes. The pattern and colour of the red and blue dogs reflect the opposite qualities of Yin and Yang, as well as the happy, celebratory atmosphere of the Lunar New Year Festival.
Henan Weekend: Sat 24 - Sun 25 February; 5-5.30pm. First Fleet Park, The Rocks
Each year the City of Sydney welcomes visiting artists from China. This year audiences will delight in traditional and contemporary performances from artists visiting from China's central region of Henan. Highlights include a thrilling Shaolin Monks martial arts performance who will showcase Shaolin boxing, kungfu skills, weapons and stunt demonstrations. Henan artists will also treat guests to traditional dance and music performances, Henan dialect rap, Chinese classical dance, and a performance using the pipa.
Dragon Boat Races: Sat 24 February, 8am-5pm and Sun 25 February; 8.30am-3pm. Cockle Bay, Darling Harbour
More than 3,000 paddlers will churn up the water as thousands of spectators line the banks of Cockle Bay, Darling Harbour to watch the boats battle it out in the southern hemisphere's largest dragon boat racing festival.
Associated Events: Fri 16 February – Sun 4 March
More than 80 associated events across Sydney will offer diverse ways to celebrate the Lunar New Year. Events include singing karaoke at the top of the Harbour Bridge, tea ceremonies, exploring the moon at Sydney Observatory, lantern workshops and photography exhibitions. Enjoy some theatre with Michelle Law's hilarious new play at Belvoir Street. Associated events are presented by a range of partners and includes exhibitions, talks, tours, workshops and specialty event focussed on food, family and kids.
Lunar Eats: Fri 16 February – Sun 4 March
Whether you are looking for a traditional Asian banquet or something with a contemporary Asian twist there will be plenty of opportunities to savour the taste of Asia. Highlights include a Chinese New Year banquet at Jade Temple, Chinese New Year Night Market at Sydney Fish Market and indulge your sweet tooth at 12 Micron's Chinese New Year Dessert Degustation. There are over 210 Asian restaurants in Chinatown and CBD South.
Guide Dogs NSW/ACT Art Installation: Fri 16 - Sun 25 February. Scout Place and Customs House, Alfred St, Circular Quay
City of Sydney is proud to partner with Guide Dogs NSW/ACT as the 2018 Sydney Chinese New Year Festival charity partner. Visit Customs House and nearby Scout Place and see the familiar, life-size model dog donation boxes transformed into a breathtaking art installation of 60 dogs representing 60 years of service. Vote for your favourite with a gold coin. Visit the Guide Dogs roadshow to learn about services on offer; understand what it might be like to be vision impaired; take your photo with a puppy, buy a Chinese New Year momento or chat to puppy raisers and clients. For locations and dates, visit www.sydneychinesenewyear.com
For more information, visit the website and post and follow the conversation using #CNYSYD.
Tell them ellaslist sent you!