Australian Classics Collection at Koko Black Bring Joy to 2020
Thu Sep 10 - Thu Sep 24 2020
Teens
Family
Parents Only
$0.00
In times of crisis we turn to nostalgia. Studies have actually found that when nostalgia is triggered in people, they tend to feel positive emotions. Do you know what else brings positivity in times of crisis?? Chocolate!
Artisan chocolatier, Koko Black, has released its latest chocolate range - the Australian Classics Collection, celebrating beloved Australiana classics with an exciting Koko twist. This is the good stuff we need in 2020!
Taking cues from Australia's nostalgic golden days, Koko Black has taken much-loved, classic flavours, ingredients and emotions, reimagining them in their own unique contemporary way and creating new moments of joy in the process.
The Koko Black Australian Classic Collection includes:
Gaytime Goldies - Single Bar, $6.00 / 3 Pack, $17.90
Mostly sweet but slightly salty; mostly milky, sometimes malty. An oldie and a goldie, to remind Australians of sunny afternoons and ice-creams that melted far too quickly. Vanilla and malted caramel ganache, dipped in dark chocolate and sprinkled with hazelnuts.
Koko Vovo - Single Bar, $6.00 / 3 Pack, $17.90
A trip down memory lane to the biscuit jar at Grandma's house. All the flavours of sweet afternoons, and everything nice dunked in tea! Milk chocolate coated biscuit topped with strawberry rosewater marshmallow, raspberry jelly and coconut.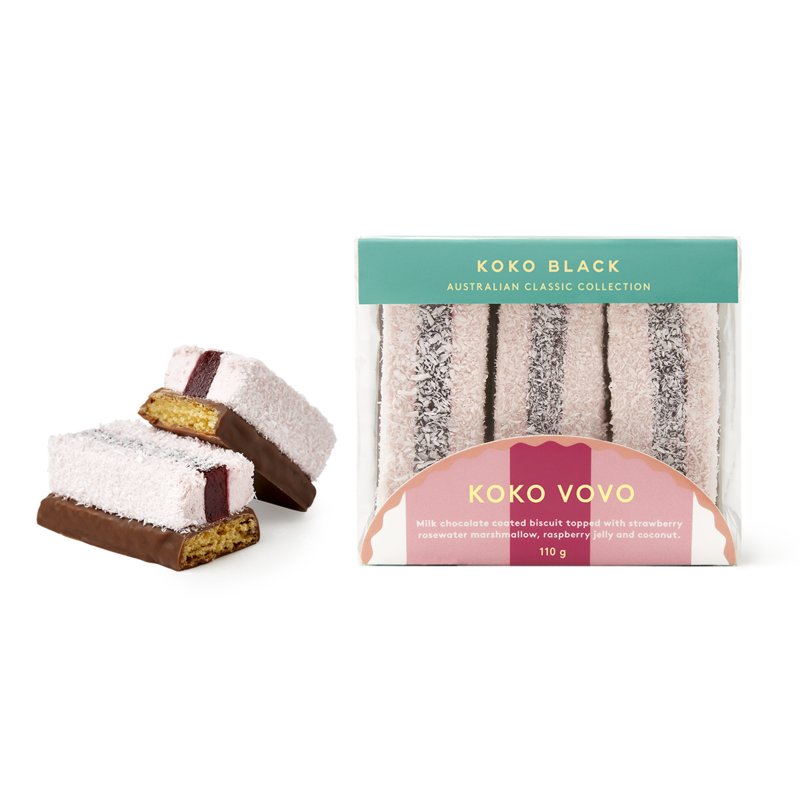 Jam Wagons - Single Bar, $6.00 / 3 Pack, $17.90
An iconic sandwich of marshmallow, chocolate, jam and biscuit. Tastes like tuckshop treats and wheelies outside the milk bar. Crumbly biscuit batons topped with marshmallow and raspberry jam coated in milk chocolate.
Honey Joys (Milk and 54% Dark Chocolate) - $15.90 per packet
A party-time favourite returns to capture the golden memories of crispy cornflakes and patty pans. Crunchy cornflakes and sticky honey, mixed in creamy milk chocolate or decadent dark chocolate.
Koko Crackles - In Between 130g, $15.90 / Slab 220g - $24.90
Forever young, but a little bit grown up, Koko Black's Koko Crackles will remind Australians of the first time in the kitchen full of sugar-highs. Crispy rice bubbles with caramelised coconut and white chocolate, dipped in dark chocolate.
Lamington Slice - In Between 150g, $15.90 / Slab 220g - $24.90
Koko's own take on a classic little cake. Fluffy, sweet morsels to recreate memories of roadside bakeries, school fetes and happy days. Dreamy, chocolate marshmallow and raspberry jelly, dipped in dark chocolates and dusted with coconut.
An 'Ultimate Classic Collection Hamper' featuring all products in the Australian Classics range will also be available to purchase online for $169.
The Koko Black limited edition Australian Classic Collection will be available to purchase online from September 10 and in-store at all Koko Black locations on September 24 for a short time only.
Get in quick and order yours here now!
Tell them ellaslist sent you!