Art Est❜s Easter School Holiday Program 2022
Mon Apr 11 - Fri Apr 22 2022
Kids
Teens
From: $65.00
Enrolments are now open for Art Est's Easter School Holiday Program.
Younger kids can make an easter bunny out of clay, paint a fishbowl inspired by Matisse, or use the printing press to create a unique kaleidoscope print.
For Teens, we have a masterclass in impasto acrylic painting with contemporary artist, Mellissa Read-Devine, or they can develop their drawing skills in a two-day workshop, and more!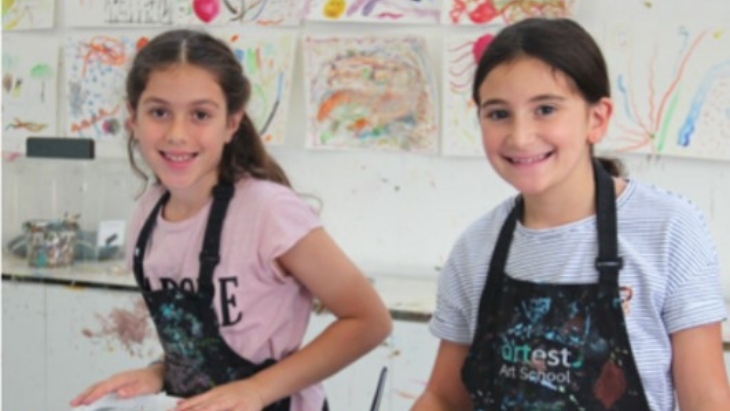 50 workshops on offer for creative kids and teens.
Collage and Mixed Media
Creepy Lanterns and Luminaries
Pixal Art Portraits
Drawing
Eyes
Super Cute Animals Anatomy
Developing Drawing Skills
Portrait Drawing
Cartooning
Ghosts, Ghouls and Goblins
Super Heros and Villians
Super (Mini) Heros
Design your own Monster
Illistration A Galaxy Far Far Away
To Infinity and Beyond
Manga Madness
Around the World in 8 Sketches
Gadgets and Inventions
Cartoon Character Favourites
Dinosaurs and Megfauna
Pottery and Sculpture
Goanas, Geckos and Lizards
Animal Bowls with Feet
Bunnies and Bilbies
Easter Bunnies
Printmaking
Hands Up and Down
Magnificant Masks
Pop Art Prints
Amazing Animals Prints
Kaleidoscopic Prints
Painting
What's in the Garden
Eyes
Life in a Fishbowl
Party with a Pangilon
Blue Porcein Vase
Watercolour Wreaths
Whales
Bunnies and Bilbys
Twisted Masterpieces
Rainbow Aquarium
Taking the Line for a Walk
Retro Easter Plushies
What is that Bug
In the Nocturne
Big Landscapes Inspired by Hockney
Impasto with Arcylics Masterclass with Mellissa Read-Devine
Exploring Colour with Arcylics
Van Gogh's Wheatfield
Sweet Aussie Animals
Pet Paw-traits
She Sells Sea Shells
On the Reef
Where: Rooftop (located above The Hardware Store) 42-48 John Street, Leichhardt
When: 11-22 April 2022
Cost: $65 - $260
Note:
3-hour workshops which run morning and afternoon (9.30am-12.30pm and 1.30pm-4.30pm) for kids 5 and over.
One-day and two-day workshops for teens to develop skills and explore new mediums (10am-4pm)
Lunchtime supervision for kids staying the whole day at no extra charge.
Find out more at Art Est Art School
Tell them ellaslist sent you!