Trifu Dojo: Martial Arts & Karate Classes for Kids (1.5yrs+) & Adults
Trifu Dojo: Martial Arts & Karate Classes for Kids (1.5yrs+) & Adults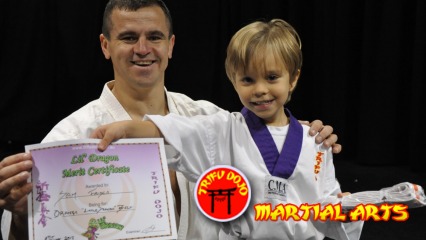 2 WEEKS FREE TRIAL – ask us how.
Trifu Dojo, with studios in Paddington and Bondi in the East, the CBD (at Andrew Boy Charlton Pool), and Roseville on the North Shore, is not just a Martial Arts School!
We help teach focus, fitness, health, weight loss, strength, and our popular Kids and Teenagers' Karate programs assist with passive anti bullying techniques.
All of our instructors strive to give all our students the very best experience possible. The spirit, determination, empathy and gentle yet strong influence is a testament to their own commitment to their own training and journey.
Mini Ninjas (1.5-2.5yrs): an introduction for tiny tots into the wonderful world of exercise, class participation and understanding how to follow instructions, all wrapped up cleverly in an exciting, fun and exhilarating class.

Ninjas (3-5yrs):the most stimulating class for the under school aged child. We are more committed to fun and the feel good aspect of achievement for this age group as we ready them for entering into more social and class oriented activities in the outside world.
Children's Karate 1 (5-6yrs): We teach the basics of Karate and fitness, and anyone can do this class. This class is still fun but has structure and a firmer program to enter the children into Martial Arts and help them understand sport and fitness.
Children's Karate 2: this class in intended for those students who have been a part of Children's Karate 1 or have come from another style of Karate and have a basic understanding of the basics and need to be stimulated by their classes.
Stunts: taking Karate a step further by offering an opportunity to our students to try something different and push themselves. This class can incorporate more athletic and acrobatic moves.
Parents and Kid's Class!
For Adults and Children of any age (4yrs+). Take this rare opportunity to do a sport with your child. Each parent and child works at their pace but is pushed and propelled to go faster through challenges and games that both will find challenging. Basic karate, basic technique based routines and circuits. A great way to have one on one time with your child/children whilst still doing something good for your health, fitness and mind.
Adult Classes: we also offer a complete range of adult and women's classes, from Karate (for all levels, including beginners), to Fitness & Stretch, Kata, and Sparring.
Click here for 2019 Timetable.
Click here for details on our many locations.
We are the back up for you and your belief system never the other way around.

Reviews
My 4 year old loves this class and his teacher Sensei Matt, he is showing great improvement in coordination and core strength and he loved the acheivement of getting a trophy and a new belt
Brilliant. Can not recommend them highly enough. In the process of teaching karate, Sensai Daniel focuses heavily on building confidence, strength, focus, and stresses the importance of excercise but in such a fun way that my little man (4yo) can't wait for his next class and talks about it all week.