Superheroes Inc: Big Fun For Little People
Superheroes Inc: Big Fun For Little People
Get ready for a kids' party like no other with Superheroes Inc, located in Metro Sydney!
They've got all the classics, from superheroes to princesses, cowboys, fairies, clowns, and pirates, and they'll help you choose the perfect character to make your child's day.
Their engaging and entertaining performances are designed to be age-appropriate and customized to your needs, so the kids will be captivated from start to finish.
Supercharge your kids' party with Superheroes Inc!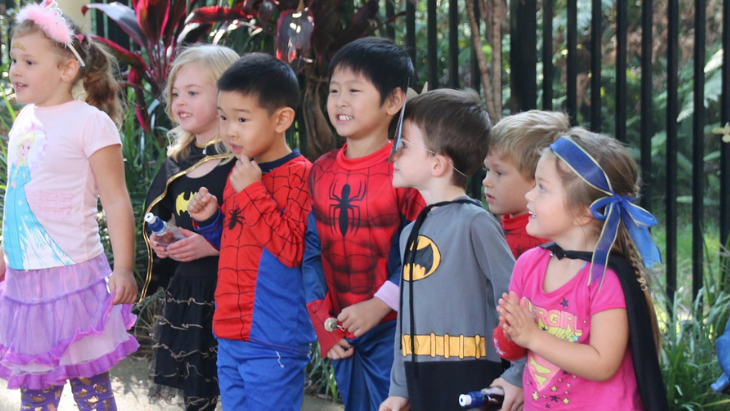 With a friendly, professional, and reliable team, you'll have peace of mind knowing that your event is in good hands.
And the best part? Superheroes Inc is great value for money and they go above and beyond to ensure your event is a hit and the kids are raving about it. Don't settle for a boring party, upgrade to the ultimate kids' experience with Superheroes Inc - big fun for little people guaranteed!
Contact Superhero Inc.
Phone: 02 9326 4686 or 0412 477 733
Email: [email protected]

For more information, visit the Superhero Inc. website
Tell them ellaslist sent you!
Reviews
We recently had a birthday party for my twin boys last Sunday and I can't express how happy I am with both Reece and Jayden. Reece turned up as Woody and Jaydon turned up as Buzz and they both are absolutely fantastic. My children and all their friends were kept entertained whilst the parents got to enjoy the food and catching up. They played hide and seek, read stories, did balloons, sang happy birthday and even got the children lined up for the birthday cakes!! I highly recommend them to anyone who wants a non-stressful birthday party. The fact that I had about 4 parents asked me about them after the party is definitely a sign that they did such a wonderful job. Thank you so much for a great day and for making my twins 5th birthday party a memorable one, it is greatly appreciated.
Could not recommend more, worth the spend, we had 2 entertainers and a dedicated face painter it was great all the kids were stoked and most importantly kids work all occupied and leaving parents alone for the most part. Really easy to deal with Andre, and look forward to having them for our next kids party!
Highly recommend using Superheroes inc for your party! Our entertainer was Reece, he was absolutely brilliant! Kept the kids captivated for the entire time he was there. Thank you!
We had Spider-Man attend our son's 4th birthday and he was BRILLIANT!! I honestly couldn't recommend more highly - engaging, fun, energetic, excellent with the kids [even remembered a lot of their names which made them feel really important!] The communication prior to the event was excellent and instilled confidence in their service from the get-go.
The hugest thanks to Spider-Man and Ironman for the most fabulous birthday entertainment. You thoroughly entertained all the children - and also the adults. It was just brilliant and you totally made our little boy's birthday! I can't believe how enthralled everyone was and how much fun they had. So many people commented afterwards saying how fantastic they were. Thanks so much from all of our family for making Samuel's day so super!
Superheroes Inc have been entertaining our son's birthday parties for 4 years already (since he was 3) and they are always going beyond and beyond. Very professionals from the first call, positive "can do" attitude, amazing entertainers and the kids LOVE it! Thank you for your great work!!
I can't recommend superhero's enough, I had the toy story character's for my daughters birthday and they were amazing. The kids had the best time. All the parents were delighted. Amazing service. Andre was also so helpful when arranging the booking.
We have used Superheroes twice for kids parties (4yo girl and 7yo boy). The service was great – really made the parties much easier, and the kids all responded really well. Both birthday boy and girl had an absolute blast!
I really recommend this company. We had such a great time with the Spiderman who came. His performance was amazing! He engaged a group of kids of varying ages (3-8) for a whole hour and was lots of fun. The company was very professional to deal with and book through. I wouldn't hesitate to use them again.
The best party entertainment!!Awesome service and experience.Highly recommended……THANK YOU
Our ZOOM party was great and worked much better than expected. All the kids loved Bob and he did such a good job! Wouldn't hesitate booking again although I hope next time it's not a virtual event but in person! Thanks so much
Just wanted to say thanks to your company for a great party. The Elsa and spiderman characters were great and the kids had a blast. Very professional and entertaining and I felt very comfortable with how good the 2 characters were engaging with the children. They stayed in character the whole time and Spiderman even had an American accent! I'll definitely use you guys again.
The entertainment today was outstanding. Thank you so much - all 20 children were captivated. Made our job so much easier.
Thanks so much to Superheroes for the awesome awesome Harry that came. He was brilliant. So funny and he kept the kids enthralled the whole time. He made the party. The children couldn't get enough and the parents were so thrilled also. He made such an effort (but it seemed effortless) and it was a lot of kids for a long 1.5 hours, all the way to the cake. Thanks so much. I will definitely recommend Superheroes to fellow parents!
The superheroes were simply awesome for kids and adults. The service and communications were smooth and clear from beginning to end. I also found the online tips and videos very helpful. Andy is very patient and take shis time to speak to customers.
I just wanted to say thank you to you guys for helping me arrange an amazing 4th Birthday Party for my son, Joshua. Also, a HUGE Thank you to Spiderman (aka Alec) for being an absolutely amazing Spiderman and kids entertainer. The kids had the BEST time and all the parents raved about it as well. My son is still telling everyone how "the real spiderman" came to his house! Best thing I ever did was to book you guys, thank you again!
Commando Andre made our boy's 9yr birthday party action packed fun for 24 boys with 90minutes of captivating personality, clever games, sprints and tug of war utilising the outdoor park. The adults could happily watch or join in, which was fantastic as well. We were so happy to have such an engaging, wonderful party especially after Covid cancelled parties last year, we were thrilled to go ahead this year. Thank you SuperHeroes.
I wanted to thank "Ryder" aka Alec for showing the children a good time at Spencer's birthday party. It was our first time using an entertainer and found the experience easy and most importantly fun for kids and adults alike. Alec was fantastic from taking charge of the party, to creating lots of fun for a bunch of shy 5yo's. Even the parents joined in! Everyone was asking me about our Ryder and commenting how great he was. Will definitely be recommending this service!
Awesome entertainment! Really made the day so enjoyable! Thank you!
Fantastic entertainment! I've used superheroes inc many times for my kids parties and they take away the stress of entertaining lots of little kids and make your party run smoothly.
So I need to tell you how FABULOUS Alec was as Hiccup on Saturday. So professional and so so SO good! The kids were mesmerised from the moment he arrived til the moment he left. As I think I told you I have seen a few characters at birthday parties in recent years but Hiccup was by far the very best I have seen. He was so great. Please thank him sincerely from us - he made our very small (Covid Safe) party the best one yet!
Thank you Superhero's Inc for making my sons day on his 4th birthday! Spiderman made a guest appearance on our zoom birthday party, and delivered a very special personalised message for the birthday boy. My son was amazed that Spiderman knew so much about him (friends and family names, favourite activities and shows etc)! Hoping to book in Spiderman for a real appearance at his birthday next year!
Great video sent for my son's birthday
I'm so glad I came across this business on Ella's list ! We had no idea how to make my 6 year old daughter's birthday party special since we would be isolated ... and the magic show was amazing !! Sean the magician went beyond my expectation, he was funny and the kids were belly laughing the whole time ! Highly recommended :)
A big heartfelt thank you to Andre and Superheroes for being our virtual entertainers. Nothing crystallises COVID-19 as clearly to a ten year old as having to cancel the birthday party she has looked forward to for months, an event we have always done up as a big deal for her. The party moved to Zoom and Andre had his talented team come on to lead them thru dances, treasure hunts and puzzles. I highly recommend Superheroes' virtual party. One, superheroes are exceptionally skilled at how to make every child feel included, no matter how shy and quiet. Zoom can be an intense 2 hour experience for introverts. Two, the entertainer keeps the kids engaged with wholesome activities. Otherwise be alert and watchful during your zoom party to make sure you get kids don't get on 13+ activities like Snapchat. Finally, well trained acting skills are more Important than ever. Kids gravitate to calm, reassured adults who come dressed up and ready to celebrate - and as far as I can tell, it's the actors who do this best at the moment
I just wanted to shoot through a quick thank-you for all your help in organising this last-minute entertainment for my son's Pokemon birthday party. He had an absolute blast and Ash was incredible... I was particularly impressed with how he was managing the children. Working with a group of 6-year-olds can be like herding a bunch of feral cats... and he did a fabulous job at keeping them entertained. We'll definitely be back to enlist your help with the next party.
Thanks for another great party!!! The birthday girl and all of her friends absolutely loved it!!! Can you please pass on my personal thanks to "Hula Girl", aka Peyton! It always gets a little crazy towards the end of the party and I don't think I told her how much of an awesome job she did… She was amazing with the kids and clearly loves her job.
The entertainers were fantastic, the kids absolutely loved them and they did a brilliant job. Funny, energetic and engaging! The whole process was faultless, with excellent interactions with the office team. This is our 2nd party using Superheroes Inc., there will definitely be more. Highly recommended!
James was an amazing zombie. He kept the group of 6 year old girls engaged for the full 90 minutes. He was funny and had the best accent. All of the moms were impressed
What an absolutely amazing experience from start to finish! I was initially very happy with the customer service and professionalism from Andre over the phone. I felt very reassured and confident and excited for my sons Spider-Man birthday party. With only a few weeks to spare before the party, Andre was very accommodating in fitting us in and nothing was a problem or too much to ask. The communication leading up the party was wonderful, and informative. On the day of party itself, everything went exactly as I was advised and the professionalism exceeded my expectations well and truly. Kieran was absolutely brilliant. He phoned and discussed things prior and when he arrived he called again, right on time and his entrance to my sons party was exciting and spectacular. He was so talented and in character, wonderfully believable and joyful to watch. A couple of kids who were initially reserved were put at ease by Kieran (Spider-Man) in a matter of seconds, he was just excellent with the kids and so funny & witty. Superheroes Inc really seem to understand kids humour and behaviours and they tailor their performances to suit the needs of your party. Spider-Man singing happy birthday with my son and his mates and posing for photos, special handshakes and cool superhero moves, not to mention running around endlessly playing games with all the children. It was just the best day ever. The memories we have are priceless and I am very grateful for this experience and would not hesitate in not only booking Superheros Inc myself again for future parties but recommending them to anyone!
Our Wonder Woman, Peyton, was AMAZING! She arrived right on time (I was beyond relieved to see her!), calling on arrival to have a quick chat and organise her special entrance. The children were immediately engaged as Wonder Woman bounded into the room, sharing jokes and making them giggle like mad! The birthday girl Mimi felt very special as she was given lots of one-on-one attention from her hero :) Peyton was warm, super-fun and friendly, and she had lots of active games up her sleeves - she could obviously tell straight away that she had a high-energy group on her hands! She planned the 75 minutes perfectly, and managed to keep 20 6-year-old girls fascinated, entertained and focused for the entire time! I honestly couldn't have done it without her!
The boys had a fantastic time. Hats off to the commando, he kept them all entertained, active and organised for the whole time and they had a lot of fun. Thanks to you and team for making Ben's birthday one to remember.
Mario and Luigi were amazing for my son's 5th Mario Kart birthday party. On time, dressed well, very funny (loved the dual jokes for adults and kids), games were perfect, very patient and just fantastic. My 2.5 yr old was smitten with Mario and his moustache and wanted him to pick her up a lot (unusual for her), he was wonderful with her. Italian accents were hysterical. Both kids and adults thought they were excellent. Would recommend 100% + Thank you for making the party such a hit! See you guys again next year!!!
The kids absolutely loved Willy Wonka and they thought he was hilarious. He kept in character right up to when he left. Just amazing. The parents couldn't believe how patient he was and he just kept all the kids so captivated and laughing. We had parents raving about how fun the party was so thank you as always for such an amazing crew of people you send out to parties. Superheroes.com.au will always be our first choice when looking to book an entertainer for our children's parties.
Just wanted to say how brilliant Dylan was with the kids at our party. They really enjoyed themselves. He managed the two different age groups so well. Many thanks!
Thank you to you and your team for enchanting our daughter and her friends (and parents) with the magic, fun and silliness of Harry Potter. Harry, Hermione and Dark Arts Teacher had our party goers thoroughly entertained. They masterfully ebbed and flowed with the children's energy levels and had the diverse group engaged. All of your pre party prep. was very helpful, as were the entertainers on the day.
Just wanted to say thank you for Saturday, the kids had so much fun with Thor and Black Widow. It was such a good afternoon. I had a few parents say to me how good you were, one parent had been to two parties with entertainers before coming to ours and said you were by far the best. Definitely will be using you again.
Thanks Superheros Inc. for exceeding our expectations on our son's 4th birthday celebration last week. The Spiderman that we had requested was awesome and full of energy. He completely engaged and entertained all the kids for the full hour. The baloons and gifts provided by the Spiderman were more than our expectations. Not only were the kids very excited, the adults were also all praise for the Spiderman's performance at the celebration. I highly recommend Superhero services.
Captain America was AWESOME!!. He had the kids entertained and engaged the whole time and developed a fabulous rapport with them... no easy feat for 15 four year olds! Toby had an absolute blast, as did all the other kids. As always, you guys have been super reliable and delivered a great, hassle-free party. Very happy customers and a delighted 4 year old!! :)
A huge thank you to Andre, Katie and the team for a wonderful Nerf gun party! My son and his friends had a ball and had the best time ever. The communication was great throughout and very professional, the entertainer was fantastic and did a wonderful job with the kids. Very happy customers!
Superb entertainment and games at our daughters 5th birthday party in the park on Saturday. The kids had an absolute blast. Awesome job! Thanks Spider-Man. Will recommend you to all our friends!
It's great to have an entertainer to make the kids excited and help wrangle the kids especially if it's a 'drop off' with the kids. Superheroes Inc is easy to book and the entertainer always shows up on time with specific gear and is very professional. Makes the day easy and is worth the money as you get a break from having to keep the kids entertained and can chat to other parents or family. This is my second one with Superheroes Inc and I will definitely book again. Thank you for making the day amazing!
Excellent entertainers. Frazer had such great energy and immediate connection with the kids. We had a ninjago party and they were thrilled. Superheroes were very flexible with the number of children and even helped me set my own activity. Highly recommend.
Huge thank you to Superheros and "Hermione Granger" who blew away my daughter and her 15 guests at her 7 yo birthday party. She was wonderful and kept them totally enthralled from start to finish. I highly recommend them to anyone looking for an entertainer for kids birthday. Just brilliant!
I absolutely recommend Superheros Inc. We had an Army Commando party for our son's 5th birthday and the children were entertained from start to finish and came out smiling and laughing. I will certainly use them again in the future.
We had Buzz Lightyear on Saturday for my son's 3rd birthday. Shane did an absolutely fantastic job, he was brilliant and would absolutely use him again. The whole booking process was very good and informative. We will definitely be using your company again in the future.
It was a pleasure to work with Superheroes Inc. for our Annual Corporate Family Day. We were so pleased with the service, from the first call, we knew we were in good hands. The entertainment on the day was high energy, very interactive and all the kids had a great time. Thanks Superheroes Inc. Hutchies will be back next year! Andre was fantastic and made the whole process so simple and easy and FUN!!!
Great, reliable kids entertainers. Always a hit. We've used Superheroes Inc several times and every time has been an excellent experience. Wouldn't hesitate to use you guys again and recommend to others.
I used Superheroes Inc at the Rugby Club I work for our annual family day. From start to finish all the start were extremely helpful, friendly and efficient. I was very vague in my request as we had know idea how many children would be attending the match, the 'fairy' on the day was very understanding of the situation and did a great job with all the children who were popping in and out! The kids had a great time, they loved the balloon animals and face painting but most of all the parents had a good day as they were able to leave their children knowing they were in safe hands and able to enjoy the Rugby. I would highly recommend Superhereos Inc and will definitely be using them for future events. Thank you to all the team!
I've used Superheroes many times over the years for my kids and we've never been disappointed. Each time they've managed to capture the imagination of the kids and entertain them. It's so relaxing to know that the kids are happy freeing up time for the parents to focus on the many other things that are required to host a kids party. I highly recommend Superheroes!!
Thanks to the team at Superheroes Inc for a great party on Saturday. The boys loved their AFL coach, it was full on action for 90mins (he really earned his money with this bunch). I had a few parents ask me who they booked so you will definitely see this group of kids again. My son said it was the best party ever, and even better, he was exhausted! Keep up the good work!
Commando/Spy/Nerf party for 2 hours with 25 kids - boys and girls aged 6-11yo. AWESOME! Running around outside and loving each activity. Entertainer was total pro and kids loved him. Parents all commented how good he was. Kids left stating "best party EVER". Thankyou Superheroes! Totally recommend this service to anyone who is considering!!
Thanks Superheroes Inc for sending your lovely Ballerina & Fairy on Sunday! The kids had a great time and the face paints were lovely. I will recommend you to all my friends. It was an easy process from start to finish and my Daughter said it was the BEST PARTY EVER!!!
I was delighted to see Princess Celestia bound in through our front door with her rainbow unicorn horn and very bright spirit. The face painting was artful and all my friends had a turn. We enjoyed hide and seek very much and thought the team at the Pony ranch were efficient and caring. Queenie, 3 years old
Thank you again for helping make my sons' joint birthday party so successful. Your regular communication in the lead-up to the party was very reassuring and Batman (Phillip) was great. Turned up on time, made a great entrance and managed to keep the kids completely entertained for the hour (no small feat). Would definitely use your services again!
Gabriel and his little buddies had an absolute blast yesterday at his Commando birthday party! Kieran and Riley were amazing, thanks so much for sending them. They were on time, professional, engaging and a lot of fun. We'll be back for next year's birthday party. 
Thank you for making my son's 5th Birthday party such a success. Sargent Pech was truly exceptional. All the kids (and even the adults) had a wonderful time. Superheroes Inc you completed exceeded my expectations. Thank you very much!
We had a Wonder Woman and a Superman this year (last year was a Clown) for 20+ kids. They had loads of fun and laughter (also got tired, and slept well ;)) while parents were having nice chat and enjoying the lovely day. I find Superheroes very responsive and professional. The entertainers (I've seen 3 so far) are talented and know what they are doing. Thanks Andre and the Team!
I was at a party the other day that had an entertainer that was late, and the host of the party was getting terrible service, and I heard one of the mothers saying – "she should have got Superheroes Inc – they do cost a bit more but you don't get any of this hassle, so it's worth it." I wished I'd recorded it – what a great testimonial!!!!
The kids had a ball and the green ninja did not stop. Great energy and awesome jokes. Highly recommended.
Spiderman came to my son Ethan's 4th birthday party yesterday and he lived up to his name! Spiderman was absolutely Amazing! Cannot thank Superheroes Inc, or praise Spidey enough. The weather was pretty bad, but it didn't dampen the kid's spirits! Spiderman kept them entertained & kept their attention the entire time he was there. Ethan couldn't believe that 'the' Spiderman was at his party. His happiness and excitement was like nothing we've seen! I couldn't be happier. All the parents who were there commented on how great he was. I will 100% be recommending Superheroes Inc to my friends.
Fantastic party idea for 11 year old boys. The Commando Nerf part was perfect. Where else would drop and give me 10 push ups be seen as party fun when they get cheeky. Kids loved the mix of commando training and Nerf Skirmish. I was thrilled with the day and it seems to be becoming the party trend based on how many parents are asking for contact details. Thanks for making Callums party fantastic.
With nerf guns, army camouflage, tug of war and various other activities our little guests described the party as the best one they had been to all year - a big rap for superheros - thank you Kelly Latimer
Great entertainer, had my son's 7th birthday on the weekend and Batman did an excellent job. all the kids had a ball. Would defiantly book with superheroes inc again.
The guys at Superheroes were fantastic, the kids had a ball at our annual charity disco and the Keyube photo booth was a treat. Great entertainers, fun music and a terrific vibe. Will be using them again. Yury (Running for Premature Babies)
We hired Superheroes for the second year running. They have an amazing ability to captivate and entertain kids across wide range of age groups (we had 3 to 7 year olds, total of 25 kids) and keep both girls and boys engaged the whole time. I don't know how they do it. At the end of the party, they even made the kids clean up the mess they'd made ("Jedis are always tidy") and kept the kid's attention focused on other activities while we got the cake ready. Incredible. Worth every single cent.
Liam, Luke sky walker at my son's Star Wars birthday party was awesome and very funny. The kids had a blast!
We hired a Christmas Elf from Superheroes to come and entertain 12 kids under 10 at our annual Family and Friends Christmas Party at our home. Was all a bit last minute, and they were really helpful and also accommodated a last minute change of time with no problems. Everything went just at it should. Phone call and meeting before to do a brief - a grand entrance. Our girl-elf was extremely energetic and kept all the kids beautifly occupied - with games, hide and seek, musical statues and excellent facepainting. It was so good to have an entertainer at our party - the kids didn't really know each other that well, and our elf was perfect to bring them together and let the adults enjoy dinner in peace! Bliss - with I had booked her for longer! - Yvette, editor, ellaslist
Iron man was amazing at Zack's 6th birthday party!! The kids and adults had the best day Thanxx superheroes inc ??
We had Elsa from Frozen at my daughter's 5th birthday on the weekend. I can say I am no less than ecstatic with Elsa's performance on the weekend. The children were totally mezmerized by her and what a lovely girl she was! The professionalism of Superhero's was impressive too.
Liam did a fantastic job as Jai (blue Ninjago) for my son's birthday party - his energy and enthusiasm had the kids really engaged and entertained. Will definitely use again in future!
A big thank you to Superheroes Inc and 'Ryder' for making my daughter's paw patrol party so fun for the guests and stress free for me. He had 18 kids and their parents entertained and smiling from the second he arrived. The communication from this company was excellent, the entertainer arrived on time and was very professional. I will be using them again.
Thankyou so much to Elsa & Anna they made my daughters 3rd birthday party so special, it was wonderful we didn't have to worry about a thing. Thanks once again Superheroes Inc will recommend you to anyone.
The kids were so excited when Iron Man arrived and were thoroughly entertained for the duration of his stay. Thank you so much for making the party so easy! I highly recommend Superheros Inc
These guys were fantastic at my son's 3rd birthday party! Fireman Sam & Bob the Builder had a wonderful approach with the kids who were a bit overwhelmed to begin but within a few minutes they'd warmed them up and had them laughing and engaged. They were friendly and professional - called me when they said they would. And, really happy with the whole booking process and communication from the team. Would highly recommend them!
My 6 year old was so excited to see queen Elsa arrive for hers Disco Party They played games, danced, did face painting. The children just loved it this is my third party with Superheroes inc. I've never disappointed!
By far the best entertainer I have ever hired. Superheroes Inc are really organised, thorough and professional. Andre provided us with everything we needed to know before the party. Even before my calendar entry for re-confirming appeared, Andre had already emailed with a list of questions to find out more about us, our venue and to confirm arrival time. Our Spider-Man went above and beyond to make this party our most successful to date. I will definitely be using them again – they also do Fairy Princess Parties so my daughter's next birthday will be stress-free. Thank you so much Andre & Superheroes Inc!
We had Batman come to our party on Saturday. How he managed 26 4 year olds was AMAZING.... Well orgnaised, engaging and fun for everyone involved... highly recommended and money well spent!!!
I used Superheros Inc for my Superhero fanatic son's 7th Birthday. They made everything from start to finish amazingly easy. Ironman and Superman arrived on time and were absolutely tremendous. The kids and adults alike had a wonderful time with many of the adults surprised at how good they actually were at entertaining the kids (and adults). It really was a great experience and one I would not hesitate to recommend to anyone and cannot speak highly enough of. Your two actors were absolutely amazing. Thank you so much for making his 7th Birthday Party so special and memorable for all of us.
We had a fairy for my 4 year old's birthday party. She was absolutely brilliant. All of the kids loved her and even the older kids wanted to get involved. Many of the parents commented on how wonderful she was. The party bags were a huge hit too! We have used a few different party entertainment companies before and I would absolutely recommend Superheros Inc.
We use Superheroes services whenever we have an occasion to keep the kids entertained AND to keep our sanity! They never let us down. Thank you and looking forward to the next time. From Jennifer K
Emmet was brilliant! The kids had a ball and the parents enjoyed it too:) Thankyou!
Captain Never-bored (aka Elliot), was truly amazing! He captivated my 5 year old son, his friends and all the parents from the get go – so much so we didn't really need to worry about straying children. When we woke to a wet day, we thought the party might be a wash-out but our very own pirate, embraced the wet weather and brightened the day for us all, especially with his grand entrance running in barefoot! Superheros proved excellent value for money, the planning was stress-free and prompt, the party bags were great quality and convenient and our pirate was witty, adaptable, age appropriate and hugely entertaining; leaving very big smiles on everyone's faces! We wouldn't hesitate to recommend Superheros, and thank them for making the whole experience a fun one, from the minute they answered the phone to having to say our reluctant pirate goodbyes.
Superheroes Inc were amazing. We hired a Blue Ninja (Jay) for a Ninjago party. We ended up with two ninjas (one was in training) which was just excellent for the kids. Andre and Angus knew all about the NInjago story, which was so great for the birthday boy. They were just so much fun - and they had some fun with the adults too! They managed the kids well - even the feisty/cheeky ones who had a know-it-all comment for just about everything! Thank you Andre and Angus. I highly recommend Superheroes Inc for your next party.
We had a great experience using Superheros for our kids party. We had 20 kids ranging from 3-7 and Superman and Spiderman did an amazing job of entertaining them all and making the birthday boy feel extra special! I'd definitely recommend Andre and his team.
We had the best experience with Army Theme and Nurf Gun with Superhero's . Commander Rob was amasing and his entrance and management of the boys were excellent ! Worth to mention we had 25 boys ! 9 years olds - not an easy group to manage for 90 Minutes! But they all had fun and enjoyed it to the Max. Thank you Rob - Thank you Andre and Thank you Superhero's > totally recommended.
Oh my word!! What a fantastic party!!! I just wanted to say a HUGE thank you for all the effort, fun and professional manner in which the whole process has gone, from first enquiry to a hugely successful party!! Thank you!! Claire
What a fantastic Obi Wan Kenobi we had for my son's birthday. I would highly recommend Superheroes Inc. for being organised, professional and so entertaining!
Thank you so much for making my 4 year old's party a complete success! We had over 20 kids and they loved it! James (dressed as Leornardo the Ninja Turtle), was absoultuly fantastic and was a great entertainer for the kids. The party was a complete success and I would reccomend Superheroes for anyone planning their next party. We used Superheroes for my older son's birthday 3 years ago and they was fabulous too!
Loved captain fancypants. The whole process , from booking , to checklist on what sort of activities would suit our party, followed by phone call and arrival on the day was an easy n smooth process. Def recommended . 2 thumbs up
The best entertainment for your child's birthday parties! We had Santa come for my son's birthday which was just before Christmas and I would recommend this entertainment company with out a doubt! Thank you Andre and Team!
Wow! Matt (or Sammy the Skeleton) was amazing! I can not speak more highly of him. All the kids had such a great time. He knew them all by name and everyone there was incredibly impressed with him. Our guets arrived late and Matt waited patiently and then stayed for longer than was expected. He was perfect! Thanks for a hugely successful 3rd birthday party.
Thank you to Superheroes Inc. Minecraft Steve was very entertaining at my son's birthday party.
We had Elsa & Ana to my daughter's 8th birthday over the weekend and we were very impressed with the way the girls entertained 25 children for 1.5hrs. We have just booked my son's 5th birthday for December because it just made the party easy and the kids loved it. Thank you Superheros, I would recommend you!
What a fantastic party it was. All in thanks to Phil the entertainer. Best customer service and best entertainment. Have used 3 times now and have never been dissapointed. 5 stars.
We used Superheroes for my daughters 6th birthday. We has Elsa and Kristoff and they were AMAZING. The kids were entertained by them for 2 hours with games, face painting and balloon making. They made the day and were worth every cent. Thankyou to Andre for all your help and for the constant communication leading upto the party. We will be using you again next year!
Thank you so much for the wonderful Rapunzel and Jedi (an odd combination, I know, but it worked!) who came to my children's combined birthday party on the weekend. They were absolutely brilliant and the kids were entertained from start to finish. They were so energetic and engaging and also very proactive at making sure even the shyest kids were encouraged to join in. The day was a total hit, due, in no small part, to your wonderful entertainers!
They were fantastic - the kids had a great time and I would definitely recommend superheroes inc.
WOW - Daniel was amazing at Mr Incredible. The kids loved him and so did the adults! He is a real asset to your company and I hope you let him know how great he is.... I've had entertainers for my daughter before and it was the usual dancing, pass the parcel, parachute play etc which was OK but nothing compare to "mr incredible" - a real class act - intelligent and funny! The kids were so engaged and my son said "that was the best party ever mum"! Will have no hesitation in recommending your company to any one looking for quality kids party entertainment..
SUPERHEROES smashes all expectations for a second time!!! Two years ago we invited Superheroes to send a cowboy to our son's Toy Story themed 6th birthday party. Our son has autism, so ours are not your average kid parties. Activities must be planned around the capabilities of the children, most of whom have moderate to severe intellectual developmental delay and some of whom also have physical impairment. Two years ago Superheroes Cowboy Rhys was a success. Based on our previous experience, we contacted Superheroes again. This year we had an Olympic themed party, and Superheroes sent out a 'Coach'. Coach Phil was beyond amazing. His games were geared perfectly to the abilities of the children, he played with the children and was able to get even the most reluctant of partygoers involved. Mind you, this was in the rain and in our tiny backyard where we'd had to move the party after the planned venue got washed out. Everyone went home saying this was one of the best parties they'd been to and many parents commented about how well Coach Phil worked with the children. I highly recommend Superheroes, they are professional from the first enquiry right through until the follow up after the party is over. The entertainers are highly experienced and able to adapt their activities to the children as they go. Both times we used Superheroes the entertainers remembered many of the children's names, not just the birthday child, which made all the children feel special. I will definitely use Superheroes again for our next party.
Agent X recently dropped in to be the highlight at my son's 6th birthday party. Despite the pouring rain and a last minute venue change the party went off without a hitch. Agent X had 20 boys and girls, laughing and thoroughly engaged for 90 minutes. They learned how to be top spies and spot clones. Great fun, another successful party with Superheroes Inc. Be sure to book them for your next party.
Tinkerbelle was fantastic at our daughter's 4th birthday party on the weekend. She has so much energy, kept the kids entertained the whole time and made life as the party host so much easier. We'll definitely be booking through Superheros Inc again in future - so professional and more than anything, amazing memories for our daughter and her friends. Highly recommend.
Spiderman was fantastic. He made the morning so much for fun for the kids and so easy for the adults. Perfect for a 4 year old and lots of crazy little friends!! Thanks. Would definitely recommend you and would be happy to have you back again. Nicky, South Coogee, November 2011
Thank you again Superheroes for providing fantastic entertainment for my daughter's birthday party. This is the 4th year we've had you entertain our guests and year after year we continue to be impressed. 'Tinkerbell' was not only loved by the girls but she showed such a caring nature towards them. Even the boys were impressed!
the party was great - thanks to you guys. batman was just perfect with the kids and ran the party so well. even though there were two different age groups (4yo and 7yo boys ... and 7yo boys can get quite loud and crazy), he kept everything well organized. he was prompt, kept the kids laughing and on track. the games he played were great and yet he didn't let the kids get out of hand. and he was very helpful not only in getting the kids organized at the end for cake, but also in keeping them busy while i cut up the cake. i couldn't have asked for anything more. thank you so much for helping out, being creative with our crazy batman/angry birds theme request and taking on the job with only a few days notice! i confidently and happily recommend you guys to all of my friends!!!
SUPERHEROES you guys are the best! What a great show we had on Saturday. Third year in a row! The parents loved it, the kids loved it and most of all you made the birthday boys day! People are still talking about Spiderman from birthday 4 and Super Mario from birthday 5 and now they are raving about BEN 10 from birthday 6! Thank you for making it such a stress free day for me and my family. We got to sit back, relax and enjoy the party without the hassle of organising and running games! See you next year!! Can't wait! Jen Usher, Cronulla
Andre, Thank you very much! Shaggy and Scooby were FANTASTIC! Kids AND grown ups enjoyed it. And they stayed in character the whole time :) This is our second party with Superheroes and kids always have a great time. Thanks again! Jerry and Isaac
We had a 6 year old masterchef party and our custom made chef character Lamey Boliver was amazing. he had the kids eating out of his hands within seconds of arriving and made for a fun, stress free party. 43 kids were entertained and had the time of their lives.... Thank you so much for making my son's party so memorable!!!
THANK YOU to the boys from Superheroes Inc for injecting a truly incredible vibe into Randwick Playgroup's Open Day on Sat. The kids - girls & boys alike - absolutely LOVED you both. And all of us parents were staggered at your energy and enthusiasm. Awesome, awesome job and will be recommending you to everyone I know!
Andre, Amazing!!! Diana was a fantastic Alice and the children all very captivated for the ninety minutes. Thank you again. Nicole
The party was fantastic, the boys loved having Ben 10 and the adults had a very relaxing time!!! What more could we ask. Thanks so much. Sarah, Coogee, January 2011
A huge thank you to "Ariel" who came to Emma's party and had the girls mesmerized for an hour – she was brilliant. Once again Superheroes.com.au delivered! Brilliant!!, Thanks, Louise, Bondi