ShopWings - ellaslist tests the new Sydney 2-hour grocery delivery service
ShopWings - ellaslist tests the new Sydney 2-hour grocery delivery service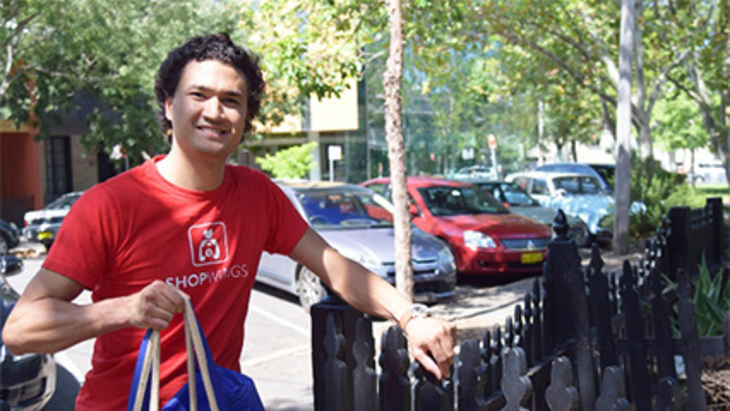 Please note: SHOPWINGS is no longer available. Check out our top picks for Sydney grocery stores that will deliver to your door.
What is ShopWings?
ShopWings is a new online service recently launched in Sydney – now servicing Inner North Shore, Eastern Suburbs & Inner West – that uses personal shoppers to select, buy and deliver your groceries within 2 hours! Sounds too good to be true doesn't it? That's why the ellaslist team decided to try it out for ourselves and see just how it works.
How it works
With over 15,000 products from participating Supermarkets – currently ALDI, Coles and Harris Farm – you simply log-on to the ShopWings website, create an account, choose your supermarket, and your products and place your order which will arrive within 2 hours of the checkout time or at a later 1 hour window.
When an order is placed, a local personal shopper attends your nominated supermarket, expertly selects the items in your basket and delivers them straight to your door!
Why we think ShopWings is a great idea
- We love online shopping, we spend way less when we're sticking to a list rather than browsing in store.
- We think this service is excellent for parents who need supplies the same day as you often can't get a same day slot with the stores own delivery service, and ALDI don't yet have online home delivery service.
- We love that the groceries are hand picked by Personal Shoppers who care about the choice of fresh goods.
- We think $8.90 delivery fee is a fantastic price for a same day 2-hour delivery, and even better that the first order delivery charged is waived.
ellaslist's service test – the results
With the help of our facebook audience ellaslist ran a blind test. The ShopWings team didn't know when we'd place the order, what items we would choose or which Supermarket we would select.
We asked mums and dads on social media to help us fill our basket with items they often need or run out of.
Our readers also raised a number of concerns about their experiences online shopping – about the freshness of perishable items such as frozen goods, meat sell-by dates and the ripeness of fruits and fragile items such as eggs so we made sure we added those to our basket so we could test the quality of the items selected by the shopper on delivery. Lots of parents mentioned ALDI products so we ordered from the ALDI store.
The site is easy to navigate, setting up the account is fast and simple and 95% of our searches returned the results that we needed straight away. A couple of the more unusual products suggested weren't available (Chia Seeds) but we guess that's also down to the store chosen.
Minimum purchase is $39 (but that's a pretty easy number to beat) We ordered a basket just over $50, and as it was our first order with ShopWings – delivery, usually $8.90 was free. Once we'd placed the order on the ShopWings site we set our clock running and asked parents to bid on the time our personal shopper would arrive.
We ordered: Utopia, vanilla ice cream block coated in belgian milk chocolate 4 pack. Large free range eggs 12 pack. Banana x 2. Fresh seedless red grapes 750g, Pro, grime & soap scum foam spray cleaner 400g, 50 pack, Supafit, nappies, Fragrance free baby wipes 80 pack, Strawberry 250g, Extra lean beef mince 500g, Continental cucumber, Broccolini, Baby cos lettuce 2 pack, Full cream fresh milk 1l. All just over $50.
Our personal shopper arrived in 1 hour and 6 minutes! We were not expecting such a fast delivery time at all.
We checked our groceries against our order and 100% good. All fruit and veggies were of high quality - the shopper clearly knew what to chose here. Bananas ready to eat, Broccolini, Cucumber and Lettuce all fresh and firm. Ice cream was still frozen and not even a dodgy strawberry in our pack (usually there's at least one rogue) The meat had a sell by date of 5 days from today, would have liked to have seen 7 days or more if available, and milk was good at 10 days from today.
Overall the service exceeded our expectations and if ShopWings can replicate the quality of our experience we received during our test we believe that this service will be a wonderful addition to our parenting armoury!
More About ShopWings
ShopWings has been brought to Australia by a team of 15 people based in Surry Hills. The Sydney startup is led by Manutea Dupont, a serial entrepreneur who spends all his free time with his two lovely babies when he's not delivering your favourite Aldi, Coles and Harris Farm products. Their obsession is to make grocery shopping convenient, saving time for the more precious things in life and ease the pain of super-hero mums and dads.
ShopWings currently have personal shoppers covering of the Eastern Suburbs, Inner-West, Inner North Shore and City area (with more coming soon!). Register on the site to be the first to know when they reach your areas.
Reviews
i recently signed up with them to be a shopper as i work in coles so i thought it would be easy for me to shop ..so i got a phone call that they will do a test first and for this they will deposit some money in my account to perform the task. In training pack also it was said told shopwings will provide money to start with. so comes the day and i get an order to fulfill on enquiry about money to do task it was told "ShopWings AU: we can only reimburse you the money that you have used so you can use it on your orders. we only send additional amount if you are short of money" i asked but that doesn't was told to me and was neither in learning pack. reply was "ShopWings AU: ok sorry then. But that is the policy. I think you need to talk to them again so that you will fully understand how the system works" I am really disappointed with their professionalism and tone of their language. on top of this in actual app for shopper help section is in german language with no option to change to English.
Shop Wings mark up their prices significantly. I compared my Aldi receipt with what I would have spent buying the same items from Shop Wings, and the mark-up was as much as 20% in some cases.
Hi Richard, I've shopped with Shopwings a few times myself and didn't find the grocery prices to be marked up. All the best, Arielle
I think they mark up all their grocery prices pretty significantly as well - Not sure your article mentions this...
I was very impressed with the fast,efficient service provided by Shopwings. My personal shopper arrived with the goods an hour after I placed the order and was very courteous and helpful. The produce was very fresh and I was only charged for goods received, as a couple of items were unavailable. Shopwings also rang a few days later to see if I was happy with the service and if there was any way they could improve the service.