Ready Steady Go Kids: Preschooler Multisports Classes & Birthday Parties
Ready Steady Go Kids: Preschooler Multisports Classes & Birthday Parties
Ready Steady Go Kids is Australia's largest multi-sport and exercise program for preschoolers (aged 1.5–6 years). They have been operating since 2004 in their quest to help all children benefit from sport and physical activity. Today, their physio-designed program is run at approximately 200+ locations across Australia – to find your local class click here!

The Programs:
Introduces preschoolers to a variety of sports in a structured, safe, inclusive and non-competitive environment.
Show preschoolers that sport and physical activity are fun, thus developing a lifelong passion for exercise.
Develop and enhance age-appropriate gross motor skills, coordination and correct posture.
Introduce and reinforce the importance of warm-up and stretching to help prevent injuries, and proper hydration.
Teach the importance of good sportsmanship and teamwork.
Decrease childhood obesity.
Increase each child's confidence.
Prepare children for school and participation in the broader community.

Each class is run indoors for 45 minutes and covers five sports each term (taught in two week blocks). Classes are designed to focus on a specific gross motor, hand-eye/foot-eye and/or balance activity to complement the sport component and the program structure is repeated each week so that the kids become familiar and comfortable with the routine.

The sports included in the Ready Steady Go Kids program are:
Soccer
Athletics
Tennis
Basketball
Hockey
Rugby
AFL
Golf
Cricket
T-ball

The program is structured so that enrollments can be accepted throughout the term. For class availability in your area, please visit the website. Fees are pro-rated to include only the remaining classes for term.

BIRTHDAY PARTIES & EVENTS
Planning your child's next birthday party or a special event where you need the kids entertained? Let Ready Steady Go Kids take the stress out of planning and running your next event by providing a sport and
entertainment program for children that is fun, safe and healthy.
Packages start at $175 – click here to view our packages online.
Visit Facebook to see what the fuss is all about!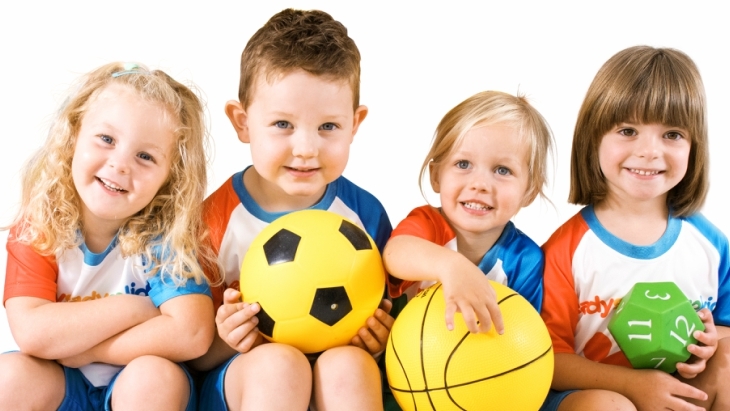 Reviews
I was wanting to put my very shy daughter into some sort of sport program and came across Ready Steady Go Kids. We did the free trial and fell in love with the program. My daughter started at 2.5 when my husband and I were allowed in to join her, such a great bonding experience for us. We still get to join in and have fun with her and she is 4!! She has really come out of her shell and is such a confident and happy kid thanks to Ready Steady Go Kids. I can't wait until our 2nd daughter is 2.5 to be able to get started!
Ready Steady Go Kids is a fantastic program to introduce children to a variety of different sports. It helps the children develop their fine and gross motor skills and teaches them how much fun sports can be. A great program!!
Love the ready steady go kids program. It teaches our kids so much about everything. Basics of 10 sports, gross motor skills, balance coordination and how to participate in a group and team sports. Go ready steady go kids. ill be back next year.!
I was wanting to get my two boys (3 and 5) into some kind of sports program and I came across Ready Steady Go Kids. What I liked about this program is that my boys get to try lots of different sports. After each class my boys come away exhausted and had a fantastic time. Great program which keeps them engaged and letting off lots of energy.