Lisa Rutledge Photography: Maternity, Baby, Children's & Family Photographer
Lisa Rutledge Photography: Maternity, Baby, Children❜s & Family Photographer
Preschoolers
Family
Kids
Mums & Bubs
Teens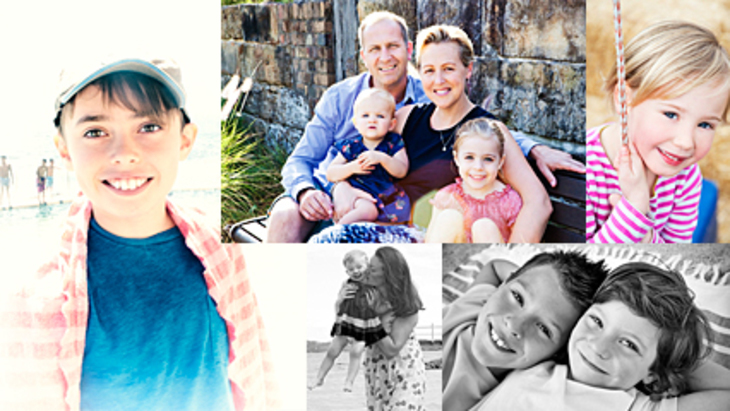 Welcome to Lisa Rutledge Photography. I am a newborn, baby, children's and family portrait photographer and mum, with over fifteen years' photography experience in the US, now relocated to Sydney.  I lived for years between Paris and New York working as a model, learning from some of the world's most iconic photographers before moving to the other side of the camera myself.
I established Lisa Rutledge Photography in Los Angeles and began to specialise in children's and family portraits. My approach to photography is very relaxed. I do however pay attention to detail and nuance to capture those moments that happen when the subject is feeling at ease and themselves. Most of all….IT'S FUN!
I'd love to create the memories for your family.
For more info, please visit www.lisarutledge.com
Packages start at $349. Find Lisa on Facebook for more promotions and seasonal special offers.
Reviews
Dear Lisa, Geoff has finally brought the photos home, and we just gave the first big prints to Geoff's father. They are absolutely and we love them and he was thrilled. What beautiful photos, Lisa, and thank you so much for doing everything to create such beautiful presents for us to give the important people in Leo's life. I know they will be just as thrilled as Martin was. They're so very 'Leo' - intimate and expressive. We've been wanting something like this to give people FOR YEARS so it's just wonderful to finally have something so beautiful and characteristic for our friends and family to put on their walls. You're a very talented photographer and portraitist. And I also really appreciate you making the choices about the frames and making it all happen as you did. It must have been quite a thing, and if it had been up to us it wouldn't have happened, so we super appreciate it. I'm really thrilled to have finally fulfilled this ambition after all these years. I think these photos will hang on people's walls now, for decades. Lots of love, Laura xxx
Hey Lisa - thanks so much for this. I have had so, so many compliments on your photos and am spreading the word to all of my friends so that they have the opportunity to take advantage of this fantastic offer! Your work is simply brilliant and I'm having trouble deciding which prints to order. I haven't been able to stop looking at your gorgeous photos! I can't thank you enough for capturing these very special moments in the way that you have and you are very talented and have a wonderful way with children and that is evident in the way the photos have turned out. You'd never know by the look on her face how much Audrey dislikes the beach:) I hope some of my friends take you up on the offer!!
We were thrilled with the photos that Lisa took of our family. She showed endless patience with our two young daughters and took some gorgeous shots that we will treasure forever. Thank so much Lisa, we will be back!
Lisa – I was so keen to experience the 'Easter' photo shoot that you were advertising, that we had to travel from Canberra to inner Sydney that morning – it was well worth it! The photos of our baby girl are stunning! We have had so many people comment on the photos and I have happily recommended you to my family and friends. You were so professional, yet easy-going and warm, no wonder our little girl was so relaxed. Thank you from the bottom of our hearts for giving us some precious memories. I am really looking forward to using you again. Maybe something for Christmas? You truly are a gifted photographer! Belinda
You are a FANTASTIC photographer/ARTIST!!!!!!!!!!!!! We love looking at your beautiful website! The pet pictures are absolutely gorgeous, and all those portraits and families and happy weddings - really beautiful and bursting with fun action. We are absolutely thrilled with your pictures of Max. They are even more beautiful than we could have imagined! You really captured his personality and he obviously enjoyed himself. Can't wait to see the canvas wraps!!!!! Phil and Jan
Omg Lisa the photos are amazing, thank you! The girls look gorgeous, it's really hard to choose which to print! Enjoy the rest of the weekend & thanks again for these gorgeous photos! Looking forward to our shoot after #3 is born. Can hardly wait!!!! Thanks Ruth
OMG I LOVE THEM ALL!!!! Holy cow dude – they're amazing! Thank you SOO much! I can't wait till #2 comes along and we can hire you to get family photos....you're amazing! I can't stop looking at them!? His expressions in all of them are just priceless and so him ☺ I love the ones of his bum and Drew's arm too…AMAZING!! Janet xxxxxxxxxxx
Lisa Rutledge is a first class, highly creative photographer. During our shoot, Lisa's natural, relaxed manner put our young daughter totally at ease, which in turn allowed Lisa to use her considerable skill and experience to film the most astonishingly beautiful photos. With Lisa, you don't just get a very experienced photographer, you get an artist who creates a "moment in time" artwork, which you will treasure forever. Jeannine Hill
I just wanted to reiterate again how ecstatic I am with your wonderful photography, you are so comfortable & natural with babies & this shines through in your work. I'm thrilled with my pictures of baby Jackson, no one would ever know he was sick that day, you were so patient & considerate under challenging circumstances and the fact you too are a mum surely gives you an added insight & edge. My husband hates being photographed so I applaud you for the relaxed approach you took with him as we are both thrilled with the photos and how you captured his personality so perfectly. This was my second photo shoot with you and will be one of many & the same reason why so many of my friends are now coming on board as well. The value of the packages you offer are especially great compared to what's out there - we will continue to recommend you & return to you. I just hope more people discover you so they too can benefit as we have... Sincerely Christie
WOW!!!!!!!!!!!!!!!!!!!!!!!!!!!!! OMG – Lisa these are stunning!!! Charlotte looks angelic! I'm thrilled with them. Thank you!!!!! Thanks so much – they really are just gorgeous shots. I've shared them with the girls at work. PS – thanks also for your patience and making the shoot so much fun. And for climbing trees…….and lying on the ground to get a good angle……and humouring Charlotte when her attention span waned (she isn't a sit still kind of girl) ☺ ☺ Many thanks Helen