Home Doctors: Bulk Billed After Hours Doctor Service 13 74 25
Home Doctors: Bulk Billed After Hours Doctor Service 13 74 25
Preschoolers
Family
Kids
Mums & Bubs
Parents Only
Teens
Pregnancy
Toddlers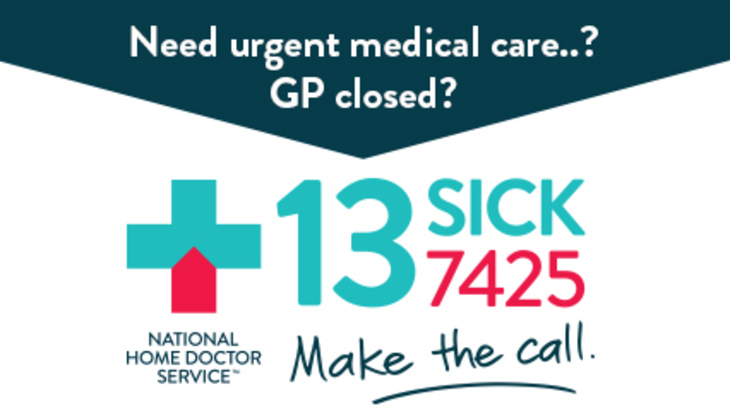 All babies and kids seem to get sick at night, or on the weekends – don't they? Which usually leaves parents in a bit of quandary if a medical opinion or advice is needed – choose to wait it out until Monday, call a helpline, find a late night chemist or face the queues at the ER. Well now you don't have to do any of that – The National Home Doctor Service is an absolutely fantastic service that every Australian parent should know about, it's the best kept secret about our healthcare system. So much so, that we recommend stopping now and adding this number – 13 74 25 to your phone contacts right now.
We'll wait.
Have you keyed it in?  Great, here's all you need to know.
The National Home Doctor Service is a FREE and Bulk Billed service available to any Australian Parent at home any time of night, on the weekend or on public holidays. When you have a sick child or adult in your family and are not sure what to do simply call National Home Doctor Service on 13SICK (that's 13 7425) and a bulk-billed doctor will visit you in your home.
A doctor will visit you at your home
The visit is 100% bulk-billed
The doctor can provide a starter pack of medicines
A report will be sent to your GP the next day so they are kept informed
Listed below are some of the more common illnesses or conditions treated by after hours home visiting doctors, along with some tips on ways we can help make our little ones (and ourselves!) feel more comfortable.
Ear Infections
Incredibly common in children and can be very painful especially babies and toddlers. A child who might have an ear infection should see a doctor who will decide on the best treatment – whether it be painkillers to relieve pain and reduce fever or a course of antibiotics.
Fever
A fever occurs when there is a rise in the body's temperature as it is the body's natural response to fighting infection. Unless your child is a newborn or their temperature has risen suddenly and unexpectedly, frequent fluids, paracetamol and regular temperature checks with a thermometer should suffice.
Common Cold
Snotty noses and sleepless nights are a common occurrence at this time of year, and some extra care, attention and fluids may be all that's needed.
Cough
There are different types of cough indicating different issues from asthma, croup, whooping cough or just a simple cough. Many can be treated at home with the right medication, however if there are any concerns about breathing you should seek medical attention immediately.
Tummy Pain
Colic and constipation are the most common causes of tummy pain, and more often than not a poo will be enough to cure it! If you're worried that the pain is getting worse or if it's lasted longer than 24 hours, call a doctor.
Vomitting
It generally doesn't take much for a child to vomit, from simple over-eating to a bout of gastro, however if babies under 6 months are vomiting they should see a doctor immediately. There are a few red flag symptoms for kids over 6 months too, including high fever and drowsiness. So if you're at all concerned seek help. It's important to keep up their fluid intake.
In a Nutshell
The next time you or someone in the family is sick at night or on the weekend and your GP is closed, call 13 SICK – or download the app at www.homedoctor.com.au
Reviews
Looking for a dr who will home visit in Cannonvale Qld preferably bulk bill who will visit through the day please.