GoGo Healthy Kids Active Birthday Parties
GoGo Healthy Kids Active Birthday Parties
Preschoolers
Family
Kids
Teens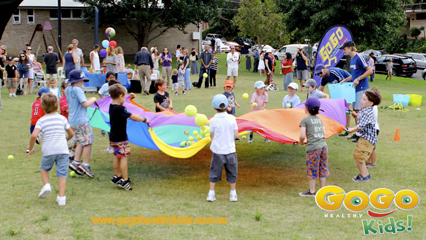 There is no better way to celebrate your birthday than the GoGo way!

At GoGo – they design the perfect party that will entertain (and exhaust) your children! Their qualified coaches will bring a truck full of exciting games and activities for your next birthday party! All parents have to do is sit back, relax and let be entertained.

They have many party options and themes to choose from:
Or they can customise an activity program especially for you, or combine any of the above – just let them know your preference. All children will receive a medal, prize and they will have an unforgettable birthday.

Price: $200 = up to 10 children thereafter $15 per additional child (special discount for parties over 20 children).

Inflatables are a great addition to any birthday party. GoGo has a great variety of Jumping castles and inflatables for hire or to use with one of their great coaches.
There are 4 different types of inflatables to choose from:

GoGo Healthy Kids know that planning children's events can be stressful, but leave it to them to install and uninstall their castles and guaranteed hours of jumping, active and happy kids.

Find out more on inflatables HERE.

Holiday Programs
They also run fantastic holiday camps – please check out their latest school holiday programs here.

For more information, please visit the website.

Tell them ellaslist sent you!
Reviews
Nailed it for our birthday party- on time, had all the kids attention and knew their names within 5min of starting. Very impressive!
Would definitely recommend these guys. Reuben was great with the kids and kept them entertained and engaged. Lots of different activities and my daughter loved it!!
My daughter Alexandra loved her 7th birthday party with 14 of her friends, led by Daan from Go Go Healthy Kids. The games were fun, competitive in a fair and enjoyable way, and all the kids ended the hour of entertainment with big smiles on their faces. Thanks Daan!
Highly recommend! We booked GoGo Healthy Kids for son's 6th 'Ninja Warrior' birthday party in the park and was very impressed with their setup and preparation. Daan created the coolest ninja warrior obstacle course and had the kids engaged (and being active!) for the full one hour. He was fantastic with the kids and even helped make the shy ones feel comfortable and have fun. GoGo Healthy Kids are fantastic party entertainment, and a great way to get the kids to run off all the party treats!
If your looking for a party idea that will entertain boy boys and girls of any age then do your self a fav and book GoGo Sports! We recently booked Daan and team for a 2 hour GoGo sports party. The kids ran wild and the adults enjoyed 2 hours of peace and champagne! It really is the best way to spend an afternoon for a kids party.
Daan recently ran my sons 5th birthday. We couldn't recommend him more, it was a very chilly weekend and all the kids were warm with all the running and activities Daan was running. He kept a group of 20 kids engaged and entertained so the adults could relax. Highly Recommended don't think twice book them in!
Just wanted to share that Daan from GoGo Sports did a fantastic job at my daughter's 4th birthday party. Despite needing to move the party location from a park to our small backyard due to imminent rain, Daan did a fantastic job entertaining the kids and keeping them active (and outside!) We had about 15 young (2 to 5 year old) kids who had a great time playing games, running around, and getting their medals at the end. After the party ended, my 4 year old asked if Daan could come back for her next birthday - no greater compliment! Daan was easy to work with in terms of booking the party, organising logistics, and settling up at the end. I'd absolutely recommend him if you're looking for active entertainment for your next kids' party.
Thanks Daan for great party entertainment for our son's 4th birthday! For those looking for good, active entertainment for kids, I would highly recommend GoGo Healthy Kids. They were punctual, hassle-free & not only did the kids stay engaged, they got a pretty good workout too.
GoGo Healthy Kids put together a fantastic soccer party for my 11 year old son - Daan and his team were energetic and creative - I would highly recommend them. They were responsive and adaptive to a very hot day, mixing water guns with soccer skills - perfect!
I highly recommend GoGo Healthy Kids for any kids event. They were very responsive, punctual, organised and went out of their way to help make our event successful - beyond what I expected. I was really impressed with their safety standards and care. Thank you Daan.
Maura's party was the happiest day! Parents and kids had a great time while pulling the rope, we all so amazed to see how strong the little ones are. Maura had a super good time and she told us that all he enjoyed her party very much, this is our second year we use Dan and his fabulous games! Best money spent!!
Thanks to Gogo Health my daughter had a great 10th Birthday party last Sunday. All children enjoyed the activities and games; especially the relay games and 5-legged race were a big hit. Even the adults got involved in the end and competed against kids. I highly rexommend this team; they have reliably entertained another fantastic birthday parties!
Thank you so much, we were so impressed with the way you managed to focus 15 5-year-old boys to the games in such a windy environment. You did a fantastic job and the children were very very happy. My son had a wonderful birthday party and we have a lot of great pictures as souvenirs. The Tug of War was definitely a highlight – I have sent a picture to all parents yesterday and each of them commented on how well organised these activities were.
Daan from Go Go Healthy kids hosted my sons' 5th birthday party. We had 25 children, both girls and boys, all aged between 2 - 9 years, attend and Daan was able to keep all 25 totally enthralled! He showed great encouragement to all participants and the program on the day was fun, energetic, and rewarding for everyone - the star wars light saber games and tug of war with the parents stood out for us. My son's party was so much fun that I am planning on doing exactly the same for my youngest sons' birthday. Many thanks Vicki
Go Go Healthy Kids hosted my son's 10th birthday with 35 children aged between 3 - 11yrs . Daan kept all of them engaged. A variety of fun games for all with a few soccer skills mixed in - just as I had requested. A jam packed hour for the kids, and a relaxing hour for us adults. " A blasting great time " is the response I got when I asked my son how was his party. Thank you for travelling to Sydney's southwest, much appreciated - and from the feedback I got from other parents you might be doing a few more trips. Many thanks
Thank you so much GoGo for running my 7 year olds party last week. This is the third children's party we have held that GoGo has hosted for us - and once again they were fantastic - great games, fun atmosphere and kids were all very engaged and excited, and exhausted afterwards. We had 35 children participating in the games (ages 4-6) on Friday and they all had a fantastic time. Daan and Chloe have a great rapport with the kids, are very professional and friendly, and I recommend them for any children's party. In fact - I'm not sure I would have a children's party without them!!! Thanks again Team GoGo!
William (7 years old) and his class loved their Go Go sport party. Such a hot day so great idea to start early and the children loved the sponge race and water gun games to keep them cool. Thank you Daan. You made the party run effortlessly once again.
Thank you GoGo kids for an amazing "Superhero Olympics" birthday party for my 5 year old son. He had the best time and literally did not stop smiling the whole day! He was so proud to get a medal and hand out prizes to all of his friends, what a great touch. Daan and Marvin did an amazing job with the kids, they were so well organised and got everyone excited about the games. They were especially patient with my 1 year old niece who insisted on participating in her own way! Thank you so much, for helping to make it a hugely successful celebration.
Thank you GoGo Kids for a wonderful superhero party for my 4 year old son on the weekend. Everyone had THE BEST time.... I'm still getting parents telling me that their kids are raving about the party. Our coach Max was amazing. All the kids loved him. Thank you so much
Daan & Chloe were fantastic at my twin's 6th birthday party. All 25 kids had a fabulous time and my boys have already asked for Daan & Chloe for their 7th birthday party! A huge success. Thank you!
Fantastic party at the weekend hosted by GoGo Healthy Kids Sports! Chloe was fantastic and ensured that the 25 sports mad 7 year olds had a wonderful afternoon and that the birthday boy had a great celebration. GoGo are a fantastic team and I would highly recommend them.
A great party. We did superhero Olympics and the kids loved it and the coaches deserved a medal for controlling 20 2-5 yr olds!
I highly recommend GoGo Healthy Kids Sports Party! From the get-go Daan was super efficient, professional and a pleasure to deal with. Daan and colleague had all 30 plus children (boys and girls) at my son' s 6th birthday completely engaged and captivated for the full hour. Perfect whilst the parents were able to spectate and chat from the sidelines. The kids v's parents tug of war game was a great way to end, along with each child receiving a medal - a nice touch. Thank you Daan!!!
GoGo Sports birthday parties are the way to GoGo!!! Daan and the crew are fantastic and the kids (and grown-ups) always have a great time. Can't recommend them enough. Go for GoGo!!
We would very definitely recommend GoGo Healthy Kids. Organising it through Daan was easy and very professional. He proved to be totally reliable & a pleasure to deal with from start to finish. On Saturday we had an 11.30am wedding. Whilst we really wanted children at our wedding we were very happy to engage GoGo Healthy Kids for thee hours so that we could enjoy a peaceful lunch afterwards. We had the restaurant bring the children's lunches to the park & Chloe from GoGo took it from there. Chloe was absolutely fantastic with the children, who were aged between five & nine, & brilliantly entertained them for the next three hours. At the end Chloe delivered us back seven very tired & happy little people.
Thanks Daan, from 20 x 6 year olds and impressed parents. The kids had a total ball, my daughter can't think of a better way to celebrate her birthday and it was great to see how the couple of children who were slow to join were soon drawn in and went home very pleased with themselves. And then there were the onlookers in the park grabbing your details for their future parties as they could see the mass pleasure involved. Even my neighbours, who heard it all happening in the park from 300 meters away, said the sound was music to their ears!
Daan and Chloe did a great job at my 5 year old son's birthday. They organised some really fun games and kept the kids (10 of them) entertained for the whole time. The water games were particularly good especially being a hot day. I would highly recommend GoGo kids for any future parties.
Daan has been teaching sports at our childcare centre for a few years so I asked him to entertain the kids at my 5yo son's birthday party recently because my son knew him. But I didn't expect how wonderful it would be - Daan is great with kids, they respond to him, they have fun, he understands their needs and limitations. Waterplay was awesome, everyone got a go, parents were totally impressed how happy the kids were and that Daan remembered everyone's name! You'd be crazy not to hire Daan and GoGo for your party.
GoGo Sports were perfect for my daughter's 6th birthday. We wanted to use the park and some entertainers seem to have trouble holding attention in wide open spaces but every single kid was fully into the games. The whole GoGo thing works well when some of the kids might not know each other and is really fun to watch. I agree with everyone else, Daan is professional, arrangements totally stress free and there are no fears about what sort of dodgy costume character might turn up on the big day.
We contacted Daan from Go Go Healthy kids for my son's 6th birthday. He was very professional from the start, the communication before hand was excellent and the party was fantastic.... He kept 15 kids fully entertained, running and playing for 90 minutes. He even learned all their names and made sure each one of them had a fantastic time. The weather on the day was hot and he brought water guns for all which were a big hit !!! ... Highly recommended !!!!
This was such an awesome idea for my daughter's 8th birthday party yesterday - it was a real hit with all the kids who had SO much fun. All the parents also commented on how successful the games were. To top it off the weather was magnificent. Many thanks to Daan. I highly recommend your business.
Gogo came to a family 70th birthday party to keep the grandchildren busy while the adults had lunch - I can not recommend them highly enough. Lots of communication before hand, very professional, 100% committed to making sure each child had a great time. The kids raved about their "coach", loved their little gifts, and we watched them having a fantastic time. We had children there of all ages and each one felt included and able to participate fully - thanks so much Gogo, you helped make it a fabulous day.
I organised my kids 4th birthday party with GoGo and they were fantastic. Great communication before the party with a fabulous suggestion for a venue as it usually rains for their birthdays. There were three coaches on the day and they had every single child involved and having fun. There was a lovely gift for each child at the end and a little package for the birthday boy which he loved. Definitely going to sign him up for the holiday camp.
A big thank you to GoGo Healthy kids ! My daughter and friends had a great time . Very impressed by the amount of energy you bring to birthday parties. Gina Bronte
My son Tom recently celebrated his superhero 5th birthday with the help of Max from GoGo Healthy kids. He and his friends had the time of their lives. Specially organised activities tested their superhero skills, throwing heavy medicine balls, obstacle courses and games all played in their costumes provided an hours worth of exercise and laughter. Max was truly incredible and dressed up as Superman, he had 100% of their attention and allowed the adults to just sit back and enjoy the looks on the kids faces. I would recommend them to anyone wanting a fun, healthy and enjoyable party for kids and adults alike.
Gogo Healthy kids is the perfect kids birthday activity . Daan and his assistant kept the children active and captivated for an hour and wanting more. I highly recommend GoGo Healthy kids for any children's party or event. A great way to burn off all that party food. Thanks for making my daughters 4th birthday a success for the parents and kids.
We recently had my sons 3rd Birthday Party and had organised for GOGO Healthy Kids team to come and entertain the kids. Daan and Paula did a fantastic job. Daan led the party by starting the kids to run around so many obstacles and used numerous props. The activities those were lined up kept the kids and the parents moving. We thought that the kids will be involved in the activities and so the parents will be relaxing a bit but to my surprise most of the parents also got involved in the games as they were very innovative and probably none of us had played such games for ages. Paula added the icing to the cake by bringing in her dance talent. To add more fun to the party Daan and Paula got the rope to play the TUG-OF-WAR. It was a hit as each and every invitee (kids and adults) got involved into it. The hour went so quick and was not enough. I wish we could have had them for longer :-). Last but not the lease were the medals and the activity books which each and every kids received. All kids felt like a star. I would highly recommend a GOGO Party......Thank YOu So much Daan and Paula.
We recently had my sons 5th birthday and hired GoGo Sports as the entertainment. Daan led the party and the kids loved him, they had lots of ball games and running around a great obstacle course that everyone participated in. The kids were involved for a whole hour and even received a present and a medal at the end of the activities. Not only did the kids have fun but the parents got to relax and have a chat while Daan kept the kids entertained! Thank you GoGo Sports
We recently held a Go Go Healthy Kids party for my 6yo son and 15 of his friends. This even was held at a local park so there was plenty of space for the kids to run around. The party was run by a lovely guy called Max, a professional rugby coach. He had a great rapport with the kids and was adept at getting everyone involved...including those children who lost interest from time to time. There were a number of different activities (including some fun water games it being a warm day). The hour passed extremely quickly. I would highly recommend a Go Go party...for nothing else than t assuage the guilt at the excess of sugar consumed!
We recently booked GoGo healthy kids for my son's 4th birthday 'sports party'. It was the best decision we made and it really took the stress out of the day so we could enjoy it and mingle with everyone! Daan was very professional and so good with all the kids. We had a large group ranging from 2-7yrs old and they all had a go. The activities he had lined up for the hour really kept the kids moving, engaged and laughing (parents too!) The tug of war with all the parents and kids at the end was a highlight! The kids loved the special medals and activity book they received. All the parents commented on what a great idea it was to have and how it was one of the best parties they had taken their kids to.
We booked GoGo Sports recently for my sons 5th Birthday Party as he has Daan at Daycare and he has loved him and GoGo sports since day 1. When he knew we were going to give him a party for his 5th birthday the first thing he asked for was if Daan and GoGo sports could entertain all the kids! The party was an absolute success which was thanks to Daan and his assistant, the kids were entertained for a full hour with non stop fun., games and activities that were suitable for ages 2.5 - 8 years. I had so many parents commenting how impressed they were - how all the kids wanted to participate for the full hour because of how much fun they were having and how some of them wanted to book Daan for their next party, Dann also went above an beyond in other areas accommodating us for our prep for the party. At the end of GoGo sports the kids got a fantastic medal and books and crayons and my son got a fabulous gift, he loved his medal so much he wore it the whole afternoon and it was a battle to get hi to take it of at bathtime - he even went to sleep with it. Having Daan definately was the highlight of the party who took the stress away from the parents making sure all the kids had fun.