ellaslist visits Pittwater Golf Centre for Mini golf and More Fun
ellaslist visits Pittwater Golf Centre for Mini golf and More Fun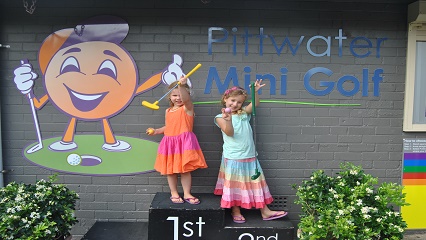 By: Mandy Lowe, ellaslist explorer
I must admit it wasn't just the kids that were excited to play mini golf – I couldn't tell you the last time my husband and I had played. When we arrived at Pittwater Golf Centre my children immediately spotted a pirate ship with people on the top. They knew from that moment that they wanted to go on that course.

Where's the coffee?
We went straight to the new open-air café, which offered plenty of undercover seating. The kitchen for hot food was closed when we went at 6pm, but wraps, toasties, bread, biscuits and muffins were available (full menu available from 8am – 2pm). We opted for a chicken Caesar wrap, banana bread, coffees and babycinos. Everything is reasonably priced, with a babycino costing $1 and milkshakes starting at $3.

Tee time
After fueling, we chose our golf ball colour from Tony who explained the two themed courses to us: caves and shipwreck. We went outside to choose our putters (there is a chart to help with the appropriate size for height). Everything is well sign posted and toilets are clean and never far away.

Arrr me hearty…Pirate fun
We entered the shipwreck course with caution; who knows what pirates we may run into! Each hole is a par 2 and my four and six year old daughters had no trouble navigating. We were able to take our time, letting others pass, as we stopped to admire the detailed setting and water features of the course (all water was fenced in, without impacting the feel of the course). The girls' favourite parts were climbing the pirate ship, which involved two holes, and hole 17 which takes your ball down a ramp through a pirate skull.

Extra, extra – read all about it
The centre offers birthday packages that start from $12.90 per child. Mini golf, cake, lunch, lolly bags and drinks are just a few of the options offered. A package can be tailored to suit your needs. And what's better, the children can sit in the middle of the shipwreck course. You can see their birthday packages
here
!
They also offer junior camps to teach new skills to children. There are three levels within the program. Preschool and holiday camps are on offer if you're looking for something different to keep the children occupied during the breaks from school. On top of all of this there is a driving range, lessons, clinics and team building. There's a quick summary of all their awesome perks and lessons here!

What You Need To Know


Take a cardigan if you're going in the evening, there can be quite the breeze


Don't be too ambitious and promise both courses, we only got through one


Make sure to take your photo on the podium, but watch your step


The cafe is a wonderful place for a breather. Send the kids to mini golf, the partner to the driving range and you to the café!
Check their website here for special events and deals they may be running.
Where: 1500 Pittwater Road, Warriewood NSW
Opening Hours: 7 days from 8am – 9 pm (last game starts at 8pm)
Contact: 99137991
                                                            ABOUT MANDY LOWE

I am Mandy Lowe and I am mummy to two beautiful, active girls, Marley and Violet. I was born and grew up in a small town in Maryland, on the east coast of the United States. Hot summers and very cold winters about sums it up. I have always enjoyed art and its many forms, although my output doesn't always reflect my love for it. I played soccer as a teenager and went off to uni at 17. Not content with staying put, I came to Australia in 2005 to study early childhood education. It was then, at Macquarie uni, that I met my husband, Nathan. Lots of travel, a wedding and two children later, we are still living in Australia and I am a dual citizen. As a family we like to travel, swim, go orienteering, visit local parks and cafes, attending sporting events and playing games together. Fast forward nearly 10 years, I am enjoying being a stay at home mummy, cooking and baking, creating things for and with my daughters, volunteering at schools and running (I'm currently training for my second marathon). The beautiful chaos of our life is what keeps me grounded.