Creative Fairies: Kids Birthday Party Themes & Characters, Face Painting, Cartooning Parties & More
Creative Fairies: Kids Birthday Party Themes & Characters, Face Painting, Cartooning Parties & More
Preschoolers
Family
Kids
Teens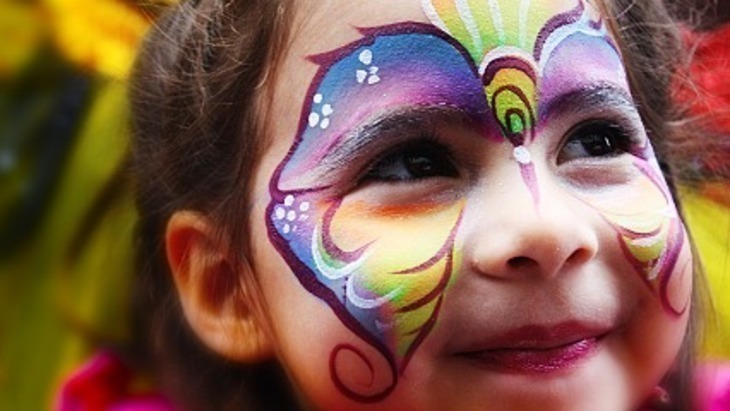 Entertainment for all occasions
Allow Creative Fairies to capture, create and inspire a truly amazing birthday, launch, festival, fair, fete or corporate event into a magical reality! Our boutique company in Sydney and Melbourne has been successfully providing enchanting fun for over 19 years. Our professional performers and artists have extensive experience and are committed to serious fun and adventure. With wings, wands, mermaid tails, at the ready. They delight with their colourful, stunning costumes and prompt, organised presence.

Our unique style of entertainment is attributed to diverse qualifications in Art and Design, Early Childhood, Special Education Needs, Primary school education, art therapy, mindfulness and NLP. So sit back, relax and allow Creative Fairies to provide an engaging, artistic and inclusive fun event.

Take a closer look at their ever expanding variety of characters.

Creative Fairies create stunning, artistic faces for your special event. We have won multiple face painting awards. Our face painters are artists with a natural flair for design and have trained with both local and international face painters.We use professional face paints that are gentle, non-toxic (FDA and EU approved) and easy to remove. Safety and hygiene are foremost in their mind so you can relax.Talk to us about our temporary glitter tattoos, glitter parties, balloon twisting, art and craft workshops, Preschooler parties, character parties, dance parties See examples of their work here.

Cartooning Parties
A truly unique party that kids love! See your child draw amazing and wonderful cartoons with their Creative Fairy cartoonists. Simply pick a theme and they'll be there to inspire imaginations and bring lots of laughter to your next party.

For more information or some advice on planning your next event, or to make a booking, please call 1300 889 396 or email Barbara.
Tell them ellaslist sent you!
Reviews
Hi Barbara, Fairy Astral was amazing on Saturday. Izzy and her friends enjoyed every minute of their time with her, please extend our thanks to her. It was lovely for us to have her entertain our guests again (Millie instantly recognised her too!) and she was just as brilliant as 2 years ago. Kind regards Victoria
Hi Barbara, Miyuki did a fantastic job. Emma asked for a fairy and loved it! She was so happy!! The kids loved their painted faces and some kids wanted their arms painted, which she did. The parents loved it too and commented on her amazing designs! One family is thinking of booking with Creative Fairies too, we were all very impressed! Some of the mums had their faces painted too, including myself (and my husband) and I loved how she matched the paint colours with our outfits! Miyuki was also proactive in encouraging the kids to have their faces painted and they all responded well to her. She is great with them. We were very happy with Miyuki and her designs! She is a very talented artist. I'm sure all your artists are of the same standard but I would definitely recommend her!! Tara
Hi Barbara Lily had a wonderful time and everyone enjoyed having their face painted. Thank you again for the great service and brilliant face painting ! J Steph
Hi Barbara, Isla and Ima , loved Lillian ! Wow .She was absolutely perfect her face painting and ballooning. All the kids thought she was amazing. Thanks again Sam
We are having a party for our customers this Friday (2/12) (5.30pm till 8.30pm) And we wanted to hire a face painter to keep the little ones amused . ( we have other craft activities for them to do ) Can you get back to me with the costs for 2 hours. There are about 20 kids but some of the older ones probably won't want face painting . Can one person handle that many or is it best to have two people . We are located at Bondi Beach . Is myuki available ? She has excellent feedback
Hello Barbara, Please pass on our thanks to Miyuki, the kids loved her and the face painting was outstanding which contributed greatly to the day being a great success! Warm regards Jess
Hi Barbara. Face painting was fantastic. Thank you! I have passed on your details to a few parents who were so impressed with Myuki's skills. Regards Phae
Thank you so much for sending Fairy Astrel on Saturday, she was fantastic with the kids and all the mothers thought she was great. Amelia had an absolutely wonderful party.
Hi Barbara, Miyuki was fantastic with her face painting/ballooning. The kids loved it! Thank you so much for the gift.
Hi Barbara, Thank you, for sending Carolina her face painting is truely amazing!
Hi Barbara. Just wanted to let you know.Miyuki was probably one of the best face painters I've seen over the last few years. Very engaging with the kids. Great painting style and quick (which is important) Thanks for everything Cheers
Hi Barbara, I am sure you get this feedback often, however Pirate Shayne was amazing, nearly everyone at the party asked where we found her and made comment to us on how professional she was with the most beautiful temperament with the children - we couldn't sing her praises enough. Thank you so much for making our day very special Kind regards
Hi Barbara, Fairy honor was awesome. Wonderful face painting. Thanks so much.
Hi Barbara, Myuki's face painting was fantastic!! All the parents and kids loved the designs We will definitely recommend you and use you again in the future Many thanks
Hi, Thanks so much Barbara for helping us out with my daughters party today. We appreciate your fantastic service for our last minute request. Astra was a delight with Balloon sculpting and games
Hi Barbara Thanks so much . Fantastic professional service that was provided by creative faires from the start to finish. Fairy Honour was fantastic!! Amazing face painting.Bella had a great time at her party:) I will definitely book again for our next party. thanks and have a great day Belinda
Hi Barbara, Thank you for sending Myuki for Bethany's party. She was wonderful. Her face painting is amazing!! We were all very impressed. The girls all lined up awaiting their face-painting and for a while, it was the quietest birthday party I have ever witnessed!!!Many Thanks for the card and gift that was sent and Bethany was very excited to open it!! She loves the butterfly necklace! Thank you! Thank you Barbara,
Hi Barbara, Thank you , just wanted to express how wonderful both girls were yesterday. Fairy Honor painted beautifully and got through all guests in the 90 mins. The Hula Hoop performance was great and the little ones really enjoyed the dancing and games that she did with them. Thank you also for the book that you gave Scarlett. All the best, Grechen
Hi Barbara, Thank you so much for sending Fairy Nova. Her face painting was outstanding. The faces created were incredible. Lucia and her friends had a wonderful day! Best Wishes
Hi Barbara, I Just wanted to let you know that Fairy Astral and Fairy Myuki were amazing. The games held all the kids attention and they had a lot of fun, and the face painting was incredible, Myuki is a beautiful artist. Thank you so much. A lot of parents wanted their details so you know that's a good sign of a great entertainer! Thank you for accommodating my last minute extra fairy request also.
Hi Barbara, Atticus had an absolute ball - ! Myuki was fantastic! Please thank her for braving the rain and the freezing cold weather - it always tends to send kids into a spin and she was wonderful! Thank you for your very prompt service and for the last minute location change. I hope you enjoy the rest of your evening and I will be sure to recommend Creative Fairies for future events! cheers Ruby
Thank you for sending Myuki for Bethany's party. She was wonderful. Her face painting is amazing!! We were all very impressed. The girls all lined up awaiting their face-painting and for a while, it was the quietest birthday party I have ever witnessed!!! Thank you Barbara,
Absolutely amazing. I called at very short notice for a Face Painter and Elani came to my rescue. Barbara and her team are wonderful and Elani did the best face painting I have ever seen. She was wonderful with the kids and NOTHING was too much trouble. Their number has been saved to my "favourites" for future parties. Very highly recommended.
Hi Barbara Just a quick note to thank you for Sunday. Your fairies were gorgeous and Georgie had a lovely day Thank you again for helping to make Georgie's birthday so special Kate
Hi Fairy Astrel Thank you so much for you appearance. Alyssa and all the other girls had a lovely time and really enjoyed their time with you. And the other mums were really impressed with all the activities done during one hour. You certainly had everyone captivated. Thanks again, Sonja
Hi Barbara, I just wanted to say a very big thank you to Astral for making Sophies party so very special. All the children had a great time. Thank.you so very much.
Astrel and Nova Thank you both very much for a great job yesterday. The little fairies were delighted and had a wonderful afternoon of fairy fun. I asked Sophie what the best part of her birthday was and she said oh the big fairies! The grown ups also enjoyed the fairy fun.
Hi Barbara Elsa was fantastic. So gentle and loving to the children and in character throughout. Thank you for a great morning!
Hi Barbara Your fairy was lovely and did a great job entertaining Tianna and her friends. We would have no hesitation in recommending your company to anyone' Regards David
Thank you Princess Cinderella you were amazing
Thank you Fairy Astrel for making Matilda's 4th birthday so memorable Gemma Northern Beaches
"Thank you so much Carolina for a great afternoon of cartooning and games. Chloe was so excited and she loved the caricature of herself as a mermaid. It was really special! Carla, Oakleigh,
Creative Fairies did an AMAZING job! The children, both boys and girls were not only entertained but truly enchanted by Fairy Bubbles who managed to keep all the children blissfully happy the entire time. Adults at the party were astounded at her ability to hold all of the children's attention even though there was a park with play equipment not far from the party not one child strayed from her and her wonderful games and songs. Inari the face painter was equally as amazing, even matching face paint to all sorts of different costumes, nothing seemed beyond her abilities, a true artist! We are so grateful to have chosen creative fairies to help with the party and couldn't fault a single thing, a perfect party! Other parents who attended have asked for your details and plan to have fairy parties using your service in the near future. Many, many thanks for a most memorable day! Sylvia :)
"The twins had such a wonderful time drawing cartoons with you, and I was amazed at how much their drawing has improved since the party. They can't stop! Lisa, Carlingford,
Hi Barbara, We got a fantastic time with fairy Astrel. The children loved her games and balloons. Thanks very much for making a special magical birthday celebration. All the parent were very pleased and impressed as well.
Thank you for sending Fairy Bubbles she was wonderful her face painting and ballooning was perfect! Thank you so much!
Hi Barbara, Fairy Bubbles was great. She was really good with the kids, Her face painting was beautiful. I will send you a few pictures once I get hold of them Thank you once again, We all had a great time.
Hi Barbara! K and A had a superb time and so did everyone else- thank you, thank you, thank you!!! I shall be telling everyone all about you! Enjoy the rest of your weekend, Carly ( face painting and ballooning).
Hi Fairy Astrel, Thanks so much for helping Ellie to celebrate her 5th Birthday. Ellie and her friends had a great time, and thanks for the gifts. You did a fantastic job in entertaining the 'little fairies'.
Thank you for sending Fairy Astrel! Hazel had a brilliant time. Thank you for everything .. wonderful games the children were kept very busy..
Thank you for sending Fairy Bubbles and Eleni to Skylar's birthday all the children had a lovely time. Face Painting was amazing very high quality indeed.
Isabella loved her party,as did all the girls. Lots of compliments! Thank you so much, you guys really made the party!( face painting, ballooning and original games) Cheers Christine
Fairy Astrel. You were wonderful. I'm not sure how you do it so elegantly and have all the children happy and entertained. Well done. Thank you again. Caroline ( Rozelle) PS I'll be in touch next year - it would be great if you could come again!
Thank you so much!! All the kids loved her( Fairy Nova) and the face painting was perfect!! I've had other parents ask for details because they were so wrapped with her also!! So a huge thank you for making my daughters birthday so special! Look forward to booking our next event with you!!
Fairy Bubbles was wonderful ! ( Face painting and Ballooning)Thanks very much.
Thank you Barbara , Excellent professional service from start to finish. Inari was absolutely brilliant( face painting was amazing) the kids and adults loved her. Emma Coogee
Hi Barbara, Thanks so much for sending Pirate Penny the kids had a ball and they actually believed she was a pirate! James keeps tells everyone that a real pirate came to his birthday.Her face painting was amazing. thanks so much Banksmeadow
Hi Barbara I just wanted to say an enormous thank you for the Fairy Bubbles. Her face painting was the best I have ever seen. Every parent at the wedding on the 15th praised her for making sure they did not have to think or worry about their kids throughout their meal; for the entire time Fairy Bubbles was with us. She was absolutely fantastic. I could not speak more highly of her. She absolutely exceeded our expectations and made the day that little bit easier by allowing us to watch her entertain the kids, rather than needing to manage this ourselves. Thank you so much! Hills District
Hi Carolina, Firstly I have to tell you that you did SUCH an amazing job on my children's faces . We had so many lovely comments from people about the face painting and how detailed they were. So thank you! You did such a fantastic job.
Please thank Carolina for her beautiful art work yesterday- she was amazing! The girls loved every minute of their fabulous faces. Sharon Carnegie
This is just to thank you for sending Fairy Bubbles to us for Annabel's party today. With her lovely manner and her creative party games, Fairy Bubbles made the day really special and fun for Annabel and very entertaining for Annabel's friends. Fairy Bubbles' face-painting skills are also amazing, and all the little girls ended up with beautiful cheek art and fabulous fairy nails.
Hi Barbara, We were so happy with Fairy Astrel and Fairy Kristy. I want to thank you and Fairy Kristy both for being part of Ella's birthday party celebrations. The kids all had such a wonderful time, they were so proud of their painted faces, and the variety of activities you did with the kids were all so exciting and really geared to the age group, so thank you. At day care the following week Ella painted lipstick on all the kids' lips with texta and then encouraged them to paint each others' faces with texta, so the face painting really left a good impression on all the kids! Ella has been telling people that she had a party and her friends came and so did the fairies. Thank you for helping us to make her celebrations so magical for her.
Thank you so much for a lovely party. Georgia and Annabelle both had a ball! Rosebery
Hi Barbara Thanks so much – Mermaid Ariella and Eleni where fantastic and the children had a wonderful time! Kind Regards Vanessa Glenhaven
Hi Barbara Fairy Rose was excellent and has a lovely manner. All the girls really enjoyed the experience & Raine had a great time. Thanks again.
Hi Barbara, It was fantastic. Very talented face painter indeed the kids loved it. Will definitely recommend thanks ! North Ryde
"Our Fairy was absolutely incredible (Face painter and Balloonist)" Leigh, Dover Heights
Hi Barbara, Thanks so much, Fairy Nina was delightful she kept the children entertained and Sofia was so excited. All the best! Marlene Kellyville
Hi Barbara, I just wanted to let you know that my son and his friends thoroughly enjoyed the face painting at his party. Erica was professional and friendly. She was able to gently coax a few shy kids to get some painting too. My son didn't remove his 'tiger' face until bedtime. Thanks, Rathi
Just wanted to thank you for the wonderful fairy Lilly you sent for my birthday girls. She was lovely and very good with the children and not to mention very pretty. She had the party kids all amused and occupied. All the girls were really impressed with the outfit and especially my 3 year old who loves fairies. Thanks for listening to my request for the bright pink dressed fairy. She was a lovely addition to my party, I will for sure recommend you guys to my family and friends.
Hi Barbara, Thanks again for coming along to Harry's party, everyone enjoyed a great day with plenty of games – Harry said he loved it!
Had an amazing experience with Creative Fairies. They were very entertaining, great with the kids and very professional. Will be calling them for the next event!