Body Beyond Baby: Group Fitness For Mums With Childcare
Body Beyond Baby: Group Fitness For Mums With Childcare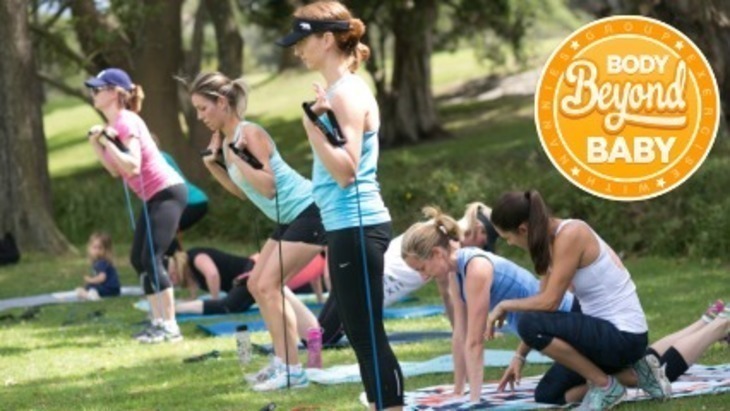 Body Beyond Baby specialises in pre and post-natal group fitness for mums across Australia and New Zealand, many of their classes offer a childcare service to look after your baby while you exercise, helping you gain a fun, safe, challenging workout without the hassle of finding childcare.
What sets Body Beyond Baby apart is that all of their locations are run by Personal Trainers that have specific training in working with pre and postnatal women (they all hold the accreditation Safe Return to Exercise as a minimum), they all work hand in hand with specialist Women's Health Physio's in all of their locations to ensure you are well looked after. They are affiliated with Fitness Australia and hold the correct insurance so you can rest assured you are in the best possible hands.
Body Beyond Baby pride themselves in starting the conversations around pelvic floor, abdominal separation, emotional and physical wellbeing that many women are not having, therefore, suffering in silence. Your Body Beyond Baby training session is your healthy, supportive mothers group environment.
Every session is varied for your individual needs to ensure you are receiving the best possible care within the group. All Body Beyond Baby training sessions are suitable for pregnant mums and with a few small adaptions, many of their mums travel with them right up until giving birth and return soon after.
Through Body Beyond Baby and their affiliate partnerships they look after mums in:
Sydney – Centennial Park, Rozelle, Dolls Point, Cremorne, Balgowlah and Willoughby
Brisbane - Carindale
Perth - Carine and Narrogin
Tasmania - Hobart
New Zealand – Birkenhead, Auckland
Cost can range from $20-$32
To find out more, visit their website.
Tell them ellaslist sent you!
Reviews
I have been training with Jen for over 2 years now. I started when my youngest was 4 months old and I hadn't exercised for at least 5 years. It was such a great and safe introduction back in to exercise. 2 years on and Jen extends me and motivates me more than ever. The nannies are also brilliant with the kids, I have always felt very comfortable leaving my kids in their caring hands. Jen is super passionate and experienced. I can't recommend her highly enough!
Have just started training with Jen for a month now. I'm 24 weeks pregnant and feel very safe in her hands about what exercises I should and shouldn't do.. going to keep going for as long as possible and then be back once Bub is born as the childcare facility is ideal and Jen knows her stuff!
Love training with Jen. Professional and evidently very experienced but at the same time personal which is great! Having nannies available means regular exercise is actually achievable for me and the ability and care displayed by the nannies is fantastic.
I love my traiing sessions with Jen. They are definitely the highlight of my week. The kids are well getting looked after while I get to do something for myself that makes me feel good & energised & fitter & stronger. I would highly recommend Jen's sessions to any mum looking to get back into exercise.
Such s great way back to exercise after a new bub. I am loving every session!
I've been training with Jen for about 4 months now and I love it! I'd never done group training before and Jen made me feel comfortable and confident. She also knows the ins and outs of post baby issues so you don't feel pushed or rushed, and you get to know what's the right time for you, when your body is ready to go hard! I feel great, have a great time and enjoy the company of other mums. I'm also really happy with the care for my baby. The nannies are well qualified, love kids and do a great job. It's been my baby's first experience of group care and he is always happy to go. I would recommend BBB groups for mums of any fitness level :-)
I started training with Body Beyond Baby when my daughter was 10 weeks old. Outdoor training was new to me, but it didn't take long for me to really love it. Jen and the team take their time to get to know you and your limits and the nannies are lovely and very reassuring of you leaving bubs for the first time. I signed up to one of Jen's 12 week challenges and the results were amazing, not only was I fitter but I actually had to buy new clothes as my pre baby clothes were too big! 12 months on and I'm the fittest and healthiest I have ever been. Thanks Jen & BBB team
Body beyond baby has gone beyond my expectations of a outdoor fitness class. I went from doing 0 class to 4 a week and while it didn't happen in the first week it did happen. Jen and Amy are supportive and know when to push you when you are ready. The challenges provide great motivation to clean up your act in regards to eating and exercise. Great mums, great location and great nannies. Was so glad a friend put me onto BBB and haven't looked back. Running again and pelvic floor is back to pre babies, yeah.
I joined Body Beyond Baby alone, but have never felt that way. I became part of a community of mums all sharing a common goal, with trainers that never let you underestimate yourself. After 5 short weeks, my babies have a happier, healthier and more energetic mum, whose starting to look pretty good in her jeans! ;-)
I have been seeing Jen for over 12 months after the birth of my daughter. My sister in law highly recommended it and from the first session I was hooked! I had always tried to keep relatively fit before bub arrived but my core strength was never there. Jen worked with me to build up my strength - I could run but a push up? Massive Fail! I have met the most amazing women and we have watched each other go from strength to strength which is so exciting! I am now back at work but the 6am weekday and Saturday sessions are perfect, I always have some "me" time.
I started training with Body Beyond Baby when my little man was 4 months old (almost 3 months ago). I love it! I lost 10.6 kilos during the first 8 week challenge and now a couple of weeks into my second challenge I have about 4 kilos to pre baby weight! (skinny jeans here I come!). I love the variety with each session and the fact that Jen personalises each exercise to individual fitness levels as well as taking into account any injuries or post pregnancy related concerns. I have had knee injuries (not from Jen!) and my pregnancy left me with an unstable pelvis. Jen has been able to give me awesome workouts even with these injuries in mind. I really enjoy getting to know the other mum's and the nannys are fantastic. It makes your workout so much more enjoyable when you know your little one is safe and happy. The biggest compliment I can give Body Beyond Baby and Jen is that we have now moved to the central coast and I am still trying to make all the sessions I can!! Thanks Jen, I really appreciate all of your support, encouragement and motivation. You rock!
Training with Jenny for the past five months has taken me to never before reached levels of fitness and well being. I never thought I would get so much out of exercising. I've met some great new friends and the boxercise class on Friday is the best thing a working mum could have to shake off the week's frustrations - just in time for the weekend!! The nannies are lovely and caring too which makes it so much easier to take the hour and be able to just focus on myself. Jenny's own personal fitness is an inspiration to anyone who trains with her. Just give it a go - that's what I did.
i've had the pleasure of training with jen after both my babies and she is nothing short of amazing. she's really in tune with what you are going through as a new mum and as a trainer, she keeps you motivated and always on your toes. training with her gave me the results i wanted because the excercises are efficient and effective. i have and would recommend her to any new mum thinking about joining an excercise class.
I joined BBB last year and intially completed the 8 week challenge to lose my excess baby weight. I have continued to train with Jen since then. The whole set up of BBB is very professional, the nannies are great and I had no concerns about leaving my son there whilst I trained (he was only 2 months old at the time). I lost over 11kg in the 8 week challenge, and now I feel fitter and stronger than I did pre-baby. I like the fact the sessions are focused on the areas that we weaken whilst pregnant and also our technique is constantly checked for exercises to ensure we are completing them correctly. BBB is a great opportuniy to meet other mums with bubs of different ages and interact with them. I would definitely recommend the BBB sessions for any mum who wants to re-gain fitness post baby.
Life sometimes hands you little gifts & finding Jen Dugard & BBB was my gift for 2011. As a busy Mum of 3 suffering from Post Natal Depression, after training with Jen for the past 6 months, I am proud to say I'm feeling (& looking) the best I have felt in years. Jen is professional, friendly & an inspirational young lady. Her classes are challenging & varied & nothing beats a morning of exercise in the park with fresh air, endorphins & football training eye candy! I couldn't recommend BBB highly enough.
I have been training with Jen for over 2 years now and have loved every session. She really knows her stuff. Jen was the first one to inform me that I had 'separation' of my rectus abdominis. I had never heard of it even after having 2 children.... And my separation was large. Jen took really great care of me, taking me back to basics with my exercise to strengthen my core. At first this was quite frustrating as I have always loved to train hard! I attended a 'pelvic floor and core workshop' organised by Jen and her physiotherapist which helped me understand the real value of strengthening from the inside out. The physio used real time ultrasound to check whether I was using these muscles correctly which was so fascinating. Jen was there every step of the way working with the physio to help me. I am so grateful for this. I love the passion Jen has for helping so many women like me. I love it so much that I decided I wanted to help postnatal women too. I have recently completed my Cert III and Cert IV in fitness and have joined Jen's team as a trainer! We have been designing some really fun, dynamic and interesting sessions for the 8 week challenge. I feel so privileged to be working with Jen.
I have been with BBB and Jen for almost 4 years now. Jen has trained me after the birth of my first child, during the pregnancy of second child and afterwards. My kids are now 4 and 2 1/2 and I still work out at least twice a week. I really enjoy every session and I love training with other like minded woman who are focused on their health. Jeans' focus is incredible she can look at every exercise I do and give me feedback and correction on how to improve or get more out of each movement. She tailors everything according to your ability level. Every session is always different, Jen mixes things up a lot to keep you on your toes. BBB classes have always fitted into my weekly timetable. The kids love going and the nanny service has been a God send. As a mum with two kids hanging off me most of the time, there is not many ways you can exercise by yourself. I would highly recommend BBB to anyone!
I've recently started training with Jen and I'm now doing the 8 week challenge. I didn't know it would have such an impact, both physically and mentally. I know through healthy eating and continued exercise it's a lifestyle change that we'll stick with as a family. I have had personal trainers before, but even in a group session I feel Jen is easily the most attentive to my personal goals. Jen is so inspirational and practices what she preaches, with kids of her own I know she knows her stuff and understands the challenges us mums face :) If you think you can't do it or don't have time, the 6am sessions are the answer!
With exercise being a big part of my life pre-baby, it was important that this carried on after the birth of my son. BBB was recommended to me through another mum in my mother's group and I have been a regular for over 12 months now. When commencing with Jen I was use to co-ed bootcamps that offered a variety of exercises which were very focused on speed and not so much on technique. Jen's sessions focus on rebuilding from the inside out for a stronger, fitter you. I could not be happier with the results I have achieved through BBB. I am now the strongest and fittest I have ever been, even pre-baby. BBB has also helped to build a network of friends through other like-minded mum's who appreciate what we are all going through and what we are trying to achieve. Keep up the good work Jen!
I've been training with Jen at BBB for about 5 months now & absolutely LOVE it. I've always been in to fitness so have tried lots of things & trained with many different people. Jen's workouts are by far the most effective I've ever done though - I certainly wouldn't have my pre-baby body back without Jen's extensive knowledge, personalised attention, endless encouragement & the 8 week challenge! Not only is the exercise challenging, fun & effective, the other mums that attend the classes are friendly & supportive & great to have a laugh with, and the nannies are an absolute godsend. You get more than just a six pack from BBB - you also gain an incredible support network & the motivation & strength all new mums need to keep going. I highly recommend it.
I trained with Body Beyond Baby after the birth of my daughter and am now back training after the birth of my second child who is now 6 months old. Training with BBB has improved my fitness and strength so much that I feel better than I did before I had children - healthier, more motivated and equipped to take on the physical toll that motherhood brings. I have a few old injuries and issues that Jenny keeps close watch on, and I love training with like minded mums who are positive about their health and happy to be out and doing something for themselves.
I love my sessions with Jen and Body Beyond Baby. I have been working out with BBB for the last 8 months and I couldn't be happier with the results. I am also amazed at the transformations I have seen from other mums attending the sessions. Its not only a fantastic workout, but also a wonderful supportive enviromnet for mums of all fitness levels. I leave Jen's workouts feeling re-energized and ready to tackle the day. I highly reccomend Body Beyond Baby to any mum wanting a safe, fun environment to reach her fitness goals.
Hi Mel,  We are sad to hear that you didn't enjoy your sessions with us and we really appreciate your feedback.  At Body Beyond Baby we understand that everyone's needs are unique and we welcome all comments and suggestions about how we can improve and make our training work the best for you. We can assure you that improving your physical health and wellbeing is of up most importance to us. As is ensuring you have a strong foundation in order to build upon and handle more challenging exercises.  We really love our mums at Body Beyond Baby and it's our goal to get everyone safely fitter and stronger after the birth of their baby and to get to know you as an individual so we can push you effectively toward your goals. BBB is always updating and improving your programs and we really want to make sure your sessions are fresh, fun and enjoyable along the way so please contact us directly at [email protected] to discuss what we could have done better.  We can then move forward with your comments and make sure we incorporate more of the things you love into our sessions. Love Jenny, Body Beyond Baby
I have been with BBB for over a year and i just love what it has done for my life as a mum and as a person. The training sessions are tailored to individual needs and you feel well looked after. The nannies are experienced and friendly and my 2 year old loves her time with them. I'am now pregnant with my second child and have been training through it under Jen's guidance. Jen is professional, highly skilled and passionate about what she does. I thoroughly recommend Body Beyond Baby to any mums out there:)
I found Jenny's sessions to be mundane and repetitive. I think she is more focused on marketing herself rather than improving the physical health of her clients. The nannies were brilliant but the sessions are overpriced for the quality of training you receive.
Jen runs an amazing business. Her sessions, blog and updates are inspiring anf hugely motivational. The range of times and classes on offer are wonderful and the opportunity to have nannies on site is amazing. Jen has a strong focus on building strength from the inside. Her knowledge and focus on the trainging attention Mums need is brilliant. My only regret is that my daughter refuses to stay wiht the nannies and as a reult I've had to stop training with Jen for now. I hope to be able to rejoin the group some time soon.
I signed up for the 8 week challenge after reading all the reviews here! It's been the best I have done in ages. Jen is such a fantastic trainer, pushing us hard but always taking care of individual needs. I thought I only do this for the 8 weeks but I certainly stay on as I love it and so does my lil one. Will spread the word as the combination of Jens excellent training and the professional and lovely nannies is just perfect!
I couldn't be happier with my training sessions with Jen. Having an hour of "me" time where I can trust that my son is well looked after by the professional nannies not too far from where I'm training is delightful. Fitting into my pre-pregnancy jeans and hearing comments from friends about how good I'm looking is even better. The increase in core strength that I have from the training comes in very handy and makes life with bub easier. I have no hesitation in recommending Jenny's training, she is professional and even during group training is able to give each individual the care and attention they need.
I am extremely happy with the care and attention that Jenny provides at Body Beyond Baby, to me and to my little bub. Since beginning my training with her, I have felt challenged and envigorated and I now have a very positive attitude towards regaining my fitness.
I love everything about my BBB time - Jen and Hannah are great trainers who push you yet understand what it's like post-baby; having nannies means you actually get to do some exercise; making a regular commitment to classes means exericse doesn't become a 'I'll do it tomorrow' thing; and it's great being outside with other mums and feeling good about yourself. I so look forward to this time!
After hearing such wonderfuly things about Jenny and her team at BBB I went to my first session yesterday and it was brilliant. It was good fun exercising with other mums and knowing your baby was being looked after by nannies, enabled me to completely focus on training. I will definitely be signing up to more sessions!
I have been working out with Jen for a few months now during my second pregnancy. I feel much better than I did during my first pregnancy. I feel safe working out with Jen as she tailors each exercise to my needs. She is also very attentive to all the members of the class which makes everyone feel great.
Training with Jen has been great, she is friendly, motivating, professional, really impressive. And even with my 1-year old at the moment refusing to leave my side and therefor having to 'join' the class, I still manage to get a good workout twice a week!
Jen's classes have been a great way to get back into shape after having a baby by doing the right exercises for a post-natal mum rather than just going for a run. She works you hard and I always feel i've got value for money. Would thoroughly recommend the sessions to all mums
I think Jen is absolutely fantastic. She is not only an outstanding trainer but runs her business in the most professional manner. Just as much emphasis is placed on looking after our bubs as on our training. Jen also tries to make our lives as Mums easier by introducing us to physios, first aid courses and even sports bra fittings onsite! I have only recently started training with BBB after my second baby and wish she was around 3 years ago after my first! Jen finds a way to tailor our sessions to the individual and makes them interesting. I highly recommend!
I have gained more from two sessions with Jen than I have in nearly a year training in a group session elsewhere. Her friendly, mild-mannered approach belies her results-oriented focus. And with Jen's help I have finally located my pelvic floor after four years (and two kids) of searching! Having child minding included is the icing on the cake.
I really enjoy my weekly sessions with Jen and team, the session is well organised and Jen really cares about what you are doing, you get a lot of individual help which is great, especially since it has been a while since I have done any exercise:) It is also relaxing because you know your bub is being looked after. It is also good to be indoors in the gym, as I know I would be less likely to come if it was outside in the cold, though I can't wait for summer to get out to Centennial Park!
I love going to BBB sessions. I always feel like I've had a great workout as well as some well earned me time... all while my bub is having a great time with the lovely nannies!
I look forward to these sessions every week. I know I'm going to have a great work out because there are no distractions - my little one is well looked after by the nannies whilst I exercise. It's some great "me time"
I started with BBB at 6 weeks - very keen to get back into shape after the birth of my daughter. Jen was fantastic, taking time to understand my personal fitness levels, goals and health status. It has been great to have someone else to look after the baby (even for one hour!) whilst you do something for yourself for a change. Thoroughly recommend it to any mums out there!!
I have been going to the Body Beyond Baby group sessions for about 6 months now. We started off in Centennial Park when it was warmer but are now training in a gym in Bondi Junction to stay warm during winter which is great for the bubs as it can be too cold for them sitting around outside at the moment. Jenny is a fantastic trainer and I always enjoy the sessions, as does my 8 month old. I used to have abdominal separation but thanks to Jenny its all fixed now and I know for next time the exercises I should and shouldn't be doing - thanks Jen!