Bella Body: Fitness For Women
Bella Body: Fitness For Women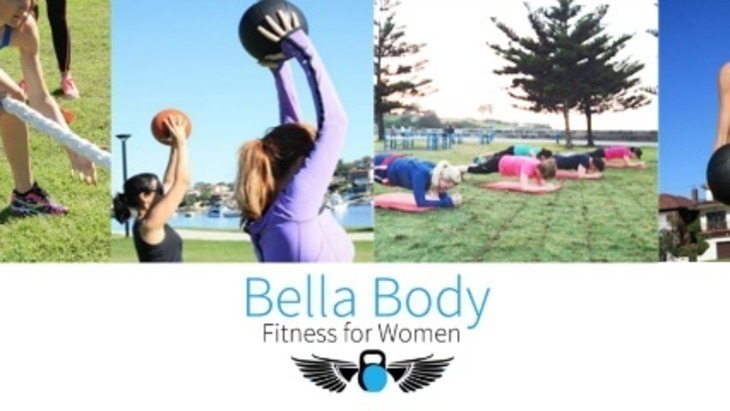 Bella Body runs in 3 locations: Coogee, Queens Park and Drummoyne
TRIAL BELLA BODY TODAY – PURCHASE A 3-PACK OF SESSIONS FOR JUST $20! Click here for more info.
At Bella Body: Fitness For Women, we design outdoor group personal training sessions especially for the busy woman's lifestyle.
With morning sessions at Queens Park and Coogee Beach in Sydney's eastern suburbs, and evening sessions in Drummoyne in the inner west, we offer a fun and affordable approach to fitness, with motivating workouts that focus on fitness, toning and boosting your energy levels.
Our groups are small, so you get the attention you deserve to ensure you achieve your health and fitness goals.
What we do:
Educate and inspire you to lead a healthy active life.
Give you awesome, fat burning, energy boosting workouts!
Give you the motivation to get out there and make your body Bella – inside and out!
To keep things interesting:
We set goals, reach them and set more goals!
Have fitness challenges
Healthy eating guidelines
Learn from, motivate and inspire each other
Have fun and a good laugh every session!
How much?We reward your commitment! Train regularly for as little as $19.75/session (for a 20-pack), or come casually and still train for just $25/session.
Click here to view the 2014 timetable.
Call Ella Clucas on 0422 319 041 to discuss your personal needs, or email her for more info today.
http://www.youtube.com/watch?v=DDUyvchcU3A
Reviews
I started training with Ella around four years ago and since then, I have gotten fitter, leaner, stronger and healthier. Ella is a fantastic trainer and I can't recommend her enough. Her sessions are varied and challenging. The girls are also great fun and always good for a morning laugh! Ella has taught me heaps about nutrition, making very practical and achievable suggestions for my lifestyle. I have lost over 8kgs with Ella and have managed to keep it off.
Ella is a fabulous trainer. I did the 6 week challenge and lost my baby weight with Ella. She is lovely as are the girls that she trains with. She pushes you harder than you would yourself (especially if you are a slacker like me) but isn't one of those annoying shout at you trainers. And the best thing is that she mixes it up so every day is different.
Ella is such a great trainer. I hate having people yell at me early in the morning, but somehow, Ella makes it fun. Her sports knowledge and cheeky sense of humour meant I always had a smile on my face at training, while also knowing I was putting my health and fitness in good hands. I'd recommend her to anyone like me who needs a little motivation, and thinks anything worth doing should be made fun.
I worked with Ella after the birth of my first baby. She not only helped me tone up and loose that pesky last 5kgs, she encouraged me to parter the exercise with a healthy diet offering meal suggestions and healthy snack alternatives when I requested. I am very pleased with the results! I have, and would, recommend Ella and Bella Body to anyone.
I've trained with Ella for about two years now. In that time I have learned so much not just about exercise but about nutrition and being healthy. My fitness improved dramatically and I lost about 8kgs and I have been able to keep it off even though recently I've been injured and not been able to exercise for 3 months. I'm looking forward to returning to the morning sessions at Coogee soon, I do miss the outdoor exercise and the fun group of girls we train with & of course Ella.
Ella is a highly motivated and passionate trainer. Her sessions are structured to work for any level of fitness and I always feel like I've pushed myself a little further after every workout. If you want to get fit & healthy, I'd highly recommend training with Bella Bodies!
I've been training with Ella for about 4 years now. When I first started I never thought I would I would last so long. I had become inactive while completing my PhD and was just trying outdoors training 'on for size'. It's now become part of my daily routine. The small group training works for me and Ella's training style and methods encourage me to push harder. She has coaxed me through 2 City 2 Surfs, and a Bridge run!!! I've become fitter and healthier, learnt more about different approaches to nutrition, and met some really lovely people. Training at Bella Body has become more than just exercise.
My fitness goal is to stay as strong and healthy as possible for a woman my age. Ella helps me to REALISTICALLY work-out to my age and capabilities. I have found other trainers who just belt out standard exercises, endless burpies, running, without taking into account the individual.
Since starting with Ella over two years ago I have become so much fitter and stronger, I eat much better and I have way more energy - and losing (and keeping off) 12kg has been a very welcome bonus! I love training outdoors with a great group of women who laugh and joke their way through even the most challenging workouts. I highly recommend trying Ella's sessions if you want to get fit or just want more variety in your training.