Ukubebe Music Programs for Children (0-5yrs)
Ukubebe Music Programs for Children (0-5yrs)
Mums & Bubs
Toddlers
Preschoolers
Kids
Introducing Ukubebe, where music and movement is both fun and educational. Mums, Dads, Carers and children are brought together with the joy of music in Ukubebe Music Playgroups!
Join in the fun - watch and listen - you will sing, dance, move and play instruments in a joy-filled music session, that will uplift and refresh everyone. Babies sing and move, toddlers sing, dance and play!
Ukubebe believes that we are innately musical and that playing music is as natural as breathing. Music Playgroups will gift your children musicality for life, supporting the whole child with child-led musical play. Active but calm, hands-on music-making experiences offer endless possibilities for learning, sharing and creating.
It's truly magical - the connection that parents and carers feel with their children when we play our Songs of Love. Ukubebe combines music learning with an educational philosophy, embracing the whole development of the child.
Musical play helps children to make sense of the world around them, as it is multi-sensory. A shared musical experience between children and their parents or peers, is joyous, nurturing, and inspiring. It fosters and strengthens bonding and relationships. Ukubebe invites you to come and experience a Music Playgroup soon!
Weekly Music and movement classes available in Randwick and Batemans Bay - BOOK NOW!
Watermelon Jazz
Ukubebe has a brand new album out titled "Watermelon Jazz", which is a collection of twelve original songs written for young children and their families.
These quality songs have inspiring lyrics and are both educational and fun!
Listen to the new album HERE.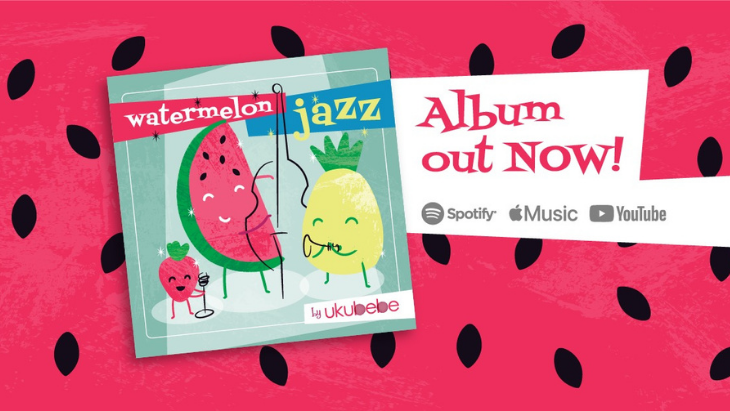 For more information, visit the Ukubebe website. If you have any questions, call Jo on 0499 040 125.
Tell them ellaslist sent you!
Reviews
My son and I love the Ukubebe classes. Cara and Jo are very inclusive, engaging and fun! It's a wonderful activity to share with my toddler.
Such a big fan! My 9-month-old loves his ukulele, keyboard and xylophone after being introduced through the Ukubebe classes. Plus, we sing Watermelon Jazz when eating fruit, which makes it super fun for everyone!
Ukubebe provides an opportunity to expose my children to music with feeling. The music and the experience of Ukubebe is second to none and Cara's beautiful enthusiasm for the children she teaches is so amazing to watch!
Ruby (11 months old) and I look forward to our Ukubebe class with Jo every week. Ruby started at 5 months old and it has been so enjoyable to witness Ruby progress through her milestones And grow in her confidence, in her engagement with Jo's music class. Ukubebe has been such an important part of Ruby's development and I have very much appreciated Jo's personalised attention, advice and tailored programs. Lastly, the groups are small, which is particularly appealing, as your child is given more attention and also encourages your baby to partake more in the group. Larger groups I have found to be more observational and less engaging. Thank you Jo, we look forward to continue with you in 2020.