TinkerTank: Coding, Robots And Design Classes (5 - 18 years)
TinkerTank: Coding, Robots And Design Classes (5 - 18 years)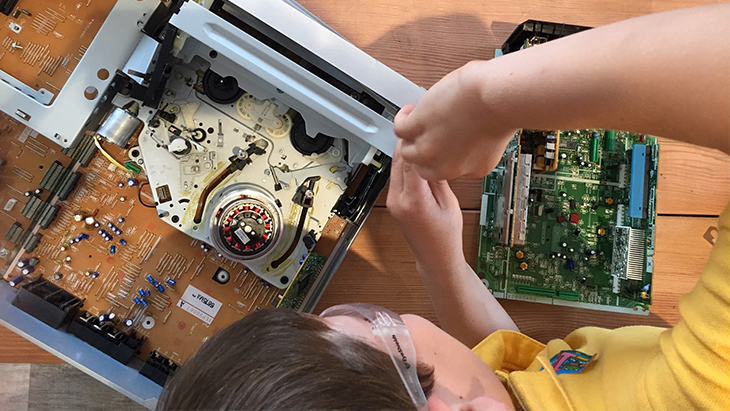 TinkerTank is Australia's first Tech based Makerspace for everyone, ages 5+. They teach STEAM - Science, Technology, Engineering, Arts and Mathematics. They are a little different from your usual after school enrichment program, teaching robotics, coding and design to everyone - even during the holidays, on the weekends and for home-educators.
What else do they do?
On top of their amazing Birthday Parties - TinkerTank offers the following:
Teen Tutoring in a social environment
Corporate Workshops
After school programs
STEAM Education Consultancy
3D Printer Use
Internships and Work Experience
On-line workshops
Venue hire
Memberships
Being a member at TinkerTank gives you access to the mentors and all No lock-in contracts or minimum stays! Come visit at our weekly OPEN HOUSE on Saturdays (10am to 1pm) to learn more!
Home-School (2 hour time slot between 10-1) Check for days currently available
After-School (3:30pm - 5:00pm, 5:00pm - 6:30pm)
Holiday Camps 9:00-12:00, 2:00-5:00 and 9:00-5:00 options
Where: Manly and Crows Nest.
For pricing and more information, contact [email protected] or call 1300 670 104!
Tell them ellaslist sent you!
Reviews
Just reading the reviews - and agree that this is one of the most unique spaces to learn in Australia. Our children have developed a deep understanding of tech through creativity. We understand that everyday is different because it is CHILD LED, so if our children don't want to animate, they don't have to. Everything is introduced and explained, but the choice is ultimately theirs, at the holiday program. After school programs are project based so they have the chance to really get into what interests them, and collaborate with their friends on bigger, long term projects. I highly recommend TinkerTank.
TinkerTank has been a wonderful creative and intellectual outlet for my two children. My son LOVES working with the robots and my daughter has thoroughly enjoyed learning how to 3D print. The staff are welcoming and knowledgable, and the space is clean and engaging.
My son had a great day! I was very impressed with how much he enjoyed designing his nametag in a 3D platform, in preparation for it to be 3D printed. He really enjoyed coding through the Star Wars and Minecraft platforms. I can see how he was encouraged to think through the movements he coded the robot character to perform (thanks Miguel!), and how the instructions developed his understanding of how to code. It was disappointing that he did not participate in robotics, electronics or animation, despite Julija explaining that those activities were structured into the day. I guess that's the downside of being "child led" - if the child doesn't go to an activity then they don't get to find out whether they're interested in that activity, and they don't try that activity out. They don't know what they're missing, so they don't participate. Also disappointing that, despite Julija telling me that the children would be dismantling, examining and discussing the components of an electronic device, this apparently did not occur. My son missed out on one of the main activities I was keen for him to experience. I was surprised to discover that the kids were taken off site and walked through Manly for their lunch break. It's terrific that they got out for some outside air and play, but this was not made clear on the website or communication on the morning. Very impressed with everything my child did! Somewhat disappointed with what he didn't do, and the lack of clarity about the overall programme... I hope this is useful feedback for other parents thinking of participating in these workshops.