Tanya's Travelling Tadpoles Swimming Lessons - At Home (5m+)
Tanya❜s Travelling Tadpoles Swimming Lessons - At Home (5m+)
Preschoolers
Kids
Mums & Bubs
Teens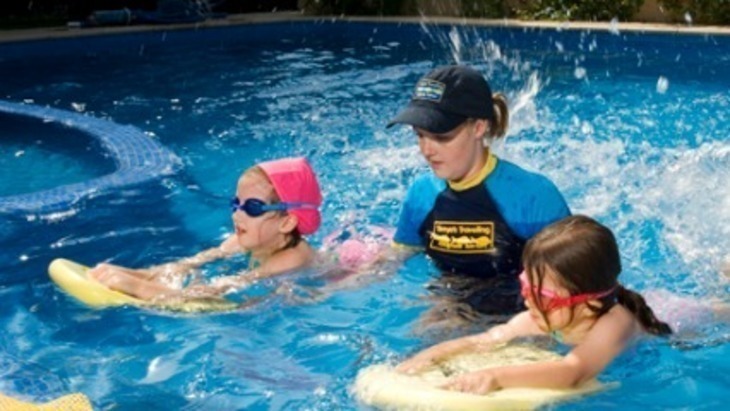 Tanya's Travelling Tadpole Tuition provides private swimming lessons for your kids at your home pool – from beginners through to competitive swimmers.
Tanya's Tadpoles' aim is to develop efficient and effective strokes so that swimmers are well prepared for recreational or competitive swimming, and so that they have a highly developed understanding of the aquatic environment and water safety.
Tanya's Tadpoles' slogan "Swimming Skills for Life" means that the skills learned in our  swimming lessons can not only potentially save lives, but that skills well taught will be kept for life. Tadpole's focus is also on making lessons fun, because whilst water safety is vitally important, a love of water and enjoyment of swimming is a great asset in our environment.
Tanya's Tadpoles' offers Private Swimming lessons for the following:

Tanya's Tadpoles private swimming lessons are conducted by AustSwim qualified instructors who have also been trained in "TADPOLE TUITION" by Tanya. All swim instructors are required to hold current resuscitation certificates.
Tanya's Tadpoles is an AustSwim recognised Swim School and is registered with Swim Australia.
For more detailed information about classes including prices click here or call
0402 002 902.
HOLIDAY INTENSIVE SWIMMING LESSONS ALSO AVAILABLE!
Tanya's Tadpoles offers holiday intensive swimming classes each week of the summer school holidays. Holiday swimming programs comprise one or more weeks of lessons each day in your pool. The repetition over consecutive days enables kids to retain information and improve skills to help their swimming – especially at at time of year when kids are spending so much time in the pool or at the beach.
Book now for the Summer Holidays!
Reviews
Our six year old triplets have been swimming with Tanya's Tadpoles since they were three years old. Tanya makes booking the lessons easy, as a mum herself she understands that each child has different requirements. We have found the one on one tuition of great benefit for each child, they love the lessons and have much greater confidence in the water. The instructors make the lessons fun while the kids are improving all the time. I cannot recommend them highly enough.