MOD Squad Swimming School: Kids Swimming Lessons
MOD Squad Swimming School: Kids Swimming Lessons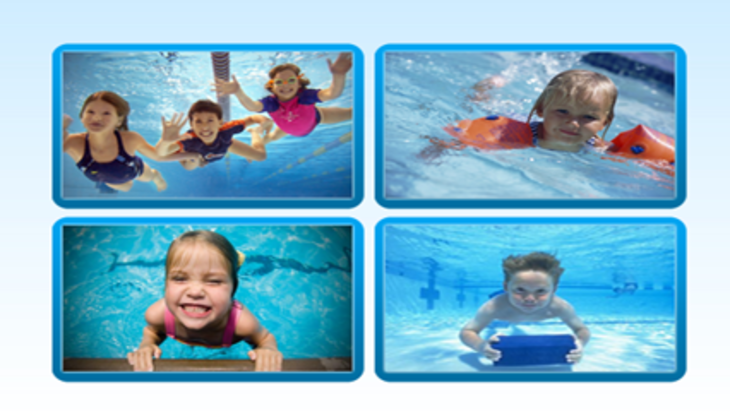 M.O.D Squad, which is an abbreviation for "More On Development" was formed by Christine May, a certified and friendly swimming coach, offering various swimming courses to all students from different levels and ages. I offer professional swimming lessons in Matraville (2nd pic) and now at Fitness First in Rockdale, giving your kids the "Skills for Life" so that they can swim with greater confidence.
Choose from:

Private Lessons: effective 1-on-1 lessons. I can come to your home or you can meet me either at Fitness First in Rockdale (see pic right), or at a 12 metre indoor, salt-based heated private pool in Matraville. Private home swimming lessons also available from Andrew Duncan – see website for qualifications and contact details.
Group Lessons: Friendly small group lessons. Class numbers are dependant on the level of skill and age of the students. I can cater group lessons to all levels and age groups.
Squad Training: Not just lap-swimming! Join my dynamic squad training at an indoor 25 metre heated pool. We focus on technique, broken down into short drills so that swimmers can really focus on their strengths and weaknesses.
M.I.B Instruction: Mobility-Independence – Balance. Do you have your own pool? Let me show you how to install these 3 key factors in your swimming environment. Your child will progress and feel more comfortable and confident. Let me teach you, how to teach you child to swim in greater confidence!
Pool Risk Assessments: ALEX PAVLAKIS, PIA SECURITY, ph: 1300 650 884
MAKE-UP LESSONS NEVER EXPIRE! If your child is sick and needs to miss a lesson, simply let me know and we will reschedule it. 24hrs notice isn't needed and there is no expiry date for make-up lessons.
About your Instructor – Chrissy May: I am an AUSTSWIM-accredited swimming instructor, a RLSS Resuscitation examiner, and an AUSTSWIM teacher assessor and lifeguard. I have 20 years swimming teaching experience, am a Bronze licence coach, and a mother of 2!
Chrissy also runs a swimming program for disadvantaged kids through WEAVE.
For all enquiries or to find out more about any one of my swimming lessons, please don't hesitate to contact me directly on 9597 1665 or 0412 063 896, or by email [email protected].
To discuss prices, days, times and availability at Matraville and Fitness First Rockdale please contact Christine May on (02) 95971665, leave your contact details and she will call you back.
Or visit us online at www.modsquadswimming.com.au.
Reviews
Callum called Christin ' water Boss', that day onward I knew he loves her. And her idea of getting the young kids to enjoy water from the very first class, I trust Christin with my sons, especially I had seen the huge improvement of some of others... we love the private pool in Matraville, nice and quiet, prefect for young beginner, fully Recommend Christine.
We have been with "Gorgeous" Christine for a short time, however the level of care, comfort and ease my children feel is unmistakable. My boy has always been confident, however has never had the genuine care to help him achieve safety and ability before. Christine has shown she wants to help him learn just as much as I want him to. My girl was always nervous and she now believes she is a ballerina in the water. They adore Christine and I am looking forward to seeing them develop into confident swimmers. I would recommend Christine without a doubt :) :)
We've been going to swimming lessons at Modsquad for 12 months and my now 3 year old son has made a huge improvement. Chrissy has been patient and fun in class... Ensuring my little boy has loved coming to class each week.
My boys have just started swimming lessons with Christine this term and already I can see an improvement with both of them. Joshua is a bit scared of the water but since swimming with Christine he is a lot more confident and Samuel has learned more in a few weeks with Christine then the last 3 terms swimming elsewhere. We are very happy!
I have 6 year old twin boys who have improved so much swimming with Christine. Before Christine I spent many lessons watching my boys muck around and not seeing any changes in their swimming. Thank you Christine my boys love your teaching techniques and I can see the improvements and know that my money is well spent.
Christine trained both of our boys to their first year of highschool in a firm but friendly encouraging environment. Incidentally, with her kind heart and generous spirit, Christine also introduced us to Albie from the pound, now a hugely loved member of our family!
My two children, aged 6 and 8, have been having lessons with Christine at Rockdale Fitness First. They really enjoy their lessons and their progress has been amazing. They both have 1:1 lessons and get to spend an hour in the pool, which is wonderful, 30 minutes of lesson each and 30 minutes of swimming practice also under Christine's supervision. Christine is great with the kids and has a very straight forward way with them! I recommend these classes highly!!
Christine is absolutely fantastic and out kids love her!!! Honestly, they have learnt more in these 1:1 lessons than they ever have in group squads where limited time is spent 1:1. Christine's focus is to get them swimming independently ASAP... I love the straight up, honest, no hassle approach she takes and have recommended her to everyone! P.s. We take our kids to Rockdale Fitness First for lessons.
Christine restored my three year old son's confidence in the water. We had a terrible experience with another swim school and were at the stage where he wouldn't even get into the pool. Within two lessons with Christine, he was back to loving the water. Christine has built a strong rapport with my son and he can't wait for his swimming lesson each week. Highly recommended.
Christine is a brilliant swimm instructor, she has taught my girls water safety and many swimming skills in a very little time. I would highly recommend Christine to anyone.
Christine May is our Swimming Coach at Weave's Kool Kids Club and has been for the past 7 years. Christine has taught over 100 of our kids how to swim and the essential skills required to be safe in the water. She has a teaching style like no-one else and gets results each week, the rapport she has with our kids is unique, this is why our swimming program is such a success each term. A high number of our kids have progressed onto our Aboriginal Surfing Program and a few are now competing in Surfing competitions at Maroubra Beach. What an amazing woman, excellent teacher and mentor for young kids. Mel Weave's Kool Kids Club
Excellent lessons for toddlers in a heated indoor private pool. Classes are small with a great teacher.
After being dissatisfied with numerous swim schools/coaches, we finally found Christine May, she is personal, flexible, great with kids & her lessons incorporate stroke correction & fitness. Christine's lessons are tailored to the kids individual need and my son thoroughly enjoys her lessons.
It is great pleasure to endorse Ms. Christine May, the coach. We recently moved to eastern suburbs mid-way in our swimming classes and were finding it very difficult to find the adult swimming classes. Fortunately I got in touch with Christine. She not only get us started at the following weekend but also her coaching method was the most appropriate for our needs. In addition to very well explaining the exercises we were also very impressed by her interactive style. It was very clear that she was one of the very few coaches who have an excellent ability to tailor her coaching to the needs of the participants.
I have both my girls doing swimming lessons with Christine, they love going to her classes. I am very happy with her teaching technique and the experience they are gaining with her! Highly recommended!
When I took my son to Christine he hated the water but within two lessons he was enjoying it and had lost any fear. It's a relaxing environment to learn to swim and Christine is firm but fair with the children which seems to be a great approach. Highly recommended
My daughter is now doing swimming lessons with Christine. She has improved & has gained so much confidence in the water all due to Christine's teaching techniques. I would highly recommend Christine to anyone.
I now have all three of my daughters doing swimming lessons with Christine. My youngest daughter was 2 and half when she started and she absolutely loves her lessons each week. It is a struggle to get her out of the water because she just loves it so much. All three of my girls are now really confident in the water, which is amazing especially for my eldest daughter as she was petrified of water before she had lessons with Christine. I would recommend Mod Squad to anyone looking for swimming lessons for their children.
Over the past 6 years both my kids and six nieces and nephews have all been taught how to swim by Christine. They are very good swimmers thanks to Christine's swimming techniques. I would not hesitate recommending her to any other parent wanting the best for their kids.
My kids are aged 7 and 10 and have been swimming with Christine for a number of years. They love coming to her classes. I am extremely happy with her teaching and the experience my children have gained. They are more confident swimmers thanks to her.
Christine has taught 2 of my kids to swim, she has so far done a great job , both are very confident in the water now . I am sure that I could not have done this on my own .I would highly recommend her to anyone after swimming lessons.
Christine is a great teacher and my daughters water confidence has developed a lot since starting with her. She's wonderful and paitient and would highly recommend her.
my daughter learnt to swim with Christine may since last year. she loved it and her swimming skills and confidence in the water improved a lot I would highly recommend her swimming classes to everyone.
My 2 children learnt to swim here with Chrissy May. They loved it and there swimming skills and confidence in the water improved only after a few weeks. I highly recommend the swim school. Lots of love from Sue Sharni and Zac Graham.
Christine has taught my three children to swim - she is firm but fair and adapted her style to suit the needs and personalities of each of my children.
My twins swam with Christine from age four to age nine. She was friendly, fun, caring, honest and flexible. Frances (with children Adelina and Luke)
My two girls aged 5 and 3 had no confidence in the water at all and would not let go of an adult in the water. After starting swimming 8weeks ago with Christine my 5yr own is swimming with no floaty and my 3year old is putting her head under the water and confident to swim around the pool on her own with floaty. Im so happy with their progress, I have Christine May to Thank for that. The pool is always clean and my kids have not gotten unwell after any lesson. Highly recommend MOD Squad swimming school...
I have known Christine for over 10 years. She has taught all my 3 children to swim . She is a great and reliable teacher. I would recommend her swimming classes to everyone.
I have 3 kids, 8, 6 & 9mth, my 8 year old who has a heart condition had trouble breathing and wouldn't put her head under water. Christine was patient with her but pushed her that little more every week that my daughter is now closer to being water safe, putting her head under water and I thank Christine for that. I highly recommend Christine and can't wait for my baby to be that little older to start.
Christine has only been teaching my boys for a few weeks but I feel like they have learnt more in a few weeks than they have elsewhere for 4 years. Definitely recommend Christine. Stop wasting time elsewhere!
My son attended squad training for 18 months. During this time he experienced professional but friendly and fun training that improved his fitness and corrected his strokes. The strengths based training boosted confidence in the water and self esteem. Would kindly recommend Christine.
My two sons came to Christine and she is am amazing teacher and very patient. My second son was a screamer in the water but her patience and perserverence got him to the great swimmer he is today. Highly recommend her
Christine is fantastic with the kids! My son is very shy and wasn't confident in swimming lessons at all. Christine took the time to understand my sons needs and get to know him and in turn earn his trust, he excelled under her teaching methods!
My daughter has been swimming with Christine May for four years. She runs a great program. She was able to beginning her swimming lessons in a small pool with only one other child in the pool, which allowed for personalised, specialised instruction without sitting around waiting in cues. She has now been able to move to a full sized pool where her skills have developed even further. Not only that but my daughter suffers from eczema, and both pools have been great for her skin, without the irritation of a highly chlorinated pool.
We think that Christine's swimming classes is a very good place to go to learn how to swim and has taught us all the swimming skills that we know . It is the most fun swimming class that we have done out of all of them. She is a great swimming teacher. From, Sienna & Greg
Christine an awesome, excellent and amazing swimming teacher she is very nice and kind and teachers her classes with many skills and enthusiasm I really recommend Christine she is fantastic.
Christine is a very nice Teacher! At the beginning I wasn't confident with my swimming but she helped to get the best of me and I feel grateful for that. She gives us little tips for our swimming races, and I'm very happy to be in her class. Thank you Christine!!
We have our Daughter swimming with Christine almost for 2 years, and we are really happy and proud of her improvement. She has gain confidence inside and out of the water. All this is because Christine is very professional in her teaching, she is Strict and loveable at the same time, and gives the right instruction depending on the child needs. Thank you Christine for all your support!!
I've been with Christine for 2 and a half years now and I enjoy swimming with Christine. Christine is very friendly, calm, funny and helpful! I'm in Squad Training and when I started in year 6 I wasn't the fittest or best swimming but whilst I have been swimming with Christine I have become a much stronger and fitter swimmer. I think Christine is a great teacher, she helps you improve your swimming whilst having fun! Thank you Christine :-)
Christine taught all 4 of our children to swim. She was always calm, kind,patient and competent. Each lesson was fun but instructive.The children always were keen to get in the pool.I would have no hesitation in recommending her to a parent wishing to start swimming lessons or correct strokes at a higher level.Thank you Christine..
Thank you Christine May, For making swimming so much fun again. I have 3 daughters, after swimming in different swimming schools.My girls started hating swimming. But after only 1 lesson with Christine, my girls started enjoying swimming again and now they love it. Christine is a fantastic teacher, she is very calm friendly and she making it fun for kids. All the kids love her, each lesson is different. The kids are learning so much. I would highly recommend swimming with Christine May. Keep up the good work Christine. Thanks again Christine!!!!
Christine is a very good coach i have learnt many things from her she is a good listener and pushes me to perform to the best of my ability. i would recommend her to anyone to start to learn or develop your stroke. I started with her and had a severe role i have now thanks to her become a decent swimmer at the highest level in my school and luckilly representing my school. Christine you are amazing spiros..
My 4 year old is learning swimming with Christine, she is fantastic and very patient the kids respond to her swimming methods and love it and she has great results
Christine, we want you to know that we are very pleased with the quality of teaching you provide. We sincerely appreciate your patience and kindness while you teach our 5 years old son how to swim. We have recommended you to others because of our satisfaction with your service.
My daughter Lara (4) started lessons with Christine one year ago, and we couldn't be happier. I have seen Lara transform from being really scared and hating the water, to absolutely loving it... She is now swimming all by herself - no floaties at all. Lara has gained massive confidence and even loves going under water now. Christine is a brilliant teacher - calm, friendly and patient - and she recognises the children's individual needs and levels really well. Christine is also really flexible when you have to schedule in a make-up lesson. I would highly recommend her to everyone!!!!! Thanks Christine May!
When our 5-year old son first went to Christine for swimming lessons he was still very wary of the water and had no confidence at all around trying to swim let alone swimming by himself. Within six months he was dog paddling by himself the full length of the pool. Christine was a big part of the transformation. Thanks Christine.
My 3 & 5 year old have been seeing Christine for a year and I could not believe how fast they improved. Christine is a fantastic swimming coach very encouraging and they achieved great results fast, my almost 5 year old would never get his head wet, he is so confident now that he dives down to the bottom of the deep end with no hesitation. Highly recommend!!
My 3 & 5 year old have been seeing Christine for a year and I could not believe how fast they improved. Christine is a fantastic swimming coach very encouraging and they achieved great results fast. Highly recommend!!
My son received the attention and care to increase his confidence and enjoy his swimming. Thank you Christine.
All my kids love swimming with Christine, they are constantly learning and improving their swimming techniques. Always organised, patience and caring.
I love my swimming lessons with Christine. I always really enjoy myself and feel that I have learnt heap. Thanks Christine
My son Xander has been having swimming lessons with Christine from Mod Squad for the past 2 years since he was 3 1/2 years old. When he started, he couldn't swim or put his head under water. By the end of one term of private lessons, Xander was putting his head under water and swimming without a floatie or bubble (with supervision). We have seen a huge improvement in his swimming abilities over the last 2 years but also his attitude – he loves attending the lessons, is no longer fearful of the water and is very happy, capable and confident in and around the pool. Christine at Mod Squad has always made the classes fun while still teaching the important lessons. We as parents are extremely happy with Mod Squad swim school and we are happy to recommend it to anyone.
I moved from the gold coast an had to find a new swim school for my son. He has only attended Christines classes for a short period of time an the improvement in his swimming has been so great, that I would recommend Christine to anyone, for all the work she has done in helping me know that I can feel safer now around water with my son an he now has more confidence in himself an his ability to swim.
My son has had a couple of different coaches and we weren't seeing the progress that we wanted so i found Christine and haven't looked back! He has now become such a confident swimmer who loves swimming and loves seeing his own improvement every week. My son responds so well to her style of coaching, Christine really caters to his individual needs and abilities. We have seen him go from a beginner to a squad swimmer. I would highly recommend swimming with Christine!
Christine is the best swimming coach! I always wanted to swim better in my school carnivals and maybe even get a ribbon. Since i have been going to Mod Squad i have won ribbons in all my races at my carnival, even butterfly! She is the best! ;)
My kids have been swimming with Christine for over 8 years. Christine offers a personalised swimming program focusing on each child's needs and abilities. I have personally watched Christine transform scared, nervous kids into confident water safe children in just a few weeks! Both pools and their surrounding areas are clean and comfortable! No one else compares!
We can highly recommend Christine as a swim teacher. With the ability to recognise the strengths of each of the different children we found her teaching skills fantastic. Maryanne
Christine has done a wonderful job. Within a couple of lessons she had my 2yr old comfortable in the water. His progress has been great and he absolutely loves it
Jamie has been swimming in Christine's squads for 2 terms. He has progressed in leaps and bounds. Such an amazing swim coach! Christine has got him from swimming 1 x lap (with difficulty) to swimming 20 x laps with ease in a 45min lesson. Would highly highly recommend Christine's lessons!
My eldest daughter was 6 and so afraid of the water when we started lessons with Christine. She was so afraid of water that she didn't even like showers because the water touched her face (don't worry we did bath her instead). Within one and a half terms of Christine's swimming lesson's my daughter was not only in the water treading water without holding onto anyone(only a back float on)and moving up and down the pool, she was also jumping in and sitting on the bottom of the pool at the shallow end. My husband and I were in shock. She went from hating the water to counting the sleeps to her next swimming lesson. We had tried other swim schools and she cried through every lesson. Christine's classes are small and the pool is heated and the kids get so much one on one attention that they always feel safe and supported in the lesson and the lesson is fun too, which is so important. My two younger girls also have lessons with Christine and I honestly could not recommend her swim school highly enough.
I would like to thank Christine for all the help she has given my daughter. My daughter could not even tread water or swim. After a few lessons with her she has learnt to confidently swim, tread water back stroke. You are so loving and encouraging towards your students and that's what makes a difference. My daughter keeps counting down the sleeps to attend your class. I cannot express to all parents that you are the BEST we have tryed many swim teachers and nothing compares to you Christine. Thanks again we really appreciate all that you have done for Christie. Regards Nik&Vicki Kalis
Hi, my two daughters joined christines team in may 2013.. i felt that i had to make a switch from the swim school they were attending for over a year now.. i was concerned with my youngest child..there was no real improvement with her swimmimg.. I was amazed that on Our first lesson with christine, she picked up on Angelinas breathing.. her breathing technique wasn't addressed... thus my concern ...all this time wasted previously ..Christine is great.. her drills are fun as my oldest tells me..im happy to recommend christine to ALL.
As quoted by my 5 year old son, Christine is indeed a very good teacher. After only 1 lesson he was swimming by himself (without holding onto someone like a Koala) and could not wait to get back to the next lesson. Prior to meeting Christine he was terrified of getting into the water let alone doing a swimming lesson. Christine has the amazing ability to reassure, give children confidence and most importantly learn to love the water and swimming. I am extremely grateful we found her through this website and would recommend her to anyone who wants to master this vital life skill.
My daughter has been swimming with Christine for a few years now and has improved out of sight as a result. This year she won her swimming races in all four strokes at the school swimming carnival which is a vast improvement from previous years and it's all because of the stoke correction and guidance that Christine provides in a calm, friendly manner.
When I started this class I was really nervous and Christine introduced me to the class and she made me feel very comfortable. I am getting better each time I swim. I really love going to her classes. Christine is really funny and really nice. I love her class.
I have been swimming in Christines Friday class for 6 months and I love it. It is so much fun and I have improved my swimmimg heaps. She is the best teacher.
I just met Christine today at a pool in Alexandria. As a primary school teacher in the area, I was touched by how amazing she was with the group of children she had at the pool. It is refreshing to know that there are dedicated individuals out there that care about the children of our area and take the time to respond and touch each child's life in a positive way. My own children will definitely be learning to swim at her school after my dealings with her today. Keep up the good work all involved in MOD.
I have known Christine for over 10 years and she has taught all three of my children to swim. My eldest son is a member of his school swim team. She is a warm, engaging teacher who loves children and inspires children of all ages to swim to their fullest potential. Class sizes are ideally small, which enables Christine to focus on the individual needs of each child. Christine is flexible and approachable - especially with regards to make-up lessons. Do not miss the opportunity to enrol your child in one of Christine's classes - your child will be a better swimmer for it!!
I go to Christine's squads and I have just been to a swimming carnival and won all my races ! Christine is the best so you should all go to her modsquad ! :D
Christine is a good teacher, she teaches us the strokes, she explains to us how the strokes are done and makes sure we do them properly. We do fun drils that can help us swim correctly. She teaches us new swimming techniques each week and it doesn't take long for us to master them. I learn alot from Christine and I'm a better swimmer now
I have attended Christine's swimming lessons for the last 6 weeks.Previously I was not confident in my abilities in the water but after attending her classes I have vastly improved in my strokes and the basics. I have attended other swimming classes but I feel that I have made the most improvement under Christine's guidance.Christine is patient and she takes great consideration perfecting strokes and pointing out great ways on how I can improve. Overall she is a great swimming teacher that will provide great results for all ages.I would definitely recommend her.
My 3 year old son is just about to finish his second term with Christine at Matraville and I am really pleased with his progress. He's gone from being hesitant to get in the water to absolutely loving swimming. Christine's teaching methods are fantastic - building on key skills while the kids have a great time. I find the pool at Matraville really good - it's really clean and is a no fuss area to get in and out of. I recommend giving her lessons a try!
I have both of my kids in lessons with Christine - she has been fantastic. My five year old girl was afraid of being in the water before she started lessons. Now she is confident and loves swimming. I have trouble getting her out of the pool. Christine's teaching approach is great as it builds kids confidence and allows them to do a variety of activities as they learn in the lesson.
My son is 4 years old and has been with Christine for two terms. it was less than 6 months ago that I couldn't even get him in the water let alone even do any swimming lessons until I found Christine. In such a short time she has managed to give my son so much confidence in the water I would not have thought that he would be loving it so much now. Christine has been fabulous with my son and I highly recommend her. Her small class sizes make it perfect for concentrating on each child individually and I wish I had started sooner with Christine. She is such a great swim teacher.
'Chrissy' is welcoming & attentive to both parents and her young charges at swim class. The kids enjoy the relaxed atmosphere, yet still pay attention to her when pressed to listen & learn. Through novel methods Chrissy focuses my young 'hyper' Son, eases his nerves, and inspires fun in the water both during and after lessons... As a result my child is progressing well, is confident, water aware & wants to swim! I'm a past instructor/teacher myself, and can see good technique in her methods, so we're happy to recommend her to those yet to 'take the plunge' with their kids..!
My daughter has been swimming with Christine May for about 3 terms now, and i have noticed a vast improvement in her confidence and enjoyment of the water. She is now swimming with grace and confidence, and looks forward to her next achievements in the pool, which is a huge turnaround from what we experienced with other teachers. Chrissy has a great attitude towards the kids and her years of experience is of great benefit to all her swim students. She is to be highly recommended to anyone looking for the best for their child.
I could never get my son to do group swimming lessons or put his face in the water - even though he liked going to the pool. That was ok but what really worried me was that he would accidently fall into the water and not be able to manage. I heard of Christine's lessons which were more one on one and having only done swimming lessons for a short while (at a pace suitable for my son), I am thrilled that he now swimms with no aids and happily goes under water. and so relieved to know now that he won't drown if he falls in. Thanks Christine!
I have been fortunate that all four of my children have learnt to swim with christine. My eldest son now represents his school. All have enjoyed lessons with not a single complaint which is a credit to christine making lessons fun & interesting. She treats all of her kids as individuals & works to get the best out of them.
I only have great things to say about Christine and her training methods. My daughter Amelia improved her swimming stroke within the first couple of weeks of training with Christine. Not only is she a great teacher but she is a lovely person to which the kids warm too. Shes actively involved, walking the pool, correcting the kids where necessary. Amelia enjoys her sessions each week and I'm extremely pleased with Christine's effort, dedication and enthusisam. You get results, guaranteed!!
Christine may has taught both my daughters to swim & I am so impressed with the her dedication to getting the strokes right & the basics in place. My eldest now competes in the school swimming carnivals and everyone comments on how well she swims! I would definitely recommend mod squad to anyone.
My son has been swimming with Christine for the last 9 months and he absolutely loves it, Christine is a very patient caring teacher, and very well qualified. The fact that the class size is small, makes it great because Chrisitine is able to dedicate her time to your childs swimming needs. Make up lessons are never a problem and as Christine says they never expire. I would recommend Christine to any of my friends for swimming lessons. Thanks Chris You are a great teacher.
My daughter started swimming lessons with Christine 18 months ago when she was three at the indoor heated pool. Christine is great with the kids and class sizes are small so there is plenty of attention on each child. The indoor heated pool is fabulous for learning to swim as it is not overwhelming for little kids and there are no distractions from other lessons as there may be at large public pools. I am happy to recommend Christine for swimming lessons. My daughter looks forward to her lessons each week and Christine is flexible with makeup lessons where kids are sick or away.