Kidz in Harmony - Music Classes for Kids, Toddlers and Babies (0-4yrs)
Kidz in Harmony - Music Classes for Kids, Toddlers and Babies (0-4yrs)
Mums & Bubs
Toddlers
Preschoolers
Kidz in Harmony is a fun and interactive music group class for parents/carers and their kids developed and run by a Music Therapist. Classes are held in a specially designed music room in Double Bay in the Eastern Suburbs.
Kidz in Harmony believes that music is for everyone. Together, parents and children will learn, explore and grow through singing, movement and playing instruments within a fun, safe and nurturing environment. The music program takes a holistic and child-centred approach.
At Kidz in Harmony, the program is designed and run by a music therapist who plays all the music live on a variety of instruments for an engaging and entertaining music class for all!
Your child's physical, emotional, cognitive, language and social skills will be developed through experiencing different musical activities. Kidz in Harmony believe that sharing music together provides the perfect platform in which to strengthen and foster the bond between you and your child.
The program includes opportunities for all children to learn, explore and grow through singing, movement, playing with a variety of props and instruments, musical storytime and lots more!

Class Times:
Kidz in Harmony music sessions run for 45 minutes and are held on Tuesday, Thursday and Friday during school terms. Class times are the same for both days:
9:30 am – all ages
10:30 am – 18mths +
11:30 am – 0-18mths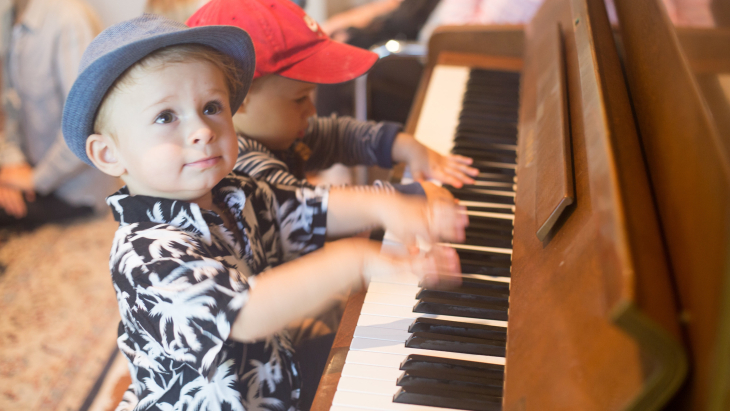 FREE TRIAL!
Kidz in Harmony is pleased to offer a FREE TRIAL class for all new families - and as a special offer for those who have found Kidz in Harmony through ellaslist, you'll also receive 15% off the total cost for the term!
Birthday Parties:
Kidz in Harmony can bring the music to you! For your child's birthday (0-4yrs), a Kidz in Harmony facilitator can come to your location to run a special birthday music session. They will bring along a guitar, props and lots of instruments and engage your little guests and their parents with an array of songs and activities. Please email Kidz in Harmony for further details.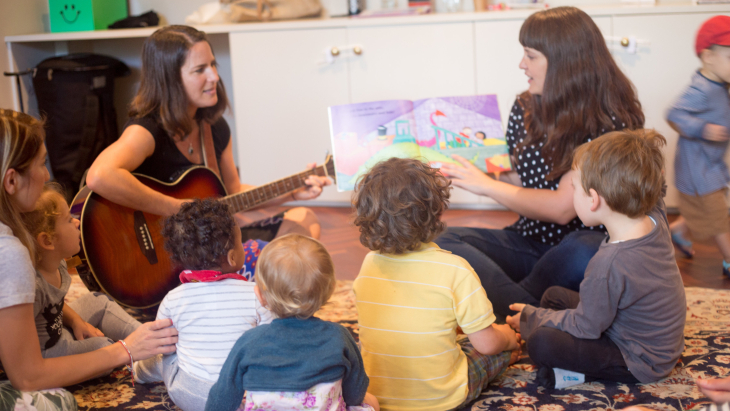 Website, Social Media & Videos:
For further information, head to the Kidz in Harmony website www.kidzinharmony.com.au
For a taste of the Kidz in Harmony songs, head to the Kidz in Harmony YouTube channel.
Follow Kidz in Harmony on Facebook and on Instagram @kidzinharmony for updates, photos and lots more.
Kidz In Harmony is registered with NDIS.
For more information call 0421 064 702 or send an email.
Tell them ellaslist sent you!
Reviews
This is the best music class around, the teachers are fantastic. The group is small and friendly so no one's afraid to sing along. They combine instruments, music, singing, dancing and stories
The best music class for toddlers! Lisa and Therese are so lovely and the classes are really interactive, both my children thrived and I found the songs they learnt in the class really helped with their speech development. The class also really helped bring out their confidence
Such a fun and enjoyable music class for both parents and children. Combining singing, dancing, reading and playing with instruments in such a creative way! Lisa and Therese are so great, making everyone so comfortable…Highly recommend!
Beautiful intimate class with great interaction for kids - excellent introduction to music for little ones. Teachers are fabulous and put their heart and soul into musical enjoyment for kids
the highlight of my (an my daughters) week! Lisa and Catherine are so welcoming and really make the time fun, happy and interactive. My range of songs has tripled and Florence now has a much greater joy of music and rhythm.
This is the best music class i have ever been to! (and i tried a few before finding them) Lisa and Catherine are true professionals and give 100% to every class! I have been going for 3 years now. I started when my daughter was 1 and have continued w my son. And Im not the only one who has done that, there are a few of us who are still attending kids in harmony with our second and even 3rd kids. This is a testament to Lisa and Catherine. The class is fun and u will enjoy doing with ur child as much as they will enjoy participating! Give it a try, u will love it!!!
A wonderful music class run by professional music therapists who are so talented in singing and playing a variety of instruments. You won't find a CD player in this class, its all live! They use age appropriate songs, rhymes, stories, and an incredible variety of age appropriate instruments and props. My 11 month olds face lights up as soon as we arrive and he doesn't stop smiling. Give it a go - You won't be disappointed :)
My daughter and I absolutely loved this music class during the year or so that we attended. Not only are they experienced musical therapists, but Catherine and Lisa are so genuinely warm and charming and just fantastic with all the kids. The songs are always so catchy and it was such a good way to introduce musical instruments to my daughter which she now loves playing. We stopped the class because my now 2.5yr old daughter started daycare on Wednesdays, but to this day she still asks me to go back and see Catherine and Lisa and still remembers a ton of songs from the class. Highly recommended to anyone wanting a relaxed and highly entertaining introduction to music for their young children!
Kidz in Harmony is a beautiful way to introduce music to your kids, by professionals! Lisa and Catherine's classes are fun and interactive, and an intimate size too, so all kids are given ample attention and love. My son has loved going along to shake maracas, hit drums and try to pluck guitar strings. The classes are relaxed and casual, which we love, and the songs and activities are easy to do at home to continue the fun and learning. Highly recommended!
Catherine and Lisa are fantastic teachers and my daughter and I have come to love these classes each week. They are a fabulous introduction to music, instrumentation, singing, dancing and social interaction. Each term we learn new songs and we end up singing them all day, every day. I would highly recommend Kidz In Harmony.
My daughter has been coming to Kidz in Harmony for over 2 years. Catherine and Lisa are just divine, and so passionate about the kids and music. They always have a new book to sing, or new instruments to introduce the kids to. It always is a highlight of my daughters to see the girls and make music. I cannot recommend this class enough, exceeded my expectations!!!!!
These music classes are by far and away the best mother - baby activity I've found - to the extent that we're still going even though we don't live in the eastern suburbs any more! Lisa and Catherine are incredibly warm, creative and engaging. They keep classes interesting by regularly changing the songs and activities so that the kids are kept challenged and are never bored. They have lovely voices and accompany most songs with the guitar or other instruments. This, together with the great selection of songs, makes the classes very musically rich. These classes have brought my daughter and I a lot of joy - I can't think of a better introduction to music for her!
The teachers are sensational and my little one has grown in confidence enormously since going along to the sessions. The songs get in your head too as adults!
My son and I started music classes when he was just 9months old, he is now over 2 and still loving it. Lisa and Catherine are amazing with the kids, they remember everyone's names and genuinely enjoy what they do!! We always look forward to Wednesdays. And sing the songs we've learnt throughout the week. We've dropped gymbaroo but staying with the music until we're ready for school. Such a lovely environment, and great fun for all.
This is a long time coming- my son is now 16 months and we have been going to music classes with Catherine and Lisa for over a year now and his enthusiasm shows every time we are there! In addition to their professionalism I really appreciate the fact that Catherine and Lisa are both experienced music therapists. Their knowledge of music in relation to children's development and their experience with kids of all levels is really evident - every week there is a variety of engaging activities, songs and a flexibility in their style that gives the children the opportunity to explore and experiment. More than anything though, my son absolutely enjoys himself and he feels confident and enabled around anything musical which I really feel has a lot to do with his kidz in harmony classes. Also, I enjoy the classes and the adult company there and seeing how engaged all the children are- it is lovely! Every friend of mine that has come has stayed- and if they cant make it they are sending their kids with grandparents, husbands and friends. It is unbelievably fun, I would definitely recommend trying it!
Every week I look forward to Wednesday's. I put my 9mnth old daughter to bed a little earlier in the morning so I know by 1030 she will up and ready to go to music. The teachers are terrific and seems to remember each and every child's name as if they were their own. They are warm and inclusive and I always feel apart of the Group. My daughter loves it and squeals w delight throughout the session. We love it so much that my husband has even taken off work to bring our daughter to music! The outcome-he said "those were the best 45 minutes of my life"!
My 6 month old daughter and I have been enjoying Kidz in Harmony sessions so much - Lisa and Catherine are sensational and they have a seemingly endless variety of different songs and activities to keep the little ones enthralled, participating, learning, and smiling the whole time. I couldn't recommend it more highly - go along and enjoy for yourself.
My son of 15 months and I have been attending - Kidz in Harmony music classes. Both Lisa and Catherine are so talented and have beautiful voices. They are very good on the guitar and piano too. The class is quick paced but still very relaxed and certainly keeps the children interested. The songs with the actions are soo cute and when I sing them at home, my son's face lights up. It is so lovely to go to something new on offer for kids run by such warm and friendly girls.
My daughter and I love, love the music classes with Catherine and Lisa. What a nice musical pair! We look forward to their classes every week and I have seen real developmental changes in my daughter since we've started 3 months ago. I love learning all the new tunes and often find myself singing the songs day in and out with bub. Try this!