Kelly Mini Sports: Sports Classes for Toddlers & Preschoolers
Kelly Mini Sports: Sports Classes for Toddlers & Preschoolers
Toddlers
Preschoolers
Kids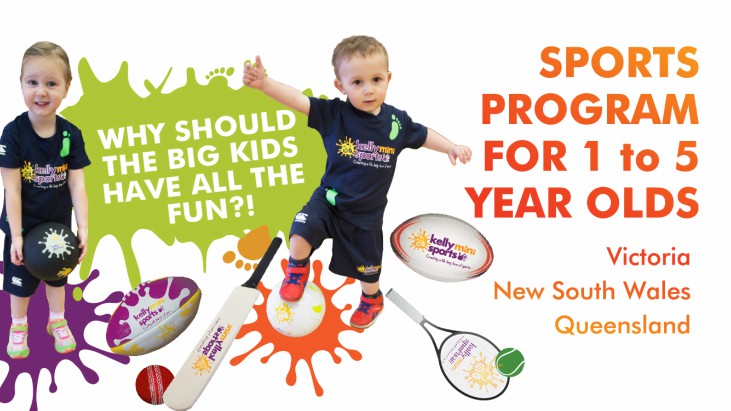 Get your kids, toddlers and preschoolers active with Kelly Mini Sports.
Their sports classes are aimed at developing basic sports skills in basketball, cricket, footy, rugby league, soccer & tennis in over 70 locations throughout VIC, NSW and QLD.
Their fun and energetic approach delivered by expert coaches in a safe and fun environment, allow children aged 1-5 years old to discover sport while developing their fundamental motor skills, confidence and social skills.
All of their programs are:
- Held indoors throughout the school year
- 45 minute sessions including warm-up and cool-down
- Non-competitive with an emphasis on teamwork
- Sports change every two weeks to keep kids engaged and motivated
And a Kelly Mini's pack (including team uniform) is provided with each registration making your child part of the Mini's Team.
Their class structure includes:
- Group warm-up music exercise
- Clear demonstrations and instructions to the children and parents to complete simple tasks that introduce the core skills for each sport
- Break-out sessions throughout the class enable parents to play with their kids individually while completing these new activities
- All the learnt skills are combined to play a group activity in that sport
- Group cool-down with music and gentle exercise
Whether you're looking for winter or summer sports for kids, our sports classes and activities will keep your toddlers and preschoolers active all year round!
They offer two trial classes for $20 which gives you a good opportunity to see the program first before joining.
For more information or to book in a 2-week trial, visit the website.
Tell them ellaslist sent you!
Reviews
On our 1st day I thought my son would be too shy to even participate as he's too scared to socialize with others. So I was surprised how much my son interacted & enjoyed it as the enthusiastic and encouraging coaches engage so well with all the kids. My shy boy can't resist not to join in the fun warm up games, followed by skills practice of the sport for that week. My son can't get bored learning a new sport after 2 weeks as they have a great sports structure. So grateful for Kelly mini sports for giving my child not only skills in sports & gross motor but also the positive outcome these classes has given my son in building his confidence & social development is priceless. He loves going every week to play with his new friends and I love how he can't get upset since its non competitive as they encourage teamwork & fun.
My son just started with Mini sports this year and is having a ball! He just turned 16 months and I am so delighted by the progress he makes each week in relation to his skill-set and also his enjoyment in class, as he is exposed to a new sport every 2 weeks. Our coach is Fiona she is great, as she is intentive and really communicates well with the children. Her energy is great and her classes are fun. I feel this is important as my son relates to her and is comfortable around her and with the overall class environment, which in turn allows him to fully engage in each activity!
My husband and I took our 3 years olds twin grandchildren Lucas and Emilia before Christmas last year to their 2 week trial. Just on the very first day of Trial Lucas and Emilia's reaction was priceless, we knew right there and then that we found them their weekend activities. We had to sign in that same day and got their uniforms, the twins were very excited and to top it all, they love coach Fiona, we already said goodbye and they both ran back and gave coach Fiona a big hug, I think she was very surprised with their reaction and to this date, they look forward to Saturday morning and we all are, we can see how excited they are when we talk about what happens at Kelly mini sports.
Coach Michael is great with the children and my son really enjoys Mini sports! The class is set up perfectly for toddlers and allows the children to experience lots of different types of sports whilst having lots of fun!