Einsteinz Music Lessons (6mths-5yrs)
Einsteinz Music Lessons (6mths-5yrs)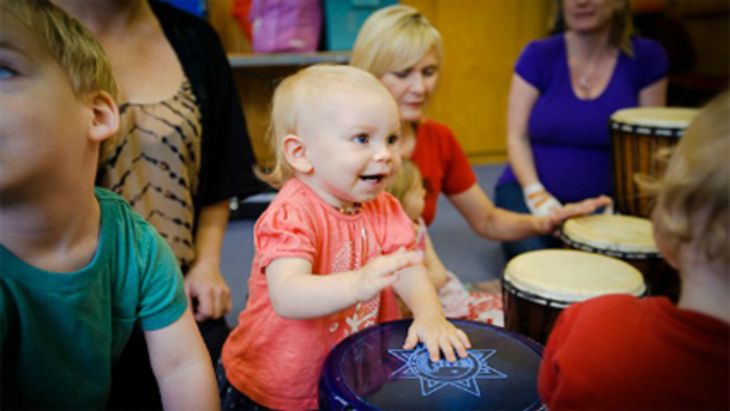 Eastern Suburbs  –  Inner West –  North Shore – St George Area

Einsteinz Music is a fun, engaging and educations music program for babies, toddlers, and preschoolers in which parents and carers bond with their children in music appreciation classes.

Classes are run in an informal environment with professional musicians, who are passionate about their craft, as teachers. This means that Einsteinz Music lessons are animated and energetic

Everything is 'hands-on', the children get to touch and play all the instruments, (mainly percussion). Every Einsteinz Music class finishes with a jam session on the drums. As the teachers are all professional musicians, all music in the class is played live, on real instrument, (as opposed to a CD soundtrack playing). And there are no additional kits to purchase for the classes.

Classes are all age-appropriate with classes for: Babes on Laps (6 months until walking), Toddlers (1–2 year olds), Juniors (2–3 year olds) and Preschoolers (aged 3+).

There are a variety of classes held throughout metro Sydney:
Update! Einsteinz Music, is currently looking for a part-time upbeat and dynamic music teacher. The role suits either a professional musician who is good with children OR a parent who has musical skills (can sing and play the guitar). Classes are in mornings, during school term, so gels well with a parent who has a child in care or at school. FULL TRAINING IS PROVIDED. Please call 0431 338 143 for more information.

For more info on enrolments, their teachers, or classes, visit Einsteinz Music's website, or for any other enquiries please call 0431 338 143 or email Robyn.
Tell them ellaslist sent you!
Reviews
My 2 children have been attending Einsteinz music classes since 2019. I did trials of other music classes in the area and nothing compared. My daughter attends twice a week, once with Mum and once with her grandmother - it's a great activity for them to bond. Highly recommend Cash, she's kind, empathic and treats little people with respect, always making sure to validate big feelings. Covid compliance has always been great, music instruments cleaned between classes, the venues are large enough for distancing without realising. Also good options to reschedule if there is illness or clashing with other events. Highly recommend.
Great entertainment for little ones! Cash is amazing teacher, full of energy, plays multiple music instruments and engages kids very well. She is very understanding and welcoming. I had one child attending Einsteinz's music when she was 2-3yo and I'm bringing my 2nd 4 years later. Highly recommend!
was able to spend 3 years with Einsteinz Music before he starts preschool in two weeks. He has been incredibly interested and tuned into music. His sense of rhythm is awesome. Einsteinz Music laid out a solid foundation of all he needs to learn in music. I have no hesitation in recommending you to my mother groups and friends
My 3yo LOVES his music class! The combination of songs, movement, learning about the guitar and scales is just right. He also loves the CD, which he insists we play in the car all the time. It's a delight to watch the fun the students have in the class and to see the enjoyment extent beyond class time with my son often singing to himself as he plays, or commenting on things he has learnt.
I love attending these classes with my daughter, because she loves it and I can see how much she learns from week to week. The teachers are professional musicians who know how to engage even the wriggliest toddlers. Highly recommended.
We've just completed our first term of Einsteinz music with Jules in Randwick and have loved every second of it. My son is 16 months old and at first he was a little shy but by the end he was doing super funny drum solos on the bongo drums. I love how inclusive it is, Jules knows everyones name plus all the different personalities of the children. The songs are a great mix of nursery rhymes, with some classics for the adults too! I highly highly recommend these classes to everyone!
We are looking for class suitable for a 3 yr old for Monday or Wednesday morning
We have been doing music for 5 terms now since my son was 9 months. We have been to a few different locations and all the teachers have been amazing. My son particularly enjoyed Tim's class at Bondi . We have progressed from babes to toddlers. It's is relaxed, interactive and the small class sizes are fantastic.
We visited the Randwick one today, it was Just gorgeous! We were running late as usual and Karen our teacher didn't bat an eyelid when we walked in a few minutes late. We were welcomed with open arms and my little boy was up jumping around to the music within a minute. Lots of fun use of different props , instruments and music to involve the kids and mums. The hall its in has a lovely community feel to it, kind of reminds of going to things back home in blighty as a kid! Karen is devine, really kind and patient with the kids and they all seem to love her. I loved that other mums brought their toddlers and also their younger baby siblings along. It was a nice little bonding session for me and my boy too as all too often when we go out I spend the whole time chasing after him whereas this was a nice enclosed safe space. My little boy giggled, danced and ran around the entire session and was suitably tired out for his lunchtime sleep! Will definitely be coming back! Thanks Robyn and Karen!
I've been attending Einsteinz classes in north Randwick for 18 months with my children and have found them to be extremely valuable additions to our week. What I love about them is that they are genuine introductions to the foundations of music, teaching your children familiarity with principles such as rhythm, tempo, and key, at the same time as being incredibly enjoyable. We tried a few other classes, but they mainly involved bombarding the children with a million different props and distractions, and the children were entertained but not really focused or engaged. Also, Einsteinz is a perfect way for a child to learn confidence in a small group setting, which is great preparation for the performance element of being involved in music at school level. Attending Karen's classes is the high point of my twins week!
My 15 month son started late in the semester and even after a couple of classes he was very excited about going. Music and singing is such a great tool to get him interacting with other kids and the structure of the class is great. A fantastic activity to get your little one involved in!
I have been bringing my son to Karen's lessons for 3 terms now and he absolutely loves them. Although he sits quietly during the class, the carefully structured but fun lessons really sink in, and he recites all the songs for hours when we get home. Fantastic classes and Karen's beautiful voice and guitar playing adds to the enjoyment each week.
Absolutely wonderful music classes! My son has been going for 2 years and loves them. He has learnt so many songs and is always singing them around the house. The classes have really fostered a love of music in him. We also have the Einsteinz Music CD which he enjoys listening to in the car. Highly recommend!
My daughter loves Einsteinz Music and I love taking her along. We joined halfway through the term, but Chris and the other children and parents made us feel very welcome and part of the fun right from the start. A wonderful highlight of our weeks.
It is a great, my little one has been going there for more than 2 years now, he just loves it.
All 3 of our kids have loved Einsteinz Music! Their classes have stretched over almost 10 years for our family and Robyn's passion and professionalism, combined with the enthusiasm and energy of her teachers has been absolute constants in that ten years, which is a true sign of long term success. Highly recommended!
My son has joined the class for a term now and he loves it. The class is engaging and the activities also helped my lil' one to develop confidence. Seeing him grow and develop through fun makes me so happy!
Great informal environment and very talented teachers
My daughter LOVES Einstein Music. It's a lovely, friendly environment. The teacher is fantastic and very talented.
"Music Wednesday" is the highlight of my daughter's week. Chris is a fantastic teacher - really engaging and the kids absolutely respect him. She has developed an appreciation for music and movement over the past 12 months. The Einsteinz Music CD also gets played non-stop at our house. Couldn't recommend it enough.
My two kids have both loved einsteinz music. My son used to go 2 years ago with Karen and my daughter goes currently and has been in crystals class for a year. She loves it. Highly recommend.
I have taken both of my boys to einsteinz for the past 3 years. I have tried many classes for children and this is the one that has done so much for both oth them. Tim and Karen were our main teachers over the past years but we also had Chris and Sophie at times, All teachers are fantastic and the kids love them.
A wonderful program for children, teaching them the joy of music from an early age, very highly recommended:-))) The teachers are first rate, incredibly dedicated and Robyn who runs the program is highly professional, completely on the case which is a pleasant change and greatly appreciated.
We have been attending Einsteinz music for close to 2.5 years at the Bondi Pavilion. My eldest daughter (3) absolutely adores Jules and loves going every week, singing and dancing her heart out. My youngest (1) has been going to her sisters class since she was born and she has a great time joining in with the big kids. Both of the girls took their first steps at music because they were so keen to join in. I highly recommend Einsteinz music, the teachers are great, the classes are fun and the music is adult friendly (we have the CD and it doesn't drive me crazy).
My little boy absolutely loves his weekly music class! From signing and dancing, to clapping and drumming, to waving colourful transparent scarves around and running about with them over his head - the class is filled with fun, playful learning adventures in music. Highly recommend.
Both my sons loved this class, Karen is great with the kids and the music is fun and you end up singing the songs all day long!
Daisy and I loved going to Music class every Friday and Tim has boundless energy and is so lovely with the children. It's provided us with great songs that we enjoy singing at home and in the car as well as social interaction. It was great to see what toys and instruments she was drawn to and we always had fun.
We have attended Einsteinz music with both my son's and really love the program,songs and most importantly the teachers.Well done Robyn and thank you for waking up our musical senses!
I did an Einsteinz Music class with my first child when he was 9 months old. It was the perfect introduction to music and interacting with other children his age. At the time I bought the CD and now at 2.5 years he still loves it! So I have just returned with my second child at 9 months and he is gaining so much out of the classes, building confidence and trust - he is a quieter personality and these classes are a perfect way for him to explore. I would not hesitate to recommend these classes.
My 17 month old son LOVES the classes! He is a very active boy and this is the only class that I have done that holds his attention for the full 45 minutes. I love seeing the smile on his face when he gets to try out the different instruments - the drums are a hands down favourite! I love the fact that the classes are educational too, for example learning colours on a recorder with big colour buttons. Our teacher Julie is fantastic and so patient with curious little toddlers, I thoroughly recommend this class!
My 1.5 year old loves her music class... it's a great way for her to interact with other kids while enjoying the great music. The instructors are fun and understanding of toddlers, which is great! It's also lovely for me to talk to other mothers.
We love our class! I've never really been into music, a girlfriend convinced me to go with her to this class and it has been absolutely wonderful. Our teacher Chris is so captivating that we are now booking in for the next term. Peter enjoys the class as this is a side of play that he doesn't get from home. We highly recommend this to anyone who wants to see their child smile!
My 2.5 year old daughter absolutely loves the singing and music at Lilyfield with Karen. She sings the songs all week and is really disappointed when it's not on. We started going just after the birth of her little sister who comes along as well and have just enrolled in our 3rd term. A fabulous activity that we all enjoy- mum and kids (2.5 years and 6 months)- how can you go wrong with that?
My nearly two-year-old son has been in Einsteinz classes since he was 6 months old. I've loved watching him develop a real love for music and the instruments. All of his favourite toys are guitars, drums, shakers, tambourines, etc. The teachers are all wonderful and very patient as the babes are often crawling all over them to touch the instruments! I couldn't recommend it more highly.
Hi We posted a comment last year but wanted to post again to say how much my 3 year old son Toby is still enjoying his music classes with Chris at Rozelle. He has been going for over 2 years now and just loves them. I believe it's helped him not only with his musical ability but with his overall confidence as well. He now sings all the songs to his new baby brother who instantly stops crying whenever he hears them! Chris is a wonderful teacher and Toby really looks up to him. He tells me all the time that when he grows up he wants to be a music teacher just like Chris!! I highly recommend the classes to anyone who is looking for a fun activity for their little ones. Mums and Dads will have fun too!
My son (almost 3) and I have been to half a term of music classes with Einsteinz Music. He has started to become familiar with the songs and to participate in the singing and actions. It has been great to expose him to new musical instruments and I can see that he is starting to develop some musicality. He is always enthusiastic about going to the classes - that's the real test for me.
I was looking for something to take my 6 month old to and I thought I would try Einsteinz as they had a class which would accomodate children of that age. Lily loved the class and we have continued with the lessons over the last 6 months. The repetition of the class is excellent as now Lily remembers the songs. It has also been excellent for me as I have learnt songs I can sing to her at home. I have also made many friends in the class and regulary socialise with them outside of the lessons. I would recommend this class.
My son attended the class with Chris in Rozelle for a year. It has been amazing for him and he has learnt so much about music despite only being 2.5 but most importantly has developed a love for all things music. I put this down to both the organisation/structure of Einstein music but most importantly to the amazing teacher Chris Roberts. Chris understands children, how to inspire them and how to facilitate their learning without the near for them being pinned down to one spot. I can't recommend this particular class highly enough and look forward to my baby starting music classes with Chris in the coming months.
Einsteinz music is so much fun not only for my 2 year old daughter but also for me! Our teacher Mat is a fantastic musician and a wonderful person who can without fail every week thoroughly entertain both kids and parents alike with a guitar, drum and best of all, his brilliant sense of humour! A really lovely time with your little one and a great way of introducing them to music. LOVE IT!
We're only on our second term with Einsteinz and I wish I'd discovered it sooner. My kids love the singing and the drumming in particular. We love singing the songs in class and also at home. Really recommend these classes.
I have been taking my daughter to these fantastic classes for 4 terms. They are thoroughly enjoyable and extremely age appropriate. Our teacher - Chris - at Rozelle is outstanding. I would highly recommend the class to children of any pre school age.
My (just) 2 year old son absolutely loves these classes. He is often quiet in class, but obviously taking everything in as he comes out with all the songs and actions while at home, completely unaided by me. The repetition is great for them, and over time I'm sure he'll start to join in more in the class. As well as the singing and actions, there's a great range of instruments for the kids (and adults!) to try out. We'll keep coming for terms to come I'm sure, and I'd thoroughly recommend it to others.
A real highlight of the week for my daughter, aged 2 is going to "Music, yay!!!"- accompanied by her making the actions of drumming drums and shaking shakers. We've been going for a few terms now and she looks forward to every class. Our teacher, Tim is just fantastic and so much fun. I can see my daughter learns something new each time and its been great for helping her with language acquisition. She is fairly quiet and reserved and the music really helps her to open-up and explore (it took her a while to settle in at the beginning, but that's pretty much to be expected from the quieter ones amongst us). We have a copy of the wonderful CD "Follow the Music" made by the very talented and professional Einsteinz teachers. It gets played almost everyday, she loves listening to it and doing the actions she has learnt in class. I feel very lucky to have found such a great music experience for my daughter. Highly highly recommended!
I just wanted to say how much we LOVE our music class. Toby just turned 2 and has been going for about 6 months now and he adores his teacher Chris. He knows all the words to the songs and sings them all on his guitar at home! Chris has a cult following of toddlers that's for sure!
My son adores what he calls 'music club' and has amazed me in his enthusiasm for the class. He delights in the repetition of songs, and in learning new ones, and even though he doesn't realise, is learning about rhythm and tempo. Recommended.
We've recently joined this music class with our 2.5 year old granddaughter and have been overawed with the professionalism, dedication and quality of teaching. The teachers have the kids fully engaged from start to finish, not only do they teach music in a wonderful structured and fun way but we are really impressed with the way the teachers communicate more complex musical terms, vocabulary and instrument knowledge. Can't recommend this highly enough.
Super Duper!!! My son looks fwd to seeing Wayne at Bondi every week. Cannot recommend Einstienz Music highly enough. You can see how much the kids just love it!
Ab Fab! Not sure who has more fun ...my daughter or me! I am 35 weeks pregnant with my son and am excited he has already been introduced to the wonderful world of music via Einsteinz! Looking forward to many more classes to come!
Can't but agree with the comments above. Great class. Jules in Bondi is lovely. Classes are fun, songs are cute and my little one seems to love it.
Absolutely wonderful ... 10 zillion star recommendation A really special hour to spend together and you can really see the positive effect with your litle one with the exposure to music, singing, instruments and the socialising. Shake those shakers, and beat those drums... they really get the beat. Jules at Bondi Pavillion is our beloved teacher - she is just the warmest most lovely, talented musician and teacher xx
If you are thinking of a music class for your child, I can highly recommend Einsteinz classes. We are into our second term and even though I find my 2 yr old boy quiet in class he obviously has taken it all in as now he bursts into song at home spontaneously and remembers the words to songs from the class that even I had forgotten! I have recommended the classes to friends who have now joined also. As a mum I find the classes relaxing and I think the children probably learn so much more than we even realise at each class.
Whilst Einsteinz is in fact a music class hosted by professional musicians; I believe that there are so many other benefits too. Whilst your child is socially interacting with the other kids in the class; Einsteinz uses music & singing as a vehicle of communication. Its fascinating to see your child absorb different things like tone, sound, pitch, movement, action, & dramatic expression. For me I look forward to a scheduled fun activity once a week & meet other mums with kids of similar ages. Did I mention that I just love the newly released Einsteinz Music CD (that features all the Einsteinz teachers rocking away on the instruments for which they are renowned - their voices are amazing). It really is "adult friendly" & enables me to hum along in classes with confidence. You won't regret committing to this activity once a week.
Wonderful teachers who are all musicians and sing and play guitar. Not a CD in sight except for the one you can buy to take home and bop along to ... all recorded by the teachers in a Bondi studio ... you can't get more home grown than that ! Behind the scenes is a very efficient and well run business ... your calls will always get returned promptly, your emails will always be answered. My daughter has been going to Einsteinz since she was 1 and now her sister is following in her footsteps, with the rare opportunity to be able to both attend the same class. Could not recommend Einsteinz enough.
Einstein's music is a great way to enhance learning and the social skills of kids. my daughter has been attending the classes since she was 6 months old and she adores it and loves all her teachers there. The songs are innovative and unique and the teachers provide a great friendly and fun environment... I WOULD RECOMMEND THIS TO ALL WHO LOVE MUSIC AND FUN
What a wonderful program. Our little man has been attending the Coogee class for about 6 months now and loves every minute. The teachers really make an effort to make music fun and educational (our little boy surprised us showing us where his knees were after learning it in class!) The CDs are wonderful and he loves to bop along to them at home. EM recently held a couple of concerts in Bondi and our whole family (and some friends we invited along) had an absolute blast. Thank you Robyn & co Best wishes Maria
My son had Einsteinz classes at preschool and loved it, so we started with my daughter when she was little. She absolutely loves it - constantly asking me whether it is "music day." She is now in a 2-3 class (with Melanie) and they are learning to copy rhythms (and extend her dance repetoire beyond spinning around). Highly recommended!
We have enjoyed the music classes with both children over the past 2 years. The classes are a lot of fun, with a bit of music mixed in with movement. The kids love the sessions and sing the songs together at home all the time. I have and will continue to recommend this class!
We absolutely love Einsteinz Music! I enrolled my son when he was 7 months old and from the very beginning, the changes I saw in him were amazing! After just one class, his eyes would lite up if he saw a shaker, drum or guitar (which he then proceed to shake, pat & strum - I was amazed that he actually knew what they were outside of class and how he related to the instruments). Then as he got older (now 13 months) he became and is obsessed with the guitar! So much so that we brought him a baby one and it is truly his favorite toy. I'm amazed at each class just how much he takes in and enjoys it, so much more then any of the other classes we attend. We are by no means a musical family, hence it is the best opportunity for our son to learn about music. If you are looking for a class I highly recommend Einsteinz Music the teaches are amazing!
This is an excellent, excellent class. This is my second time coming up through the Coogee-based program, starting each child when they were 6 months old. The other poster is right - the instructors are excellent and the program is a lot of fun for the kids. Best of all, the music is all played 'live' (ie. no canned sounding CD players) which gives a really grounded feel to the classes and watching the leaders play their instruments captivates them. It is also a nice way to bond with your child, offers structure and routine to your week (great for rainy stretches and those times when the world is ruled by an angry teething child) and is a great way to connect to new friends. I highly, highly recommend this. x
Amazing, we love it, such a delight to watch all the kids get so much enjoyment & express themselves, Wayne captures the attention of the kids for the whole 45mins, he is very talanted and knows how to get them going !!!!!!!!!
"Hi guys. Just thought if any of you have been hunting for a great music class for your little ones, after months of disappointing trial classes I found Einsteinz Music. The teachers are actual musicians who are wonderful with kids, they have various locations for different ages, the songs are fun for mums too, the children sing songs, learn rhymes, can have a good dance and wiggle, but also have some quiet focus time. They teach to warm up voices and beat the drums, use the shakers, etc. The problem is to get a spot as it is very popular "