Art 'n' Move: Art, Craft, Music, Play Sessions For Kids (6m-5yrs)
Art ❛n❜ Move: Art, Craft, Music, Play Sessions For Kids (6m-5yrs)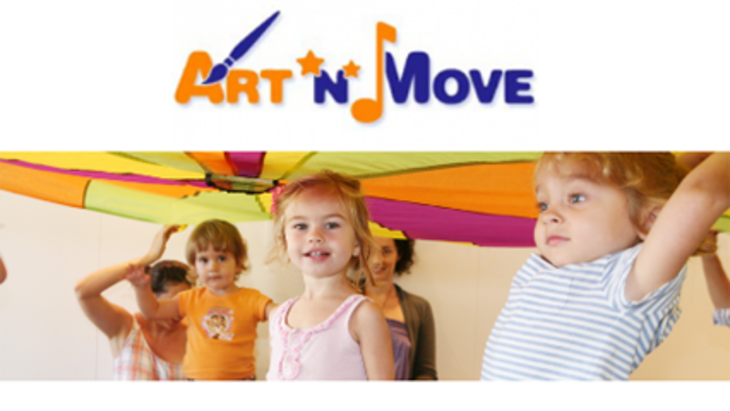 Welcome to Art 'N' Move, where we have been developing children through art & craft, music & movement, storytime & dramatic play across Sydney since 2003. With stimulating fun programs that will build your child's skills, confidence and independence, our activities encourage your baby, toddler or preschooler to explore and experience new sensations and use their imagination, as they develop physical, social and intellectual skills.
PLAY 'N' MOVE: Interact, Experience, Explore, Fire the imagination! Interactive Play and Movement. Classes for babies from 6 months – 14 months. Learn More.
ART 'N' MOVE: Painting, Dancing, Collage, Music, Stories, and more. Classes for toddlers to preschoolers – 1 year to 4 years. Learn More.
LEARN 'N' MOVE: Think, Develop, Imagine, Experience, Building Solid Foundations. A vibrant school readiness program preparing your child for the next step – 3 years – 5 years. Learn More.
We have numerous locations and weekly classes operating throughout Sydney's Eastern Suburbs, North Shore, Inner West, and Sutherland Shire, so please see our website for more details and contact your nearest centre with enquiries.
We look forward to seeing you soon!
Reviews
I have taken my 3 children to Art 'N' Move over the years and have loved participating with each one of them. The classes are very structured and the teachers can give one on one help to the children if needed due to the small class sizes. Unfortunately (or maybe fortunately) I will not be having any more children so my Art 'N' Move days will soon be over... but I will happily be recommend this program to others for many year to come
I have been taking my son to art and move for close to two years and it is still the highlight of his week. I tried him with a couple of different music and movement classes but when it came time to enrol my daughter I went straight for play and move. After a term, she has gotten so much out of it, already following movements to the regular songs and enjoying the surprises that come out of the bags each week. The teachers are enthusiastic and gentle souls and I would highly recommend it to anyone looking for an alround activity for their child.
I promised to write a review for this activity and was obviously beaten to the mark but I can't rave enough about these classes. I only attended with my 18 month-old for 1 term and in that short time we grew to love the classes and miss them enormously now. Small, focussed, highly interactive, well-organised, and because each of the art'n'move classes we attended resulted in a take home treasure - there was a real sense of achievement associated with each class. There is obviously a cost for this level of attention and that might put some people off but I thought worth every penny.