Action Kids Drop-In Kids Classes (9m-4yrs)
Action Kids Drop-In Kids Classes (9m-4yrs)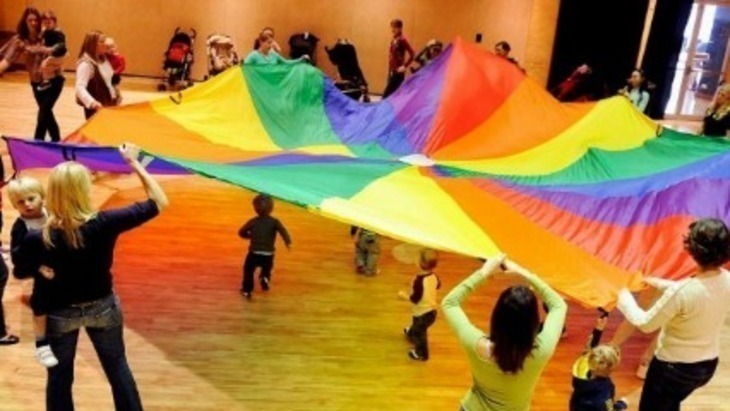 Action Kids runs action-packed 1-1.5 hour sessions for pre-schoolers every weekday + Saturday morning at their indoor play centres at Bondi Junction and Alexandria.

No need to book in ahead. Just turn up!

At Action Kids, it's high action fun from the get go including song, dance and play. Parents can sit in a circle round the edge or get into the action themselves while Adele Taylor or one of her highly-qualified instructors leads the way in the middle with singing, dancing, jumping, twirling, catching bubbles and scattering sacks of toys. They think it offers much more for kids who are walking – some kids get right in the thick of it, the shyer ones enjoy a wiggle about to the music from the sidelines or mums lap. Great for rainy days, hot days or simply knocking the energy out of active kids!

Prices: $18 per child / $24 for two siblings

Read what ellaslist thought of Action Kids HERE.

For locations and timetable, please visit the website.

For questions, please call Adele 0418 682 093.
Tell them ellaslist sent you!
Reviews
And Terry is amazing! She's got the moves of a dancer,the knowledge of a teacher,the love of a mother and the patience of a saint! There is always enough of her to go around so that each and every child gets some attention at one point or another. My girls have been going to this class for nearly a year now and they have learnt so much more than just dancing....colours,numbers,opposites,etc. The fact that you can just drop inn without any commitments is so convenient and so valuable. I would recommend this activity for any mother and any child.
As a qualified nursery nurse with over 24years experience with children I can not rate Adeles classes highly enough! I have taken many children since she started and I will be taking my 4 month charge soon. I know it will become one of her favourite outings and she will learn and develop greatly from the experience she gains from going there. Adele is so much fun and always full of energy ( I don't know how she does it! ) Her music choice, toys, parachute and endless amounts of bubbles are fantastic for children of all ages. Action kids location and hall is perfectly chosen and her timetable suits most ages. One thing I LOVE is the casual drop in service and the fact it runs through school holidays. The children leave happy... and exhausted :) Thank you for your commitment and for doing a brilliant job!!
I love Adele's classes and am so happy that even though my eldest is at school, my youngest is now at the right age to come along and enjoy the magic. Adele is always happy, always smiling and always full of enthusiasm (even when we aren't) and the fact that you can just drop in to her classes rather than paying up front for a whole term is so convenient. Now that I've found out Adele has Saturday classes at her studio, big sister will be thrilled she can come along and still enjoy the fun too.
I have attended Action Kids fairly regularly for the past year. Its great on a rainy day for something to do but after 12 months the program really hasnt changed at all, each session is pretty much the same as the last and for $15 each child I would prefer a bit more variety and for it to actually start on time each session.
My daughter (now 2) has been going every week since she was 9 months. She loves it. She talks about Adele at home and comes home every Tuesday and sings (well mumbles really) the songs and does little dances. So cute. It is great as drop in if you don't always want to go out or they are sick and also is fabulous for those rainy days. Adele has so much energy. I can hardly wait til my little one (5 mos) is old enough to start to participate!
I have been taking my daughter every week since she was 6 months old. We have so much fun every week. Adele is wonderful with the kids (amazingly remembers all their names) We have just found that Action Kids is on Saturdays now too in Alexandria. We are so excited that we can take Dad along to the class too (or Mum can sleep in while dad and daughter fun is to be had) Thank you Adele for your enthusiasm and energy..
There is no denying Adele's enthusiasm! I have done several of her classes over the years with my 2 children and her energy levels rarely dip. Her classes are a feast for the senses, full of stimulation, physical activity, music, colour, and laughter. Adele always astounds me with her ability to remember the name of every kid there, even after only one introduction. She's also a big supporter of her local community and has done lots of 'gratis' work at local playgroups.
I LOVE this class. I am a nanny in the Eastern Suburbs and have been taking children of all age groups to Adels for years now. From 1 - 4 years all the kids i have looked after have loved it. The songs and dancing and the energy that Adels always has is magic. We love that its a drop in so no need to book for a term and there is nothing better to do on a rainy day. Its my lifesaver:)
This is one of the best music/dance/singing classes around. I have been going for about four years now and I have taken all four of my children. The no booking policy is great as you are not penalised if your child is sick which is great in winter. Mums/carers/nannies can be involved as little or as much as they like in the class - always good if you are feeling a little tired and want to take it easy while your child has fun. Keep up the good work Adele!
I would like to thank everyone for their comments regarding my Action Kid Classes. I certainly agree that my classes are not dance, song specific......Using a vast amount of props, I aim to offer a class that children feel confident to express themselves in a carefree,undisciplined environment without any expectation to perform in a particular way. I certainly encourage the grown ups to participate but appreciate that some days, some grown ups just want to chill and allow,Dellie,The Pied Piper to lead the party. Lots sa Love Adele :) It may take a few sessions for a child to familiarise themselves with me, the acoustics, the crowd but I am always happy to refund payment OR offer a free session if parent or child is unsatisfied with their experience at a class.
I have been taking my daughter regularly for the past year. We both love it. All the kids love Adele, she is so enthusiastic and full of life. The music is great and since we have been going my daughter has learnt the words and actions to so many childrens songs. The space is fantastic for the kids to run around in. Not only do the kids love the interaction but the mums and dads can chat to other parents and nannies.I am always amazed at how adele captures the childrens' attention and also how she remembers everyones names. We all love you Adele. xx
My three year old loves this class. Adele is so enthusiastic its hard for your kids to not get caught up in the fun. The music and dance are age appropriate and they have loads of fun. Its great for winter and you can just drop in, no need to book. The kids get to run around pretending to be super heroes and they love all the songs.
We all love this class! I have been taking my son to Adele's since he was 11 months old. He is now 3 and still loving it. He adores Adele and loves the music, running around and dancing. He has a lot of energy and really gets into it. I love the way that the parent's can join in, if they want to, or can sit back and relax while their kids burn off some of that energy! Thank you Adele, your energy and commitment to our kids is fantastic.
Tried Adele's action kids out at the junction last Friday morning for a 20mth old girl who loves to sing and dance. I was really disappointed, not sure if it was just a bad day but felt Adele was manic and never gave the kids a chance to really get into anything before she either changed the music or grabbed another big bag of toys, flung them across the floor for 2 minutes and then asked the kids to pick them up again and then continued with another bag of toys! I must admit the music was high octane but there was definitely not much else in the form of play or dance! She did say the vibe was quiet that day and I must admit most of the parents just sat in the circle chatting not really bothered what the kids were doing! Not my style I like to get into it and have a good dance around too - Maybe I need to get out more often, haha.
Thanks Adele for your enthusiasm and energy you have for our kids. Your work is amazing and we all love coming to your classes. Your combination of dance, music and objects is wonderful.
Have been taking my son since he was 8months. He is now 3 1/2 years old and it is still our highlight every week. It is full of energy and fun and has a variety of different objects associated to her vibrant music thus the kids dont get bored as there is constant change. Parents can choose to take part with all the kids or sit on the outskirts and relax. Adele is amazing and her attention and care towards the kids is wonderful. She entertained the kids at his 3rd birthday party and my friends still talk about the great time they had. Thanks for all your hard work Adele we love you. xx
I have been doing this class for a year now with the 2 1/2 year old I have looked after since she has been born. She absolutley loves this class and adores Adele. This dance class is a highlight of our week and can not wait to get there. The free style atmosphere suits so she can develop and enjoy the class as no pressure to perform is put upon the kids. Parents are welcome to join in, as many do. Keep up the fantastic work Adele
An absolutely fun packed class for toddlers with bright colours and fantastic music for them to dance to and objects for association and stimulation. It's a class that's so full of learning that's fun that even the adults look forward to it. Thanks Adele!