Visiting Historical Hobart With Kids
Visiting Historical Hobart With Kids
Hobart has a rich history and is as close to a European city as you'll get in Australia. It has an abundance of fresh produce and it's a great place to take kids. A city full of history, great food and wine, nature all around and only an hour's flight from Melbourne and two hours from Sydney.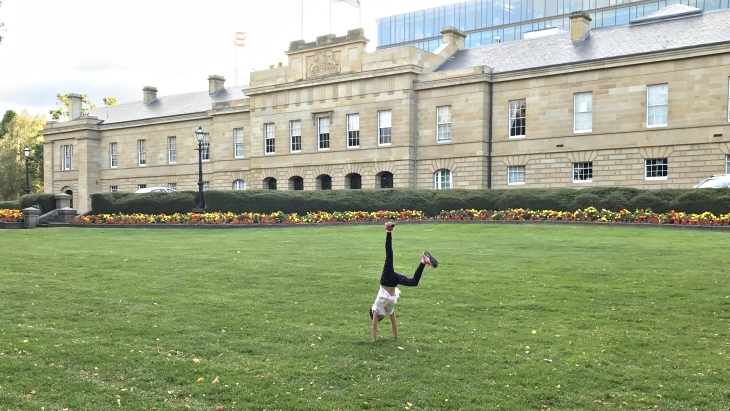 How To Get There
You could fly direct but if you are wanting an adventure a 9-11hr ship ride aboard the Spirit of Tasmania and then 3.5hr drive from Devonport to Hobart down the Midlands Highway should be your modus operandi. It is quite easy driving but I'd only recommend this option if you are intending to be in Tasmania for more than a week.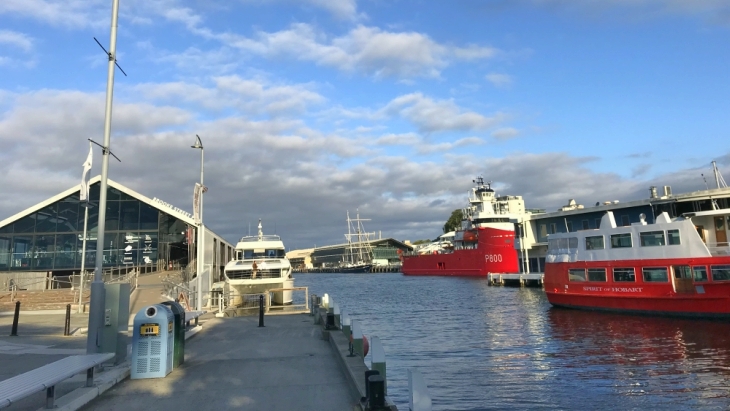 Getting Around
Tasmania has some public transport but mainly taxis and buses, so a hire car is always a good option even if you are only staying for a weekend. This city has a lot to see but getting between places can be difficult if you do not have a car. Be sure to follow the one way street signs when driving in the CBD.
Places to stay
Hobart's tourism has increased dramatically over the last few years and to accommodate more hotels are being built. We have stayed in many different hotels and places over the years. Airbnb's can be the cheaper option and easy with children and there seems to be quite a few around. The Old Woolstore, Salamanca Terraces and Somerset on the Pier are hotels in great locations but they are only a few, there are many places to stay just make sure you get in quick as last time we visited we left accommodation to the last minute and found it difficult to get something for the whole family.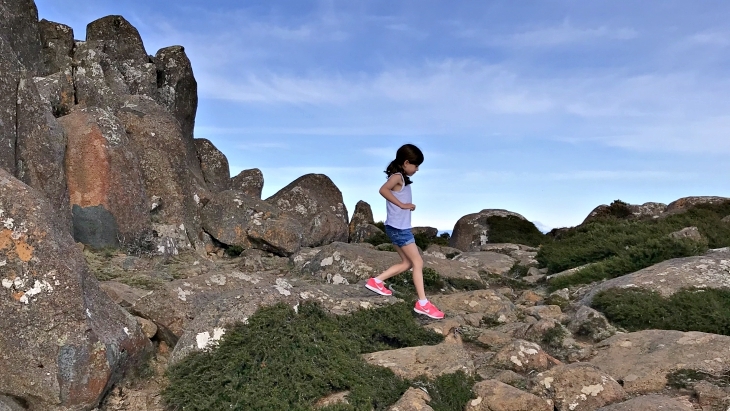 Things to do
Mt Wellington: This huge mountain stand above the city and offers lots of hiking tracks but the best thing is you can drive up it. The roads are sealed the whole way up, be sure to see snow in winter and watch the rolling clouds move around the city. It is amazing at night as you watch all the city lights come on. There are toilet facilities and with a pretty good view too! It's a great place for kids to go jumping on the giant boulders.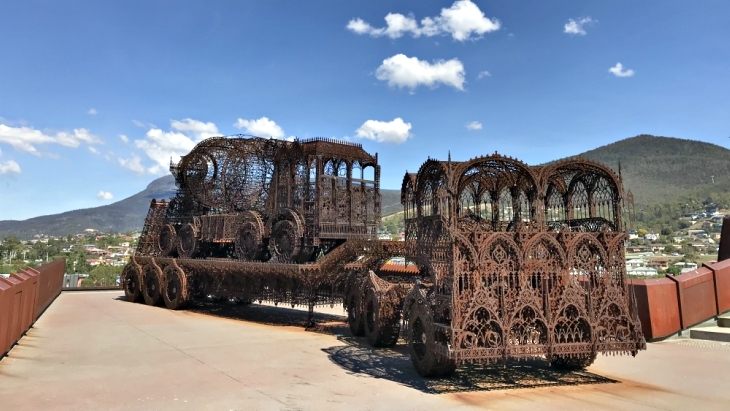 MONA & Moorilla: The Museum of Old and New Art has some artwork that you may not want your children to see but it is pretty easy to make your way around avoiding these exhibitions. The staff at each exhibition told us which sections to avoid. The most amazing part of this art gallery was not only the art but the architecture - it is cut into the side of a hill and you feel as though you are entering Batman's cave.
Moorilla is the winery and brewery on the same premises as MONA and has some lovely areas for the kids to run around play while you dine or drink. There is accommodation here if you choose to stay but it is quite expensive. Our children loved following the rabbits and chickens that were running around through the vineyard.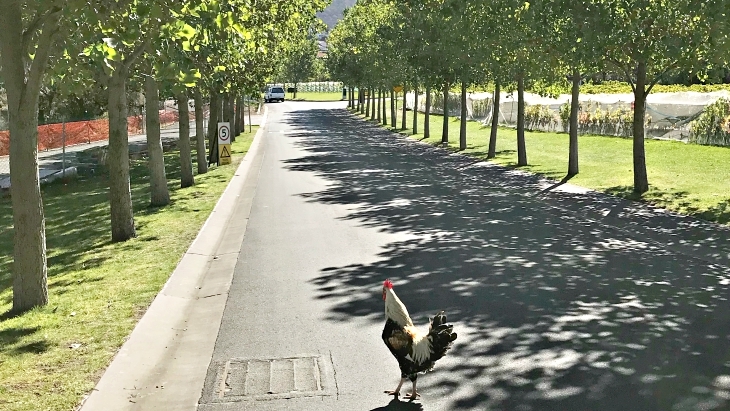 Salamanca Place: If you are lucky to be here on a Saturday the markets fill the street from 8:30am-3:30pm. You can find lots of local produce and it has a great atmosphere. If you aren't here on a Saturday still take a stole along Salamanca as it is a beautiful old docks area with some very lovely pubs and restaurants.
Constitution Dock: Constitution Dock is the harbour area of Hobart and often where you can get fresh fish n' chips at a floating restaurant, see boats coming in and out and catch a cruise down the Derwent River. There are many restaurants around this area and a great stroll with an ice cream in hand. It is also the mooring point for the yachts in the Sydney to Hobart yacht race.
Beach: Hobart has lots of little beaches that have beautiful blue water and gorgeous views with Mt. Wellington in the background. We visited Nutgrove beach but there are many along the coast line where children can have a play and a swim.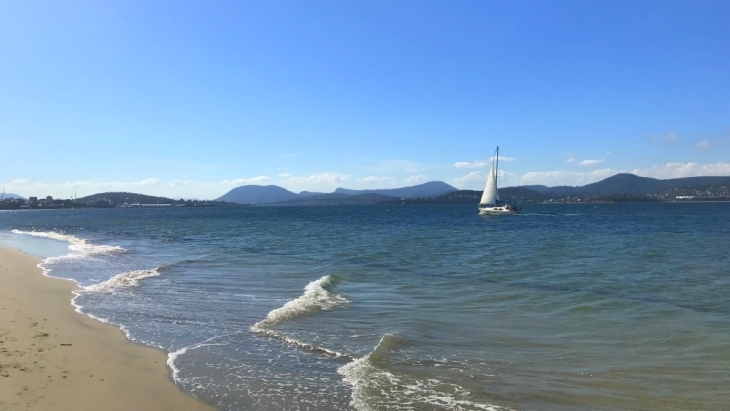 Long Point Reserve: A great fenced off park near the beach and close to a café for kids to play and run around in. This park is for all abilities, with toilet facilities and great views of the ocean.
But Wait, There's More!
There is so much more to do in Hobart. Here are a few of my suggestions:
Cascade Brewery
Royal Hobart Botanic Gardens
St Davis's Park
Cascades Female Factory Historic Site
Maritime Museum of Tasmania
Walk through and explore the CDB
Visit nearby towns such as: Richmond, Port Arthur, Kettering and Bruny Island
River cruise down the Derwent River
Visit one of the nearby vineyards
Explore some of the buildings made during times of convict labour.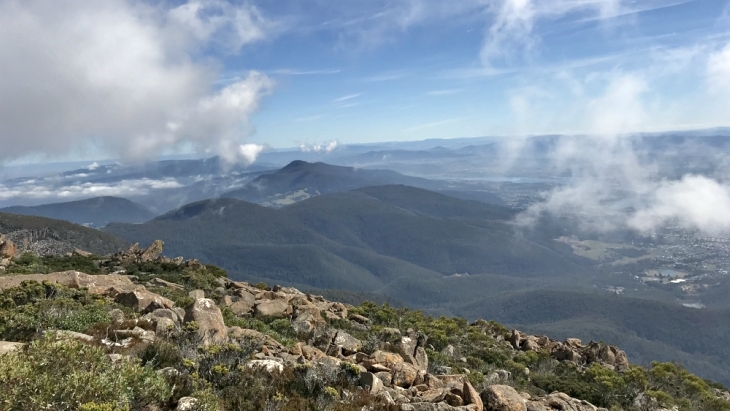 Top tips
Always pack a coat as the weather can change very quickly and dramatically. Hire a car to get around and pack walking shoes to truly experience all the beauty the city has to offer.