Top Holiday Destinations For The Active Family
Top Holiday Destinations For The Active Family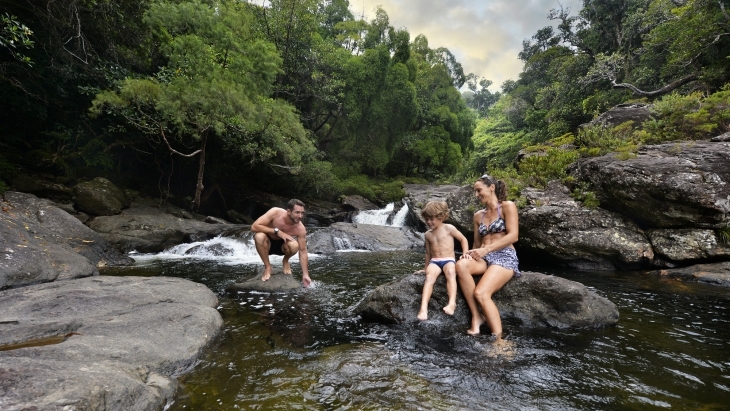 Family holidays don't have to be just about lazing by a pool. They can be a chance to get adventurous and action-packed, even with a young family. Whether its embracing breathtaking tropical rainforests, famous sunny beaches and speactacular lakes, trekking through lush forests, surfing the waves or kayaking through narrow coves, we've rounded up exciting destinations that make for perfect adventure playgrounds.
Our top adventurous family holiday destinations are in or around Australia so jetlag doesn't get in the way of fun (because who really wants 4am wake ups).
So all that's left to do is pack your suitcases, bring your travel diary and strap in for an adventure thrilling ride and create lasting family memories.
Queenstown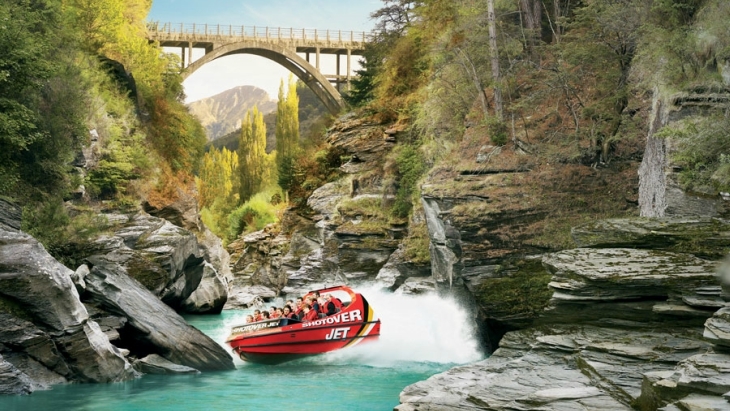 Named 'The Adventure Capital of the World', Queenstown has plenty of adrenalin-filled activities on offer.
One of Queenstown's biggest draw cards is the spectacular beauty of Lake Wakatipu and surrounding lakes and what better way to enjoy its beauty than on the water. Jet boating is loads of fun for kids tall enough (minimum height for some of the boats is only 1.0 metre tall). Paddle boarding or kayaking in a quiet cove are also popular family activities.
Queenstown is also known for its amazing ski fields and this is a fabulous family activity. If your family is new to snowsports, don't be afraid to start them young! There's heaps of options for gear hire, kids lift passes and lessons that cater for practically every age. Learner slopes are very gentle and experienced instructors know just how to teach small kids.
For a more rural experience you can't beat a visit to one of Queenstowns farms. One of our favourite tours is the Walter Peak High country farm tour. You begin the tour by embarking the famous vintage TSS Earnslaw steamship on Lake Wakatipu to the farm. Your little ones can help to feed the animals, watch a sheep shearing demo and stroll or hire a bike to ride along the beautiful lakeside. The entire tour is three hours long, and finishes off with morning tea or lunch at the charming Colonel's Homestead Restaurant.
Queenstown offers a wide range of biking tracks and trails for all styles of biking and all levels of fitness. You will find easy scenic tracks, spectacular lakeside or backcountry trails, road rides, jump parks and even heli-biking trips! A number of Queenstown biking tracks start right from the town centre and take you on a scenic journey.
Taking a ride on the steepest cable car in the Southern Hemisphere is another must-do in Queenstown with kids. The gravity fueled ride is called luging. There's time for a quick photo before the doors automatically shut and you're whisked away on a journey you'll never forget. A chairlift will take you you back to the top to do it all over again - make sure you buy multiple passes because we guarantee once is never.
Queenstown is a super scenic, adventure thrilled destination we just love.
New Caledonia

Drowned Forrest, Blue River Park © Terres de Lumière / NCTPS
New Caledonia offers families a taste of the tropics with a French twist. Here you can spend your days exploring remote islands, snorkelling in calm waters, and discovering this South Pacific nation's rich, intriguing history.
Oro Bay, Isle of Pines is one of the most famous sights of New Caledonia.The island features white sand, clear water and majestic Columnar pines. The shallow water is ideal for kids who will love swimming and snorkelling with the colorful fish and other underwater wonders.
Another must visit is the Loyalty Islands. The six islands all share a striking natural beauty with their slices of immaculate shores, unpredictable sinkholes, deep rock pools and sheer volcanic cliffs. Here kids will love the tropical fish, sea turtles, manta rays and rare dugong that roam these warm, still waters.
For older kids, a cool kayak through a drowned forest in the Blue River National Park will be the envy of all their school friends! The Drowned Forest is famous for the hundreds of bleached gum oak trunks that have emerged from the lake since the creation of a huge dam- nothing beats a kayak through this.
Over on the west coast you can enjoy an adventurous day horseriding. Climb mountain ranges, gallop along the beach, and finish your day having a BBQ with French cowboys! Some tours are run out on the properties of local families—ranch owners and western-style riders that can train and teach you and the kids all about life on their farms providing the ultimate adventure ride.
With its vast array of activities, and only a 2 hour flight from Brisbane, New Caledonia is a win win for adventure and family fun.
Find out more about New Caledonia here.
Oahu, Hawaii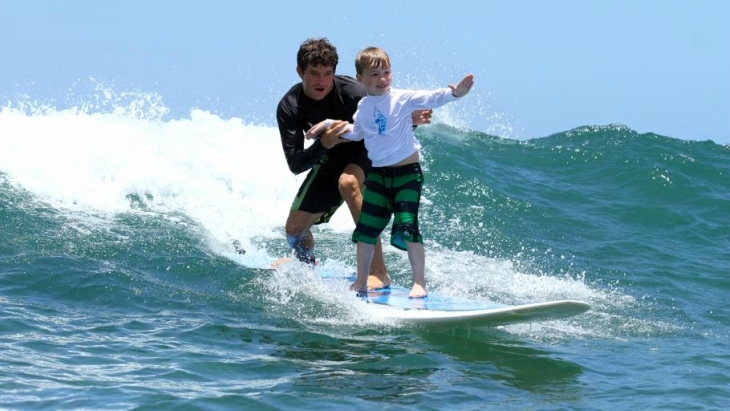 Hawaii is known for its unparalleled natural beauty and cultural splendor and provides loads of action-packed activities for kids.
One fantastic activity offering ocean views on top of volcanic craters to waterfalls in the rainforest and even mountain top scenes, is hiking. Even though hiking with littles ones is not easy, Hawaii is filled with all sorts of hikes for any hiking experience level. Our top picks are the Manoa Falls hike which will take you through the jungle all the way to a beautiful waterfall or the Diamond Head hike, a short walk (approx 60 minutes) up the extinct volcanic crater offering some of the best panoramic views of Waikiki!
Hawaii also offers some of the best beaches and beach activities in the world! The kids will love the underwater wonderland of scenic Hanauma Bay on the eastern coast, snorkelling with tropical fish, sea turtles and other marine life in their natural habitat. On the west side of the coast, the beautiful Koolina Lagoons are amazing for younger children, with no waves and a host of water activities to embark on. On Waikiki beach itself you can have your hand at surf lessons, paddle boarding or kayaking. The Hilton lagoon, just off Waikiki beach offers some fun cycling boats which you can take even the smallest toddlers on. And if that's not exciting enough, you can head to the Kahala Hotel for an intimate dolphin encounter.
For a cultural experience that kids of all ages will love, a traditional luau involving a magical night of Polynesian culture, food and entertainment should be on your list. Starting at dusk, the luau starts with some pre-dinner activities the little ones and the big kids with love; get a tattoo, throw a spear, watch Chief demonstrate how to make a fire by rubbing sticks, and finally the unearthing of your dinner cooked in an 'imu' (underground oven). Finally sit to enjoy an all-you-can- eat Hawaiian feast followed by singing and dancing with lots of opportunity for kids to participate too.
What's not to love about Hawaii? We are sold!
Tasmania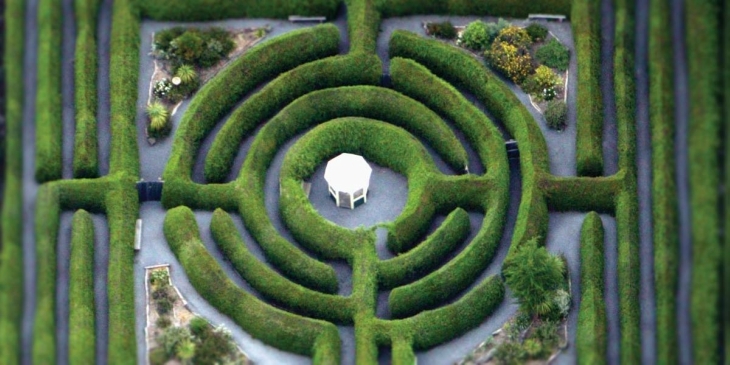 Tasmania known as 'the natural state' offers breathtaking landscapes,which include everything from white sandy beaches to snow-capped mountains and wild, rugged coastal cliffs.
There are few other places that so expertly blend stunning scenery with plenty of child-friendly things to do, but Cataract Gorge Reserve manages to do it all. Here there is a restaurant, kiosk, plenty of picnic space, hiking trails as well as a pool and the world's longest single span chair lift. The ride lasts for an impressively long time providing hours of fun for the kids.
Tasmania's expansive forests aren't just pretty to look at, they also offer plenty of chances for adventure. Hollybank Treetops Adventure Park is located around 20 minutes outside Launceston. Here you can try their ropes courses (which cater for all ages and comfort levels), fly like a bird on a ziplining tour or drive like a boss on one of their Segway tours. For the bigger kids, Hollybank also has twilight zip line tours so you can be at one with nature and spot some nocturnal creatures on your travels.
A visit to the charming Swiss village of Grindelwald also provides an adventure packed day. There is golf, mini golf, a jumping pillow, canoes, peddle boats, peddle go karts, bikes, cool shops and more.
For a more water based scenic adventure you can't beat the Hastings Caves and Thermal Springs. The largest tourist cave in Australia and one of the largest dolomite caves in the southern hemisphere is an adventure like no other. Explore the Platypus and Hot Spring Walks and take a dip in the thermal springs while you are here.
And if you feel like something a little more left field how does the worlds largest maze complex sound for hours of fun? Glengarry Bush Maze houses the Three Bear's Cottage at its centre and also features fairy castles, memorials, games including a giant Connect 4, giant chess board tyre maze and a hedge maze you can get lost in. A great way to to keep the kids on their toes!
Tasmania is a great all rounder with stunning scenery that we just love.
Kangaroo Island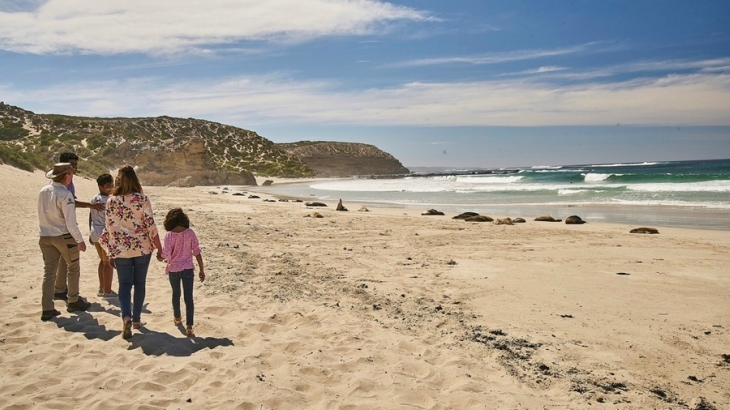 Kangaroo Island is a beautiful island , southwest of Adelaide with lots of wildlife around. The kids will love the chance to get up-close and personal with cuddly koalas, furry wallabies, sea lions, kangaroos, penguins and pelicans.
One of the most exciting activities that the kids are guaranteed to love is a walk on seal beach through a colony of sea lions. You can walk along a 900 metre (2950 foot) wooden boardwalk to see the animals on the sand and in the surf, or you can take a guided Seal Bay Experience tour onto the beach itself to get up-close and personal with these magical creatures.
Stokes Bay offers a good camping spot and a sea pool enclosed by rocks. Dramatic golden sandy cliffs form a sheltered cove and a large natural break wall creates an inviting turquoise lagoon for loads of adventure for kids of all ages.
Another major attraction on the island is the expansive Flinders Chase National Park. A raised accessible boardwalk leads you through small boulders and grassy shrubs and where the boardwalk ends, the fun begins for kids as kids can climb up the flat rocks to the precariously perched boulders above with spectacular views of the Southern Ocean. The national park also offers lots of wildlife spotting like kanagaroos, wombats and rare bird species.
Kangaroo island is a hidden gem waiting to be found.
More Travel Ideas Here
Get Off The Beaten Track In New Caledonia
Where To Go Skiing In Australia
Escape The Cold This Winter
Have you signed up to our newsletter? Join ellaslist to get the best family and kid-friendly events, venues, classes and things to do NEAR YOU!