Hottest Destinations For Family Travel This Summer
Hottest Destinations For Family Travel This Summer
Toddlers
Preschoolers
Kids
Teens
Family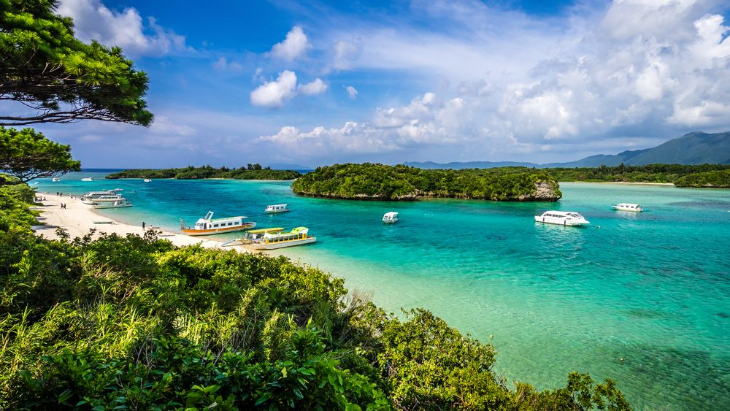 Ah, school summer holidays – they're the best of times, they're the worst of times. While the kids are overjoyed at having up to 6 weeks off of school, for parents it can be a major struggle trying to think of new and fun activities for over 40 days straight! Luckily, there's a joyous invention known as the Family Holiday.
If you're tinkering with the idea of getting out of town on a family holiday, we've rounded up some of the best local and international family-friendly holidays, and, no Bali is not on the list!
The Philippines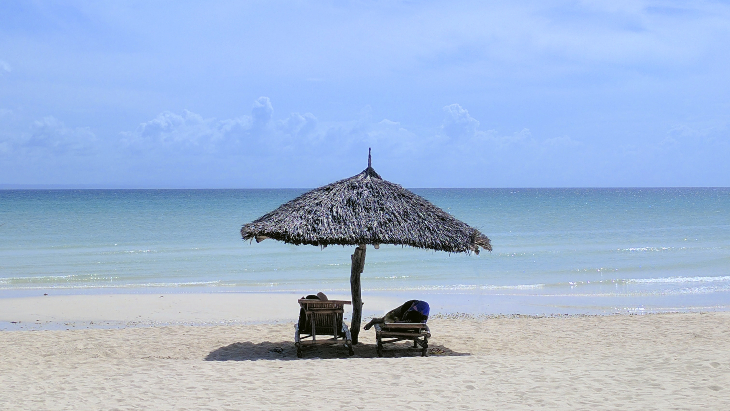 Cebu
Boracay Island in the Philippines is one of those idyllic, magical destinations that'll you'll never forget. Toted as Thailand 15 years ago before tourism exploded, Boracay is a great little spot for a relaxing family getaway. Although getting to Boracay is a bit of a task (you can only access the island by boat from Kalibo, which is a 1-hour flight from Manilla), the trip is well worth it for access to one of the best beaches in the world. Puka Beach is much more family-friendly than White Beach which, although stunning, is known to be more of a party beach. Punta Bunga Beach is another great family spot if you're staying at Movenpick Resort & Spa, or The Shangri-La.
If you're after beach life with a touch of city life, Cebu is your destination. Just over an hours flight from Manilla, Cebu is the gateway to the stunning Visayas archipelago, one of the Philippine's most abundant tourism spots and for good reason. Incredible beaches, friendly locals, sightseeing adventures, water sports, and culture in droves, you will be blown away by how much there is to do as a family in Cebu.
Estimated flight times: 8 hours from Melbourne, Sydney & Brisbane.
Samoa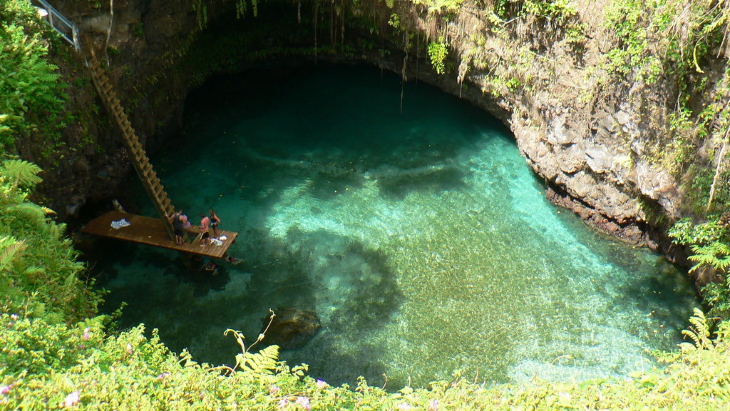 Sua Trench
A jewel in the South Pacific, Samoa is the ideal family destination if you've travelled to Bali one too many times and are keen for somewhere new. Samoa boasts a similar tropical landscape as Bali but is not as developed and offers a much slower pace of life. Samoa is quite large (around 1125 square kilometres), so the best way to tour the island is by hiring a car and visiting all the hotspots at your own pace. Aside from swimming, snorkelling, and lazing in the picture-perfect aqua waters, museums, botanical gardens, waterfalls, charming towns, and the amazing Sua Trench are other incredible highlights to enjoy while on holiday.
Samoa offers a range of accommodation types for families – from self-catered bungalows to quaint hotels, and 5-star international resorts, your options are very broad.
Estimated flight times: 5.5 hours from Sydney; 8 hours from Melbourne via Sydney; 4.5 hours from Brisbane.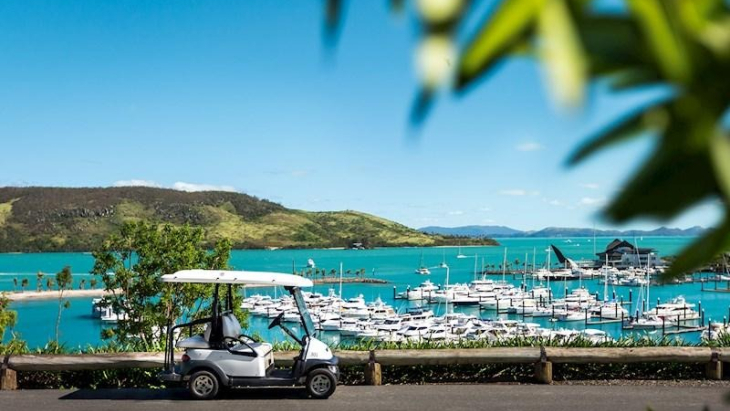 Mention the name Hamilton Island and many people will conjure up images of pure-white sand beaches, lush rainforests, fine dining, and luxury resorts, and they're not wrong. Hamilton Island is the star travel destination of the 74 Whitsunday Islands, particularly for holidaying families. With bustling Airlie Beach to one side and the world-famous Great Barrier Reef to the other, you're in prime position for one memorable holiday at Hamilton Island. But with so much on offer on the island itself, you might not even need to leave the island at all! Snorkelling, sailing, diving, kayaking, quad biking, tennis, go-karting, turtle discoveries, windsurfing, animal sightings, art classes and more are on the agenda daily, meaning there's always something new and exciting for families to do. If you're keen to sit back and relax on the beach, this is on offer too at picture-perfect Catseye Beach.
Accommodation for the whole family comes easily at Hamilton Island with a luxury room, resort or bungalow to suit all tastes. Hamilton Island have even taken the stress out of holidaying with a newborn or baby with their Baby's First Holiday offer. Families certainly get the royal treatment when holidaying at Hamilton Island. Click HERE for more information and great deals.
Estimated flight times: 2.5 hours from Sydney; 3 hours from Melbourne; 1.5 hours from Brisbane.
Ishigaki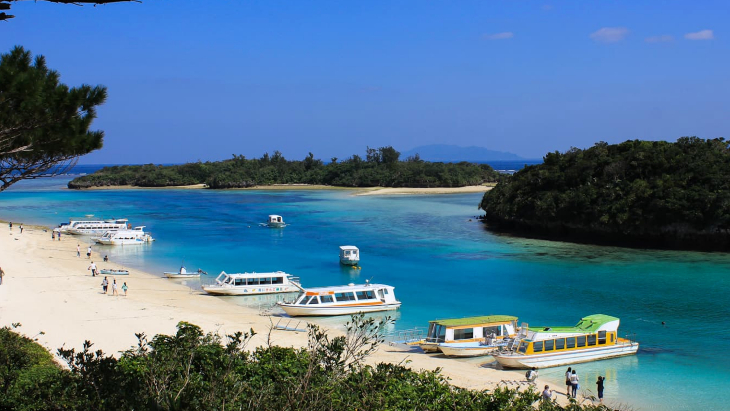 Kabira Bay
When you think of a holiday in Japan you don't necessarily think tropical destination do you? You might be surprised to discover that Japan offers quite the tropical family holiday in the Yaeyama Islands, more specifically Ishigaki Island. Ishigaki is the most populated of the Yaeyama Islands and Japan's southernmost city. Offering striking beaches, colourful coral reefs, mangrove-lined rivers, lush hiking trails, palm groves, and fascinating culture, Ishigaki is quickly becoming a family holiday hotspot.
Kabira Bay is undoubtedly one of the best sightseeing spots on the island with its pure white sand beach, turquoise waters and stunning views of the islands beyond. While swimming is not permitted due to black pearl cultivation, Kabira Bay is still a beautiful spot to explore. Nearby Sukuji Beach offers fantastic swimming, while Yonehara Beach is the best snorkelling spot on the island. And when the sun goes down, the Ishigaki sky produces one of the best starry skies in Japan with 84 illuminating constellations.
Estimated flight times: 14 hours from Melbourne, Sydney & Brisbane via Tokyo.
Yosemite & Sequoia National Parks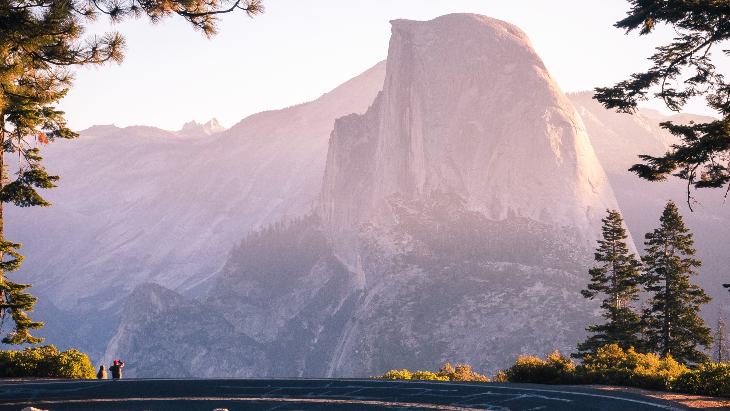 Yosemite National Park
If you're a family of thrill-seekers looking for your next outdoor adventure, please add Yosemite and Sequoia National Parks to your bucket list. Offering some of the most amazing natural landscapes in the world and an opportunity to really get off the beaten track and escape Australian summer for a cool change, a trip to Yosemite and Sequoia National Parks will fortify family memories for a lifetime. Both parks are located in California and stretch for a combined 5,600 square kilometres, making it nearly impossible to visit both parks in their entirety in one trip. To make the most of these historic natural landscapes, add the Pioneer Yosemite History Centre, Mariposa Grove, Hetch Hetchy, stunning waterfalls, Sequoia Moro Rock, Crystal Cave, and the iconic GIANT sequoia trees to your itinerary. During the winter season, skiing and snow play activities abound in both parks.
Winter might be too cold to camp in the parks but there are plenty of stunning log cabins and other accommodations to take your fancy.
Estimated flight times to Los Angeles: 14 hours from Sydney & Melbourne, and 12.5 hours from Brisbane. Sequoia National Park is a 3.5-hour drive from Los Angeles.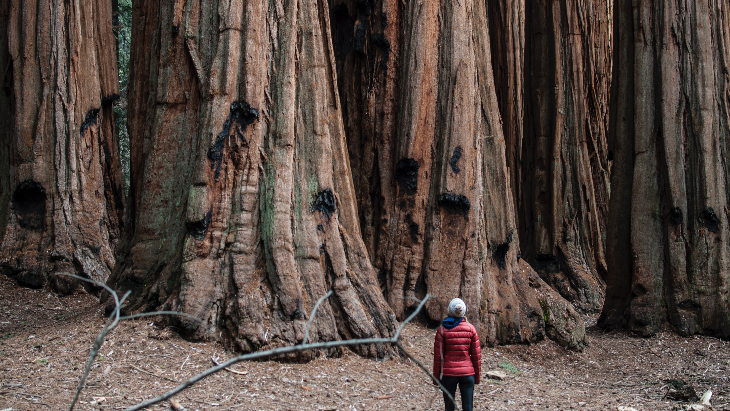 Sequoia National Park
Other Family Holiday Destinations
The World's Cheapest Holiday Destinations
Hotels & Resorts Where Kids Eat Free
The Best Kid-Friendly Christmas Holidays
Hamilton Island Deals
Have you signed up to our newsletter? Join ellaslist to get the best family and kid-friendly events, venues, classes and things to do NEAR YOU!