Getaways For Large Groups, Friends & Families At Bilpin Country Lodge
Getaways For Large Groups, Friends & Families At Bilpin Country Lodge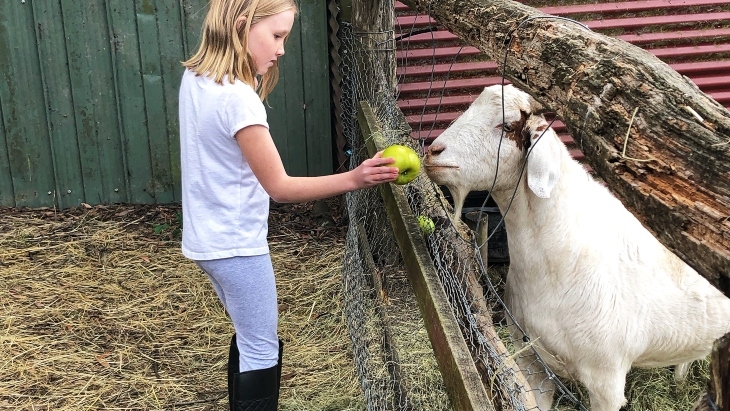 If you're looking for somewhere special to spend your next family celebration, then I've found the perfect place! Whether it's a special anniversary, birthday or just a get-together with the extended family – Bilpin Country Lodge has it all.
We were looking for a large house or lodge to accommodate 6 adults and 7 children under the one roof to celebrate my in-laws 50th wedding anniversary. Bilpin Country Lodge was a perfect choice – a farm stay and B&B only a short 90-minute drive from Sydney.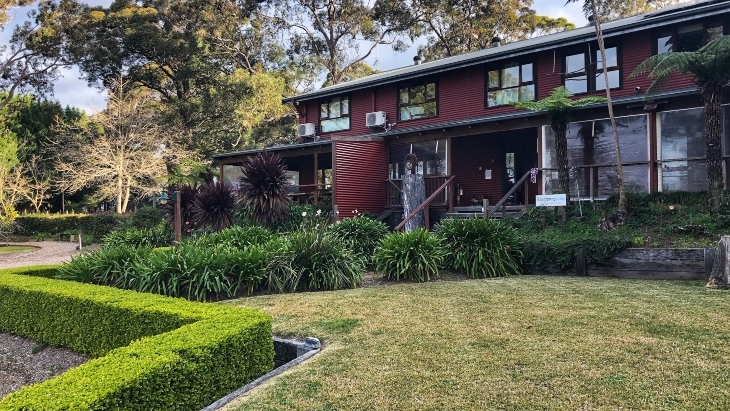 The Lodge
Bilpin Country Lodge is an absolute hidden gem! Situated on a gorgeous leafy and peaceful rural property with picturesque scenes all around, the scene was set for a relaxing family holiday.
The Lodge is beautiful, clean and well-equipped. Loads of bedrooms, break-out spaces, entertaining areas and amazing facilities. There are different room options to suit all travels, including queen bedded couple rooms & family rooms as well as family suites sleeping 3, 4, 5 or 6 people. All bedrooms have ensuite bathrooms - perfection!
So Much To Do!
Within the Lodge itself, there is a pool table upstairs, a piano downstairs in the lounge room and a great big shed attached to the Lodge which acts as a games area, complete with a large trampoline, ping-pong table and basketball hoop. A haven of fun for all ages.
The kids (and the parents) will love relaxing in the spa. Bubbles or not – it's your choice! It's kept at a cosy 37 degrees, so it's even a winner in winter! The spa is surrounded by a secure pool gate so you don't have to worry about little ones wandering in there unattended. We had drinks out on the wrap-around balcony in the early evening before dinner so we could have some uninterrupted adult time but were still close enough to watch the kids in the spa.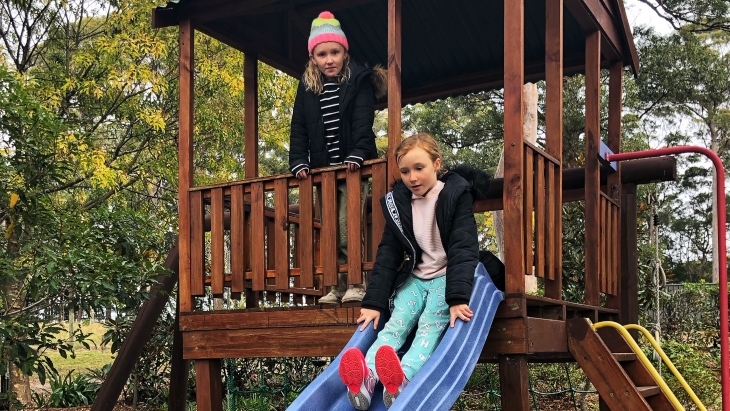 The kids loved playing in the playground, going for a bushwalk on the property, taking the kayaks out for a 'spin' in the dam and fishing for yabbies.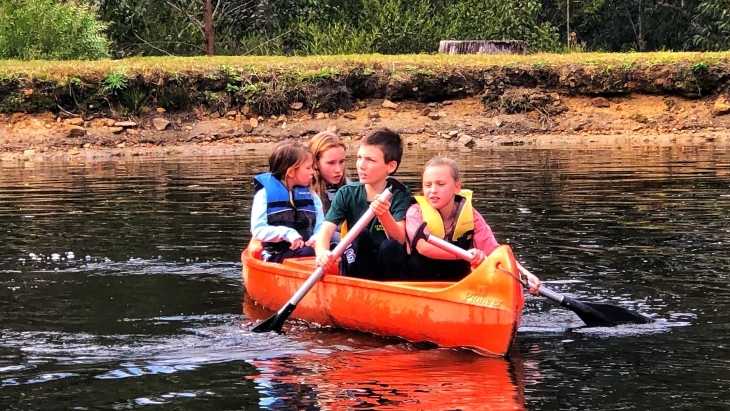 The biggest attraction for my kids was undoubtedly the animals. Ollie The Goat was by far their favourite. She would come to the fence as soon as the kids strolled down to the paddock and dip her head to the side so that the kids could stroke her neck - adorable!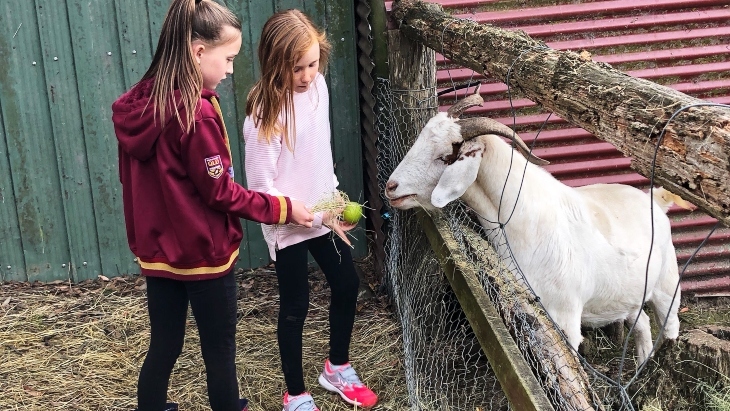 Denton The Alpaca was a bit of a mystery – the kids couldn't quite work him out but he was friendly enough. And then, there was Charlie Brown, the Shetland Pony who would eat straight out of your hand – just remember to keep your hand flat so he doesn't mistake one of your fingers for hay!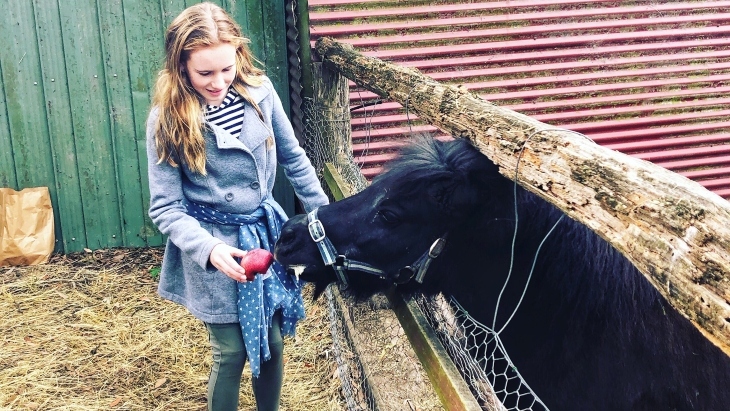 At night, we all toasted marshmallows in the fire pit outside on the front lawn. It's such a great set-up with large boulders as seats and a wall which acts as a wind-block. The kids had more fun toasting than eating!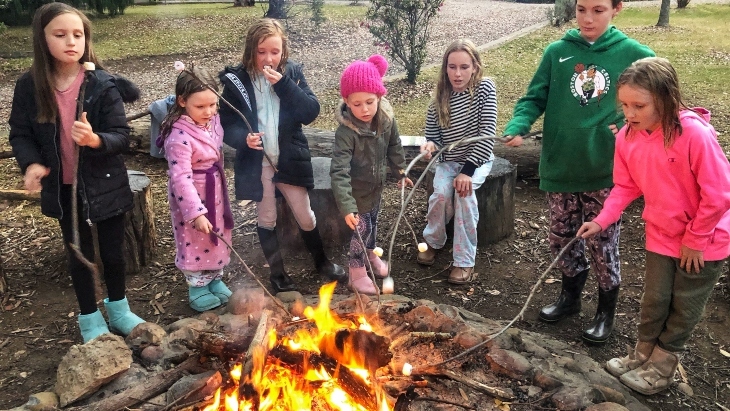 They also loved collecting the fresh eggs from the chickens every morning, especially getting into the chicken coup and trying to catch and pat the chickens. They were really friendly.
The Facilities
Pack light because The Lodge is so well-equipped. They have thought of everything. Linen is provided (bed sheets, blankets, towels) and the beds are soooooo comfy.
The kitchen has everything you could need and want and then some! Pots, pans, dinner sets, cups, glasses, cutlery, cooking utensils and more. A full breakfast is provided daily, including sausages, eggs, bacon, bread, spreads, cereal, juice, milk, tea, coffee and hot chocolate. There's also free WIFI internet plus Foxtel cable TV. You literally don't even need to leave The Lodge!
The 50th Wedding Anniversary Celebration at The Lodge
Bilpin Country Lodge was an amazing location for our celebration. There were 6 adults and 7 children. Just spending time together at the Lodge was magical but for the actual lunchtime celebration, we had everything we needed with a picturesque backdrop of the beautiful countryside. We brought balloons as decorations with us but used the platters and plates supplied. They even have a projector and screen which we used to play a memorabilia video of anniversary images and videos from all their friends. We had a small gathering but The Lodge can accommodate a large gathering either on the balcony or on the lawn out the front with all the facilities you need for a memorable family and friends celebration.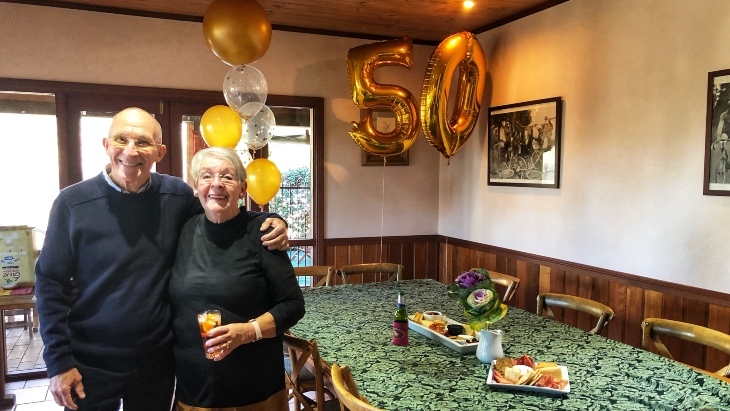 Nearby Restaurants, Attractions and Things To Do
The Bilpin Afire restaurant is only 1-minute drive away, and pubs and cafes are close by for something more casual.
Activities nearby include 'pick-your-own-fruit' orchards in Bilpin, Blue Mountains Botanic Gardens in Mt Tomah, plus the Jenolan Caves, The Three Sisters, Katoomba, Leura and Blackheath.
The nearest suburb is Kurrajong – a great little spot with a few shops, cafes, a grocery store, bakery, butcher and deli.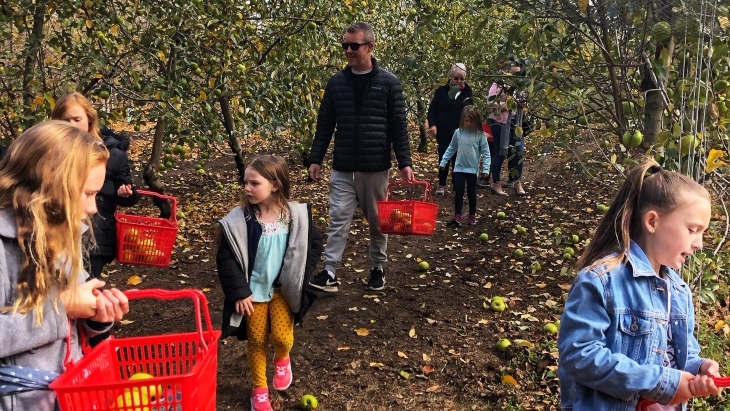 Overall, Bilpin Country Lodge is the perfect location for a family get together in idyllic rural surroundings. It's a great space for everyone to share but also has plenty of room to do your own thing. It's great for children to be able to feed animals and gather eggs each morning. Extra bonus was the wonderful breakfast provisions provided to be cooked on either the huge commercial BBQ or stove. A warm, cosy atmosphere with great log fire. Just the perfect spot.
Bilpin Country Lodge - thank you and we'll be back soon!
Tell them ellaslist sent you!