Family Fun In Beautiful Port Macquarie
Family Fun In Beautiful Port Macquarie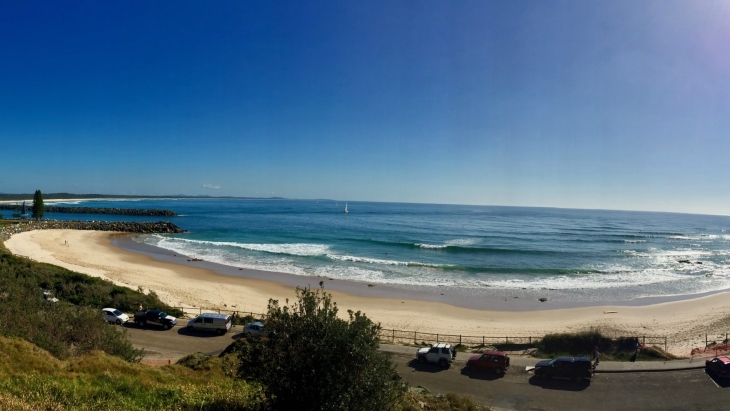 By: Emily O'Brien, ellaslist
Enjoy a long weekend away in beautiful Port Macquarie. From beaches to dining to coastal walks and more, there's something for everyone in the family to love. This thriving town is the perfect family-friendly getaway for Sydneysiders to enjoy. Your biggest problem will be narrowing down all there is to choose from! Added bonus: Try timing your trip to coincide with Tastings on Hastings, the town's primary event on its culinary calendar, attracting thousands of locals from neighbouring communities, comprising of over 100 stalls of food, wine, beer, local goods and even kids' activities.
Destination: Port Macquarie, NSW
The Drive: 4.5 hours, one way Suggested Route: By car from Sydney, take M1 and Pacific Hwy/A1. You could also fly. Flights are about an hour long.
Why We Love It
Port Macquarie businesses understand what family vacationers want: a relaxed, laid- back atmosphere and family-friendly hospitality. The general feel of the town is warm and welcoming.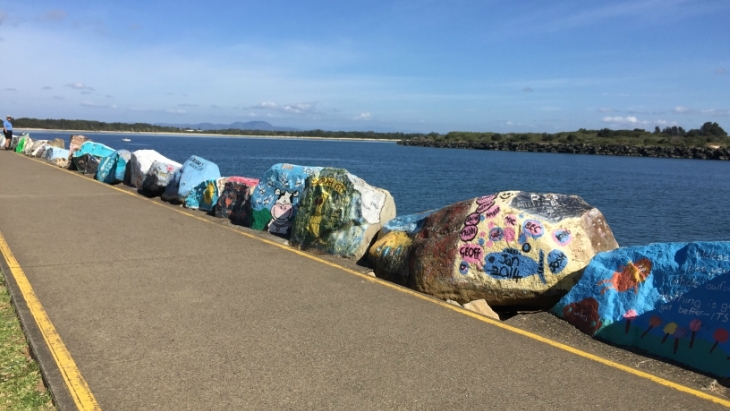 Things To Do
Soak in the Scenery: If you're like me and can't get enough of the coast, opt for the Port Macquarie Coastal Walk. The 9km easy grade walk will leave you with breathless views of the beaches, headlands and historic sites. Don't feel like you have to skip out if you're short on time. The walk is easily dissected into four chunks and is mostly stroller friendly (especially near the centre of town) and ends with a magnificent view of Tacking Point Lighthouse. I did bits of this walk over two days. The first was with my family at dusk and we loved looking at all the painted boulders along the coast and picking out our favourites. The next morning, I snuck out to go a little further while my husband and daughter played in the hotel pool. The path was busier then, but not overcrowded. Note: there's not much shade along the coast, so make sure you've doused yourself in some sunscreen before you head out. Sunnies and a hat will help too. I went around 9 am and felt pretty warm by the time I was done.
Eat Your Way Through
Known as a thriving food and wine bowl, you can taste fresh produce straight from the vine…literally. Pick your own strawberries and tomatoes (at Ricardoes Tomatoes), munch on farm-house cheeses, test out native bush foods and slurp fresh oysters. With over 80 producers, seven wineries, boutique breweries and award-winning restaurants and cafes, you're sure to find something that will delight your palate.
Rest & Relaxation
In my book, nothing melts away stress like a day at the beach. Luckily the beaches in Port Macquarie are plentiful and not overly crowded like some of Sydney's. You'll have lots of room to spread out; there are 17 in total! Beaches border the town and are easy to get to on foot or by car. If you're feeling hungry, or need to hit the toilet, you can run into the CBD pretty easily. For an easy meal, try Mike's Seafood on Hay Street. Generous serving sizes will leave you with a good bang for the buck. Grab a bench by the water (a block or two away) and watch the seabirds flutter about.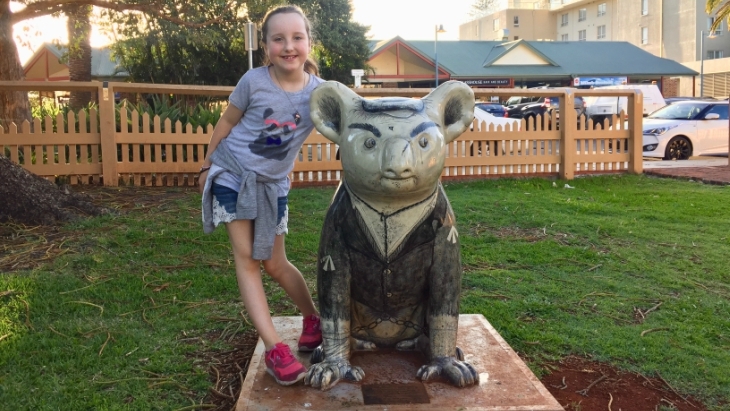 Koala Spotting
It's no secret Port Macquarie has a soft spot for koalas. Check out the Hello Koalas Sculpture Trail; it celebrates this iconic Australian animal along with the spectacular work of the Port Macquarie Koala Hospital, the first facility in the world solely dedicated to care and conserve the koala. Dotted along the Trail are over 50 hand-painted, one- metre high koala sculptures. Spot them in town or lounging in the hinterland. Download a map or pick one up from a local business. Use it as a treasure hunt with awesome photo ops with family and friends. Bonus: Join them for the Hello Koalas Festival, June Long Weekend 2018.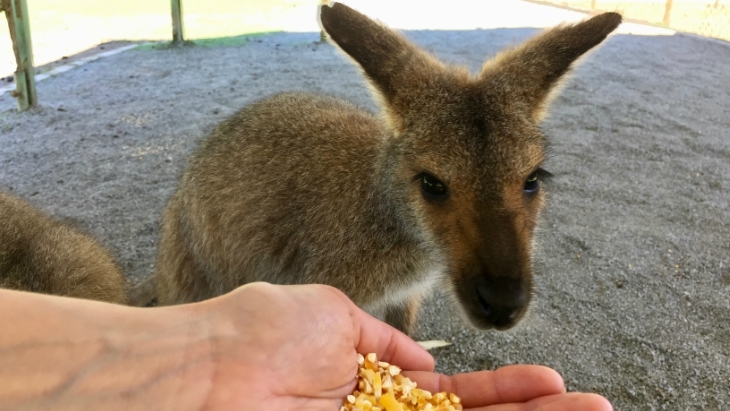 Animal Fun
Billabong Zoo: Koala + Wildlife Park will make everyone in your family giddy with delight. Pet a koala, buy food to feed the wallabies and kangaroos, watch an animal talk or chitchat with the parrots (who say hello and goodbye quite frequently!). Billabong Zoo is all about conservation through education and it features zookeeper talks every half hour. At the end of some of the talks, zoo-goers can get the chance to get up close and personal with the creatures. The day we visited, we pet a dingo, koala and a snake. Currently undergoing a massive renovation, expect a nicer facility with a new parents' room starting in January.
What's unique about Billabong is that it allows you to learn about animals through sensory experience. See, touch, feel and smell your way through exhibits. Kids (and parents!) will love hand feeding the wallabies and kangaroos. Kept in the same area, both species were friendly and curious about the visitors and didn't mind if we gently pet them too. It. Was. Incredible.
At Billabong Zoo, they believe each animal acts as an ambassador for their species and that there should be a reason behind keeping animals in captivity. You'll find big cats—lions, snow leopards and cheetahs—to spider monkeys, snakes and meerkats and lots of things in-between. The zoo had plenty of people visiting but because of its strategic layout, it never felt crowded. (Aren't crowded zoos the worst?!) It's stroller friendly and offers lots of sheltered places to sit if you need to have a rest along your way. My daughter said she thinks it's her favorite zoo because she got to interact with the animals (unlike anywhere else she's ever been). I have to agree!
Tip: Buy a small feedbag when you pay for your entry and hang on to it for later.

Where to Eat
Eating your way through Port Macquarie is one of the best parts! For breakfast, try The Corner. It's attached to the hotel we stated at, Macquarie Waters, but you don't have to be a guest to dine. For lunch, try Burger Rebellion for unique burgers and crisp and salty chips. I highly recommend the regular & sweet potato chip combo. You'll be fighting over who gets the last couple of bits. For dinner, try MakiMoto for sushi and salad. Choose from dine-in or express takeaway. But beware: the dinner portions of the sushi rolls are GIGANTIC, one is nearly the size of two to three rolls put together. The salmon salad is deliciously fresh and our daughter loved eating the tiny baby rolls. The weather is so temperate and lovely year-round that practically every place offers outdoor seating, often with plenty of shade. We took advantage of that as much as we could.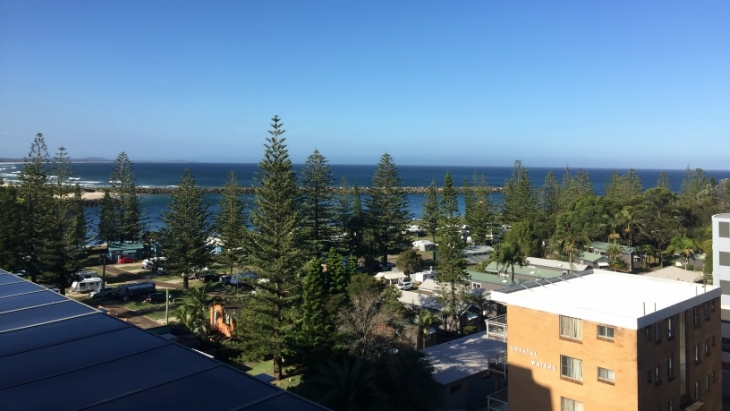 Where to Stay
Macquarie Waters is your best bet. All the rooms are suites, so you'll love the extra space, adjoining outdoor areas (we had one long balcony and then one additional off the second bedroom), the kitchen and the pool & spa. Since it's a boutique hotel, you won't have to fight for space in the pool or at the rooftop lounge area, which comes complete with a grill and is a great way to see the city. It's a comprehensive 360-degree view! You can't beat the location, right on the main strip, near the beaches and the restaurants. If you're looking to save a little cash, utilize their in-room kitchens to make brekkie or to put together picnics or afternoon snacks. The cabinets are stocked with everything you can think of—from coffee pots to plates to a variety of cooking utensils—making you feel right at home. You'll find the staff itching to help you make the most of your stay too; they are truly passionate about the local area and can offer heaps of information at a moments notice. Don't hesitate to ask them for help on what to see & do.
Festival Fun
Eat and drink until your heart's content (or your pants feel snug). If you head up in late October, time it with Tastings on Hastings, a celebration of local producers, farmers, artisans, brewers, winemakers, bakers and chefs. The one-day, 8-hour event features live music and fun for the whole family. Additionally, on days bookending the festival, enjoy multiple satellite events to choose from, including mouthwatering dinners, wine pairings and long lunches.
Play, Play, Play
Wear the kids out at one of the local parks. For those 12 and under, walk along the coast to Livvi's Place in Westport Reserve. This all-abilities playground features a good mix of equipment for all heights and ages. It's right next to a big open field, perfect for kicking a ball around. If you're lucky enough, you might even catch some fisherman cleaning their catch of the day and tossing leftover bits to the pelicans nearby, as we saw. Town Beach Skate Park will leave you in awe. Meant for older children (and even adults) this skate park is a real stunner. It's in use at all hours of the day with kids on their scooters, skateboards, rollerblades and bikes. Despite the ample turnout, everyone seemed great at taking turns and being respectful of others' space. Look for it adjacent to the entrance of the Hastings River (break wall).
Best Moments
Tastings on Hastings was a clear winner for all of us. We sampled Thai food, vegan desserts, beer and even candy. Sneaking off to the beach was easy since the hotel was so close. It took about 10 minutes on foot. If you're an early riser, or just have a little bit of time to kill, try the coastal walk. Of course, my daughter loved the hotel pool and twirling around our large hotel suite too! Making new furry friends at the zoo, and having the wallabies eat out of our hands, was an unforgettable moment for us all.

Top Tips
Bring loads of sunscreen and don't hesitate to plan excursions around town. Inside of Port Macquarie, you can eat your way through your weekend at some of the best farm- to-table restaurants making a real stride in the organic food/sustainability realm. There's plenty to do on the outskirts of town, from nearby wineries to wandering through the Bago Maze at Bago Vineyard to getting up close and personal with the animals at Billabong Zoo.
In a Nutshell
What makes a trip to Port Macquarie kid-friendly: relaxed atmosphere and family- friendly dining and activities options
Atmosphere: great welcoming beachy vibe.
Accommodation: Book a stay at Macquarie Waters for the pool, spa and in-room kitchen. Also, having a little extra space in your hotel room, complete with bedroom doors (ours was a 2-bedroom) is really, really nice.
The Food: You really can't go wrong anywhere you go here. We liked each place we ate at and found everything reasonably priced.
Value-for- Money: Yes, definitely. Meals and hotel costs are fairly priced and you can spend as little as you'd like in restaurant costs if you book a room with a kitchen. There are lots of free things to do in the city too (like the Koala Sculpture Trails and beaches).
Special features and fun bits: Do hit Tastings on Hastings if you're in town that weekend! Billabong Zoo is a sure-fire crowd pleaser. All along the way, we seemed to come across added surprises, like the pelican feeding outside of Livvi's Place and the painted koalas that seem to show up wherever we went.
Who is this holiday best suited for? Families of all sizes.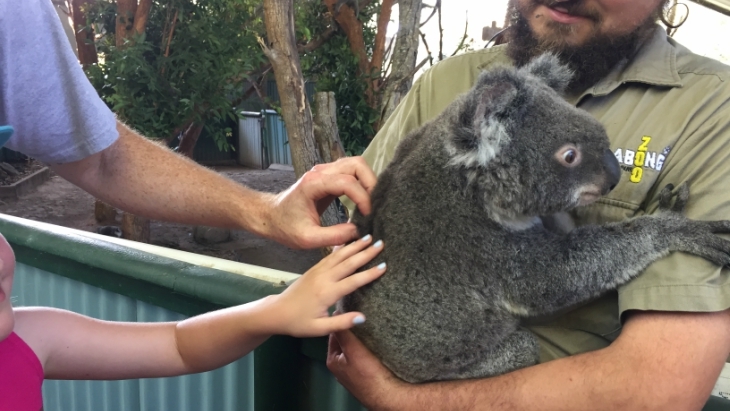 What You Need to Know
It's on the coast with some of the best year-round weather Australia has to offer. Be sun smart: wear your hat and sunscreen. Pack a picnic blanket and a good pair of runners. There are lots of things to do on foot and your feet will thank you.
If you're driving back to Sydney, stop in Rosie's Café in Johns River, NSW. We left Port Macquarie around lunchtime and ended up devouring our burgers and fish & chips at Rosie's Cafe. On the way out of the restaurant, we noticed the desserts, ordered again and sat right back down! They were INCREDIBLE and the calories probably didn't count since we were technically still on vacation. (wink, wink) I highly recommend the stop if it works with your schedule. There are lots of little handmade works of art in the café as well. Everyone will have a fun time browsing around.
More Info: For more information, contact the Greater Port Macquarie Visitor Information Centre on 1 300 303 155 or book on-line at portmacquarieinfo.com.au or go to visitnsw.com.au.
Have you signed up to our newsletter? Join ellaslist to get the best family and kid-friendly events, venues, classes and things to do NEAR YOU!