ellaslist Reviews: A Perfect Little Escape With Tiny Away
ellaslist Reviews: A Perfect Little Escape With Tiny Away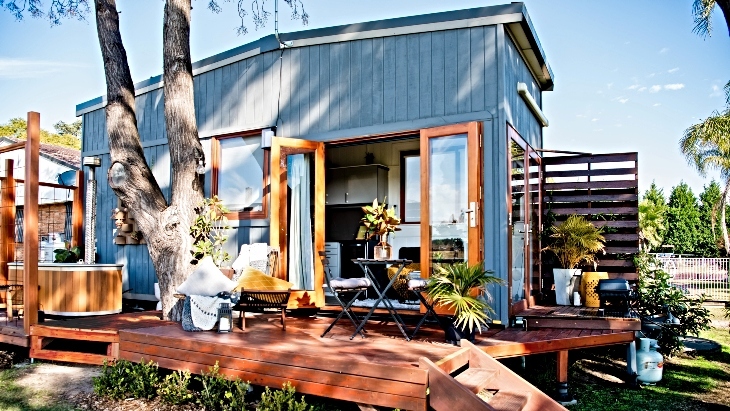 Thankfully, my almost-teenager is yet to fully submerge into the social media abyss. However, she does love nothing more than spending her precious 'chill time' escaping into inane YouTube videos and constructing her super cute Tocca Bocca empire. As its own peculiar type of relaxation, screen time is a reliable remedy. Every parent knows it has its place! However, I'm also hyper-conscious of the truly addictive nature of technology on vulnerable tweens and I painstakingly try to promote 'balance'.
Truth be told, I too need my own tech detox. In a job - and a life - that is digitally dependent I was craving a cold turkey weekend. Devices aside, city life already offers endless distractions and I found myself on the hunt for a new way to reconnect with my daughter, ahead of her imminent start of high school.
While I am reluctant to forsake life's little luxuries, I wanted to discover a different kind of bliss, away from the lure of Westfield. Something that encourages a more wholesome, unencumbered, present way of being together.
All of this led me off the beaten track to a little stay with Tiny Away.
A Perfect Little Escape With Tiny Away
What is Tiny Away?
Tiny Away makes a little escape so easy, bringing the popular tiny house phenomenon to beautiful locations across Australia. They have a catalogue of glorious getaways boasting luxurious details and unique activities but without the excess. Petite picture-perfect abodes are perched in palatial backyards, farmyards and vineyards, offering affordable, eco-friendly accommodation in stunning surroundings with spectacular views. These architecturally-designed little homes are all about creating new experiences where you can immerse yourself in nature, without compromising on comfort - perfect for a weekend road trip when you just need to escape the city.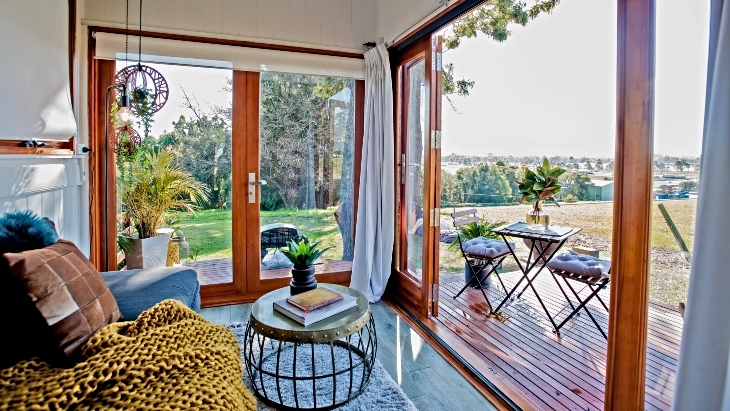 Scattered across the countryside, Tiny Away makes an off-grid adventure accessible, with over 100 incredible intimate properties dotted in picturesque regional locations. From popular hotspots to coastal cabins to remote retreats, these sustainably designed houses are rich in character and just waiting to be discovered.
Off the back of several years of health threats and natural disasters, a little escape with Tiny Away is a wonderful way to holiday at home, support local businesses and discover the hidden gems in your own backyard.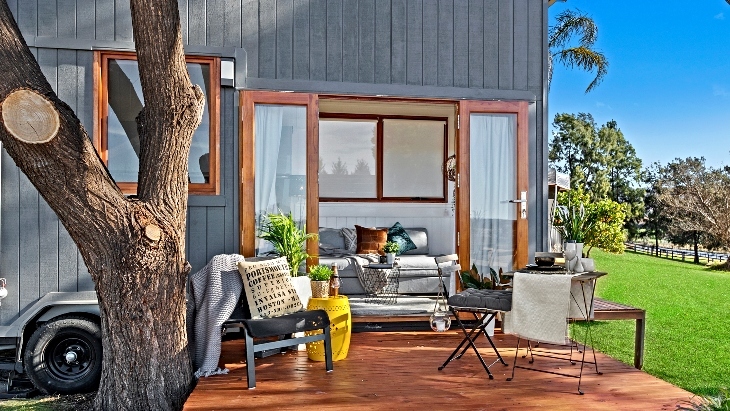 Truth be told, this little expedition was over a year in the making, previously thwarted by a pandemic and floods. Alas, as our last-ditch spring weekend finally approached the forecast was again looking somewhat grim. However, we've decided amidst this new normal of El Niño that life goes on. Plus, the reality is, we would have likely sat at home on a rainy Sunday (probably watching movies on our iPads!) and now we were venturing somewhere new, utterly beautiful and, most importantly, away from it all. And isn't that the ultimate definition of a retreat?
Why We Chose 6Sixteen The Banks?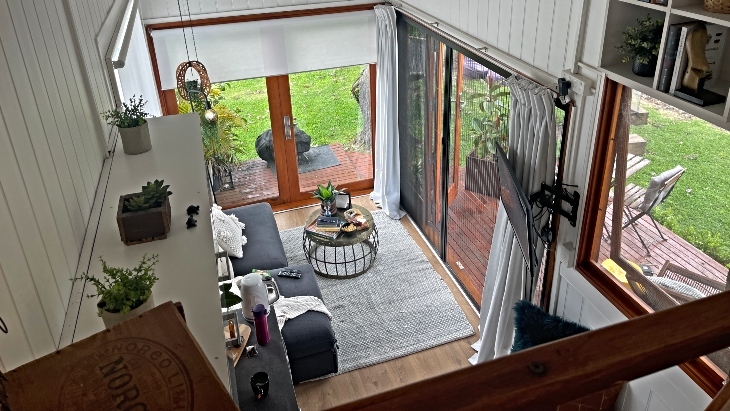 First impressions count - and when you're an exhausted urban dweller, so does ease! So, we chose 6Sixteen The Banks for our tiny taster. 6Sixteen The Banks looked gorgeous from the get-go - a luxe tiny house enveloped in an abundance of nature. Plus, just it is outside the charming, historical town of Richmond, so it was around a 90-minute drive from Sydney - another compelling prerequisite.
As an almost-effortless escape, it ticks all the boxes: accessible, affordable and off-grid, but without feeling so remote that my daughter and I were stranded in the middle of nowhere. It's that perfect equilibrium of comfort - all Tiny Houses are expertly designed and include a hot shower, air cond, a queen bed with lush linen and a kitchenette - and nature - green space and open skies for miles.
Our Tiny Holiday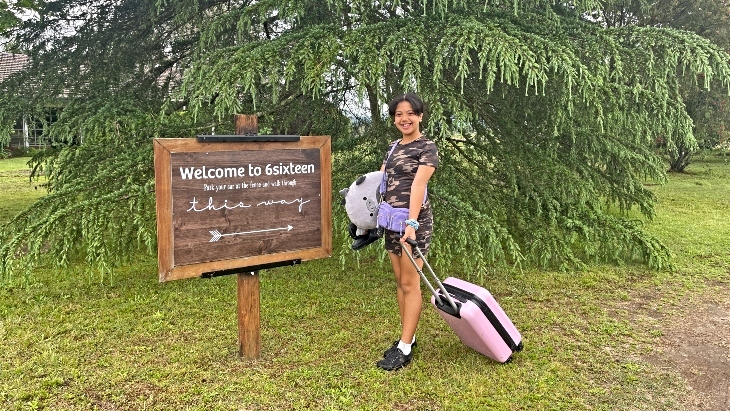 6Sixteen The Banks is perched on a five-acre property with the main house directly behind us, sweeping farmland and opulent horse studs spread before us and the iconic Blue mountains vista on the horizon. Our host, Patreece met us with the open arms of an old friend and was thoughtful and attentive to a fault. I quickly learned that a Tiny House isn't merely a place to lay your head: it is full of heart. It is like stepping into someone else's life and appreciating the simple things that make it special. The love, care and pride Patreece shares for this little home and its environment is palpable. Genuine, good old-fashioned country hospitality is a breath of fresh air!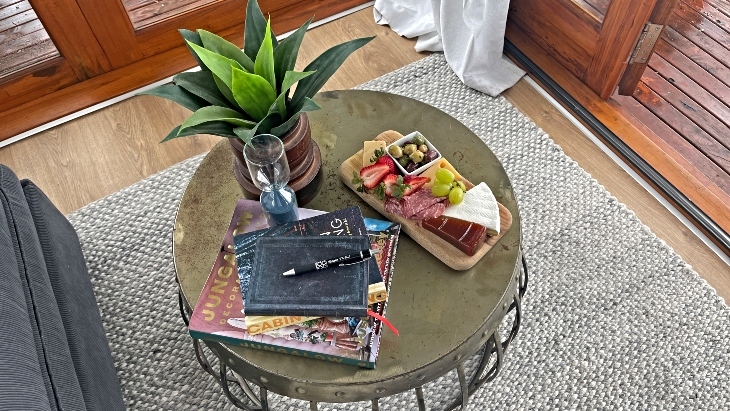 Adorned with fascinating books and trinkets, the designer Tiny House greeted my daughter and me with a welcome message, a decadent cheese plate, an extensive chest of tea and cute complimentary chocolates. My daughter also made light work of demolishing the gifted marshmallows - generally intended for nights around the open campfire (when clear skies allow!).

We quickly settled in for our less-is-more weekend, devoid of the incessant chatter of the city, spending the afternoon playing card games in the living space as we noshed on our delicious snacks and we awestruck by travel-inspired coffee table books.
With a break in the weather, we took advantage of the tropical warmth and lazed in the serene hammock outside, swinging (and laughing) and easily dozing off in the breeze to the sounds of chirping birds. It's easy to while away the hours here by simply taking in the sprawling views.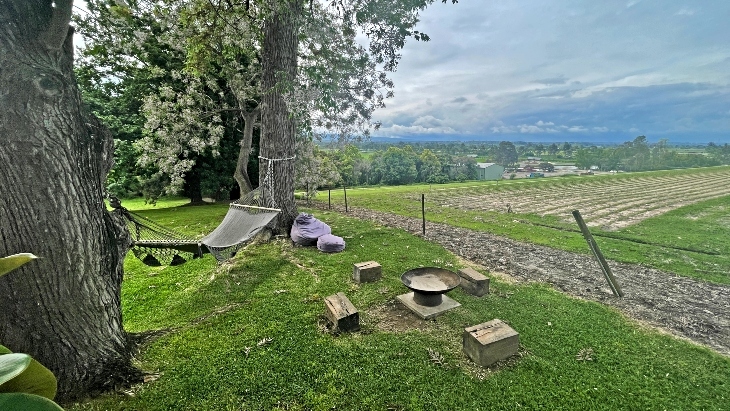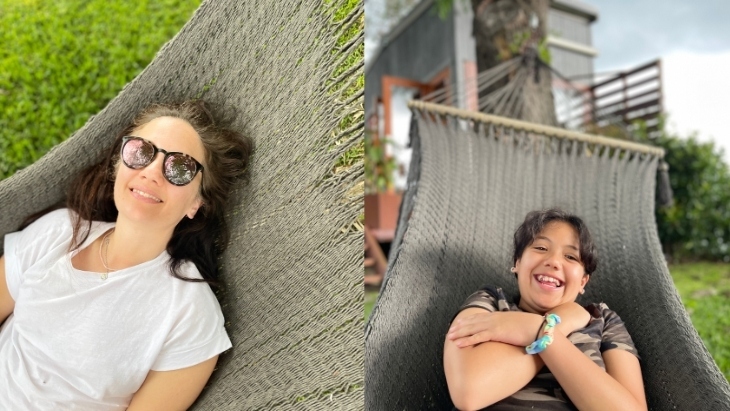 Despite a fully equipped kitchen, we ordered local delivery for dinner (ease, I tell you!) saving my cooking efforts for the incredible breakfast hamper waiting in the fridge. Admittedly we succumbed to a little bit of screen time, making the most of the smart TV to watch a movie on Netflix!
One of the most incredible features of 6Sixteen is the unique wood fire bathtub taking pride of place on the rear deck. Intermittently feeding the log fire that heats the outdoor bathtub throughout the evening, I was finally able to immerse myself in this steaming hot luxury oasis, surrounded by a wall of fairy lights and the vast night sky sprinkled with starry led illuminations. Bliss!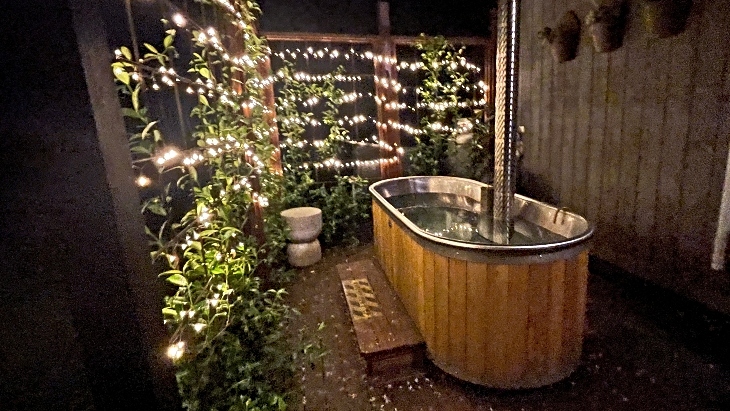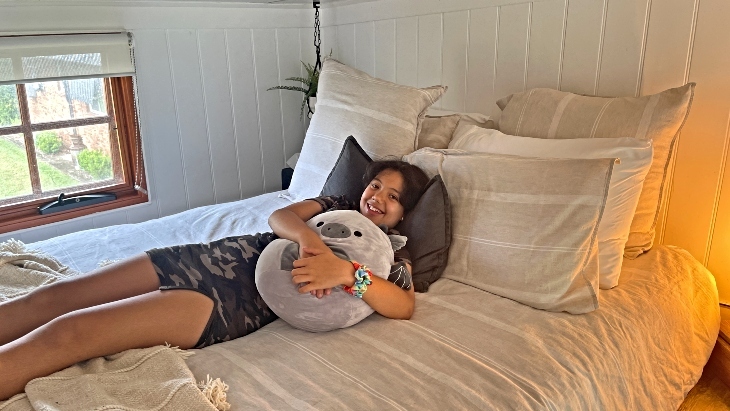 After climbing the ladder to our loft bedroom and drifting into a warm and cozy night's sleep, I couldn't wait to get started on our generous country-style breakfast in the morning, indulging in eggs, bacon, mushrooms and tomatoes, whipped up on the nifty portable stove top, accompanied by juice and sourdough toast, with a plate of condiments Patreece had insisted she hand delivered the evening before.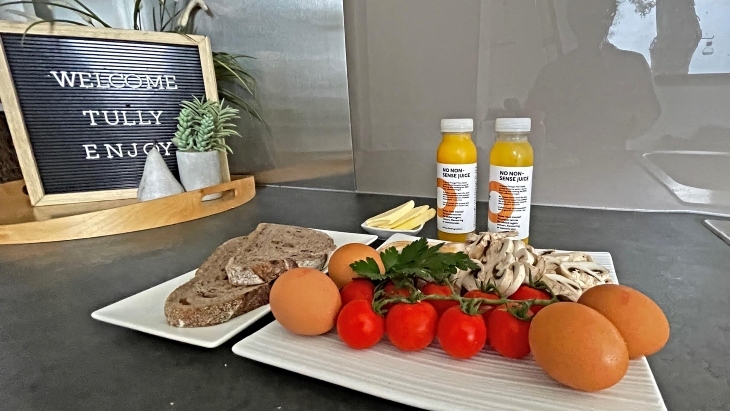 Our brief sojourn was the perfect pocket of peace and quiet we needed to unwind and reconnect. While the house might indeed be tiny, its warmth, beauty and hospitality are bountiful, replete with everything you need for a magical mini escape.
Find out more about 6Sixteen The Banks and book your perfect little escape this summer with Tiny Away.
More ellaslist Travel Reviews
Bear Grylls Survival Academy at NRMA Holiday Parks - Let The Kids Go Wild
An Action-Packed Getaway in the Gold Coast - Australia's Holiday Playground
The Flynn Family Experience at The Four Seasons Hotel Sydney
Have you signed up for our newsletter? Join ellaslist to get the best family and kid-friendly events, venues, classes and things to do NEAR YOU!