A Road Trip to Tamworth NSW Ticks All The Boxes
A Road Trip to Tamworth NSW Ticks All The Boxes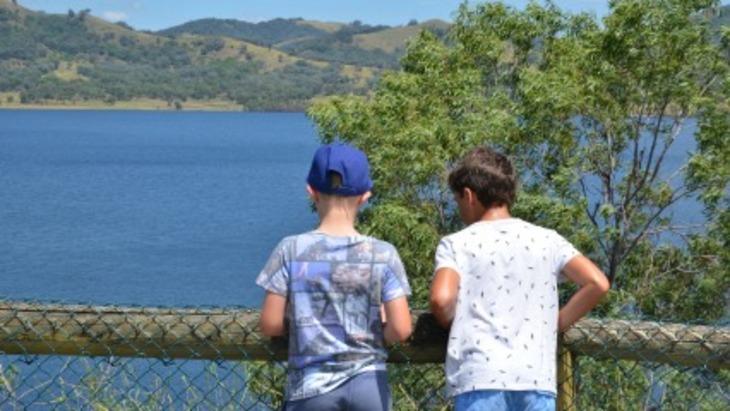 "Wanna take the kids on a road-trip to Tamworth this Summer?" I asked a fellow single mum over a glass of wine one night, having noticed the Toyota Tamworth Country Music Festival campaign on ellaslist. "Let's do it!" came the instant reply. And so (minus Brad Pitt) our Thelma and Louise road-trip fantasy was born.
Let's be clear – at 400kms from Sydney, Tamworth, the major regional centre for the New England region of NSW, is not around the corner. But the 5.5hr drive, even with three boisterous young boys in the back seat, was filled with laughter, chatter, lots of snacking (those boys can eat), a couple of pit stops, even a few zzz's, and felt genuinely effortless.
True Blue
Quiet, open roads, flourishing fields of yellow and green dotted with grazing livestock, wrapped in the warm embrace of the epic Great Dividing Range, the journey to Tamworth was not at all what we'd expected at the height of one of the hottest Australian summers on record.
Aussie History At Your Own Pace
The brutal heat felt fitting as we piled out of the car at Maitland Gaol which, when it finally closed its doors in 1988, had become the longest continually-run prison in Australia, housing some of Australia's most notable criminals over the years including 'Neddy' Smith and Ivan Milat.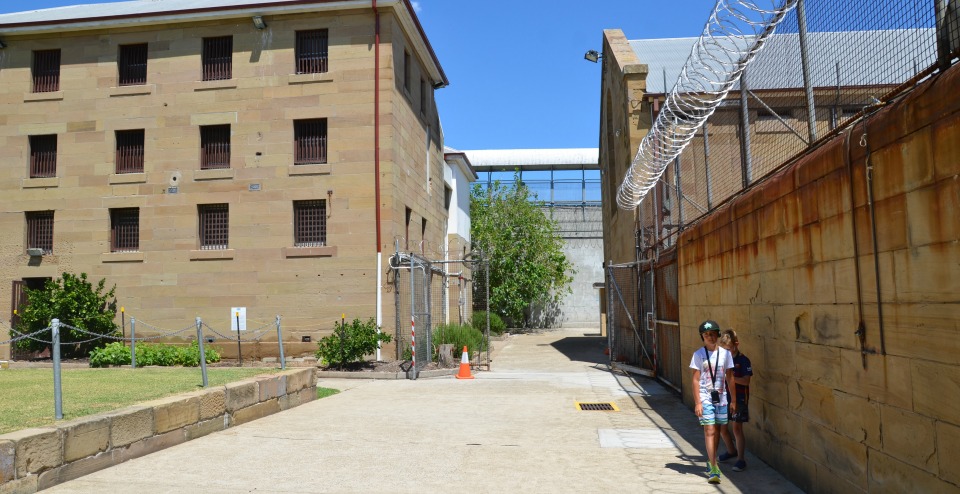 We did a fascinating self-guided audio tour here (the kids thankfully being given special G-rated versions) which took us through the whole facility, much of it reflecting the region's colonial past. Audio-tours seem to give children a sense of agency over their experience, whether it's in a gallery or exhibition or a more outdoor setting like this – they took it all in, enjoying the tour at their own pace.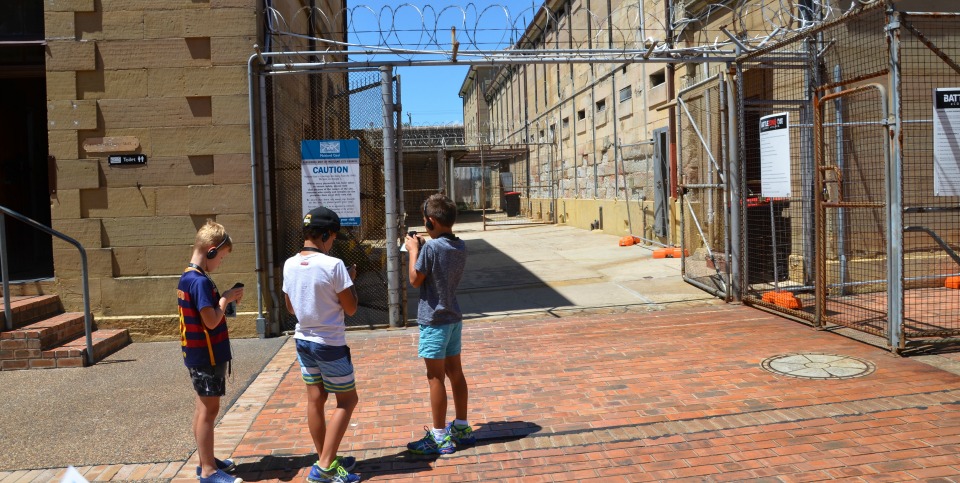 Make Yourself At Home
The first welcome surprise on arrival in Tamworth was our hotel – The Quality Hotel Powerhouse – which we chose mainly because it offers family suites with a separate bedroom containing two sets of bunk beds, so my friend and her twin boys took the bedroom, while my son and I shared the King bed in the main room. Our suite also contained a mini fridge, a microwave, and tea/coffee facilities, everything a young family could need to feel at home.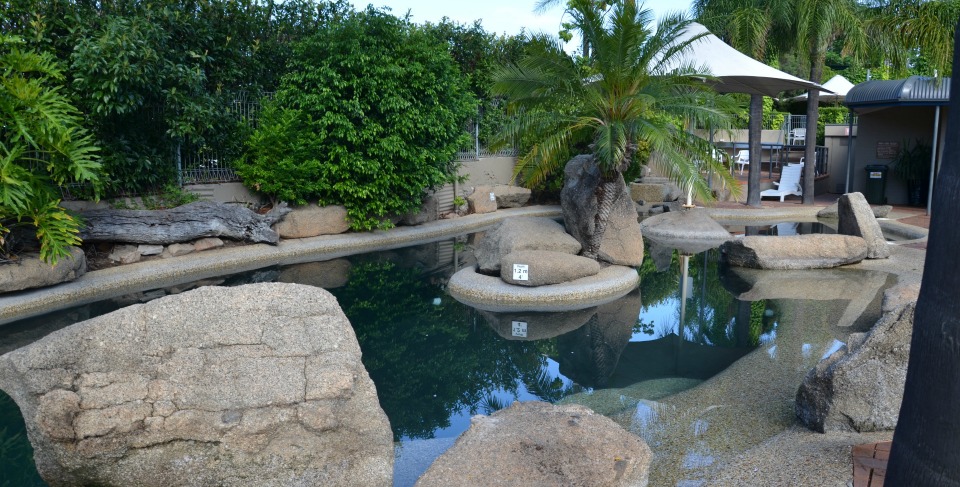 Despite being road-side the Hotel feels quiet and secluded. It's moments from a supermarket complex, the Peel River, and the award-winning Tamworth Regional Playground. There's a terrific landscaped pool on site too which the kids went crazy for, along with sun lounges, a spa, sauna, and basic gym.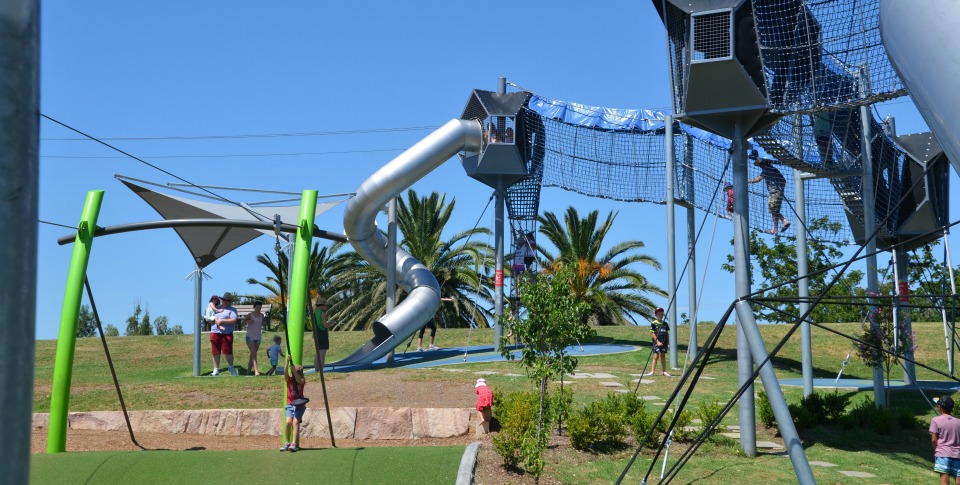 We Love Our Lamb
The Hotel's restaurant, the newly refurbished The Workshop Kitchen, deserves special mention. We shared an unforgettable 14hr slow-cooked, locally sourced lamb shoulder there on our first night, one of the highlights of the trip for us all. There's also a decent Kid's Menu for those who prefer more familiar options. The restaurant is home to an impressive daily breakfast buffet and a range of à la carte options, and the staff were consistently friendly and enthusiastic, happily catering to dietary requirements and our rowdy kids.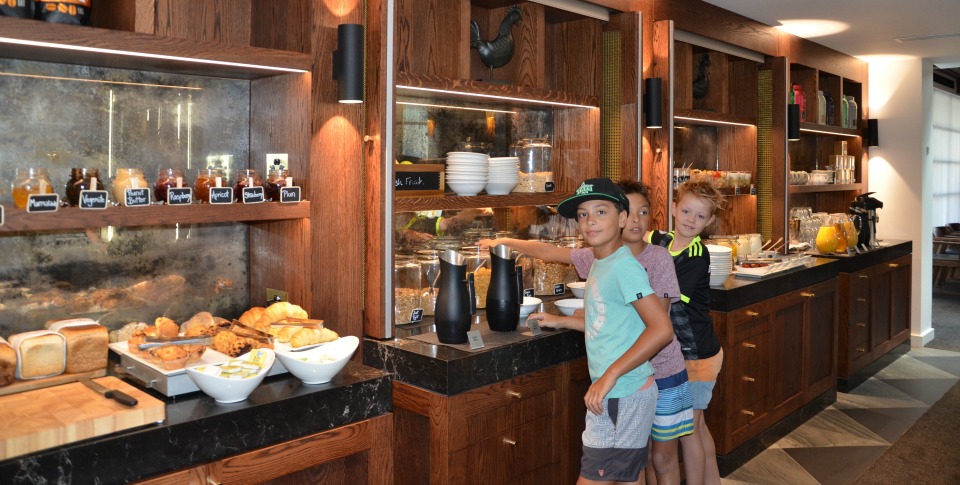 A Play Experience Like No Other
We visited the Tamworth Regional Playground several times during our 3-day stay. While there's more than enough here to keep littlies entertained (including a fabulous water-play area adjoining the café), what really impressed us was the quality of play for our older kids (8 and 9yrs); the Southern Hemisphere's largest skywalk, flying foxes, the biggest 'spider' climbing frame I've ever seen, massive slides, a mega swing, and more!
You could easily settle in here for an entire day, making use of the picnic and BBQ areas, water fountains, and free WiFi, or opt for the resident Hopscotch Café and bar instead, which we didn't eat at but which did great takeaway coffee.
Anyway, after giving the boys a good daily run in the Playground, we set out to explore Tamworth and surrounds.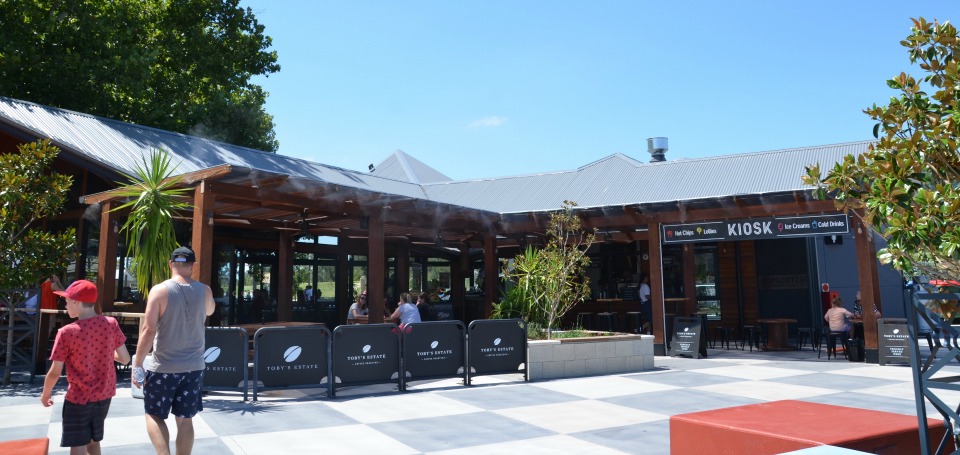 Forget The Big Banana- Check Out The Big Golden Guitar!
First stop, The Big Golden Guitar of course! Tamworth is widely regarded as Australia's 'home of country music', so not surprisingly the whole town was thick with fans during our visit. The Big Guitar is home to Tamworth's Information Centre, so we took our time here snapping the obligatory tourist pics, quizzing the volunteers about the most important sites to see and things to do during our stay, enjoying the live band, and soaking up the Festival atmosphere.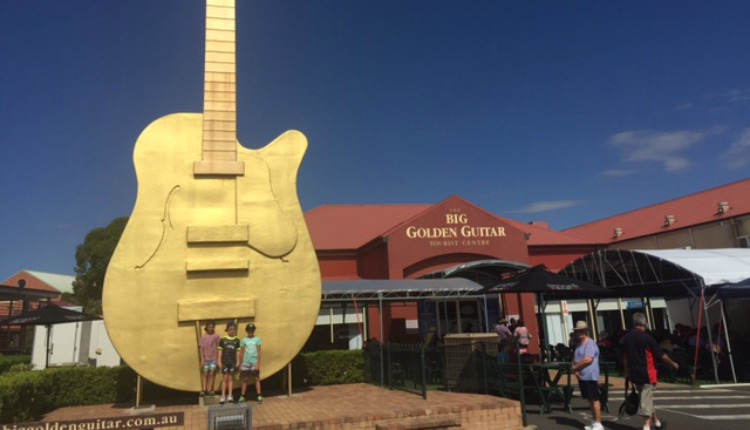 Rodeos & Dams & Gold Mines, Oh My!
We booked tickets to the National Junior Rodeo Championships, where kids as young as 9yrs competed in a variety of traditional events like rodeo and camp draft. It was exhilarating seeing boys and girls, some no older than our own – competing with such confidence and skill. The boys were enthralled.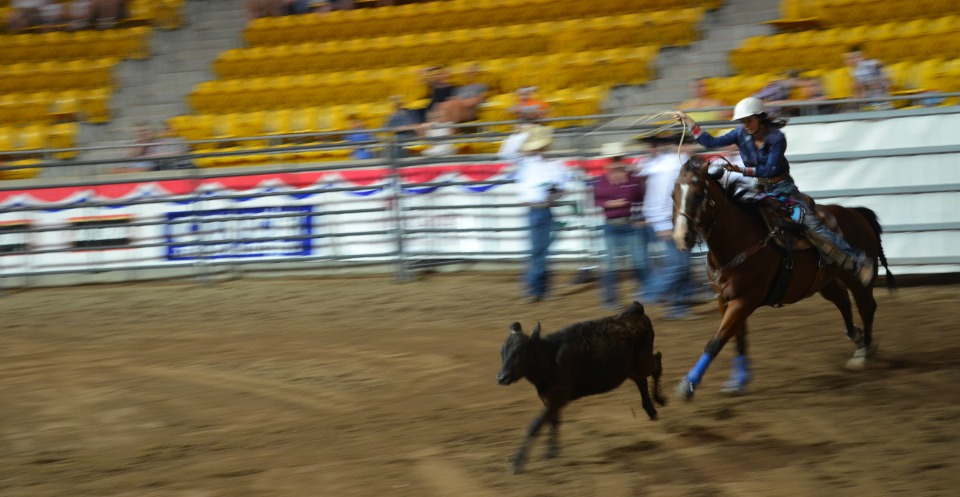 A day-trip to nearby Nundle was another delight. We stopped to admire the vast Chaffey Dam, the major water source for the Tamworth region, en route.
We headed straight for Nundle's Visitor Information Centre, chatting to more delightful volunteers who were a wealth of information about the local area and inspecting the geologically significant Gil Bennett Rock, Mineral & Gem Collection, bequeathed by Tamworth local Bennett. Our kids were all so impressed they bought gemstones of their own as souvenirs.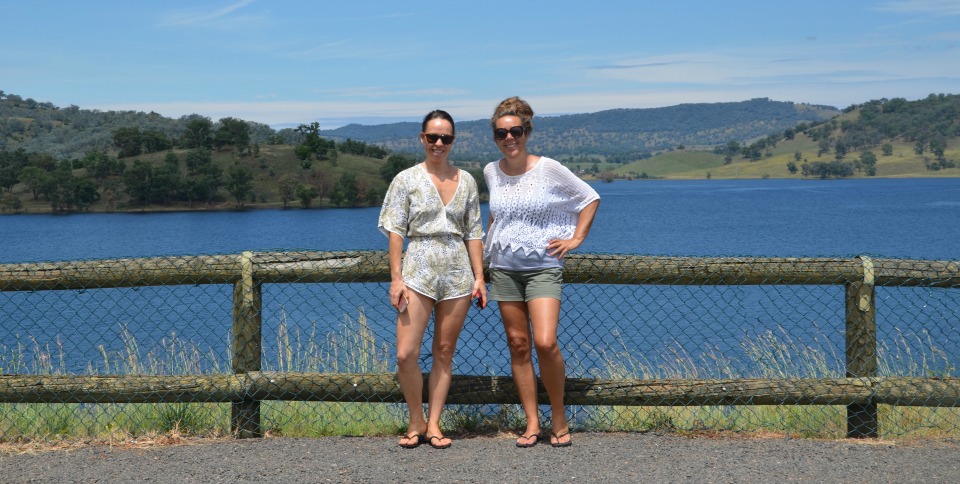 Next stop was the Mount Misery Gold Mine Museum which was fabulous! It's been constructed to feel like you are walking through a real mine, filled with entertaining history about the gold rush and memorabilia. Nundle is also home to a handful of twee country stores – Odgers & McClelland Exchange Stores (think vintage enamel and cookware), a massive antique barn, and a boutique.
Secret Beer Gardens & Look-Outs
We stumbled on a delightful 'secret' beer garden (out the back of the Peel Inn) for lunch, enjoying a lazy afternoon of rosé and a couple of gorgeous young acoustic musicians performing a long list of folk classics. The extra long wait for our food wasn't a struggle while we relaxed and the boys wrestled each other on the grass.
As we headed back to Tamworth we decided we couldn't pass up the opportunity to visit the famous Hanging Rock, so made a detour especially to drive the windy, gravelly road up, up, up to the look-out. The view was indeed spectacular, but a quick fact-check on Google and we realised the landmark Picnic at Hanging Rock was actually in Victoria. Fail!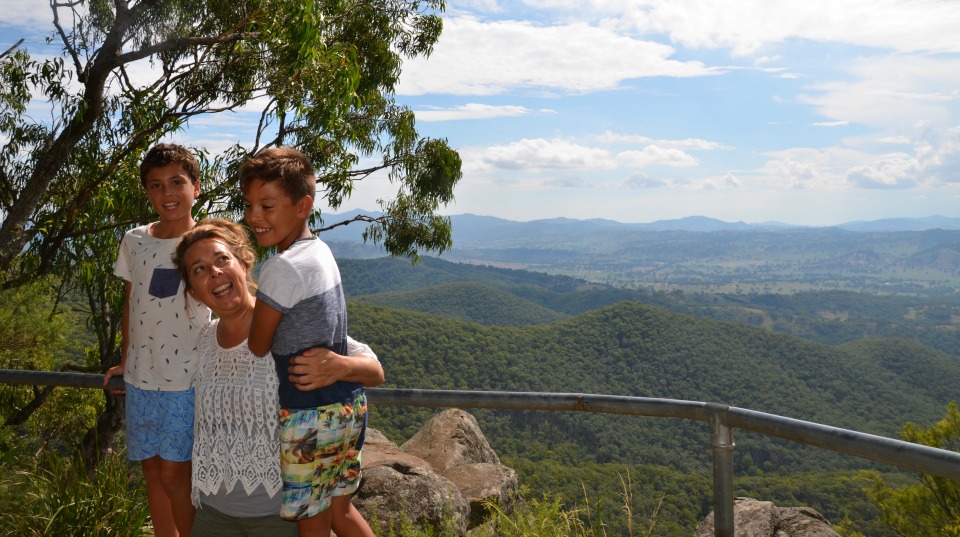 There's Just SO Much To See & Do
We were so busy with other Music Festival activities that we sadly missed a few of Tamworth's other family-friendly attractions – like the Tamworth Marsupial Park (and Adventure Playground), Lake Keepit, and the miniature railway.
Our Recommendation: Pack Up The Car & Head To Tamworth
So the next morning after breakfast and fond farewells with all the Hotel staff, we headed up to the very tippy top of Tamworth for a birds-eye view of the region from the Oxley Scenic Lookout, before continuing our road trip, east towards the coast for a few days at the beach.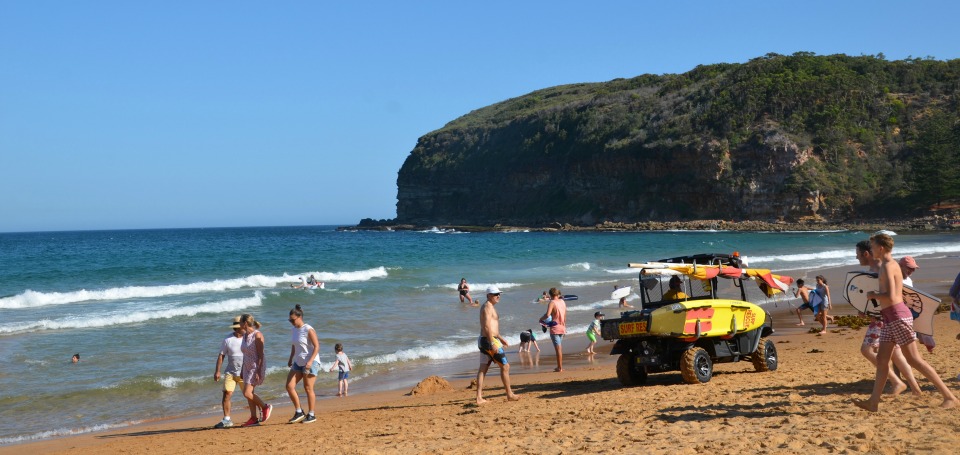 Overall, our visit to Tamworth just blew us away. It's a beautiful, vibrant, artistic city, with lots to do for families and an emphasis on fresh local produce in a regional setting. It's easy to get to, a cinch to navigate, and the locals welcomed us with open arms.
And not a tumbleweed in sight.
Have you signed up to our newsletter? Join ellaslist to get the best family and kid-friendly events, venues, classes and things to do NEAR YOU!