Five Of The Best Nature Getaways In Victoria
Five Of The Best Nature Getaways In Victoria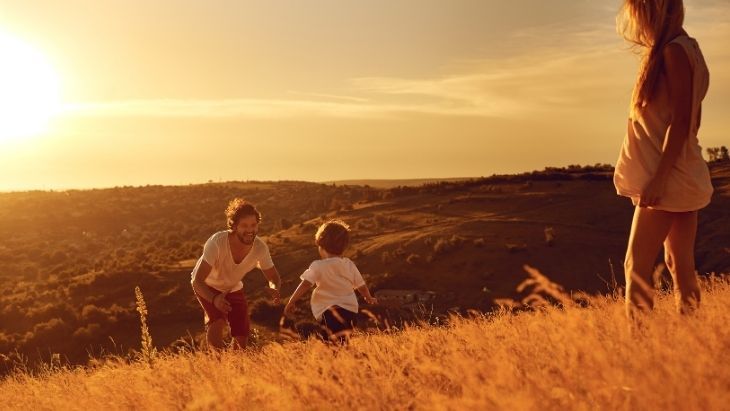 Whether you're looking for a parents-only break, a family-friendly adventure or some rural downtime with just you and the kids, these nature retreats in Victoria allow you to combine magical memory-making with a passion for the great outdoors.
Here are our five top picks for a the best nature getaways in Victoria.
1. Icon Central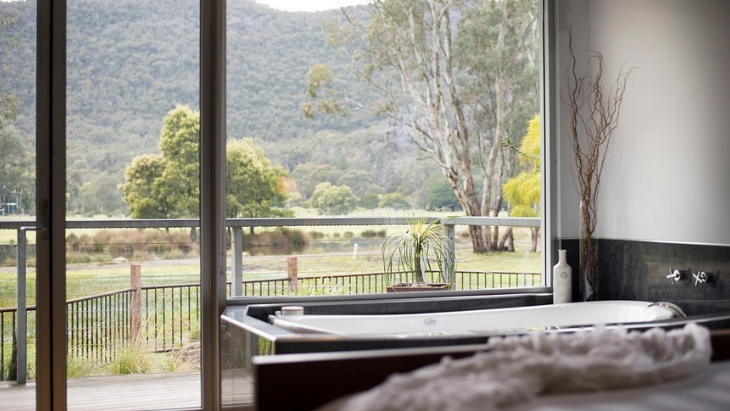 If you need a sneaky, secluded escape without the kids, where you can walk with wildlife and breathe the mountain air, Icon Central at Halls Gap is the perfect getaway to immerse yourself in nature. Located a three-hour drive from Melbourne, this stunning property promises romantic retreats in the most splendid of settings. Kangaroos, emus, deer, birds and ducks are free to roam around the property, while meditative garden zones feature a gorgeous array of native grasses.
The backdrop of the Halls Gap mountain ranges creates a striking setting to both pamper and adventure depending on your mood. The bush terrain of this natural paradise is perfect for mountain biking, rock climbing and abseiling, while the on-site spa promises to refresh and rejuvenate the senses.
Where: Icon Central Halls Gap, 20 Valley Drive, Halls Gap
2. DULC Treehouses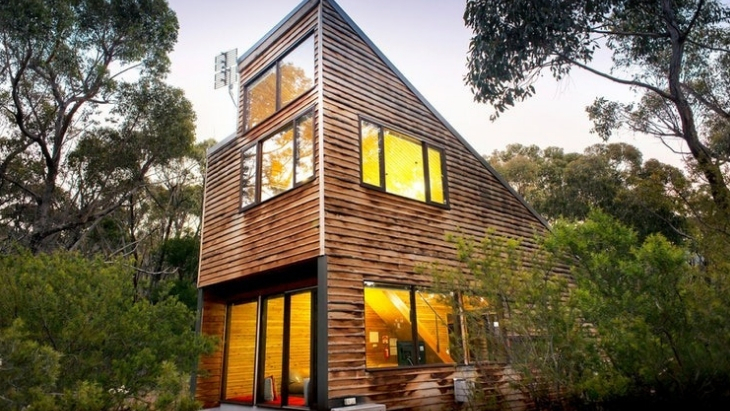 Another unique option for Halls Gap accommodation, DULC nature retreat cabins are a collection of architect-designed single and two-storey dwellings designed to blend into the bushland environment, with rough-sawn timbers, polished concrete, wooden floors and floor to ceiling windows. Each cabin linked by raised walkway or footpath and you can enjoy this rustic escape either with kids in the Mountain View Twin room or solo in a One Bedroom Treehouse.
Located in secluded woodlands surrounded by trees and native wildlife, and boasting environmental sensitivity, nature locations don't come much better than these!
Where: DULC, Thryptomene Court, Halls Gap
3. Lorne Bush House Cottages & Eco Retreats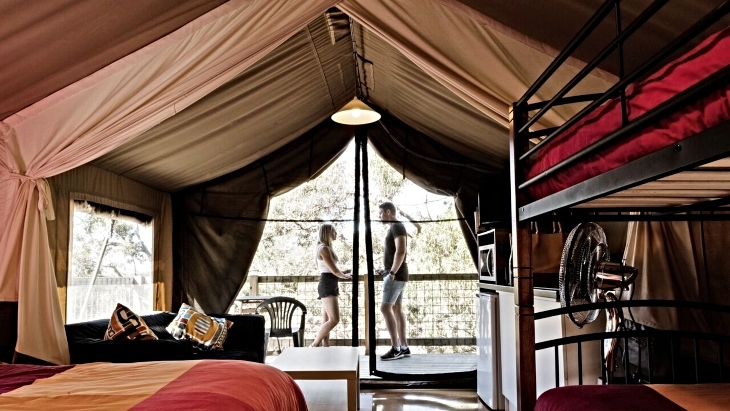 Offering a delightful blend of bush and beach and nestled amongst the gum trees of Lorne's forested backdrop, Lorne Bush House Cottages & Eco Retreats are located just a few minutes drive to the Great Ocean Road. They have a range of accommodation including two and three-bedroom bush houses, perfect for families, plus glamping tents!
The forty-three acres of private bushland provides plenty of space for families to kick a ball around, or have a game of cricket or volleyball, while the added temptation of a yabby dam, an adventure ropes playground and a 15-minute circuit walk down into the valley, ensure families have plenty to do throughout their stay. The friendly wildlife that surrounds the accommodation makes for a truly immersive nature experience.
Where: Lorne Bush House Cottages & Eco Retreats, 1860 Deans Marsh Road, Lorne
4. Boroka Downs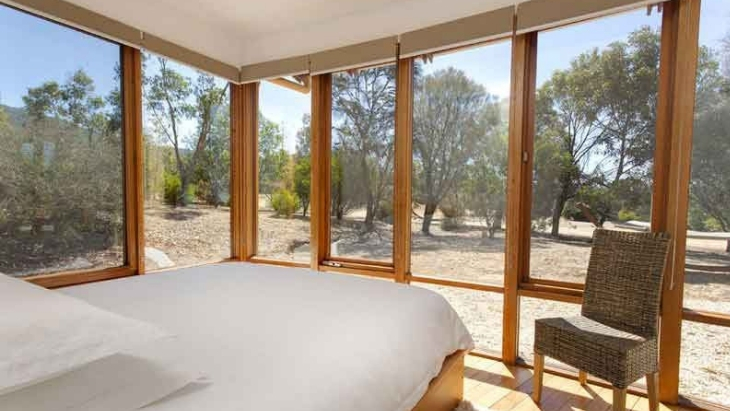 Another one for a parents-only anniversary or birthday weekend away, the Boroka Downs Retreat in the Grampians National Park combines luxury accommodation with stunning natural surrounds including vineyards, olive groves and lakes.
Nestled on a unique, 80-acre Trust For Nature property and offering 5-star boutique accommodation and services, Boroka Downs exudes a romantic ambience in a breathtaking natural setting with expansive views, magnificent night skies and roaming native animals outside your residence. The secluded nature of the property means that the only other beings that you're likely to encounter are the free-roaming kangaroos, emus, and a plethora of native birds for which binoculars are provided. Galleries, cafes and restaurants abound in the area.
Where: 51 Birdswing Road, Halls Gap
5. Ramada Resort Phillip Island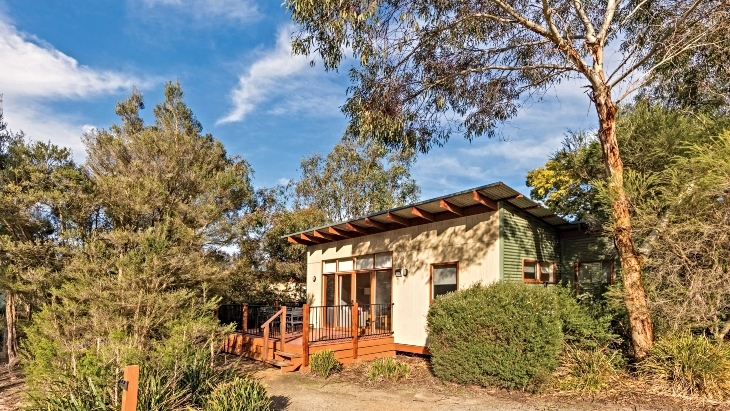 Ramada Resort Phillip Island offers a relaxed and comfortable holiday experience in a stunning natural location. Set across 65 acres of beautiful countryside, accommodation at Ramada Phillip Island is surrounded by native gardens and natural bushland, creating the ideal atmosphere to kick back, relax and unwind.
Two outdoor swimming pools and a children's pool will keep you cool in the heat, and for families who like to stay active and explore the surroundings, there are seven kilometres of walking and cycling tracks around the resort. This affordable, crowd-pleasing resort is the perfect blend of family-friendly fun and splendid natural surrounds, all whilst being perfectly located for exploring the delights of Phillip Island.
Where: Ramada Resort Phillip Island, 2128 Phillip Island Rd, Cowes
Find more of the Best Nature Getaways In Victoria.
More Ways To Escape
Best Mum's Retreats In Melbourne
The Best Free Camping Spots Near Melbourne
Six Family-Friendly Long Weekend Getaways Near Melbourne On A Budget