Oz Comic-Con is coming to Brisbane this September
Oz Comic-Con is coming to Brisbane this September
Sat Sep 17 - Sun Sep 18 2022
All Ages
$0.00
Oz Comic-Con welcomes fans of all ages, interests and pop-obsessions with a truly immersive experience across two fun-filled days. Whether you're a Muggle, a Marshmallow, an Earper, a Jedi, a Whovian or someone who doesn't understand a word that was just said, as long as you love popular culture and enjoy a fun day out, they have something for you!
Oz Comic-Con truly connects fans with their pop-passions and fosters bonds and lifetime friendships across pop culture fandoms in Australia.
Discover the fun, friendly atmosphere that welcomes everyone to Oz Comic-Con, and join them as they celebrate what you love!
Guests
Oz Comic-Con hosts Film, TV, illustrator, comic, author and other guests, spanning across many fandoms and franchises. At Oz Comic-Con their attendees have the chance to meet their guests at the show, taking part in photograph and autograph opportunities as well as attending their guest panels in their theatres.
Cosplay Central
Cosplay Central is the meeting place – the mecca – the hub – the undeniably can't-miss destination for cosplayers and cosplay fans at Oz Comic-Con! Here you can meet local and international cosplay talent, take photos in front of our cosplay sets and walls, and par-take in a variety of Cosplay Competitions.
Fun for the Whole Family
Oz Comic-Con is one of the few events that truly offers something for the whole family. They are committed to providing a fun, safe environment that caters for kids up to 99 and beyond!
There are numerous dedicated features areas of the show that cater just for younger kids, built to excite and inspire little imaginations. 2019 included Workshops specially curated for kids to learn to draw, Kids Cosplay competitions, the Scribble Wall, games in the Gaming Zone and The District which is a fantastic place for kids and parents alike.
The District features activities including colouring areas, drawing competitions, a manga librarOz Comic-Conhttps://ozcomiccon.com/y, scribble wall and plenty of space to just sit down, take a breath and plan the next part of your Oz Comic-Con adventure!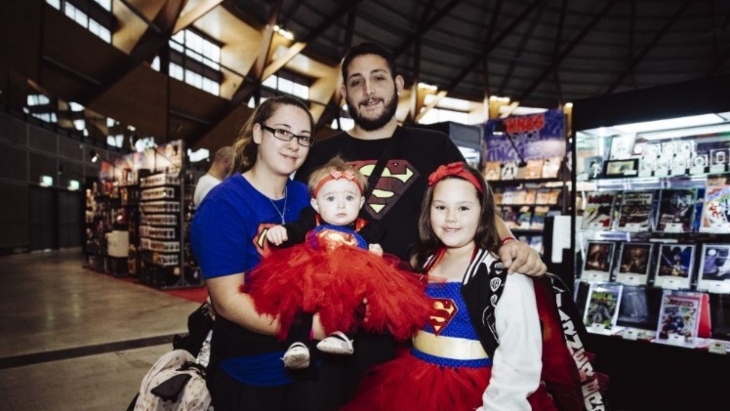 Artist Alley
Artist Alley provides fans with a rare opportunity to have a chat to some of the creators of the world's most prolific comic content from the likes of Star Wars, Marvel (Thor, X-Men, The Incredible Hulk, Spider-man, Avengers) DC Comics (Superman, Batman, Wonder Woman), The Simpsons, WWE and many more.
Pick up a one-of-a-kind piece of handmade jewellery or talk in detail about the skill of silver smithing, weaving, leather work or soldering amongst other crafts. Learn more about the creative process and development that happens in order to produce the next bestselling novel or find out how to get it published.
Gaming
The Gaming Zone at Oz Comic-Con welcomes gamers of all ages and interests with something for everyone!
The zone features competitive tournaments alongside console freeplay and a dedicated tabletop area with a wide range of games available. If you are looking to try your hand at something new, or just chill out and challenge your friends to a well-played favourite, the gaming zone has what you are looking for.
Gaming is more than just video games! Oz Comic-Con has you covered with their library of tabletop games to satisfy your needs.
Where: Brisbane Convention and Exhibition Centre
When: 17 and 18 September 2022, 9am - 5pm
Cost:
Visit Oz Comic-Con for more information and to book.
Tell them ellaslist sent you!