Your Guide to Melbourne's Best Botanic Gardens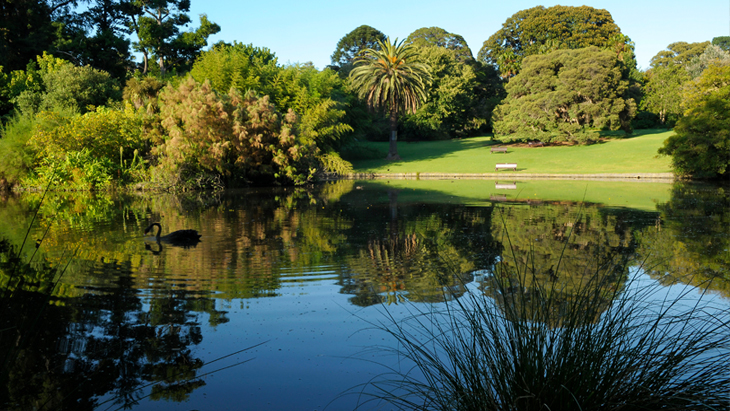 By: Claire Halliday, ellaslist
Sometimes, you've just got to get outdoors.
Parents love gardens because they are filled with incredible plant specimens (and fresh air) and kids love them because they can run, stomp in leaves and wonder at how big the rest of the world really is compared to them.
Here are some of our top choices for Melbourne's best gardens to visit with kids.
1. Maranoa Gardens
It's not one that's known by everyone but locals to the area appreciate the secret wonders of this space – a green wedge of wonder that is handy to Beckett Park.
It's actually one of Australia's oldest native gardens and is a fantastic place to wander with the children and spy native birdlife and plenty of bug activity too.
Move from a cottage garden to the indigenous display and rainforest zone and appreciate a slice of old Australia, right here in the bustling suburbs.
What You Need To Know
This garden come sunder the care of Boroondara Council. No dogs, skateboards, bikes and ball games
Phone:
Address: Parring Road, Balwyn
More information: visit the website
2. George Tindale Memorial Gardens
If you love the spectacle of flowering plants, this is paradise.
For family photos you'll treasure, get the kids looking good and let them wander through the backdrop of rhododendrons, magnolias, camellias and azaleas – and so many more.
In autumn, it's alive with rich colour and a fantastic place to stomp in some fallen leaves.
What You Need To Know
Parks Victoria manage this wonderful space.
Phone: 9757 7333
Address: Sherbrooke Road, Sherbrooke
Opening hours:
Daily 10am-5pm
More information: visit the website
3. Cranbourne Botanic Gardens
The focus here for the kids to take in is the Australian flora and fauna.
The Australian Garden is the centerpiece here and features more than, 170,000 Australian native plants set in contemporary landscaped display gardens. The bushland and wetlands that surround it are part of a protected site focused on biodiversity conservation. Not only are there 370 species of native plants, there are also 20 native mammal species and 11 amphibian species.
What You Need To Know
Different times of the year give this place a different look. Like any gardens, it's best visited seasonally to appreciate its complete beauty.
Phone: 03 5990 2200
Address: 1000 Ballarto Road, Cranbourne
More information: visit the website
4. St Kilda Botanic Gardens
In the heart of gritty, urban St Kilda is this open space that has a history dating back to the 1800s. It's more than just a garden to take the kids and show off some pretty plants – there is also a fantastic playground at one end that little kids especially love and you can also frolic, free-style, with ball games and bikes for some relaxed fun in this lovely oasis of colourful plants and open lawns.
The greenhouse is always a favourite with kids make a great place to stroll through for a calm finish for a day of play or picnic fun here.
A giant chess board is a big highlight and the kids might also find the Rain Man sculpture in the ornamental pond pretty fascinating.
What You Need To Know
If you keep your eyes peeled and your voices low, you might see some of the native wildlife that calls this place their home – from brushtail possums to rainbow lorikeets and even the Powerful owl.
Phone: 9209 6777
Address: Herbert Street and Blessington Street, St Kilda
More information: visit the website
5. Royal Botanic Gardens Melbourne
If you're a Melbourne local, you've no doubt already got memories of this place from your own childhood. With so many amazing plants from all around the world, and all those rolling green lawns to spread out picnic blankets, this wide open space on the city's edge has been a family favourite for generations.
The Ian Potter Children's Garden adds some family-friendly interest, with things that splash and places to play hide and seek too.
There are ducks to see paddling on the ornamental lake, and a couple of café options to ensure that coffee can be found and little ones can also get a treat.
On a normal day, parking here can be relatively easy. Access via public transport is also handy.
What You Need To Know
Phone: 9252 2300
Address: Birdwood Avenue, South Yarra
More information: visit the website