Why Scrub Daddy Brings A Smile To Your Household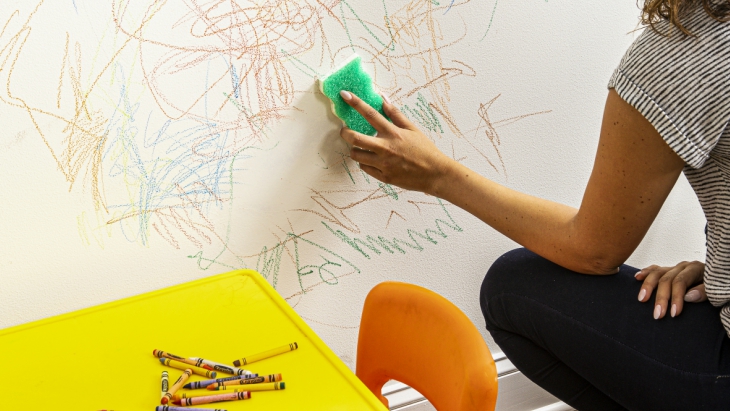 One of the biggest casualties of having kids (besides your hot bod and raging social life) has got to be your tidy home. This is particularly noticeable now as we spend more time at home than ever before.
Spring cleaning this year has become a daunting task, with many people simply not knowing where to start or what products can bring their living spaces back to life after lockdown. Introducing, Scrub Daddy the family of cult cleaning products that promises to replace dozens of other sponges, sprays and harsh chemicals.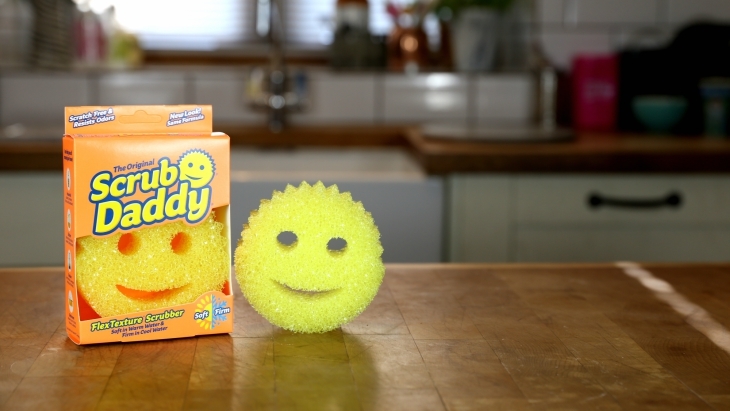 A Smile To Your Dial
These brightly coloured, smiley super-sponges will replace half the chemicals and cleaning products in your home, saving both time and money.
Scrub Daddy was born in the US and catapulted to fame on season four of the reality business show Shark Tank.
In fact it was the most successful product ever from Shark Tank (USA) by inventor Aaron Krause, who says "Our FlexTexture material is firm in cold water for scrubbing without scratching, then softer in warm water for sponging, both without the need for extra cleaning chemicals, and all while remaining odourless. Not only can he replace all your other sponges and most of your sprays, but he lasts much longer and can even be deep cleaned in the dishwasher or microwave."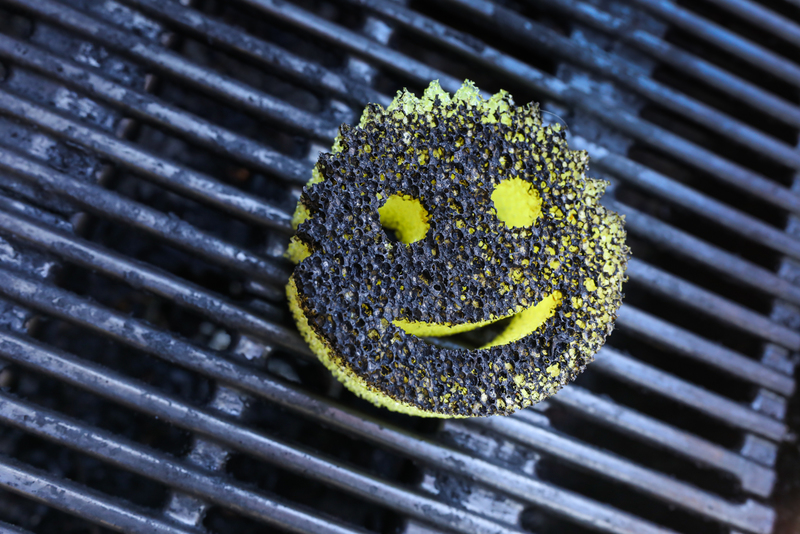 It's A Wipe Out!
We are also pretty impressed with the just-launched Eraser Daddy 10x which simply refuses to disintegrate unlike other magic erasers.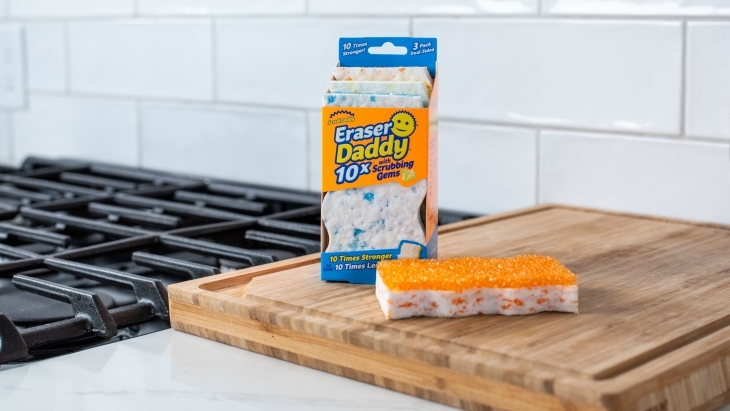 In fact, he lasts ten times longer, hence his catchy name. Just some of the many lockdown-generated cleaning challenges he can magic away with no sprays and a dip in water include:
Crayon, felt-tip and pencil marks from cooped-up kids - he even has a good go at permanent marker
Battered walls, skirting boards, doors and light switches - he can do multiple rooms without falling apart
For kitchens that have been running overtime - baking trays, sinks, fridges, ovens and even stainless-steel can sparkle (just rub with the metal's grain)
Bathtubs, basins, loos, shower screens, tiles and tapware
The messy side-effects of increased lockdown DIY - he can tidy up jobs by removing paint and grout splatters
Almost anything outdoors – pool tiles, garden furniture (plastic, wood or metal), decking, BBQs (inside and out), and even your car's wheels and interior
Scuff marks on white trainers that may have seen extra exercise use (in fact scuffs on almost anything)
And almost anywhere else that's showing extra lockdown grime
For My Next Trick
His smiley face isn't just for fun – the eyes allow fingers to firmly grip the Daddy in tricky spots like the bottom of cups, his spiky haircut gets right into corners and crevices, his mouth cleans both sides of cutlery in one stroke, while the Daddy Caddy allows you to neatly pop him out of sight on the side of your sink while he dries out - he even comes in a range of colours to suit different decors.
The Mother of Inventions
The equally smiley Scrub Mommy brings the best of both worlds with FlexTexture on one side and suds-generating ResoFoam sponge on the other, while Screen Daddy is a small but mighty, reusable wipe for smartphone and laptop screens.
Find out more about Scrub Daddy here.
More Parenting Advice
How to Celebrate Halloween In 2020
Why Is Gifted And Talented Education So Important?
Kids Cyber Safety Alert Following Distressing Social Media Video
Have you signed up to our newsletter? Join ellaslist to get the best family and kid-friendly events, venues, classes and things to do NEAR YOU!