Why Music Is Instrumental In Wiring Young Minds For Learning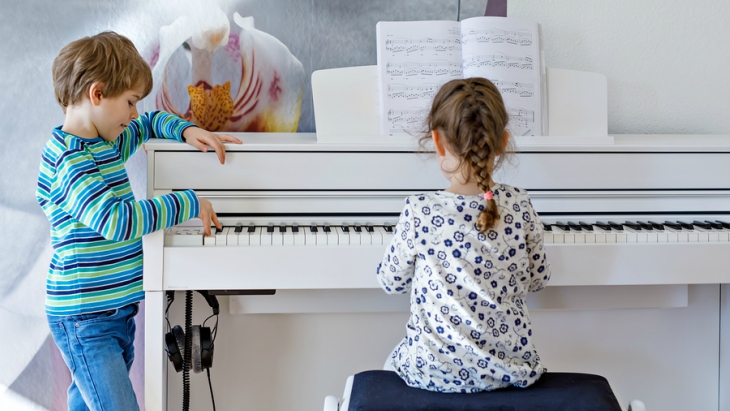 By: Deborah Jones
Who wouldn't want their child to be more self-disciplined, have greater powers of concentration, improve their personal and social skills and be a better listener?
A vast body of research proves that exposure to music is extraordinarily beneficial for children. The University of London's Institute of Education was responsible for the above findings in 2014 and there are many other studies that posit a strong connection between music and a broader range of capabilities.
It's something pianist Simon Tedeschi finds inspirational. He cites Australian conductor and educator Richard Gill, who "has talked about music not being something that just supplements a child's intellectual development but is central to it. It's core to humanity, to empathy, to problem-solving skills. I don't think it has to be measured in IQ tests – it redeems us in many ways in troubling times," says Tedeschi.
Since first appearing at the Sydney Opera House at the age of nine – he played a Mozart concerto – Tedeschi has had a career notable for its eclecticism. It encompasses the concert hall with symphony orchestras, solo recitals, forays into jazz, performances in unconventional spaces. His musical curiosity runs deep, which is perhaps why performing for young audiences has become an important part of his life. Tedeschi started working with youngsters about five years ago and is passionate about the possibilities.
The Man Behind The Music
His forthcoming family concert with the Sydney Symphony Orchestra will combine excerpts from famous piano concertos with a dissection of a question Tedeschi says is often asked by people (and not only children): what does the conductor actually do?
The man (or the woman) standing in front of the musicians isn't there to just wave their hands about, says Tedeschi. The conductor is "a colourist, a communicator, a broker, a diplomat, a psychologist, so many things". What the audience sees is a very small part of the process of producing complex music and the concert, titled Who Needs a Conductor Anyway?, will explore the many moving parts that must come together.
Brain Power
Learning and thinking about such complexity is valuable – particularly if children also have an opportunity to interact physically with the music – and can be a launch pad to even better results. "Nothing is better than seeing the real thing to get them interested in doing it themselves," says Anita Collins, Assistant Professor of Music and Arts Education at the University of Canberra, whose research area is the impact of music learning on brain development and academic achievement for children. The results are phenomenal.
In short, learning music is better than any other activity at improving cognitive capacity, particularly in numeracy and literacy. "Essentially, music is wiring the brain extremely well for any other kind of learning," Collins says. "It's setting up all the neural pathways that are needed for quick transfer of information. It's really good for delivering information, being able to think about information in a creative way, being able to pick up nuances in information, in speech and all sorts of other things."
Stimulate All The Senses
Researchers have found that learning music makes auditory, motor and visual cortices work together simultaneously in a kind of loop – what Collins calls a continuous cycle of information gathering, retrieval and analysis. "There are few other activities that do it in the sort of slow, beneficial way that music does. It's making our senses talk to each other on a regular basis."
Mastering a sport at a very high level comes close to matching music, but with a special difference. With music, the child doesn't have to be an elite performer to get the benefits.
No wonder Tedeschi has discovered "an incredible love" for working with young audiences. "It's not only these kids who are going to be employing me, but be employing the bankers and stockbrokers and the politicians of the future. I feel a great deal of responsibility in what I do with and for children."
The Sydney Symphony Orchestra's Family Concert series has three brilliant concerts for 5-12 year olds to share with their families. Book your tickets today.
Deborah Jones is a freelance writer and arts reviewer based in Sydney.