Why ellaslist Loves The Tamworth Country Music Festival
By: Phoebe Ackland, ellaslist
The Toyota Country Music Festival Tamworth 2018 is fast approaching, and trust us, it's worth planning your family road trip to Tamworth NOW!
Click on the image above to watch our video!!
Australia's largest music festival is returning to picturesque Tamworth from Friday 19 January until Sunday 28 January 2018, and your family is gonna love it. With over 700 artists performing at over 2800 events across 120 venues, there will be no lack of fun and excitement for families at the festival, or during their stay in Tamworth.
This is a family-friendly festival experience like no other with dedicated family zones, concerts for the kids and award-winning playgrounds, families can spend one, two or ten days exploring the vibrant country music capital. We spoke exclusively to the organisers to find out all the fabulous features and highlights happening in 2018:
What's New At The Festival in 2018?
This year, in an exciting move, Coca-Cola Country will be joining forces with the Capital Country Music Association's National Talent Quest (CCMA) to present an eight-day schedule of opportunities for artists of all ages and all stages to perform and compete in the luxury of the infamous Tamworth Town Hall with their very own professional backing band.
Recognised as one of the most important elements of the Toyota Country Music Festival, Coca-Cola Country has been building a strong foundation with the famous Walkups and, more recently, the introduction of the Battles… the Battle of the YoungStars, the Battle of the Bluegrass and the very popular Battle of the Bands. Artists from Juniors (under 10) right through to "golden oldies" can take part in this talent quest which is a great opportunity for musical discovery.
What Are The Top Family Shows At The 2018 Festival?
Families will love the Tamworth Family Support Concert on Saturday 20 January 2018 with Disney favourites ELSA (Frozen), and BELLE (Beauty and the Beast) making an appearance alongside AMBER LAWRENCE, HOMEGROWN, FINNIAN JOHNSON and ARNA GEORGIA.
What About Other Family Activities & Things To Do?
There is a dedicated Family Zone where families of all sizes and kids of all ages are catered for with budget-friendly rides and activities including a 20m Ferris wheel, dodgem cars, cup n saucer ride, bungee trampoline, jumping castle, flying tigers mini plane ride and convoy trucks ride to name just a few.
Adults and children alike will have the opportunity to mine for gold at the 'Rocky River Mining' stand, or try their luck at the numerous attractions along the side-show alley. The Smoked Barrel BBQ will also be there offering visitors some delectable American fare. Open every day the Regional Australia Bank Family Zone is located in Kable Avenue, at the entrance to Toyota Park.
What Are Some Great Family Accommodation Options Nearby?
Tamworth has an abundance of family-friendly accommodation available. From camping, glamping, cabins, self-contained and motel rooms. For accommodation information head to the website.
Top Tips For Families Visiting The Festival in 2018
Wander down Peel Street and experience the vibrancy of the buskers and street performers
Don't miss the free concerts in Toyota Park, in particular, the dedicated family concert on Saturday 20 January 2018
Stop by the Big Golden Guitar for a family 'selfie' and don't forget to #TamworthNSW
Drop into Coca-Cola Country in the infamous Tamworth Town Hall to witness the talent quests
Watch the floats drive down Peel Street at part of the Toyota Country Music Cavalcade on Saturday 27 January 2018
Besides The Festival, What Else Is There For Families In Tamworth?
Tamworth has loads of Tamworth has stacks of activities, adventures and places to visit for families. Children of all ages will find endless enjoyment at the new Tamworth Regional Playground. It has a skywalk, three giant slides, four towers, a bike track, junior and senior fitness circuits, a dual flying fox and a waterfall with a three-metre sway bridge. When it's time to refresh and recover, there's a new café/restaurant where you can take a well- earned break.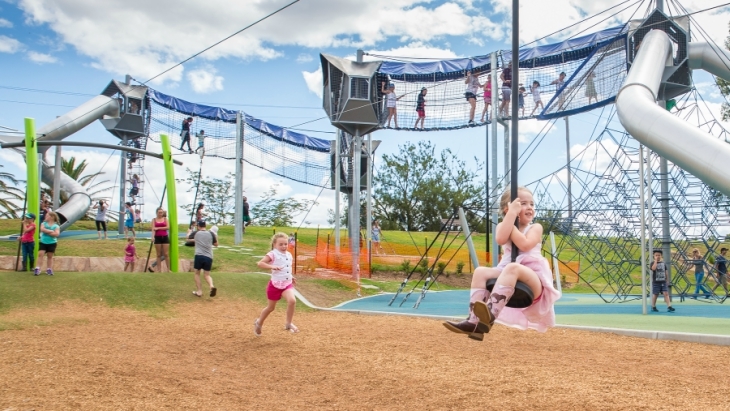 Tamworth Regional Playground adjoins the lush, green Bicentennial Park, where kids can ride along the extensive paths and feed the friendly ducks in the ponds. Tamworth Marsupial Park is a native animal experience unlike any other in NSW. Children can get close to kangaroos, wallabies, cockatoos and emus, spot the species in the free- flight aviary and hand feed the Indian peacocks. The 14-hectare park is run by volunteers and entry is by donation. Its Adventure Playground has two distinct areas: for under-5s and for over-5s. The design encourages children to use their fine and gross motor-skills – and of course, their imagination. There are barbecue facilities and bathrooms. Entry is free.
Just down the road from Marsupial Park is Tamworth Miniature Railway. Train rides operate on the third Sunday of every month for just a couple of bucks – make sure to wear enclosed shoes (no crocs). Looking at a city from above offers a pause for perspective and reflection. The best vantage point in Tamworth is the Oxley Scenic Lookout, a picturesque spot to have a picnic and see the city and the Peel River Plain extending to the Liverpool Ranges. Don't forget your camera to take snapshots of the panorama.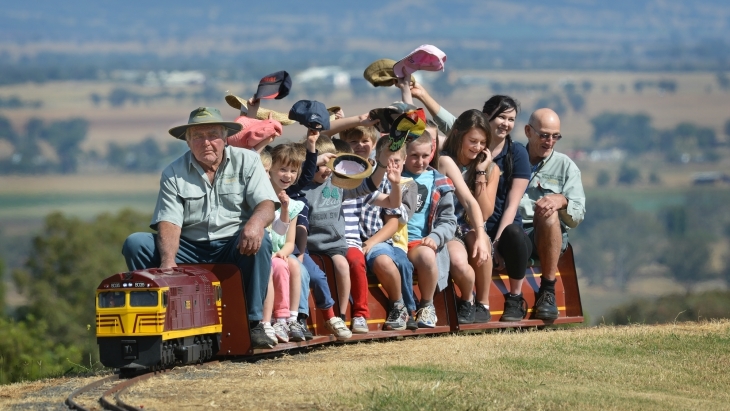 In warmer months, the council opens six swimming pools across the region. For more wet stuff, Lake Keepit offers endless activities to keep children entertained, including a water park, playground, pool, and boat hire.
What Happens If It Rains During Our Stay In Tamworht?
There's plenty of indoor fun in Tamoworth to keep the kids busy and parents sane including a play area called Kids Zone for children aged 0-2 years and another for 5-12-year-olds, a trampoline park with 870m2 of bouncing fun to be had, a SK8 Thunderdoem rollerskating rink, a family amusement centre with ten pin bowling and arcade games, cinemas, and school holiday programs running in venues such as Tamworth Shopping World & Tamworth Town Centre.